Murray's Wild Thing Imperial Stout
| Murray's Craft Brewing Co.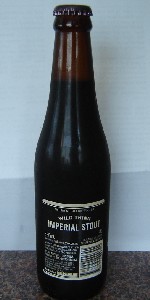 BEER INFO
Brewed by:
Murray's Craft Brewing Co.
Australia
murraysbrewingco.com.au
Style:
Russian Imperial Stout
Alcohol by volume (ABV):
10.00%
Availability:
Rotating
Notes / Commercial Description:
Murray's 'Wild Thing' Imperial Stout was inspired by the great stouts favoured by the Russian Imperial Court. A massive, intense drinking experience. The colour is black. Totally black. Impossible to see through even when held up to the light - nothing insipid about this beer.
Aromas of strong dark chocolate, a little fruitiness from the hops and yeast and some rumminess from the alcohol. The flavour is an intense hit of mocha - bitter dark chocolate bordering on coffee. Some malt sweetness but an aggressive hop bitterness and roast grain bite to balance. And then there's the mouthfeel... Full bodied is an understatement. Massive mouth-fillling malt that almost overwhelms, before the freight train of the bitterness from the hops and the roast acidity kicks in to clean up the palate.
Added by lacqueredmouse on 11-15-2008
Reviews: 29 | Ratings: 50
4.23
/5
rDev
+1.4%
look: 4.5 | smell: 4 | taste: 4.5 | feel: 4 | overall: 4
A - Poured into a snifter glass a very, very dark brown, bordering on black. A few centimetres of dark tan head slowly falls to a thin whisp.
S - Roasted coffee and chocolate up front with some herbal, floral and fruity notes following through. Some slight alcohol hints.
T - Much like the smell but everything is bigger. Roasted, slightly bitter coffee comes through backed by some sweet chocolate as well as herbal and floral hops to back it up.
M - A bit lighter bodied than what I'd normally expect from an RIS. I guess high side of medium.
A fairly low carbonation and a slightly sweet yet roasty bitter finish.
D - Quite well balanced with lots going on yet quite smooth and easy drinking. 10%ABV obviously means it's not a session beer but it's something I look forward to drinking more of. Which I will be seeings as was only available in cubes of 16...But if they do it again I'll be buying another cube.
913 characters
4.4
/5
rDev
+5.5%
look: 4.5 | smell: 4.5 | taste: 4.5 | feel: 4.5 | overall: 4
Dark. Deep black. Midnight - can't see through this! Quality tan head falls away to some very nice lacing.
Has some real enticing aromas to this - Dark roast coffee, deep dark chocolate and some fresh fruit aromas. Lovely stuff, not overly intense, yet complex and intriguing - everything a good RIS should be.
Normally I split up taste and mouthfeel descriptions - but not here. This beer is all about texture and balance. It is very thick, creamy and luscious with a wonderful balance between bitter and sweet characters. Can barely, only barely, feel a hint of the 10% alcohol on the finish - very spirit like at that. Tough roasted and bitter flavours on the finish mix well with black strap licorice, tropical fruit and dark chocolate coated coffee bean (real gritty like) flavours. Delicious!
Only down side is the drinkability. It isn't an "easy" drink per se as it demands chocolate or possibly even some cheese to go with it. It is very up front and raw and I have a feeling this is going to look pretty good in a years time. But at the moment one is enough (yeah, I am getting old I guess)
Good on Murray's for having a real crack at this style as this beer has upped the ante for other strong oz micro styles. Get some while you can, and if it is all gone then get some next year!
1,297 characters

4.11
/5
rDev
-1.4%
look: 5 | smell: 4 | taste: 4 | feel: 4.5 | overall: 4
Pours a very, very opaque black hue - possibly the blackest beer that's ever blacked. Held up to one of those energy-saver fluorescent light tubes it has the slightest glimmer of glow from beyond. The head builds slowly when poured but gathers momentum for a thick chocolatey cloud of foam that sticks around. It gathers a few pockmarks here and there and sinks slowly. Leaves delicious-looking lacing. Quite lovely lacing, really. Quite lovely everything.
Nose is thick and rich with a burnt, cocoa character, very aromatic even from a fair distance. It's a delicious nose and very pungent, but also a trifle simple. It's played very loudly, but it's still just the one note. And to be perfectly frank, while it's a great example of a stouty nose, it's not really that unique.
Taste is as powerful as a a turbo-charged steamroller with a jet engine, with a sour burnt character on the front palate which in all honesty is closest in taste to charcoal. It's unusual and arresting, but it certainly doesn't make one recoil, as eating charcoal might. This is largely thanks to the mouthfeel, which is deliciously creamy as it coats the mouth and glides down the throat. The palate is a little short but there is a nice lingering and drying finish with quite a coffee touch to it. The front is a little stinging really, but it tapers off to a bold-flavoured but subtle finish, and it's really only stinging because it's so incredibly potent.
This is certainly not a beer for everyday drinking, but for a special occasion or a beer tasting - fireworks.
1,551 characters
4.57
/5
rDev
+9.6%
look: 4.5 | smell: 5 | taste: 4.5 | feel: 5 | overall: 4
Pours from the bottle in a satiny black curve, smooth as polished alabaster. Looks like a cylinder of black metal in the glass. Colour is, genuinely, black. Black as hot tar, black as a Hallowe'en Midnight, black as the unyielding void of an ocean abyss. I've never seen a beer quite so devoid of light. Head is a very thin, but sticky and fine lace of chocolate brown bubbles. Sits looking dormant but dangerous. Lacing is superb, leaving cosmic rings in the wake of the black hole. What a dark, devilish and devious drink.
Wonderful aromas on the nose, and not just the rush of ashy blackness that a beer of this depth of colour might suggest. Deep sweet hints of chocolate, malt biscuits, and rum, and an amazing lighter note of berries, tea leaves or even citrus. This leavens the fragrance, leaving it balanced superbly between the heavy cremated body of Stoutness, and the fragrant lift of floral tropical fruits. Somewhere in there is the creamy, sweet middle; delicious, luscious, but conscious of the bane of many a stout in being too solid and charred.
The overwhelming character of this beer seems to be its texture. Even before the flavours appear in the mouth, there's the silky, glistening body gliding over lips and tongue, like rivulets of quicksilver. A sweet and slick caress coats the palate, and only after the touch does one notice the rich, permeating flavours arising like fragrant wafts. The darkness is here in force on the palate though, a deep, earthy, crushed cacao-nut bitterness, being stalked by the smoky spectre of High-roast carbonised coffee bean. There's a psychosomatic crunch to the palate, as the black flakes of the charred malt seem to be ingratiating themselves into the melange.
A full sweep of dark, diabolic deliciousness. By half a glass, I can feel the demonic grip of the 10%, but my palate has detected only a delicate dissonance, a dancing drop of dark rum or brandy. Delicious.
This is a exceptional and much appreciated beer. I cannot stress enough how wonderful it is that an Australian brewery brew beers like this. If it were not a stellar example of the style, I would still be grateful to Murray's. But a stellar example this is, and worthy of all the praise that can be bestowed upon it.
2,249 characters
Murray's Wild Thing Imperial Stout from Murray's Craft Brewing Co.
4.17
out of
5
based on
50
ratings.