Murray's Punk Monk
| Murray's Craft Brewing Co.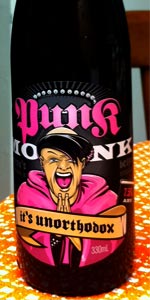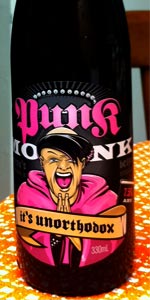 BEER INFO
Brewed by:
Murray's Craft Brewing Co.
Australia
murraysbrewingco.com.au
Style:
Belgian Strong Pale Ale
Alcohol by volume (ABV):
7.50%
Availability:
Rotating
Notes / Commercial Description:
No notes at this time.
Added by lacqueredmouse on 01-03-2011
HISTOGRAM
Ratings: 14 | Reviews: 12


3.63
/5
rDev
-5.7%
look: 4 | smell: 3.5 | taste: 4 | feel: 2.5 | overall: 3.5
Pours a bright deep gold - half a finger head. Lacing superb, with tiny bubbles rising.
Aromas of apricots and Belgian yeast.
Taste is quite hoppy, only a little of the apricot that was on the nose, with a dry finish. Not too many clean flavours to describe, well integrated.
Mouthfeel is the only let down - crerany and medium bodied byt becomes quite oily by the end.
A good find on tap.
393 characters
3.98
/5
rDev
+3.4%
look: 4.5 | smell: 4 | taste: 4 | feel: 3.5 | overall: 4
Appearance - 4.5
Pours a big fluffy white head over a clear body of deepest gold. Good head retention and solid lacing.
Smell - 4.0
Intense pilsner malt sweetness reminds of shortbread and is very nice indeed. Backed up by yeasty notes of sweet pear and candy cane, low to no hop aroma.
Taste - 4.0
Very little upfront sweetness, honeyed malt backbone, apricot and lightly herbal hops in the finish with moderate bitterness. Bone dry in the finish, doesn't hide its alcohol as well as the best Belgians.
Mouthfeel - 3.5
Moderate to lively carbonation, very crisp and dry, light body.
Overall - 4.0
This is a very interesting beer, proclaimed to be a hybrid influened by Saisons, Blond Ales and Tripels. I agree with this - it's not funky enough to be a Saison, too big to be a Blond and too dry to be a Tripel. Ultimately the style this comes closest to is exactly what it is posted as here: Belgian Strong Pale Ale, or as the BJCP would have it, Belgian Golden Strong Ale. Overall it comes across as a smaller, slightly too bitter version of Duvel. Improves with increasing degrees, so don't drink it straight out of the fridge!
1,133 characters
3.52
/5
rDev
-8.6%
look: 3 | smell: 3.5 | taste: 3.5 | feel: 4 | overall: 3.5
Commercial description reads accurately. Has that Belgian sweet yeasty character, at least early, but the hop impact is very defining and well done. Pommel-like. The hop impact does stop the fruit in its tracks and leaves you with the sense that the beer just stumbles at the last mile. But I'm being unfair because this beer is achieving what it sets out to achieve.
369 characters

4.38
/5
rDev
+13.8%
look: 4.5 | smell: 4 | taste: 4.5 | feel: 4.5 | overall: 4.5
Part of a trade with MrKennedy, this is my first Murray's brew and it looks quite impressive. The pour is a hazy golden color with a healthy amount of white head on top. The lacing a pretty good as well. The smell is really nice, it's a little spicy, a little floral, slightly sweet. Really had the elements of each Belgian style they weregoing for. The taste is very good, a lot like a the aroma is hits on just about every level. The mouthfeel is enjoyable also, it's kinda creamy and smooth. Overall I enjoyed a lot. It was really impressive and very cool idea from the Murray's!
582 characters
4
/5
rDev
+3.9%
look: 4 | smell: 4 | taste: 4 | feel: 4 | overall: 4
After reading the blurb on the back of the bottle and then drinking the beer, I'd say they achieved exactly what they set out to do.
A very good hybrid Belgian style beer that seems to take the best bits from a couple of styles and frankensteins them seamlessly. The drinkablity of a saison with the depth and warmth of a tripel and the character of both.
Extremely easy to drink despite the ABV. Really enjoyed this one.
425 characters
4.15
/5
rDev
+7.8%
look: 4 | smell: 4 | taste: 4.5 | feel: 3.5 | overall: 4
Mostly clear honey with a boisterous white head that abates relatively quickly but leaves plenty of lacing.
Mmmmm spicy belgian yeast. Oodles of fruity esters - banana, musk and sweet candy are prevented from becoming too sickly by a moderate punch of fresh cut grass. Also get walnuts, hazelnuts and a duller grainy note with plenty of doughy malts rounding it out.
Truckloads of fruity esters again: peach, pear and sweet melons. What really makes it fun are the confectionery flavours that take me back 25 years - toffee apple bars and watermelon bubblegum. Grassy funk, peppery spice and floral notes like orange blossom keep things in check. I hesitate to give this a 4.5 but I'm from a family of diehard sweet-tooths.
Dryish, moderately bitter finish. Not much layering or bedding down of flavours. Carbonation maybe a tad high.
Overall a terrifically fun beer. Straddles a number of styles pretty successfully. Might offend the beard strokers but stuff 'em.
968 characters

3.95
/5
rDev
+2.6%
look: 4.5 | smell: 4.5 | taste: 3.5 | feel: 4 | overall: 4
Pours a dull orange colour with fine haze throughout, rendering it largely opaque. Fine trails of bead all around the edges. Head is very pleasing - dense, a shade darker than white, retaining very nicely with some beautiful sticky lace. Looks a cracker.
Smells nicely fruity. Faint touch of something that might have been hops with a citric tang and some piney wood. Underlying fragrance of banana, peach and nectarine. Beautiful combination of lovely subtle esters, a touch of grassy funk in there, just nicely tangy, sweet and appealing.
Taste is an interesting one. Starts quite tangy with all those stone fruit notes hitting the palate - peach mostly, with banana and apricot as well. Develops a strong funky character midway with a domineering medicinal flavour; really quite bitter that kind of peaks late-mid where it gets a slight bitter rind note, then trails off for the finish. The back-palate is unfortunately lacking; just a lingering phenolic aftertaste that feels empty. Overall quite tasty, I just want it to finish stronger.
Nicely full body with a slight warmth from the alcomohol. Slight tingle, pretty decent feel.
Yeah, enjoying this quite a lot. It's an interesting twist on Belgian flavours. Would like the sweet front to last a bit longer and maybe some more funk on the back, but it's a pleasant drop nonetheless.
1,343 characters
3.97
/5
rDev
+3.1%
look: 3.5 | smell: 4 | taste: 4 | feel: 4 | overall: 4
A- Hazy dark golden with a 2cm white head that falls fairly quickly.
S - Fruity peach esters and slightly tropical hop notes with a light sweet touch and a light waft of alcohol
T - Light fruitiness along with plenty of spicy peppery & clove phenols. A bit of sweetness.
M - Lighter side of medium bodied with a pretty high prickly carbonation.
O - An interesting and tasty beer though personally I'd prefer if it were a touch drier.
433 characters
3.87
/5
rDev
+0.5%
look: 3.5 | smell: 4 | taste: 4 | feel: 3 | overall: 4
This pours a cloudy rich orange colour with a minimal, but solid, white head.
Spicy yeastiness dominates the nose. A little bit of a lolly aroma as well and a touch of apple.
More malt on the palate. A bit of sweetness. Alcohol is evident but not overpowering. Finishes very dry.
Medium bodied.
This is the 4th bottle of this I've had. 2 were fantastic. This and another were only ok. Not really sure what's up. I've upped my score in recognition of those other bottles.
474 characters
3.96
/5
rDev
+2.9%
look: 5 | smell: 4 | taste: 4 | feel: 3 | overall: 4
Pours amber with a large, lasting, creamy white head and lovely lacing.
Nose is very fruity, lots of passionfruit, apples and pears. Very sweet smelling. Next some doughy yeast shows through alongside soft spicy phenols. Very nice!
Similarly light flavours. And quite sweet (indicative of the use of candi sugar?). Lots of sweet malt, not so much in the way of fruit. Alcohol and high carbonation dries out the finish somewhat. I'm not sure if it's due to high alpha bittering hops or the alcohol but the finish does feel quite sharp, almost metallic. Mind you, this fades as it warms up.
588 characters
4.22
/5
rDev
+9.6%
look: 3.5 | smell: 4 | taste: 4.5 | feel: 4.5 | overall: 4
Slightly hazy golden colour with a moderately small white head. Fair head retention.
Mild spicy, fruity aroma with clear yeast presence. There is also a nice underlying current of citrussy hop which plays in well. Nice mix of hoppy saison and Belgian ale.
Smooth, crisp malt. Plenty of sweetness. Clove. Fruity esters. Citrussy, tropical hops. Mild bitterness.
Medium body with moderate to crisp carbonation.
A well crafted and interesting ale. I can appreciate what Murray's has done here and it is a nice change from some of the other seasonals that have been done recently.
580 characters
3.5
/5
rDev
-9.1%
look: 3.5 | smell: 3.5 | taste: 3.5 | feel: 3.5 | overall: 3.5
Tried on tap at the brewery 2nd of Jan 2011. I heard a rumour this wasn't even making its way to the Local Taphouses; if so I'm pleased I got a chance to sample it.
Pours a clear golden yellow colour, with minimal head, although the lady who served it seemed very keen to fill my glass to the top rather than promoting any head. Lacing is fine, thick and consistent. Very slow streams of carbonation creep through the body. Not bad.
Nose is quite light, with phenolic characters dominant. A bit of spice and a light boozy character. As it warms some sweeter notes of organic honey come through. Pleasant enough, but pretty light.
Taste is a bit more boozy, and rather spicy with phenols. Very light in the body. It's clean, but the lightness turns into thinness on the back. No harshness at least. There's a little bit of that round Belgian sweetness - a bit sharp at times, as it warms it gets some lightly sour-bitter astringent fruit characters as well. It's very mild, stylistically, though.
Eh, has Shawn lost some of his mojo recently? I haven't been hugely enamoured of either of his last two seasonals. You can see what he's doing here, but it's nothing out of the ordinary, or anything to excite the Murray's fans. It's very drinkable for a 7.5% ABV beer, but that's it's best attribute - and the lack of really bold flavours doesn't really excite me enough to want to drink a lot of it.
Decent, but bland.
1,430 characters
Murray's Punk Monk from Murray's Craft Brewing Co.
Beer rating:
3.85
out of
5
with
14
ratings