Tucher Übersee Export
| Brauerei Tucher Brau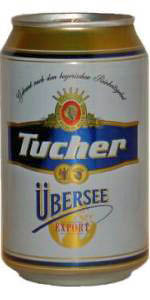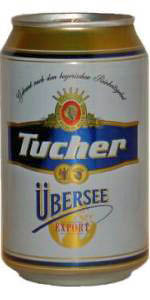 BEER INFO
Brewed by:
Brauerei Tucher Brau
Germany
tucher.de
Style:
European Export / Dortmunder
Alcohol by volume (ABV):
5.30%
Availability:
Year-round
Notes / Commercial Description:
No notes at this time.
Added by brewdlyhooked13 on 10-06-2006
HISTOGRAM
Ratings: 13 | Reviews: 9
Reviews by Zimbo:

3
/5
rDev
-7.1%
look: 3 | smell: 3 | taste: 3 | feel: 3 | overall: 3
Light yellow to the eye with some reasonable hop aroma and a light fluffy head. Palate is light, clean and with a gentle body but it really could do with being firmer with better intensity. Fairly refreshing and a pretty reasonable example of an export style which rounds off the last days of summers well. But perhaps too much between a rock and a hard place between dryness and malt. A talented American craft brewer could probably do better.
444 characters
More User Reviews:


3.08
/5
rDev
-4.6%
look: 3 | smell: 3 | taste: 3 | feel: 3.25 | overall: 3.25
3.25
/5
rDev
+0.6%
look: 3 | smell: 3 | taste: 3.5 | feel: 3.5 | overall: 3
Pours a nice yellow deep tone with low carbonation. Head is low with zero retention. Smell is zesty, low malt smell. Taste is clean refreshing with some bitternes at the end. It is the perfect beer to enjoy in a sunny day. It is quiete similar to some american lagers, but with more body. Dont like too much the sweetness aftertaste
332 characters
3.48
/5
rDev
+7.7%
look: 3.5 | smell: 3 | taste: 3.5 | feel: 3.5 | overall: 4
The 500ml brown bottles are now available in UK Aldi stores at just over £1.00 per bottle!
This one was poured into my Veltins stemmed tulip (three times).
Pale gold, paler than your average pilsner/export/dort, this was clean, clear and sparkling. The snow white head came and went a bit too fast which was a pity because its appearance score has to drop because of that.
Cereal aroma, not much, but some.
Typical lager/export taste/flavour, meaning a refreshing blend of water with a few hops and malted grains thrown together with a heavy yeast that sinks to the bottom removing most of the flavours as it goes!
I'm being unfair, this is a fine example of the style and well worth the few pence I paid for it.
718 characters
3.55
/5
rDev
+9.9%
look: 3.5 | smell: 3.5 | taste: 3.5 | feel: 4 | overall: 3.5
A: straw yellow color with a light body and medium carbonation, head is also medium white color but fast dissipation for no permanent layer.
S: just a clear malty aroma not too complicated or elaborated.
T: clear malty tasting with some notes of hops very clear and good.
M: as the style it is a little dry at the end, not to bitter at the beginning also not to sweet more balanced.
388 characters

3.21
/5
rDev
-0.6%
look: 4 | smell: 3 | taste: 3 | feel: 3.5 | overall: 3.5
50cl bottle served into my Paulaner tankard.
A- Golden lager blonde with a 3 finger head from aggressive pour. Retention is good to average, with moderate lacing.
S- Slightly musty, some sweet malt.
T- Once again, slightly musty, sweet malt in the finish, with only faint hop bite
M- Moderate carbonation and body.
D- To be honest, this bottle was a month after its best before its date and im going to assume that did this offering a wee bit of harm. For a dortmunder export style, this was really too sweet. Albeit its from a Bayern brewery where the lagers are sweeter, its still not a great example of the style, with the lack of hop bite in the flavour. Still drinkable though!
687 characters
3.62
/5
rDev
+12.1%
look: 3.5 | smell: 4 | taste: 3.5 | feel: 3.5 | overall: 3.5
A: a completely yellow beer, is traslucent totally clear, a lot of carbonation wich generates a nice white head, it shows good retention
S: very nice biscuit, just baked bread aroma, some malt sweetness, pils aroma
T: good enoug, refreshing, medium light body, some tiny sweetness at first, crisping on the tongue, medium bitterness at the end, long lasting end, clean beer
375 characters

2.4
/5
rDev
-25.7%
look: 2.5 | smell: 2.5 | taste: 2 | feel: 3.5 | overall: 2.5
Clear, wispy head, golden color. Nothing to see here. Nose is grainy, faint and clean, with nothing to arouse the senses or get excited about. The flavor is quite flash in the pan as well, with a hint of grassy hop but otherwise sticking to carbonated water flavors. This is not a very good beer, even for a style that has as little going for it as the euro export lager.
371 characters
3.53
/5
rDev
+9.3%
look: 4 | smell: 3.5 | taste: 3.5 | feel: 3.5 | overall: 3.5
I had a 0.5l glass of this vom Faß with a kick-ass cordon bleu at the Gasthof Zum Ochsen in Rothenburg on 25SEP06.
It poured a clear. medium golden color, with steady, abundant carbonation. Head was slightly off-white, and fairly compact; steady at 1/2" with decent lacing. Had a light, grassy hop aroma; inviting yet mild. Body was almost medium, though not quite, with a fairly smooth feel on the tongue. Light bready malt first hits the palate, followed by grassy, herbal hopping. The malt fades soon, leaving the herbals to a short, dry, slightly bitter finish. Decent, but no world-beater.
Prosit!
overall: 3.6
appearance: 4 | smell: 3.5 | taste: 3.5 | mouthfeel: 3.5 | drinkability: 3.5
931
701 characters

3.68
/5
rDev
+13.9%
look: 4 | smell: 3.5 | taste: 3.5 | feel: 4 | overall: 4
had it on a tucher night in warsaw... all thanks to rodzinka bis off of the wilanoska metro stop.
this was a proper but not particularly beyond dortmunder. the pour was golden with a healthy head of white. the nose was a bit straw munich and hops. nice apple with a tad bit of sweetness showing the alcohol... lean but abv not heavyhanded.
341 characters
Tucher Übersee Export from Brauerei Tucher Brau
Beer rating:
3.23
out of
5
with
13
ratings