Christ-Kindlesmarkt Bier
| Brauerei Tucher Brau
BA SCORE
81
good
18
Ratings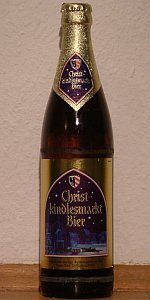 BEER INFO
Brewed by:
Brauerei Tucher Brau
Germany
tucher.de
Style:
Märzen / Oktoberfest
Alcohol by volume (ABV):
6.00%
Availability:
Winter
Notes / Commercial Description:
No notes at this time.
Added by HappyHourHero on 11-08-2006
Reviews: 10 | Ratings: 18
2.8
/5
rDev
-14.1%
look: 4.75 | smell: 2.75 | taste: 2.5 | feel: 3.5 | overall: 2.5
L:
-pours a clear golden with a big,foamy,white head
-high carbonation visible
S:
lemon,grainy,sulfur,biscuity,spicy,corn,marzipan
T:
-lemon,honey,sourdough,corn
F:
-medium,soft carbonation
-light to medium body
-slight alcohol warmth
O:
Just about average Winter Festbier.
273 characters
3.11
/5
rDev
-4.6%
look: 3 | smell: 2 | taste: 3.5 | feel: 3.5 | overall: 3.5
Good amount of white head, approximately two fingers thick. Dissipates quickly, with not very good lacing. Body is gold and well filtered.
Aroma is husky and corny, with slight honey characteristics.
The taste is pretty good. Some lemony hops and wetting to the palate for the mouth feel.
Overall this is a good lager, but not something that would make me feel cozy at a cold winter fest.
391 characters
3.13
/5
rDev
-4%
look: 3.5 | smell: 3 | taste: 3 | feel: 3.5 | overall: 3.25
Not the best. Pours pin bright, small head dissipates quickly. sticky sweetness on the nose, small floral character. Taste is sweet german malt, little bitterness hangs on at the end.. Lacks drinkability
204 characters
3.2
/5
rDev
-1.8%
look: 3 | smell: 3 | taste: 3.5 | feel: 3 | overall: 3
Beer pours a clear, golden color with a half finger head that dissipated quickly, some lacing left in glass. Smell is of sweet pilsner malt that is somewhat grainy with a hint a hops in the background. Taste is sweet malt with a faint bitterness from the hops, reminds me somewhat of a pilsner but with a fuller malt flavor. Flavors were not muddled and beer was crisp. Carbonation was good.
This was a decent beer but not even close on my list of favorite German beers. Not sure if I would classify this as a Marzen/Oktoberfest Bier as it is defined on BA.
559 characters
3.22
/5
rDev
-1.2%
look: 3 | smell: 3.5 | taste: 3 | feel: 3 | overall: 3.5
A friend's mother brought this beer back from Germany. Poured a bright, clear, golden color with a small head that fizzled out quickly. Smells distinctly of German malts and yeast, quite grainy. As is the taste. Very grainy, watery, light German malts, light hop spice. I was actually expecting more flavor from this German Festbier/Marzen. Seemed pretty watered down and mediocre. Mouthfeel was watery, good carbonation, crisp. Still enjoyable but nothing close to spectacular.
478 characters
3.25
/5
rDev
-0.3%
look: 3.5 | smell: 3.5 | taste: 3 | feel: 3 | overall: 3.5
Named after the Christmas market in Nuremberg.
Poured a short, yellowish-white head that faded to a thin film. Clear, bright golden beer contains a few lazily rising bubbles. Aroma is a mix of pungent and floral hops with a hint of pale malt sweetness. The flavor takes a second to kick in. It's got a grainy, almost stale malt flavor at first. Faint floral flavors and astringent hop tea in the middle. It ends with pungent hops, a faint bitterness, and a touch of alcohol. Body leans towards watery releasing a dose of fine carbonation in the finish. Besides the stale malt flavor this beer is fine.
604 characters
3.26
/5
rDev 0%
look: 3 | smell: 3.25 | taste: 3.25 | feel: 3.5 | overall: 3.25
Bottle picked up in Francoia region. Nice malty aroma and taste, with some slight warming from the alcohol. Pours a nice deep golden color with fast dissipating head. A nice winter beer
185 characters

3.33
/5
rDev
+2.1%
look: 3.5 | smell: 3 | taste: 3.5 | feel: 3 | overall: 3.5
Picked this up at my local German super market. Clear yellow pour with nice foamy white two finger head that faded quickly with decent lacing. Grassy, earthy nose with a hint of sweetness and just a touch of perfume. Taste is pretty non-descript and basically a typical German pilsner with a bit of spice and lemon. Was hoping for a bit more "Christmas" in this beer, but it wasn't bad. Nice crisp, bitter, dry finish made it an easy drinker. Unfortunately, most German Christmas beers can't live up to their Belgian neighbors interpretations.
543 characters

3.5
/5
rDev
+7.4%
look: 3.5 | smell: 3.5 | taste: 3.5 | feel: 3.5 | overall: 3.5
330ml bottle, poured into leffe goblet. 1 finger head, clear, bronze colour. Smells of czech hops, initial taste of mushrooms but gave way to a bit of perfume. Lots of carbonation. Good altenative for those who don't like glühwein, you could drink 2 or 3 of these at a christmas market. Decent but not outstanding
314 characters
3.51
/5
rDev
+7.7%
look: 4.5 | smell: 3.5 | taste: 3.5 | feel: 3 | overall: 3.5
the label is pure unadulterated kitsch, just like it should be for X-Mas ... lol ... however the brew inside is somewhat different
amber color, with a soft head (maybe the beer was poured a touch too cold) .... taste is somewhat treacly malty, even a bit bulky, however none of the expected 'X-Mas' flavors (raisin, cinnamon and the like) to be spottted .... the finish is a bit watery and slightly bitter ...
a well-made brew, slightly above average (of serious beers ...) but not necessarily a winter warmer or X-Mas season beer
532 characters
Christ-Kindlesmarkt Bier from Brauerei Tucher Brau
3.26
out of
5
based on
18
ratings.