Dismiss Notice
Rowland's Calumet Brewery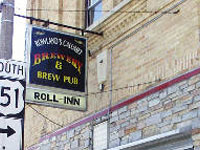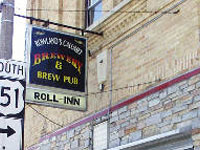 PLACE INFO
Type:
Brewery, Bar, Eatery, Beer-to-go
25 North Madison
Chilton
,
Wisconsin
, 53014
United States
|
map
rowlandsbrewery.com
Notes:
No notes at this time.
Added by BeerAdvocate
HISTOGRAM
Ratings: 8 | Reviews: 8
Reviews by DaPeculierDane:
4.04
/5
rDev
+6.6%
vibe: 4.5 | quality: 3.5 | service: 4 | selection: 4.5
I'm a huge fan and patron of rundown, small town bars. I try to stop in at least one in every town I go to. I enjoy the conversation with retired old farts whose only chore in life is to sit on a barstool from 10 AM until 3 PM pouring Old Milwaukee from a can into a 7 oz tapper glass. I like a place where the owner ran out of paint the day he redecorated in 1983 but had some extra maroon carpeting in the garage and thus decided to just staple that up on the wall. I especially love the prices. Who can argue with 50 or 75 cent beers? If there is any downfall to the rural Wisconsin tavern it is that you are generally limited to Miller products or perhaps draft Leinies or New Glarus that comes from a keg last changed when Clinton was president. At any rate your options are limited.
This is why I find Rowland's Calumet so charming. It offers all the appeal of a Wisconsin tavern but with a huge selection of craft brews. The beers are somewhat hit and miss. Many seem to me to have been pulled from the fermentor a bit early and just have too much darn sugar in them. I'd like to see them give the yeast a little more time to turn that sugar in to booze. Some beers on the other hand are very good, even down right fantastic and I will give them this, they are right on stylistically and for a tiny little brewery they make a crap ton of different styles.
I'll also recommend Rowland's for both service and atmosphere. The owner, who also happens to be the current brewer's mother and late brewer's wife, is a pleasure to talk to, knows her beers, and provides great service. The atmosphere is fun for any beer nerd for in addition to the aforementioned small town tavern awesomeness, it boasts a huge collection of brewerania - especially boxes and signs from some of Wisconsin's most historically significant breweries.
1,831 characters
More User Reviews:
1
/5
rDev
-73.6%
vibe: 1 | quality: 1 | service: 1 | selection: 1
I agree with emerge077. This is exactly what I found even to having Dr Phil on the tv. The female bartender and the male brewer should really watch Dr Phil as they argued the entire time I was there. Beer, the taste and the ambiance, do flow together. I was not impressed with the beer. I sampled a few. I bought a growler and found the Calumet Dark less satisfying out of the growler. I will not make a trip back nor would I recommend the beer or the facility.
465 characters
4.06
/5
rDev
+7.1%
vibe: 4.75 | quality: 3.25 | service: 4.5 | selection: 4.25
This is a really unique place, quirky and anachronistic. If this doesn't interest you, stop reading here. For the intrepid seekers of one-of-a-kind experiences, read on...
We made a detour here from Green Bay, en route to Door county, despite the protests of a few locals based on the overall quality of the beers (more on that later). The building itself appeared to be well over 100 years old, with a cool mural of the Calumet Brewery logo. The front door was a unique copper plated design, heavy and rustic. Brewing equipment was visible though the windows. Inside it was dark and a little divey, high ceilings and a tv above the bar playing dr. phil. If you're a breweriana fan, the collection here is worth the visit alone. Plenty of old trays and piles of crates high above on the walls, many from the old Calumet Brewery (closed 1937) and from collection of the bar owner/brewer's mother. She was tending the bar, and had plenty of great stories to tell, a real salt of the earth lady who cared about the place, the beer, and it's history.
About the beer itself... let's get the quality issues out of the way. They brew with a house yeast, and there was diacetyl in a few of the beer samples, so some of the less interesting beers tended to all run together. Don't know if this is a tap line sanitation issue or what. However, there were a few that were solid, the Calumet Dark, Mortimer's Ale, and "Kirby" a test batch brewed with Kirby Nelson (formerly of Capital). The root beer wasn't bad either.
There's something to be said for upholding local brewing history, reviving a lost brewery, and maintaining it for over 20 years in this tiny, quiet town. It's worth a visit, especially if quirky, off-the-beaten-path places are your cup of tea.
1,754 characters
4.97
/5
rDev
+31.1%
vibe: 4.75 | quality: 5 | service: 5 | selection: 5
Loved the smell when I walked in. Plenty of beer to be had. I really enjoyed all but the kolsch, which I'm not a fan of that style anyway. Good history posted around the bar. If you want some good beer, and good conversation/people it's a good place to stop by. The jerky they carry is darn good too.
300 characters
3.48
/5
rDev
-8.2%
vibe: 3.5 | quality: 3 | service: 3.5 | selection: 4
This was the first stop on the way up north for our brewery tour extravaganza. Pretty much looks like any other hole in the wall bar from the outside. The interior is loaded with breweriana and old school chotskies. The beer lineup was rather impressive fro such a small place. They had close to ten different beers on tap. Plus an array of housemade sodas for the kiddies. The owner was tending bar and the place was empty. So we had her full attention. We chatted about all things beer and joked about what we saw on the afternoon news.
The beers themselves weren't anything too impressive. They all tasted rather similar. We did try the sodas and they were fantastic.
Cool little rustic place in the middle of nowhere.
725 characters
4.46
/5
rDev
+17.7%
vibe: 4 | quality: 5 | service: 4 | selection: 4.5
Let me start with a disclaimer... if you want big ballsy barrel aged beers this is not your place. But if you want something you can leisurely enjoy at your own place, this is session central.
I did a sampler of their beers and all were good, but six of them I really liked. Reflecting back 12 years ago when I didn't live so far away from this place, I was saddened by the foolishness of my youth in consuming substandard brew. One of the largest processor of malt nearby, it is only natural that most of their beers had that presence. I didn't see an IPA and I don't know if they regularly make one. Rye was probably the best one I ever had, so I had to buy a growler... ended up buying two growlers after finding out they were $10 ($3 for the growler, $7 for the beer). If you're in Wisconsin, do yourself a favor and have a taste of an olde time tavern some damn good session beer at a fantastic price.
907 characters

3.98
/5
rDev
+5%
vibe: 4 | quality: 3.5 | service: 4.5 | selection: 4
After my companion on this side trip dropped me off on the corner, I noticed that the brewhouse and a few fermenters sat right in the windows, on either side of the doorway. As I entered, the long, brightly varnished, light wood bar was directly to the left. They had an extensive, Art Deco-like back bar that featured a lot of mirrors. To the right of the entryway was a blue-felt billiards table, followed by a wooden, cigar store-style Native American; electronic darts; shuffleboard bowling; and further back, a CD jukebox. The washrooms were all of the way aft, Women's on the left and Men's on the right. Other aesthetics that I took note of there were the mural above the back bar which depicted Bonita and Bob (R.I.P.) Rowland as well as various scenes involving Calumet Beer; the "Barrels Produced" counter above the fermenters, which stood at 5,530 on the occasion of my visit; and the Breweriana, especially the wooden case crates. Bonita was behind the bar while I was in and she reminded me of my friend's late mother: a no-nonsense, whiskey-voiced smoker. We had a nice conversation and I left her a copy of Ale Street News.
They had eleven beers on tap when I visited and they included Rye; Amber; Nut Brown Ale; Oktoberfest; Total Eclipse; Wheat; Belgium Ale; Hunter's Choice; Kolsch; Madison Street Lager; and Dark. The beers were good and Bonita told me that her son had taken over the brewing duties, following Bob's demise. None of the beers were mind-blowing, but neither were they candidates for a drain pour. They were definitely earnest about what they were doing and that really counted for a lot, in my estimation. My pick was the Rye.
1,672 characters
4.34
/5
rDev
+14.5%
vibe: 4.5 | quality: 4 | service: 4.5 | selection: 4.5
This is not a big city, glitzy brewpub. For me, it is what I was looking for. It is old, the building, the wooden bar, the town, all old, and full of character. A small, 3 barrel JV Northwest Brewing System was installed wherever it would fit and they make beer. The sampler tray on my last visit included 10 beers and one root beer, alll the beers were drinkable but most were good to slightly better than good. THis was my last stop before hitting the ferry in Manitowoc to head back to Michigan. This is definitely a must see.
529 characters
Rowland's Calumet Brewery in Chilton, WI
Brewery rating:
3.49
out of
5
with
9
ratings