Kinshachi Nagoya Red Miso Lager
| Land Beer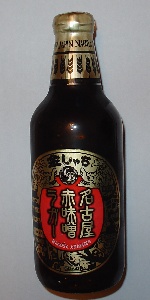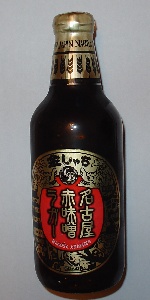 BEER INFO
Brewed by:
Land Beer
Japan
kinshachi.jp
Style:
Happoshu
Alcohol by volume (ABV):
6.00%
Availability:
Year-round
Notes / Commercial Description:
No notes at this time.
Added by Naerhu on 02-21-2006
HISTOGRAM
Ratings: 12 | Reviews: 8
Reviews by davidchollar:
3.8
/5
rDev
+6.7%
look: 3.5 | smell: 3.5 | taste: 4 | feel: 3.5 | overall: 4
i have been putting this one off for a while. the beer has been available to me, but i haven't been compelled to buy it. until tonight, at the store (koko) when i looked at the label - 8% abv ?! (EDIT: this must have been a misprint) also of note, nagoya's famous foods are listed, including red miso. also, deep-fried shrimp, miso udon and tebasaki (chicken wings).
i don't know, i just can't believe this is a happoshu. pours a solid dark brown, almost black, ruby. very unimpressive head, no retention. big, sweet, malty smell. there is a familiar smell here, but i don't immidiately think miso. if i concentrate on miso, i guess i can detect it in the nose, but it is nowhere near dominant.
this really reminds me of a dopplebock. that was part of the smell that i couldn't quite place. as i taste it, my first thought is doppelbock. it has a really strong malty flavor, with a big bitter finish. oh my god, this beer has tons of character. loads of flavor, highly drinkable. recommended!
998 characters
More User Reviews:
3.63
/5
rDev
+2%
look: 3.5 | smell: 3 | taste: 4 | feel: 3 | overall: 4
Poured from a 12oz bottle. Many thanks go out to VinnieVanGogh in getting this bottle from our buddy Mike in Japan.
A- Pours a dark brown color but had nice ruby red highlights as I held it to the light. One finger tannish head shows light retention. Some light spotty lacing on the sides of the glass.
S- Lots of caramel malts in this beer. I mean a lot! So much in fact that this seemed to be the only thing I could smell. No hops at all in this beer which seemed to be a big downfall in the aroma. I did pick up hints of something else but couldn't make it out. Vince said that was the miso. Who am I to argue with him..as I have no fuckin clue what it was.
T- Lots of caramel malts in the front of this beer. I mean a lot too...a bready malt underbody lifts this beer up a little more until about the middle of the beer then it gets interesting. Well I shouldn't say interesting but it seems to just wash away in a watery flavorless liquid. There is a hint of miso once again in the ending of the beer but that is faint along with the caramel malts which were just very present. It almost seemed to be a little on the sweet side as well.
M- Medium light mouthfeel. Carbonation is good for the beer I suppose (first time with the style). Bready caramel malts left on the palate with the same and a light hint of alcohol in the aftertaste. Flavors seemed to be balanced and had no real off flavors or off putting flavors as well. Light drying on the palate from the alcohol.
D- This beer was interesting as even though there wasn't a lot going on flavorwise at times it was still a very enjoyable beer. I would like to try some more of this style when I get a chance as it was actually quite good. The ABV is low enough to enjoy a sixer of this which I could do. Almost seems like a upgraded lawn mower beer.
1,819 characters
3.7
/5
rDev
+3.9%
look: 4 | smell: 4 | taste: 3.5 | feel: 4 | overall: 3.5
Pours murky brown with a large lasting creamy head and big chunks of sediment.
Nose shows loads of rich malt. Lots of caramel, prunes, figs, caramelised apples, treacle and a big melanoidin character.
Similarly malty flavours, lots more of the above fruit and caramel, almost candy-like. Also a savoury character shows along with some soft alcohol. Finishes weakly though with a hint of cardboard.
Nice med-high carbonation suits the beer well.
444 characters
3.75
/5
rDev
+5.3%
look: 3.75 | smell: 3.75 | taste: 3.75 | feel: 3.75 | overall: 3.75

4.03
/5
rDev
+13.2%
look: 4.5 | smell: 4 | taste: 4 | feel: 4 | overall: 4
Poured into a Gulden Draak tulip. Pours a red brown with a fine, two finger light khaki head with great retention and lots of lacing. Aroma of bready, caramel malt, sweet molasses, dark stone fruit, lightly floral. Flavor is dry caramel malt, figs, dates, miso (a bit more like light soy sauce, really); finishes with more dark dried fruit and dry malt. Nice lightly creamy medium body. A really nice, malty ale. The profile is most like an old ale, with rich dried fruit and malt, but with the light miso notes. The initial flavor is somewhat muted, particularly in relation to the robust aroma, but the finish leaves nice dried fruit and malt flavors to savor. I liked this interesting ale. I like only a tiny amount of miso in my food, but the level in this lager is deftly handled, so it adds a little savory flavor without overpowering the malt. Nicely done and different. I don't think this is a happoshu, despite having the rice element, the main element is fairly robust malt; but it obviously is hard to categorize.
1,024 characters

3.67
/5
rDev
+3.1%
look: 3.5 | smell: 4 | taste: 3.5 | feel: 3 | overall: 4
A review at Naerhu's behest; since I am soon to leave both him and this fine country behind, I figure reviewing a miso (!) beer is not too much to ask.
Pours a deep muddy brown, nearly opaque. An aggressive pour generated a thin beige head which disappeared almost immediately, leaving the faintest skiff atop the beer.
Sweet malty aroma, caramel or toffee. Not a hint of fermented soy bean paste. Which is not a bad thing.
A nice malty taste to match the aroma, but with a good bitter kick for balance. And, yes, there it is -- underneath, a character I didn't expect. I can't quite say it is miso; in fact, it seemed almost like a hint of salt, and then it was gone, overwhelmed by the nice maltiness of the beer. Perhaps just a trick my miso-hunting subconsious played on me.
Quite thick, and without enough carbonation to keep it light. It becomes a bit cloying, coating my mouth. Not too bad, though. Just could have been a touch more lively.
Overall, an intriguing choice. A tasty, nearly flat, dark beer in a land of over-carbonated light-yellow beer-pops. Well worth a try.
1,096 characters

3.39
/5
rDev
-4.8%
look: 4 | smell: 2.5 | taste: 3.5 | feel: 3.5 | overall: 4
Been eyeing this one for a while but didn't really expect much, so it's been sitting there while I've tried out a number of other things that I was a little more certain I'd like. I'm a big fan of miso as a foodstuff, though the dude at the bottle shop said there's no real noticeable miso taste.
Pours looking like coca-cola with 2 good fingers of tan head. This is a very dark lager indeed. Carbonation is huge, masses of rising bubbles and big clusters sticking to the sides of the glass. Head disappears in seconds.
Sweetish, fairly typical bland lager smell with a bit more caramel. Requires extensive swirling and really sticking your nose in there to get much out of it. No trace of miso so far.
Fairly strong caramel malt flavour up front, at which point you notice it has a fairly thick mouthfeel for a lager, which coincides with the onset of a weird sort of overripe fruity note (the miso? it's quite pleasant, whatever it is) with an oddly rank finish which is immediately cleaned up by the bitterness. Doesn't feel quite as carbonated in the mouth as it looks. It's different, but not VERY different. Interesting, but a bit bland, really.
This'd probably go real nicely with Japanese or any not-particularly-spicy Asian food, and it's certainly easy to drink on it's own. It's damn expensive over here though, and I don't like it enough for another go 'round.
1,379 characters
3
/5
rDev
-15.7%
look: 3 | smell: 3 | taste: 3 | feel: 3 | overall: 3
3.75
/5
rDev
+5.3%
look: 3.5 | smell: 3.5 | taste: 4 | feel: 3 | overall: 4
A - Extremely opaque dirty amber body with absolutely no head.
S - Slightly sweet chocolate, with surprisingly no miso.
T - For a miso beer, there is a surprising lack of miso flavor. Rich maltyness, with hints of miso, no outstanding sweetness or bitterness. Not gimicky at all.
M - Medium body and medium to high carbonation.
D - This is a pleasant beer. I imagine that they might make more sales of this beer if they made it more extreme and gimmicky, but I am glad they settled for a tasty beer instead.
511 characters
2.8
/5
rDev
-21.3%
look: 2.5 | smell: 2.5 | taste: 3 | feel: 3 | overall: 2.75
Appearance: Dark red-brown with an acceptable light tan head. Settled down a bit quickly, but hung on for most of the glass.
Aroma: More caramel than expected, with some faint hops in there as well. Miso smell was present, but could only be picked up with those that were familiar with it.
Taste: A bit bready, malty, and reasonably simple. Some caramel, hops, and fruitiness, but none strong enough to stand out. Some miso taste, but fortunately it was reasonably integrated into the beer and did not jar with the other flavours. A clean and lingering bitterness at the end.
Mouthfeel: Medium carbonation with a medium body. Nothing out of the ordinary.
Drinkability: Quite drinkable, but not really that enjoyable. A bit too simple and conservative, it tastes almost as if they were hesitant to put more than a drop of miso, just in case it turned people off. If it wasn't for this unusual ingredient, then it would be bland and uninspiring.
948 characters
Kinshachi Nagoya Red Miso Lager from Land Beer
Beer rating:
3.56
out of
5
with
12
ratings