Vios 5
| Athenian Brewery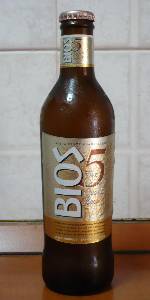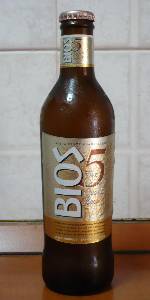 BEER INFO
Brewed by:
Athenian Brewery
Greece
athenianbrewery.gr
Style:
American Adjunct Lager
Alcohol by volume (ABV):
5.00%
Availability:
Year-round
Notes / Commercial Description:
No notes at this time.
Added by patra7 on 07-03-2011
HISTOGRAM
Ratings: 12 | Reviews: 6
Reviews by Radome:

3.15
/5
rDev
+9.8%
look: 3.5 | smell: 3.5 | taste: 3 | feel: 3 | overall: 3
Bought and drunk in Greece, from a 33 cl bottle.
A - Beautiful golden color, very clear. White head is thin and quickly fades to almost nothing.
S - Aromas are clean but at a very low level. There is some sweet malt and cracked grain and a hint of noble hops.
T - Clean; no off flavors. Slight sweet corn mixed with low malt flavor. Some grassy hops flavor, but at a low level. A hint of sulfur and other lager yeast flavors. No single flavor stands out. Fairly uninteresting.
M - Thin body; low hops bitterness; low carbonation bite; no alcohol burn.
O - This is an extremely clean and well-made beer. It is totally inoffensive and drinkable, but also very uninteresting to me.
685 characters
More User Reviews:

2.97
/5
rDev
+3.5%
look: 3.5 | smell: 2.75 | taste: 3 | feel: 3 | overall: 3
330 ml bottle (thanks Jessica) with a BB date of 8-2015.
Purchased and enjoyed in Sfakia, Crete.
High carbonation in a medium-light body creates a well-proportioned, semi-durable head.
Lightly hoppy and mildly bitter
217 characters

2.2
/5
rDev
-23.3%
look: 2.5 | smell: 1.75 | taste: 2.25 | feel: 2.75 | overall: 2.25
Clear golden color with minimal head.
Almost no aroma, just some faint adjunct smell.
Taste is also very faint. Just the specific adjunct lager taste.
Mouthfeel is decent. Light body and medium carbonation.
Overall a pretty bland adjunct lager, nothing special here.
267 characters

2.65
/5
rDev
-7.7%
look: 2.5 | smell: 2.5 | taste: 2.5 | feel: 3 | overall: 3
First of all, some clarifications: I am making the assumption that this beer will be available year-round and for quite some time. It came out in February 2011 and one can still find it in bars and supermarkets in Greece (currently July 2011), although it's not yet listed on the company's website. Maybe they're just testing the market for the moment but my hunch is it will stay for quite some time. Also, it is -obviously- not American but I could only list it under "American adjunct lager": it claims to be "the first beer in the world to combine...5 cereals" (barley, wheat, rye, corn and rice). The name could also be described as somewhat misleading (not necessarily in the legal sense of the word), as the word used for Organic products in Greece is "Biological" and the prefix "Bio-" tends to be associated with organic products; but "bios"/"vios" also means "life" in older Greek.
Now, onto the beer itself:
Appearance: Gold color; 1-inch high, white head that lingers quite a bit.
Smell: Hops at first, and then a more balanced character without anything truly impressive. Another beer for the masses.
Taste: More of a light, malty character – but not totally one-sided – with the light sweetness of the corn projecting itself every now and then.
Mouthfeel: Light to medium body, quite smooth. Average carbonation, more evident at the start.
Drinkability: Easily drinkable as an accompaniment to a light / casual lunch but not much beyond that. True to the "style" however...
1,503 characters
3.04
/5
rDev
+5.9%
look: 3 | smell: 2.75 | taste: 3.25 | feel: 3 | overall: 3

2.81
/5
rDev
-2.1%
look: 3 | smell: 2 | taste: 3.5 | feel: 2.5 | overall: 2.5
Got it in Greece.
A - Nice color, dark golden. Medium carbonation, white foam, but lasting no more then minute. Expected much bigger foam with 5 grains in it !
S - Again nothing from grains, cereals whatever. Only some bad pale malt.
T/M - A bit better taste, some more flavors, but cheap aftertaste, bitter. Sticky in the mouth. Medium carbonation, but unpleasant.
O - When i saw 5 grains written on the bottle, i expected much, much more from this beer. It is almost average Pale Lager.
491 characters
3.23
/5
rDev
+12.5%
look: 3.5 | smell: 3 | taste: 3.5 | feel: 3 | overall: 3
Fresh and non-descript, this all-Euro type of lager celebrates the adjuncts that most craft breweries try to avoid. Rice, corn, barley, wheat, and rye all make their way into the beer, mostly to the tone of grainy-sweet flavor of raw cereal grains, pilsner-esque sweetness, moderately floral, and with a balance that ultimately favors the medium sweetness. Without much that separates this beer from the run-of-the-mill Budwieser, the vegetal flavor of corn becomes the only real counterpart to raw barley, and maybe an earthy spice from rye that could easily be attributed to hops. Consumed fresh, this beer was a no-frills thirst quencher that hit the spot and can complement many Greek salads and lighter fare.
713 characters
3.78
/5
rDev
+31.7%
look: 3.75 | smell: 3.75 | taste: 3.75 | feel: 4 | overall: 3.75
2.82
/5
rDev
-1.7%
look: 3 | smell: 2.75 | taste: 2.75 | feel: 2.75 | overall: 3

Vios 5 from Athenian Brewery
Beer rating:
2.87
out of
5
with
12
ratings