Dismiss Notice
BA SCORE
69
poor
59
Reviews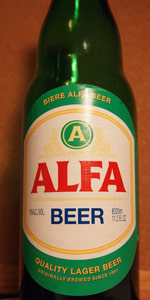 BEER INFO
Brewed by:
Athenian Brewery
Greece
|
website
Style:
American Adjunct Lager
Alcohol by volume (ABV):
5.00%
Availability:
Year-round
Notes / Commercial Description:
No notes at this time.
Added by BeerAdvocate on 06-20-2003
Reviews: 59 | Ratings: 163
2.37
/5
rDev
-16.8%
look: 2.5 | smell: 3 | taste: 2 | feel: 2 | overall: 2.5
Picked up a single can at Bishop's Cellar in Halifax. Also available in bottles at Athens Restaurant.
Appearance: Pours a very clear pale yellow with a fizzy bone white head. Some scant lacing, not much retention.
Aroma: Musty grains, bready malts, some pungent yeasty aromas, underlying sweetness and some alcohol.
Taste: Very sweet up front, grainy, some moderate bitterness from the hops pull through in the finish which is marked by a cloying sour lactic acid.
Mouthfeel: Sharp, fizzy and thin.
Final Statement: Not a winner. I would drink it if offered, or in Greece for the hell of it. Otherwise, it's nothing to seek out perhaps to just say you tried Greek beer.
★
684 characters
2.77
/5
rDev
-2.8%
look: 2 | smell: 2.5 | taste: 3.5 | feel: 2.5 | overall: 2
Picked this up to try something cheaper and different. Not a great choice...
This beer pours a pale yellow with moderate carbonation. The head dissipates into a clumpy white foam. It smells like every beer I've had out of a green bottle: skunky. The hops make for a pungent, almost rubbery smell that overwhelms the nose. The taste on the other hand isn't quite as bad as I expected. It had a surprisingly full body and a well balanced sweet taste. It's like a dressed up Heineken with a Greek accent.
★
504 characters
2.26
/5
rDev
-20.7%
look: 3 | smell: 2 | taste: 2 | feel: 2 | overall: 3
This is one of a number of pale lagers you find bottled and on tap arund Greece. If you spend your day on the beach, find a table in the shade and order a glass of this from a frosty mug, it it just about perfect. Just half a litre of cold liquid with no taste to bother you. Unlikely to offend anyone.
If you want a beer with more flavour or a beer to take home, this is not what you want.
★
393 characters
2.08
/5
rDev
-27%
look: 2.5 | smell: 2 | taste: 2 | feel: 2.5 | overall: 2
After having this beer in a bottle, the draft counterpart does not even compare in taste or mouthfeel or any other category. This beer smelled very heavily of skunk. There was no head retention. The only factor that made this beer enjoyable was the surrounding Greek countryside and Aegean sea. Much better in the bottle.
★
321 characters

3.85
/5
rDev
+35.1%
look: 3.5 | smell: 3.5 | taste: 4 | feel: 4 | overall: 4
This beer is not around Boston at all except at THE one gourmet Greek restaurant. It is 10 X better than the other beer (KEO) that they have at Meze --the fairly new place on the bridge next to the new hotel in Charlestown.
Pours a gold straw with no head retention or--just a touch to convince you it is active.
Nose is standard euro-lager-malty, nutty, grassy, pretty good --slighty sweet wheat coming through.
Taste is smooth, clean, and malty --fairly dry finish.
Slight saltinesss too.
This is what I hope for when I try a beer from some country that I have never tried. I approve and would recommend !!
★
619 characters
2.4
/5
rDev
-15.8%
look: 2.5 | smell: 2.5 | taste: 2.5 | feel: 2.5 | overall: 2
This is a beer i never heard of before. Until my father brought one home from Greece. It pours a golden straw colour into the glass. The head is white and big, but disapperas quickly, leaving just a thin ring. It has a little sweet smell and also smell from hops and citrus. The taste is not bad, but it isn't good. It is a bit malty and sweet and no bitterness at all. A beer for hot summer days. But i wasn't impressed of it.
★
427 characters
2.5
/5
rDev
-12.3%
look: 2.5 | smell: 2.5 | taste: 2.5 | feel: 2.5 | overall: 2.5
I just dont get how 3.0 is "average". Certainly such an average- rather synonim to "mediocre"- brew deserves nothing above 2.5 in all criteria since its well within the averae pack.
The pour, goldish straw toned, translucid, little white head that fades, blah blah (you know the story). Malty and hoppy nose within the parameters, and the taste is just like poppin' open any other "two-point-five" pale lager. No mystery to it. the plain experience of another greek macro.
★
476 characters
2.95
/5
rDev
+3.5%
look: 2.5 | smell: 2.5 | taste: 3 | feel: 3 | overall: 3.5
This "Hellenic" beer pours a shiny pale gold with a fast dissipating white head and light wisps of lace. The aroma is of cut hay, mild citrus and a faint sulfuric odor coming on (Could it be the green bottles?) The grainy body seems to have relied on some corn. The beer's visual clarity and the cornflake flavor would attest to perhaps a bit too much of it's use in the recipe. A nice herbal background mixes with a light lemony citrus and slight metallic bite, which saves this beer from totally sucking. It ain't all that bad!
★
530 characters
2.35
/5
rDev
-17.5%
look: 2.5 | smell: 2.5 | taste: 2.5 | feel: 2 | overall: 2
Golden straw with vibrant thick white cloudy foaming head which leaves a mellow trickled lace down the glass. Aroma is arises as one full of european hops that produce the characteristic skunk tone with mild tones of sweetness from possible corn and malt based graiin. Very grainy in the flavor with the malt sweetness shining through more so than the skunked hops in this beer. A lighter bodied beer built for quenching thirst in a country known for it's wine and ouzo. I personally enjoyed this beer and when eating authentic Greek food this would go as a fine pairing to most dishes. I enjoy it and if on a Greek island could picture myself drinking my share of this malt based beverage.
★
690 characters
Alfa from Athenian Brewery
69
out of
100
based on
59
ratings.