Jarrah Jacks Wheat Beer
| Jarrah Jacks / Pemberton Brewing Company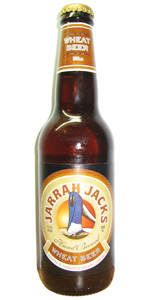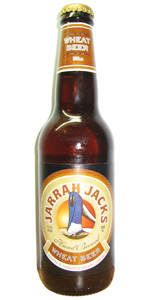 BEER INFO
Brewed by:
Jarrah Jacks / Pemberton Brewing Company
Australia
jarrahjacks.com.au
Style:
German Hefeweizen
Alcohol by volume (ABV):
5.10%
Availability:
Year-round
Notes / Commercial Description:
No notes at this time.
Added by ohitsbrad on 08-31-2006
HISTOGRAM
Ratings: 6 | Reviews: 6
Reviews by ohitsbrad:
3.2
/5
rDev
+4.2%
look: 3 | smell: 3 | taste: 3.5 | feel: 3 | overall: 3
26 February 2006
Almost clear, pale gold in colour with a large white head. Aroma is of lemon and citrus, very much "Redback". Some banana. Tastes grainy/wheaty, fruity (citrus, banana) and with a little zestiness. Creamy and smooth mouthfeel. Light in body. An OK wheat beer, comparable to Redback.
302 characters
More User Reviews:
3.55
/5
rDev
+15.6%
look: 3 | smell: 3 | taste: 4 | feel: 3.5 | overall: 3.5
This pours a very cloudy lemon colour. Some retention of head. Not a pretty beer.
Lots of banana on the nose. A little bit of spice as well.
The banana continues on the palate. Some sweetness is evident.
Medium bodied with a high level of carbonation.
Very refreshing on a hot day.
285 characters
3.12
/5
rDev
+1.6%
look: 2.5 | smell: 3 | taste: 3.5 | feel: 2.5 | overall: 3
a) Pours a head with large bubbles, which in my experience means a short-lived head, which comes to pass.
Pale yellow/gold, hazy, bubbly.
s) Slight dry ginger powder, banana, papaya, apple skin.
f) The best attribute so far. Reminiscent of German examples e.g. Shöff or Weihen..
Slight sour tingle on the tip of the tongue.
m) Effervescent explosion, but gives way to a light dry body. Wheat creaminess is only really in evidence at the back palate, like after eating a banana....
d) Slam it down fast....
506 characters
2.14
/5
rDev
-30.3%
look: 3.5 | smell: 2 | taste: 2 | feel: 1.5 | overall: 2.5
Pours a yellow gold colour, cloudy from the sediment I swished out of the bottle, with a crackling head of shiny white foam. Head dissipates rather disappointingly, but otherwise, a decent looking brew.
Quite a sour acidity on the nose, lots of lemon, sweat, and a herbal twang like coriander or even rosemary. Very sour - a huge wheat character, and not much sweetness from the yeast variety. Can't say I'm a huge fan.
Taste isn't much better - quite a strong carbonic acidity, and a sharp metallic bitterness, which isn't right for the style at all. There is the mellow, smooth, buttery hefe characters hovering around the edges, but the sharp acidity, and the overzealous carbonation just plough straight through it, leaving all its good prospects distraught and whimpering by the side of the road.
No, this doesn't do it for me at all. Very far removed from the lovely luscious German wheat biers. Unless this is a rude and crude new take on the wheat style, I have to say this fails far short of the mark.
1,013 characters
3.35
/5
rDev
+9.1%
look: 3 | smell: 3 | taste: 3.5 | feel: 3.5 | overall: 3.5
A - Poured a cloudy golden colour with a 1.5cm white head that falls away fairly quickly.
S - Banana dominates the smell with slight spice touches.
T - Banana & spice in the taste as well as some slightly sweet wheat malt character.
M - Light to medium bodied with a fairly high carbonation level.
D - Not the best hefe out there but still decent enough to recommend trying.
374 characters
3.08
/5
rDev
+0.3%
look: 3.5 | smell: 3 | taste: 3 | feel: 3.5 | overall: 3
Appearance - 3.0
The colour is a slightly cloudy pale straw, with a pure white and creamy head. Looks a little like dirty dishwater.
Smell - 2.0
Wow, I have never smelt such strong, overripe banana smells from a beer before! Unfortunately, I do not like bananas, so this is a real turn-off for me. I can detect a little clove and cinnamon amongst the banana.
Taste - 3.5
After the strong banana smell, this is something of a relief. There is banana there, but fortunately it is not overbearing. Reasonably sweet, with cloves, cinnamon and bubblegum flavours also present.
Mouthfeel - 3.5
Quite soft and creamy with moderate carbonation. Possibly a little too soft due to the sweetness.
Drinkability - 2.5
For others this would score higher, but for me the banana ensures that I do not want to drink this beer again.
OVERALL - 3
Perhaps this is not the most objective review, considering my clear bias against banana smells and tastes. However, I do like some wheat beers, and this is not one of them. For me the overpowering banana smell and overly sweet and spicy taste spoil the beer. It certainly has good points, but I may not be trying it again.
Edit:
A - 3.5, S - 3.0, T - 3.0, M - 3.5, D - 3.0.
OVERALL - 3.15
This beer has changed a lot. It is no longer the banana-bomb it once was, but has taken on a soapy character that is equally unpleasant. A below average wheat beer.
1,388 characters
Jarrah Jacks Wheat Beer from Jarrah Jacks / Pemberton Brewing Company
Beer rating:
3.07
out of
5
with
6
ratings