Seeking Alpha
| Captain Lawrence Brewing Co.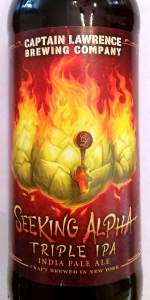 BEER INFO
Brewed by:
Captain Lawrence Brewing Co.
New York
,
United States
captainlawrencebrewing.com
Style:
American Double / Imperial IPA
Alcohol by volume (ABV):
11.00%
Availability:
Rotating
Notes / Commercial Description:
Do you find yourself constantly seeking your next "alpha acid" overload? Are you just not satisfied with the hoppy bite of your run of the mill IPA? Well, look no further. Hop flavor, hop aroma, and hop bite! Brewed for hop heads, by hop heads.
Added by acurtis on 11-28-2013
Reviews: 62 | Ratings: 402

4.41
/5
rDev
+10%
look: 5 | smell: 4.5 | taste: 4.25 | feel: 3.75 | overall: 4.75
A perfect looking IPA with the thickest 2 finger white head that I've ever seen; it was like styrofoam and did not budge for well over a minute, leaving craters and canyons as it dissipated, and then it left incredible thick foamy lacing coating the sides - beer commercial material, THE best looking head I've ever seen on any beer and the head was equally as impressive after the second bottle's pour. Golf clap for this feat Captain Lawrence.
Smells of citrus hops, grapefruit, lemon zest, caramel, strong piney hops, biscuit, pineapple, fresh fruit, brown sugar, light booze and some mild spices. The hop bomb nose that you would expect from a triple IPA with a ton of fresh hoppy aromas that have just enough malt backbone to give it a little balance, but basically it's all in your face hop smelling as expected.
Tastes like juicy resinous fresh citrus hop oil and a glass of grapefruit and orange juice; the alcohol peeks through, but the complex hop flavors quickly cover it up and wash it down with a citrus wave that has some mild heat. After it warms, or the hop blast numbing effect ends, there are nice flavors of graham cracker, mango, candy like gummy bears, floral hops, herbs, spices like cinnamon, pepper and coriander and then some more citrus hops and booze like rum. ABV is controlled and this is much more drinkable than I expected, hence the 2 bottles in one sitting.
Mouthfeel is thick and chewy, like a hop soup, but still on the slick side with light carbonation, a sweet malty cracker taste that leads to more juicy hops and then a slightly bitter aftertaste that has an alcohol presence. Not too boozy, but the warming reminds you that this brew is powerful in every way.
Overall a great beer in that they pushed an IPA to the limit and pulled it off as this is more drinkable and enjoyable than it should be considering the strength of it, and it flows down easier than it should. This is a borderline barleywine that gets more complex and flavorful as it warms up, so my advice is to crack one open and sip and savor. Good stuff, you'll be hard pressed to find a better Triple IPA.
★
2,116 characters

4.45
/5
rDev
+11%
look: 4.75 | smell: 4.75 | taste: 4.25 | feel: 4.25 | overall: 4.5
12oz bottle into a red wine glass.
Appearance: Careful pour yields a half glass of head with excellent retention, leaving a wall of lacing. Semi opaque pale copper.
Smell: Dank berries... Weed berries... Some rogue hippies broke into the flower patch, smoked it the fuck out, had a raspberry and peach feeding frenzy. Jesus Christ.
Over the top hops though it is, the berry element makes it exquisite. That hop dankness that just cuts right through your senses; if I were Proust and I'd spent a lot of time in greenhouses, some shit would be happening right now.
Taste: Thick, oily hop palate, flavor kind of like 90 minute IPA dry hopped with a pound of weed. Come on. The beer supposedly has Tomahawk, Mosaic, Cascade, and Citra, but it definitely tastes like some Summit was involved.
This is one of those hoppier than hoppy beers like Devil Dancer; so hoppy that self-professed hop heads are over-hopped by it and claim the flavor doesn't "mesh" for them (not citrusy enough, as if hoppy beer always tastes like orange juice). This is hop flavor that goes beyond grapefruit and slight greenhouse aromatics into the armpit of a serious stoner who rubbed berry puree all over himself. Piny too.
Fuckin good.
Mouthfeel: Full bodied and absurdly slick. tingly dry finish, though it doesn't feel thaaat highly attenuated. Moderate carbonation. Good vessel; pretty much what you'd expect such eschatological hopping to feel like in the mouth.
Overall: If some beers are a punch to the face of hops, this one is a bullet to the head. One of those "do you really like hops?" litmus tests. By the same token, i can't say the array of flavors is that well thought out or balanced or even pleasant... but i like it.
This is the piece of sushi with a tablespoon of wasabi on it of beers. Maybe it's childish or silly to get off on beers like this, but I'm into it. Bravo Captain Lawrence.
★
1,891 characters
4.5
/5
rDev
+12.2%
look: 4.75 | smell: 4 | taste: 4.5 | feel: 5 | overall: 4.75
-Bottle poured into snifter pint
-golden very light haze, head was large and thick white, good lacing
-smell was potent, high pine resin and citrus,clears the sinus
-taste hoppy throughout, do not notice the alcohol until the end slight burn, Pine Resin in center of tongue and spicy citrus on the tip
- felt very well balanced, enough body to hold the flavors, not overly thick, every sip after the hop wallop in the beginning started to become more welcomed.
overall- As it warmed up a bit the taste started to flourish. Was a palette overload, but in a good way. Great for a hop head, maybe to much for some one of different taste.
★
636 characters
4.17
/5
rDev
+4%
look: 4.25 | smell: 4 | taste: 4.25 | feel: 4 | overall: 4.25
bottle picked up locally and enjoyed from a captain lawrence tulip. brew poured a transparent yellow orange with a massive ipa head that had great staying power and coated the glass with lace in the few spots where the head dissolved. nose is a nice sweet citrus, well balanced and not in your face. taste is a bit more pine coney and the feel is very full. for a triple ipa this is extremely drinkable and not the mess that devil dancer is in my opinion. can't usually hang with the IIIPA, but this is doable. a bit on the sweet side, but what do you expect? i suspect this will not be my last encounter with this wonderful beer. definitely worth checking out.
★
661 characters

4.18
/5
rDev
+4.2%
look: 4 | smell: 4 | taste: 4.25 | feel: 4.25 | overall: 4.25
A-pours a hazy golden with about two fingers worth of white head that sticks to the glass
S-pale malts, citrus and floral hops
T-the taste is very nice. Pale malt backbone, tropical fruits, juicy grapefruit, citrus hops, and finishes with some alcohol heat
M-medium to full body, moderate carbonation, bitter aftertaste
Overall another impressive beer from Captain Lawrence. Really big flavors in this one and while the alcohol leaves a little heat it is not unwelcome.
★
473 characters

4.23
/5
rDev
+5.5%
look: 4.25 | smell: 4.25 | taste: 4.25 | feel: 4 | overall: 4.25
A: pale amber/deep gold body, not quite clear, fat head of foam that stuck around for a bit and the slipped into a nice cap and collar
S: flowers and citrus fruit and pine resin all blend together, moments of bright and moments of deep
T: rich pith of grapefruit and pine, chewy sweet caramel malt, bitter barrage across the tongue, some heat from alcohol
M: medium-to-full body, leaning toward viscous; slick and palate drenching, some tingle from alcohol, some soft, slow fuzz of carbonation
O: real nice and very strong - I noticed the alcohol while drinking it, but it had such a strong body and active hop assault that it quickly became an after-thought - big drink here folks - certainly not for the noob - I really dug it, but this sorta thing is my bag, baby (*Austin Powers voice*). Go ahead and grab a coupe if not the whole 4-pack.
★
846 characters

3.98
/5
rDev
-0.7%
look: 4 | smell: 4 | taste: 4 | feel: 3.75 | overall: 4
A-Not sure if it was via bottle or tap; sampled at the EBF. Pours a hazy yellow color.
S-A highly intense perfume of hoppiness. Chunks of grapefruit. Resinous pine and some oniony notes.
T-Pine, herbs, grapefruit and grass hops. On the second small sip I get more citrus than before. Alcohol heat. A surprisingly light, pale maltiness gets burned away quickly by the hops and alcohol. Somehow manages to taste 'bright' rather than 'heavy' in my opinion.
M-Good carbonation. Very, very bitter. You get a feel for the booze, even with such a small sample.
O/D-I find the moniker of 'Triple IPA' leads to beers that can be hit or miss. Some have been amazing and some have fallen flat. This one is really quite nice. I would look for the bottled version of this gong forward.
★
777 characters

4.62
/5
rDev
+15.2%
look: 4.75 | smell: 4.5 | taste: 4.75 | feel: 4.5 | overall: 4.5
Well honestly not much more to add then what has not already been said. On tap this thing is a hop bomb and just a treat to drink. Super easy to have a couple but be prepared for the ABV to catch you in the end, because it will after 2-3. I have had this on tap and bottled and both are delicious. Once again great Job from Captain Lawrence.
Cheers
★
349 characters

3.6
/5
rDev
-10.2%
look: 4.5 | smell: 3.75 | taste: 3.5 | feel: 2.75 | overall: 3.75
I love Mr. Vacarro's beers, let me just say this right now. Perhaps experiencing his excellence through the years makes me expect a bit more.
Pours a beautiful clear dark straw/ white gold, with a huge white head that threatens to fly from the glass, but is so thick it just overtops it and keeps together, defying gravity. Spots and legs of oily lace slither slowly on the inner surface.
Nice aroma, minus points for weak in the late addition/dry hops, bonus points for how delectable an aroma it is.. Really floral, neutral sweet, lacking in the thicker hop notes, and definite sense of alcohol heat in there too, not really in a good way.
Well, the flavor is quite bright, but here again it is the alcohol presence, a raw heat that doesn't play well with others here, that keeps this from being the stunningly delicious beer it threatens to be with a bit of a different treatment. Nice balance of pine, floral, and bitter pith, but it ends with alcohol detracting from a finish that would be dry and clean.
Very viscous, too carb.'ed/carbonic, a finish that is good, but could be better with less resiny buildup.
I am certain there are folks who love the harsh burn this beer provides, with an alcohol and bitter hop bomb in the finish, but this hop head gotta say they needed to treat these hops better, the hops deserved better than this, Capt. is capable of better than this.
★
1,386 characters

4.44
/5
rDev
+10.7%
look: 4 | smell: 4.25 | taste: 4.5 | feel: 4.25 | overall: 4.75
This is the stuff! -scored a 4pk from Deciccos in Ardsley after hearing about it from one of my local beer store guys - pours a hazy yellow color but puts up a nice 2 finger head - great lacing from the top to bottom, rare for a beer of this abv magnitude - citrus aroma pervades along with tropical fruits and greens - fresh! - great flavor of citrus with a little pine - thick yet clean on the palate - is there such a thing as a triple IPA ?- this brew makes a noble attempt at stepping it up a notch - and succeeds! Cheers!
★
527 characters

4.63
/5
rDev
+15.5%
look: 4.75 | smell: 4.75 | taste: 4.5 | feel: 4.5 | overall: 4.75
HOPBOMB! ... Bottle says nothing but there website states 11%...Walk into my goto bevy and its siting on the counter just delivered and he made me buy it at 12.99 for a 4. Nose is very fruity and robust... Im guessing it was veryyy fresh because the hop flavor was very intense... The mouthfeel was strong of hops and a slight aftertaste of alcohol burn.. Overall a great BIG double ipa...(they call it a triple) This is going to be something hop heads from all over will want to seek out....
★
492 characters

4.17
/5
rDev
+4%
look: 4.25 | smell: 4 | taste: 4.25 | feel: 4 | overall: 4.25
12 ounce bottle w/o freshness info purchased at the brewery a few days ago.
Pours hazed, dull near golden amber. Off white frothy and long lasting head. Leaves a thicker film, thick collar and more then ample high and fine sheeting and scattered lacing.
Nose is brightly of grapefruit.
On the palate its more and more grapefruit, biting lime, soaked in gin alcohol notes. Big and brash, fresh and flavorful. Hop lovers, extreme/big beer lovers rejoice. World class DIPA
Well done Captain!
★
492 characters
Seeking Alpha from Captain Lawrence Brewing Co.
4.01
out of
5
based on
402
ratings.