Xtra Gold Tripel
| Captain Lawrence Brewing Co.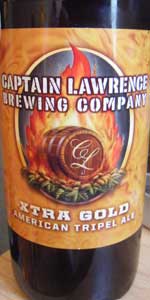 BEER INFO
Brewed by:
Captain Lawrence Brewing Co.
New York
,
United States
captainlawrencebrewing.com
Style:
Tripel
Alcohol by volume (ABV):
10.00%
Availability:
Rotating
Notes / Commercial Description:
No notes at this time.
Added by John on 08-14-2006
Reviews: 213 | Ratings: 373
4.12
/5
rDev
+1.7%
look: 4 | smell: 4.5 | taste: 4 | feel: 4 | overall: 4
Poured from a 750 ml bottle into a tulip glass. Not sure how old this bottle was.... Definitely a different label than what is pictured here.
Great head on this beer. Not to strong and dissipated quickly.
Wonderful citrus nose and flavor. Sweet taste upfront with a pleasantly bitter taste on the back end. Lots of grapefruit taste. Very interesting beer. Alcohol taste was a bit too present. A very unique beer, definitely worth trying. I will be on the look out for other dank beers from this fine captain.
516 characters
4
/5
rDev
-1.2%
look: 4 | smell: 4 | taste: 4 | feel: 4 | overall: 4
750ml bottle from gpcollen1 via trade. Thanks for the opportunity. Bottled 2007.
Poured into a Rapscallion glass, formed a 3" off-white head above 1" of clear burnished golden brew. Head is big bubbled and fades gradually, with heavy thick lacing, and lots of it. Aroma is sweet, spicy, and lightly citric. Taste is malt sweetness upfront, dpicing in the middle, and a warming alcohol close that radiates down the throat as it goes. Mouthfeel is nice and smooth, and drinkability is on par with the style. Not liking this one quite as much as the first time around, but still a good tip.
590 characters
4.08
/5
rDev
+0.7%
look: 4.5 | smell: 4 | taste: 4 | feel: 4.5 | overall: 4
It pours a very slightly hazy bright yellow, damn near gold, and very carbonated. Three fingers of tight white head expand and expand and sustain. Deep shag lacing carpets the inside of the glass.
In the aroma, a malted grain berry sweetness is swallowed soon by crisp, estery green apple yeast and the dry citrus bite of Amarillo hops. A cuff of caramel curls around a breeze of alcohol.
Upon tasting, the grain is briefly sweet and then capably tart with a berry fruit and caramel lilt. Edgy crisp esters and dry citrus hops wage an interesting duel that ends with a stiff strafe of alcohol. The hops assert again with a serrated bitterness that joins a mild toasted grain earthiness. The finish is a clean and dry ester and hop bitter holiday. It impresses as complex but it's actually simply enjoyable.
The carbonation is frenetic, the grain is slick, the hops are resinous, and the esters and alcohol cool the palate.
Belgian style IPA or American tripel, it boils down to a basic brew that's blended enough to come off as nicely complex. The hops and yeast are interesting bedfellows. The ABV comes up big, but hey, nothing wrong with a nice-drinking buzz. This is my first Captain Lawrence beer, but rest assured, it will not be my last.
1,261 characters

4.03
/5
rDev
-0.5%
look: 4.5 | smell: 4 | taste: 4 | feel: 4 | overall: 4
Pours a pale straw gold, nice haziness with a large fluffy white head that very slowly recedes leaving some nice lacing as it does so. Aroma is lemony and clean, citrusy, pineapple, a sugary sweetness and evidence of the alcohol strength. Taste is large hoppiness, strong mango flavor, more soapy and perfumy clean, a good alcohol punch with a spicy pepperiness in the finish. Mouthfeel is medium, a good amount of soft sugary feeling balanced with thye pepperiness on the tongue from the hops and slightly effervescent carbonation. There are hints of belgian sugars and yeast but this beer is screaming with hops. My first CL beer and it is unique and a surprise, definitely not what I expected when I saw it listed as a tripel. I'd like to age this beer a bit to let the bitter edge back down and allow the fruitiness to come forward a bit. Thanks Alex for the opportunity.
875 characters

4.36
/5
rDev
+7.7%
look: 5 | smell: 4 | taste: 4.5 | feel: 5 | overall: 4
Appearance: pours a clear golden yellow color with a 2"+ merangue like fluffy head. The head lasts forever and streaming bubbles furiously race from the bottom of the glass.
Smell: spicy yeast, citrus, and sugar sweetness are easy to detect.
Taste: malt sweetness is nicely balanced with a grassy and earthy tone. Yeast, pepper, and lemon zest round it out, and alcohol is noticeable.
Mouthfeel: medium bodied beer. Very crisp at the start, crisp and a touch of dryness at the end. The aftertaste is long on the flavor components.
Drinkability: a wonderful version of a Belgian Tripel that pleases the tastebuds and puts a smile on your face. Noticeable alcohol knocks the score down a notch, but this is still quite easy to quaff. Great beer worth picking up.
774 characters
4.28
/5
rDev
+5.7%
look: 4.5 | smell: 4 | taste: 4.5 | feel: 4.5 | overall: 4
Bold and brash with spicy and peppery yeast, tropical fruit, a splash of alcohol, and soft candy, Captain Lawrence's Xtra Gold takes no prisoners!
The bottle opens with a crack, but doesn't foam any further than halfway up the neck. Carefully poured from a long-standing bottle it pours a surprisingly clear golden-orange considering that it's bottle-conditioned and fairly well carbonated. The head is amazing. It puffs up like a marshmallow and holds seemingly forever, leaving great soft pillows of lace about the goblet.
In the nose it's gently candyish, sweet but not sugary, and lightly malty before the spicy and lightly chalky yeast swirls in, tempting you. Resinous, sublimely grassy and fruity hops thread their way through. A suggestion of damp straw and wood gives it some depth before the fruitiness rises with berries, fresh-cut lightly yellow apples, pears, some white grape, and a far-off breeze of orange, pineapples, papaya, and mango; and as you lower the glass from your nose you pick up a flicker of alcohol.
The body is medium to medium-light, and it's remarkably creamy and smooth where you would expect it to be crisp and bristling... what a perfect natural carbonation!
The flavor is as the nose suggests, but fuller. It's nicely balanced with just enough sweetish and candy-like malt to balance the spicy and peppery yeast (think Chimay Cinq Cents on draft but softer). There's an undercurrent of vanilla, and soft fruits in the background as well. Even some raisin!
Excellent!
1,518 characters

4.67
/5
rDev
+15.3%
look: 4 | smell: 4.5 | taste: 5 | feel: 4.5 | overall: 4.5
Pours a murky, rusty, dusty light orange into my Troubadour Tulip. Head rises without encouragement to a lofty 2 inches and slowly settles to a puffy lace lying around here and there. Aroma is spicy, somehow light and citrusy sweet - though hints of alcohol waft in here and there. Then again, sometimes it is pure orange peel - not zest, but peel with lots of pithe to accomodate thte hoppy bitterness.
This hits the mouth with the feel of a Belgian Golden or Pale Ale and moves forward from there. Hints of spice and carbonation jump on the tongue. Sweetness is almost floral, though I cannot pretend to place the flowers by name. Carbonation takes a run up the tongue and dances a citrusy sweet jig around about until it dries into a mild hop goodness. Gives me a slight pucker as it dries out the mouth a bit and slides a thin layer of bittery dryness that induces another sip. Medium bodied and quite drinkable for the style to say the least.
Scotty, beam me up! I have been to heaven and back in the world of American Tripels. The citrus, sweetness and bitterness are all pretty amazingly perfect. Reminds of something similar in 'philosophy' to the Houblon Chouffe, which is a compliment indeed. This is superbly drinkable and I like it as much as, if not better than, the original - though the original was really good in my eyes (I have not reviewed it yet). Was supposed to but oh well - I have a few bottles left so it will come in time, like many other things. Bottom line here is very, very nice Scott!!
1,522 characters
4.46
/5
rDev
+10.1%
look: 3 | smell: 4.5 | taste: 4.5 | feel: 4 | overall: 5
just released, batch 2.. brown fancy label. 750ml
cloudy yellow with a heart of orange haze. lumpy bubble crust thin atop this brew.. not much to look at, really. subsequent warmer pours draw a bulkier foam, but whatever. can smell the lemony-lime hop/yeast combination from a good foot away. closer analysis yields hollow amarillo sweetness inhabited by the heft of a peppery yeast-flaked, honey drenched belgian bomb. although when i drink, the hop bitterness clearly takes over and masks what sweetness the tripel aspect of this beer would have brought to the table. not to mention it's pretty light bodywise and goes down mad easy.. if you told me this was a B pale ale or even and experimental APA i might believe you. that special dryness that you only get out of belgian yeast strain fermentation is what exists to remind me as the sips finish. even the alcohol content is currently masked by the sharp, fresh bitterness of crystalline green and sticky citrus hops. warmth serves to even out the playing field a bit, and shades of the first (and inferior) batch of XG arise. normally, i like my tripels closer to room temperature, but the chilly exclamation point this beer provides in its current state makes my mouth water, and i feel both refreshed and satisfied by its integrity.
if the capn can improve a batch so furiously from #1 to #2, i can only imagine where they will be in five years.
1,409 characters
4.32
/5
rDev
+6.7%
look: 4 | smell: 4.5 | taste: 4.5 | feel: 4 | overall: 4
I love tripels, and was psyched to find this on tap at The Blind Tiger. The first couple of glasses I was poured weren't up to snuff (maybe the keg had been jostled?) and she ended up discounting the 12 oz. glass because it "wasn't cold enough" (it was perfect, probably about 55 F).
Served in a tulip glass, the beer was an opaque haze of gold. Bit of white head, but didn't leave much lace at all. Smelled extra hoppy for a tripel -- fruity (Cascade?) and a touch spicy (the yeast?). Delicious! The hops were dominant -- definitely an American take on the Belgian style -- but there was a bit of the yeasty bitter spice and a honeyish undertone. Full mouthfeel, and went down smooth for the style. Another feather in CL's cap!
731 characters
4.28
/5
rDev
+5.7%
look: 4.5 | smell: 4 | taste: 4.5 | feel: 4.5 | overall: 4
Much thanks to hopdog for opening this requested treat. I've been digging these guys since trying the Dubbel a while back...
Appears a semi-transparent haze of light gold with a 3 finger, fluffy, off-white, soapy head. Humungous chunks of sea foam lacing are left around the glass.
Smell is of peaches, spicy pepper, apricots, and pears.
Taste is of the mentioned aromas with light apples, pears, and vanilla notes coming through.
Mouthfeel is medium bodied, smooth, sugary, bready with medium volumes of CO2 that fit well.
527 characters
4.6
/5
rDev
+13.6%
look: 4.5 | smell: 4.5 | taste: 5 | feel: 4.5 | overall: 4
This is such good stuff.
Nice clear gold....beautiful white head .
Smells of pome fruits, hay, alcohol and lots of spice.
I taste everything I love about Belgians ( OK , it's an American Trippel ..whatever).
It's sweet and fruity, with some hints of bubblegum, grass , must, yeast and wood...vanilla too. Very complex...just when you think it's perfect, it warms and there's even more to it. I can't really tell what spices I'm tasting, and don't know if any were added or if it's just the yeast.The hops are perfect.
The mouthfeel is medium to almost heavy....very carbonated...a bit drier than it was on tap at the brewery.
It reminds me very much of their Liquid Gold , but more intense in every aspect.
This was a limited release...why didn't I buy more ??
Scott V. is brewing some fantastic stuff .
813 characters
3.95
/5
rDev
-2.5%
look: 4 | smell: 4 | taste: 4 | feel: 3.5 | overall: 4
12/2/2006 $12.99 750 mL 9.00% No best by date.
Appearance:
Pours a beautiful yellow-orange hue that is topped by an inch of fluffy white, pillowy soft head that is constantly fed by fervent carbonation.
Aroma:
Fresh cut granny smith apple tartness accompanied by a bready yeast.
Taste/Mouthfeel:
Nicely tart with a subtley sweet apple/pear flavor that is coupled with a bit of doughiness. A nice interpretation of the style, and very close to home for me.
476 characters

4.33
/5
rDev
+6.9%
look: 4.5 | smell: 4 | taste: 4.5 | feel: 4 | overall: 4.5
Bottle review 11-22-06
Bottle with Vintage dating (2006 version )
Belgian style large bottle, capped, pours cloudy light, lemony amber, raises an initially huge Duvelesque light tan head, showing fine retentive powers, dissolves very slowly to a ½ inch thick film, lively carbonation continues to send bubbles rising to the top, and leaving thick gobs of sticky lacing. Bold nose of citrus infused hops. This is simply a delicious brew, hoppy/American style tripel is a style made in heaven, at least for my taste buds. Notes here of fruit, pineapple, grapefruit, pears, grapes, all balanced by a healthy jolt of grainy, citric hops.Nutty, yeasty final pour puts this one over the top... Nice, nice, nice…….Got an extra bottle this afternoon to help wash down the Thanksgiving Turkey and fixins. Drop what you are doing and get over to the good Captains to secure yourself a few bottles of this complex, well crafted elixir!
931 characters
Xtra Gold Tripel from Captain Lawrence Brewing Co.
4.05
out of
5
based on
373
ratings.