Smoke From The Oak (Wine Barrel Aged)
| Captain Lawrence Brewing Co.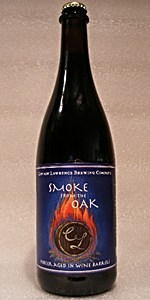 BEER INFO
Brewed by:
Captain Lawrence Brewing Co.
New York
,
United States
captainlawrencebrewing.com
Style:
American Porter
Alcohol by volume (ABV):
6.40%
Availability:
Spring
Notes / Commercial Description:
Enhanced with Brettanomyces
Added by Billolick on 03-18-2007
This beer is retired; no longer brewed.
Reviews: 133 | Ratings: 176
4.68
/5
rDev
+16.4%
look: 5 | smell: 4.5 | taste: 5 | feel: 5 | overall: 4
750 ml bottle acquired in a trade with radiorandy, thanks for giving me the opportunity to try this unique beer, batch one, poured into my Russian River pint glass
A-Extremely dark brown color but not quite black, two inch creamy light tan head that left a pillow on top of the liquid, great retention, awesome lacing all the way through too
S-Red wine, roasted malt, burned toffee, some caramel, faint coffee aroma, smokiness, cherries, grapes, vinegar, milk chocolate, sweet fruit, and funk
T-Initially felt the wine with a tartness at the very beginning, then a dry and creamy porter in the middle, followed by some more sour accents, tart became less strong as time went by unfortunately, could taste a little coffee and cocoa later, aftertaste became drier with pretty much each sip, taste was like not close to anything I have experienced in the past, would never have thought these two would mix so well
M-Dry and tart mouthfeel, medium to thick bodied, nice level of carbonation, taste lingered for about two minutes, creamy texture and somewhat sour feel was unique
D-Could have drank the entire bottle but chose not to, not too heavy on the stomach, seems like the alcohol woould be high but the bottle or website does not say, smooth, easy to drink, alcohol is hidden
Last of the Captain Lawrence beers in my cellar and it defintely gave Cuvee de Castleton a run for its money if not beating it, never had anything like this before, would definitely drink again in the future, recommended
★
1,505 characters

4.18
/5
rDev
+4%
look: 4.5 | smell: 4 | taste: 4 | feel: 4.5 | overall: 4.5
Pours almost opaque, deep dark brown with ruby hues near the edges. A huge stiff light tan head that decomposes much like an ice cream float.
The smell is primarily smokey. Beneath the smoke, an acidic grape wine and if you stay with it past that, a milk chocolate and roasty porter.
The mouth feel is immediately bitter then the alcohol from the wine kicks through. That's enough complexity for me already but the timid yet lingering chocolate of the porter tiptoes in. The second mouthful is much more telling after being 'conditioned'. The milky roast porter makes a stand against sharp (or sour?) wine. Very interesting; scores imagination points! At the bottom now and there is still plenty of foam and it really adds a creamy texture to the whole thing.
Noteworthy and interesting drinker! Highly recommend it. I've gotta say that it's probably not worth sticking it into a box called "American Porter". Unless the "American" part of that is interpreted to be "with a lot of attitude!". This is the first 'sour' beer that i've had that i can't wait to experience again. The ABV is ???, but i'm guessing that it's double digits. Many thanks to WesWes for the trade!
★
1,180 characters
3.79
/5
rDev
-5.7%
look: 5 | smell: 3.5 | taste: 3.5 | feel: 4.5 | overall: 4
Perfect appearence, evidence of the natural nature. Glorious head and dark brown color. Mild aroma, showcasing a bit of oak , chocolate, smoke and red wine. Flavor is nicely balanced and enjoyable, but could be a bit more amped up. It's not very concentrated or very flavorful in general. It's an impressively made and unique beer, but the finished product is just ok. This is one of the few instances that the beer might have been aged a bit too long in oak. Very little character of the original beer comes through, and I think that would be a welcome element. Still, I am impressed with Captain Lawrence thusfar.
★
617 characters
4.47
/5
rDev
+11.2%
look: 4 | smell: 4.5 | taste: 4.5 | feel: 4.5 | overall: 4.5
Much thanks to hopdog for sharing this bottle that we compared next to the original Smoked Porter...
Appears black with dark brown edges when held to the light. A fluffy tan head slowly fades away. Scattered lace is left around the glass.
Smell is vinuous with light cherries, light vinegar, and oak with mild vanilla, caramel, and light cocoa.
Taste is of the aformentioned aromas. It's a very interesting mix of the smoked porter complexity mixed with the oak and wine making for a superb invention.
Mouthfeel is full bodied with light tartness, oak, and semi-dry finish.
Excellent stuff!
★
595 characters
4.35
/5
rDev
+8.2%
look: 4.5 | smell: 4.5 | taste: 4.5 | feel: 4 | overall: 4
On tap at the Blind Tiger.
A- pours a dark chocoalte brown, nearly opaque. Nice fluffy coffee coloured head which lasts for a long time. This is a great looking beer.
S- Rich chocalte and sweet alcohol. Defiinite malt overpowerment. Very nice.
T- First you get the bitter roasted malt followed by an the sweetness of the alcohol followed up again with mild hops(English of some sort I think). Very well rounded though the alcohol may show through a little too much. The wood comes through in the aftertaste. Very interesting
M-Medium bodied, not too thin. This may be too thick for the style but I truly like it.
D-The alcohol is a bit too prominent for this to be easy drinking but it is quite tasty. I will try anything from this brewery now. A very interesting offering indeed
★
785 characters
4.5
/5
rDev
+11.9%
look: 4.5 | smell: 4.5 | taste: 4.5 | feel: 4.5 | overall: 4.5
Thanks to ErikTheRed for giving me a bottle.
Dark..opaque , with a root-beer head that laces and falls to a foam.
Smells of vanilla , wine and wood.
Kind of a split personality when cold...a smokey porter initially and a geueze near the end. The two really merge nicely as it warms a bit. Roasty, smokey, caramel malt that is sweet and sour at the same time. A bretty funk kicks in... hints of vanilla , oak , wine and tobacco. There's more to it than that , but I can't really do it justice....suffice to say , a very complex tasty sipping ale that you'll want to spend the evening with.
The mouthfeel is nearly perfect...silky and smooth.
Another great brew from Scott V.
★
678 characters

4.28
/5
rDev
+6.5%
look: 4.5 | smell: 4 | taste: 4.5 | feel: 4.5 | overall: 4
Purchased on Saturday afternoon alongside ErikTheRed. Nice to meet fellow BAs out and about.
Pours a deep dark villainous charcoal into my snifter. Head comes a bubbling up to half an inch of cocoa-like seafoam and slowly subsides to just a light layer on top. A gentle swirl leaves a wonderful patchwork of dripping lace - if you are into that.
Aromas are strong - deeply laden with the grape character brought from the wine barrels. Oak works its way in as we approach room temperature. Another swirl and the light roasty smokey character wafts in and then back out again, like it has a date with Pam Anderson.
Smokey character sensed on inhale as it approaches my lips. Chocolate hits the front of my tongue, hints of oak, and quickly creeps fruity sweet and heads straight to the grape. Finishes with the transition to drunken raisins and into roasty smokey malts with some more oak on the back end. Has a nice moderate level of carbonation, enough to tickle the tongue here and there, and mouthfeel that sits just right in the middle of the spectrum.
This is quite good - every sip a new experience. Definitely drink this out of a snifter if you have one. I would have to say that Scott knows what he is doing and then some, duh. I would drive twice as far and pay twice as much for this; MY GOODNESS.
★
1,318 characters

4.12
/5
rDev
+2.5%
look: 4 | smell: 4.5 | taste: 4 | feel: 4 | overall: 4
This is the latest offering/creation from Scott V and the good Captain. They only made 40 cases, so this will not last long. Pours pretty much black, with lots of sticky lacing and sheeting left behind from the dark tan head. Nose here is the expected, light smoke and woody, earthiness from the wooden casks. Acrid smoke/wood on the palate, full flavor, complex brew. Bring on the BBQ ad hearty fare. Nice stuff, probably will improve and mellow a bit after residing in the bottle for a few months.
★
499 characters
Smoke From The Oak (Wine Barrel Aged) from Captain Lawrence Brewing Co.
4.02
out of
5
based on
176
ratings.