Birra DeCicco
| Captain Lawrence Brewing Co.
BA SCORE
84
good
58
Reviews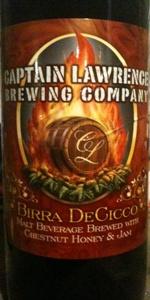 BEER INFO
Brewed by:
Captain Lawrence Brewing Co.
New York
,
United States
captainlawrencebrewing.com
Style:
Dubbel
Alcohol by volume (ABV):
6.00%
Availability:
Limited (brewed once)
Notes / Commercial Description:
No notes at this time.
Added by koopa on 02-27-2010
This beer is retired; no longer brewed.
Reviews: 58 | Ratings: 90
4
/5
rDev
+8.1%
look: 4 | smell: 4 | taste: 4 | feel: 4 | overall: 4
Poured from a 750ml bottle into a Val-Dieu goblet. Extra special thanks to Ineedabeerhere for this from our latest trade!
A: Pours a slightly murky, tarnished copper color with a golden honey hue at the edges. A pretty vigorous pour only netted about one finger of light tan foam. Retention was ok, with the head quickly melting down to a whispy skim and sticky ring that left a decent amount of droopy/ropey lace in the glass.
S: Spicing is on the bright side along with a toasted/nutty malt, honey, and cinnamon dusted apples.
T: The first flavor to hit my tongue was of spices. Quickly following that was some green apple, pan roasted nuts, and in the finish, some fresh honey. Also in the finish was an herbal hoppiness and more toasty malt. Late in the bottle I began to notice a smoky dark chocolate type flavor and some fruity jam.
M: Suprisingly tangy. A little on the thin side initially, but thickens a little by the second pour. I was expecting more malty sweetness, but the not-quite-ripe apple tang was a nice suprise. Finishes dry and tangy with a dash of honey sweetness left stuck to my lips.
D: Lately it seems that everything new coming out is 9% and above so I was excited to try this 6% Dubbel. Though I liked the fruity tang, I felt that I'd be a little more inclined to spend more time with this guy if it held just a tad more malty sweetness.
1,370 characters
4.47
/5
rDev
+20.8%
look: 4 | smell: 4.5 | taste: 4.5 | feel: 4.5 | overall: 4.5
Being so close in proximity to CL and a frequent shopper of DeCicco's Market this certainly was a beer I was really psyched about! And I definitely was not disappointed!
Appearance - The beer a reddish brown color that is slightly translucent. It sits dominantly in the glass and a thin head has lasted the duration of this tasting session. Poured from a 1 Pint 9.4 FL oz. bottle into my Maudite Tulip, purchased at Hudson Valley Beverage in Mahopac, NY (bought one at the brewery too)
Smell - The smell is definitely something to be desired. It had subtle chest-nutiness to it which blends well with the smell from the maltiness of the beer. It's funny, when I smell the beer it reminds me of the tasting room at the brewery.
Taste - The taste is very pleasant. The taste is of chestnuts and honey, or I guess that would be the chestnut jam they use. When you drink this beer you can definitely notice that the ingredients that went into it were of high quality and careful selection. There's a very smooth, nutty, malty flavor with this beer. I wish I had another bottle.
Mouth feel - My first impression was that it was a bit lighter bodied than other dubbles that I have had. I do not think the lighter body hurt this one at all. The beer moves around the palette nicely while offering a very pleasant after taste that leaves you craving your next sip (or bottle!)
Drinkability - The drinkability on this one is very high; it was very smooth and tasty throughout. The complexity of this beer is high and you will appreciate it with every sip (I sure did). I enjoyed drinking this beer very much, and when I get the next chance to come home from school I will certainly be buying more (I hope there's some left). I only wish CL was available in the North Country.
When choosing pairings for this one I treat it like a Red Wine. Pasta, Tomatoes, other italian foods.
Nice Job guys, truly well done. I love this one.
1,924 characters
3.53
/5
rDev
-4.6%
look: 4 | smell: 3.5 | taste: 3.5 | feel: 3.5 | overall: 3.5
Growler from American Beer in Brooklyn.
An aggressive pour into my pint glass yields a surprisingly creamy foam atop a brownish ruby brew. A little haze, decent lacing.
Wow lots of spice in the aroma... Belgian yeastiness with some fruit component and bready malt underneath. A general honey sweetness is there too. Taste is a little odd... a lot of this spiciness again with a rocky nutty-malty background but there is thing tangy spiciness to it hinting at a fruity tartness. It's really kind of odd. At first I was surprised and a little confused by it... but it kind of worked in some weird way.
Birra is medium bodied with a low-medium carbonation out of this growler. Not the highest fill, but it survived the rocky trip through the streets of brooklyn and down the parkway while holding carbonation. Drinkable enough, but I wouldn't really see sessioning this, I would like to try it out of the bottle though.
922 characters

4.08
/5
rDev
+10.3%
look: 4 | smell: 3.5 | taste: 4.5 | feel: 4 | overall: 4
Mini growler filled by the good guys at DeCiccos in Ardsley, NY. The currently have growler pour and bottles of this new one from CL. Collaboration frm 2 of my fav. places. Pours darker chestnut amber, murky, an active pour produced a darker khaki head, tiny bubble and loose, that stayed nicely and left a thicker collar and ample sheeting and scattered lace. Soft, sweet and fruity nose. Flovor notes of light figs, dark fruits, raisins, Belgian yeast spice, more fruit/honey. Sweet malt goodness, tasty and enjoyable with the yeast spice and moderate late hop dryness adding to complexity. What can be said? Yet more interesting and high quality brew from the Captain, inspired/influenced by DeCiccos.
704 characters
4.19
/5
rDev
+13.2%
look: 3.5 | smell: 4.5 | taste: 4 | feel: 4 | overall: 4.5
Thanks to aerozeppl and avryle for sharing this growler that had been randalized through wine soaked oak chips and wine soaked dry cherries. Let the haterade flow kiddies...
A: Somewhat cloudy red brown body. Not much head but to be expected from a growler.
S: Oak and cherries abound. Some sweet malt in the background. There is a good wine aroma throughout.
T: This is complex. The aforementioned oak and cherries are right up front but there is more behind it. The cherries are stronger but the oak is more subdued. There is more nuttiness and sweetness in the flavor. Belgian yeast is obvious. The oak flavor isn't there but there is some heavy bitter roast from it.
M: Pretty thin for the flavor but good for a abbey ale.
D: Damn. So complex.
756 characters

4.02
/5
rDev
+8.6%
look: 3.5 | smell: 4 | taste: 4 | feel: 3.5 | overall: 4.5
Pours a clear chestnut brown with a light frothy head
Smell of primarily belgian yeast , lots of honey and pale malts
Taste of a sweet honey, white pepper, belgian doughy yeast, and an earthy nutty flavor which CL deems to be from a Chestnut Jam. Not sure of a lot of beers that are made with Jam, but I approve. There is also some decent sourness to the beer which is either from the Jam, or product of the yeast interacting with honey / jam. There is a slightly cloying finish at the end which really makes the pepper flavors stand out.
I appreciated this more than St Vincents Dubbel due to the additional complexity and sour undertones. A lightly carbonated Dubbel that is enjoyable.
691 characters

4.07
/5
rDev
+10%
look: 3.5 | smell: 4 | taste: 4.5 | feel: 4 | overall: 3.5
Growler purchased at DeCicco's, Ardsley, NY, poured into a wine glass (no tulip available).
Pours a clear reddish-brown. Modest head fades quickly, just a touch of lacing.
Smell is sweet, malty, that distinctive Belgian yeast smell, lots of dark fruit, cherries maybe. Faint whiff of alcohol, very little hops detectable.
The cherry aspect comes through in the taste a little more, which is also less sweet than the smell suggested. Not a bad thing by any means. Just a touch of hop bitterness sets in as the taste lingers. After cheating a little and reading what this beer actually is, I notice the chestnut flavor, but I admit that without the hint I wouldn't have placed it. It's a pleasant change from a traditional dubbel.
Mouthful is lighter than I expected, but decent, and though I was afraid the growler version would be a little flat after the pour, there was a quite noticeable lively carbonation.
I was apparently a week too early to get an actual bottle - perhaps I'll have to go back and grab one for comparison. Overall, a delightful and distinct beer, and I hope to have it again.
1,103 characters

4.22
/5
rDev
+14.1%
look: 4 | smell: 4.5 | taste: 4 | feel: 4 | overall: 4.5
Growler filled at DeCicco's in Arsdley today.
Appearance: Pours a deep copper to faint garnet with a 1 finger khaki crown that displays a little bit of retention and moderate lace.
Smell: Light honey sweetness, lots of clove, a hint of smoke (extremely faint), lightly caramelized malt.
Taste: Light honey jam sweetness over belgian yeast, hints of dates, plums, cloves and pecans.
Mouthfeel: Medium body with good carbonation. I wouldn't mind if it were a touch more hefty. That faint hint of smoke makes a momentary appearance during the finish.
Drinkability: This one goes down smooth and I do want more!
I like this much better than St. Vincent's Dubbel. I also like the fact that Captain Lawrence was inspired by and paid tribute to DeCicco's. Both companies have a good thing going individually and have (in my humble opinion) both benefited from collaborating.
874 characters
Birra DeCicco from Captain Lawrence Brewing Co.
3.7
out of
5
based on
90
ratings.