Smoke From The Oak (Apple Brandy Imperial Version)
| Captain Lawrence Brewing Co.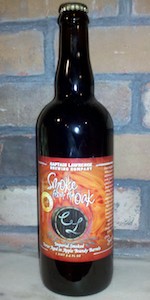 BEER INFO
Brewed by:
Captain Lawrence Brewing Co.
New York
,
United States
captainlawrencebrewing.com
Style:
American Porter
Alcohol by volume (ABV):
12.00%
Availability:
Rotating
Notes / Commercial Description:
No notes at this time.
Added by aerozeppl on 12-19-2010
Reviews: 38 | Ratings: 128
4.2
/5
rDev
+5.5%
look: 4 | smell: 4 | taste: 4 | feel: 5 | overall: 4.5
(750ml bottle courtesy of Cuzco!). Pours a nice black color with a thin espresso head. Its a really nice picture. Aroma is savory smoke, beef jerky, faint, but sweet apples. The smoke is so powerful, but the fruit does peek its head out in a very pleasant way. Taste is sweet; much sweeter than I expected. I recall trying the other two versions and I thought they were harsh (but good). The smoke is there for sure, but the apple brandy has really started to emerge. Medium bodied and a slick texture. Finish is smooth except for the alcohol bite. This has been my favorite of the imperial SFTO beers, but a revisit of the other two is now something I'm very interested in.
676 characters

4.08
/5
rDev
+2.5%
look: 4.5 | smell: 4 | taste: 4 | feel: 4.5 | overall: 4
Thanks to Cuzco for the trade. 750ml bottle served at 53 degrees in my Darkness tulip. Pours one shade shy of black with a dense, half inch mocha-colored head that is refreshed with a gentle swirl. Delicate strands of lacing are exposed during the tasting. Nose is rich, sweet and malty with pleasant smokey aromas and a slightly medicinal quality. Taste consistent with nose - the smokey quality pleasantly infiltrates the rich malty backbone. Apple brandy becomes evident as the brew warms. Mouthfeel on this is exquisite - medium bodied with a light, almost still, carbonation and a creamy/velvety texture. I have to say that I found this beer much better than the previous version and more on par with my expectations. The base porter on this beer is really quite good and my interest is definitely piqued by the rum and wine barrel variations.
848 characters

3.92
/5
rDev
-1.5%
look: 4 | smell: 4.5 | taste: 3.5 | feel: 4 | overall: 4
Thanks goes to Mike (AgentZero) for this one. Poured into Bruery tulip.
A - Pours dark brown, thin ring, spotty lacing, thin filmy cap.
S - Apples, booze, smoke, dark fruits. Really enjoy the apple and booze on the nose. The alcohol is pretty smooth for 12%.
T - Smoke, char, dark fruits, apple, oak. I wanted more apples here, but still, not bad overall. The smoke and char show up a lot more here then compared to the nose.
M - Full body, rich, smooth, creamy finish.
O - I preferred the nose to the palate. The apples really stood out on the nose but then weren't as pronounced when it came time to taste this one. Still, enjoyable but I'll take the regular version of over any of the variants.
702 characters

1.26
/5
rDev
-68.3%
look: 2 | smell: 1 | taste: 1.5 | feel: 1 | overall: 1
This is the third and final installment of the holiday gift pack from CL. I've had some good brandy barrel aged beers and was hoping this one followed in their steps.
A: Pouring this jet black beer into my Portland International Beerfest glass produces an ample mocha colored head, that slowly dissipated to leave only a few scant bubbles. These are very dark beers that portend to what this 12% porter could taste like.
S: I could not pick out any of the signature aromas you would expect (brandy, smoke, chocolate) as the dominant aroma of band-aides was to over-powering. Subsequent passes of my nose in the glass did reveal some roasted malts, but it was too subdued.
T: God-awful is all I can say. I was hopeful that the malts I picked up in the nose would transpire into the flavor. This was not the case. The putrid taste of band-aides was the all I could get. Not giving this one a second try as it's just too much, in a bad way.
M: Seemed somewhat thin, but I wasn't so focused on this aspect while my one sample was in my mouth.
O: Wanting a beer to taste good and having them actually taste good are two different things. In this case, they did not meet on the same page. This beer was not pleasing in any way, shape or form. Aside from looking OK in the glass, that is all the good I have to say for this beer.
1,328 characters

4.32
/5
rDev
+8.5%
look: 4 | smell: 4.5 | taste: 4.5 | feel: 4 | overall: 4
Thanks to Mike (AgentZero) for sharing this set with us. Served in a Russian River tulip.
A - Pours with a quick-dissolving tan foam that settles to a thin ring and hazy wisps, but minimal lace. Near-black body with some brownish notes at the fringes.
S - Smokes, apple, chocolate, dark roasted malts, some eau-de-vie spirit character. Light oak and barrel notes.
T - Less apple brandy and more smoked porter in the flavor. There's still some mild apple sweetness, but this is a lot like the base beer plus some oak and vanilla mingling with the smoked meats, chocolate, and, roastiness. Alcohol is very well-hidden.
M - Smooth full body, medium carbonation, gritty tannic texture, and light alcohol warming.
D - This is really good. I loved the base beer, and I liked the lower ABV Apple Brandy Smoke from the Oak as well. Would gladly have this one again. While it doesn't necessarily improve the base beer, it's a nearly as good variant.
945 characters

4.42
/5
rDev
+11.1%
look: 4 | smell: 4.5 | taste: 4.5 | feel: 4 | overall: 4.5
A brown black brew with a light brown frothy head. Some lace here and there with nice amount of retention. Smell is sweet with notes of chocolate, coconut, cherries, molasses and caramel. Good amount of smoke and oak. An undercurrent of dark fruits and light coffee. Vanilla wafts through atop a wave of mild apple brandy. Some light earthiness. Yumm. Taste is much like the nose with a larger oak and brandy presence. Some lovely dry tartness as the alcohol cuts in toward the finish adding a sweetness as well to a crisp dry somewhat astringent finish. Dry oak and cherries linger along with burnt caramel and charcoal. Feel is lighter that you would expect but still a beer with some girth to it. Nice smooth carbonation helps to keep it from sticking as this beer has a light syrupiness to it. Goes down well and while a sipper it is definitely easy to sip fast. Just a perfect beer for this chilly spring night.
916 characters

4.28
/5
rDev
+7.5%
look: 4.5 | smell: 4 | taste: 4.5 | feel: 4.5 | overall: 4
Poured into a Cpt.lawrence tulip. It is black as night with a tan head that is about 1/2" thick and fades slowly with nice lacing throught.
The smell of this is unique. I smell a lot of smokeyness and the brandy coming through nicely.
The taste is full of flavor from the smoke which hits strong to the backbone of the brandy. I get a faint taste of the apple and caramels in this aswell.
The mouthfeel is very thick and almost creamy with a nice little bite to it from the alcohol.
Overall another great beer form the Cpt. that I wish they would release on a regular basis aswell as a little more afordable. However this beer is fantastic and very easy to drink on my ownm goes down smooth but be prepared for the smoke flavor as it is huge in this beer, unlike any other smoke beer I have had.
WELL DONE!!
812 characters
4.06
/5
rDev
+2%
look: 5 | smell: 4 | taste: 4 | feel: 4 | overall: 4
A- Smooth and really rich looking pour, dark black body with some brown on the edges. A beautiful thick luscious looking coffee brown colored head, full lacing lining the glass.
S- Lots of sweet apples and smoke but a sweet smoke, some woody smoke as well but the apple brandy really delivers the smoke in a sweet bbq kind of way.
T- This reports to the palette in a more smokey way than to the nose. Here the smoke is showcased and the sweet apple brandy takes more of a supportive role. Theres a bit of heat as well at the finish, it would probably be best to sit on this for a year or so before cracking it open to see the full potential of the apple brandy treatment to this brew.
M- Cant complain here, full and rich would be the only way to describe this.
D- Very tasty but best to share.
I detracted some points off the taste because of the heat but I believe this brews best days are yet to come with some age.
925 characters

4.82
/5
rDev
+21.1%
look: 4.5 | smell: 5 | taste: 5 | feel: 4.5 | overall: 4.5
Appearance-Pours a dark, dark, dark very nearly black mahogany with only the faintest of highlights betraying its true color. About an inch of tan head tops the snifter and bubbles its way down to about a milimeter of film, dabs of lacing line the glass as it recedes; looks just like the non barrel aged version really.
Aroma-Hints of the apple brandy upfront, but somewhat less than I was expecting. Underneath is that same good ol' smokeyness I loved in the regular Smoked Porter, perhaps dialed down a few notches by the barrel aging but not by much, though it is less peaty than I recal; maybe because of the barrel aging.
Taste-The smoke is the main player through and through and honestly just as peaty as I remember it being in the regular version, still picking up that darkly roasted chocolate flavor as well. Honestly, the apple brandy taste is more on the outskirts and in the aftertaste than in the forefront. I guess my only complaint would be that I kinda wish the apple flavor would be a 'little' more pronounced; it's still every bit as delicious though.
Mouthfeel-Rich, but not quite as plush and luscious as the regular version; I'd assume this is due to the time spent in the barrel.
Drinkability-Every bit as addictively delicious as the non barrel aged version.
1,287 characters

4.32
/5
rDev
+8.5%
look: 4 | smell: 4.5 | taste: 4.5 | feel: 4 | overall: 4
Pours a pitch black color with a big dense tan head that settled into a solid cap.
The aroma primarily is of smoke. Nice charred wood, peat, and meaty aromas. Just beautiful smoke aromas. There is also a hint of sweetness, though you can't really tell what it is. I imagine it is from the apple brandy, its a bit vinous. Also a hint of sour oak.
The smoke is definitely not as strong as the aroma but is still there. The taste starts off with a solid roasted malt and caramel base. This is followed by the sweet brandy flavor with hints of red delious apples. The smoke follows through in the end bring some charred wood, soy, and peat flavors. Just a real nice transition of flavors.
Moderate body with tingly carbonation. Great balance on the palate between the sweet and the smoke. A hint of ABV belly burn but really not much and it finishes slightly sticky.
Great smoked porter. Perhaps not as smokey on the flavor as I expected but such great balance between the barrel aging and the smoke.
1,000 characters

4.41
/5
rDev
+10.8%
look: 5 | smell: 4 | taste: 4.5 | feel: 4.5 | overall: 4.5
SFTO Gift Set.
Poured from a 750 into a snifter glass.
A: Pours a jet black with a light tan head with decent lacing.
S: Heavy smoke and really not much else.
T: Sweet apple, heavy smoke, and some porter flavors to follow.
M: Great carbonation, medium body, smooth finish.
D: Possibly the smokiest of the three, but I really like the sweetness that the apple brandy imparts.
376 characters
4.08
/5
rDev
+2.5%
look: 4.5 | smell: 4 | taste: 4 | feel: 4.5 | overall: 4
a-Just like the wine aged version and the unaged imperial smoked porter, this brew poured a silky black with a frothy creamy head that built as the beer was poured. Drank this one out of the tasting glass that came with the set which is a bit tulip shaped so it lends to pulling that nice head. Lacing is milkshake like and the brew is gorgeous. A quick swirl of the glass rebuilds the head on command.
s-Like the wine version, there is a peatiness to the smell and it really tames the campfire smoke of the base beer.
t-This brew seems even more tamed back on the smoke than the wine version. Heavy on the dark chocolate...the apple brandy adds a tingle to the taste, but nothing like I had expected, but it does give the beer a sort of sangria touch to it.
m-Very rich and creamy. Leaves a wonderful tingle in my mouth, but not much of the smokiness that I love about the original. Alcohol comes through most in the mouth. As it warmed the smokiness came out more in the mouth.
d-Dangerously drinkable, but awfully heavy and filling. The original imperial smoked porter is a phenomenal brew and I really wish that this set had a bottle of the original for comparison sake since I seem to be chasing that original beer in this set. Very enjoyable beer, but not quite as tasty as the wine version (IMO).
1,307 characters
3.9
/5
rDev
-2%
look: 4 | smell: 4 | taste: 4 | feel: 4 | overall: 3.5
Hooray! This is the 1st time I am reviewing a beer 1st. Pours black and thick, lovely dense tan head that leaves some lacing but it's fleeting. What an aroma, smoked malts, licorice, chewy toffee, apple brandy and lots of oak. Up front there is some vanilla, roasted chestnuts, oak, nice brandy flavor. This beer is a malt bomb. Tones of lingering smoke flavor. Apple at the end, and a tad of hot alcohol flavor, but it is welcome here. Splitting this one is a good idea, but it is tasty.
488 characters
Smoke From The Oak (Apple Brandy Imperial Version) from Captain Lawrence Brewing Co.
3.98
out of
5
based on
128
ratings.