Saison
| Captain Lawrence Brewing Co.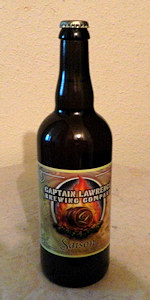 BEER INFO
Brewed by:
Captain Lawrence Brewing Co.
New York
,
United States
captainlawrencebrewing.com
Style:
Saison / Farmhouse Ale
Alcohol by volume (ABV):
5.50%
Availability:
Year-round
Notes / Commercial Description:
Originally, Saisons were brewed in Belgium for the farm workers to enjoy after a long day in the field; and while we're not working in the fields all day we are thirsty! The recipe for this beer was formulated with input from the entire CLBC brew crew, fermented with a traditional Belgian yeast strain, and dry hopped with US grown hops. Straight from the Captain's cellar to yours, we hope you enjoy!
30 IBU
Added by Bitterbill on 05-21-2011
Reviews: 39 | Ratings: 87

4.48
/5
rDev
+13.4%
look: 4.5 | smell: 4 | taste: 4.5 | feel: 4.5 | overall: 5
A: Classic looking saison pour. Hazy golden color with a touch of yeast floating in suspension. A finger of billowy head with some lacing as well. Good head retention.
S: Tons of esters. Quite a bit of fruit thrown in there for good measure. Not quite bready in the nose but it has the smell of freshly milled grain as well. Quite a bit of white pepper which is something I love in the nose of a saison.
T: Carbonation starts the beer off. Then right into the esters. A touch of fruit. Then the white pepper. Apples. A touch of pear. It finishes super dry with a lingering bret presence. Wow.
M: Bone dry. Well carbonated.
D: One of the best American saisons that I have ever had. It is hot out and right now I think I could drink a case of this. I just keep finding myself reaching for my glass.
800 characters

4.06
/5
rDev
+2.8%
look: 4.5 | smell: 3.5 | taste: 4 | feel: 4.5 | overall: 4.5
Bought a 1 PINT 9.4 FL OZ bottle of this from Amity Wines & Spirits in New Haven, CT for $10.99. Poured from the Tan Labeled bottle w/ a Barrel on fire on the front into a 16oz Pint Glass. Has no bottled on or freshness date.
Aroma- Tons of floral hops and mixture of fruit starts this one off. Light spices are present in the background? May have some funk as well but tough to pick out many of the characteristics.
Appearance- Pours a 2 finger, long lasting head. Has a golden body with hazy background and leaves thick lacing behind.
Flavor- Good combo of spiciness and fruit from the get-go. Light pepper attribute coming in during mid-drink and then dry effervescent with some funk again!?!? Wow...
Mouthfeel- Medium Bodied, Highly Carbonated, Effervescent, Prickles with flavor, and tons of light tartness/funk is left on the palate. Bring this on! Awesome.
Overall Impression- Wow! Really pleased with this Saison. If you get the chance to grab this one, go for it! Very enjoyable and worth the price. Especially enjoyed all the funk happening in here. That makes a Saison the best!
1,098 characters

4.25
/5
rDev
+7.6%
look: 4 | smell: 4 | taste: 4.5 | feel: 4.5 | overall: 4
750 ml bottle with a description of the recipe. It mentions being dry hopped with American hops. It shows. My initial pours were gentle to keep the yeast out just in case. A cloudy deep full gold with a somewhat soapy head and a fair amount of lace on the glass. Smell is a mix of malt, funk and firm hops. Some Belgian yeast and banana fruit notes as well as some pears and alcohol. Taste follows suit with a super dry hoppy finish. Not grapefruit mind you but hop oil and astringent with more hop oil lingering. The usual saison spiciness and funk also abound in the front of the beer with a subdued malt backbone. As the yeast is introduced the hops mellow a touch and I feel it improves. Feel is medium with a touch of girth and nicely carbonated. Quite a drinkable brew and the overall dry quenching character lends itself quite nicely to summer quaffing. While the abv is not on the bottle it feels around 8% and very well integrated as to be invisible. Goes down nicely and while no lightweight quite quaffable. This is an American hop heads saison. Well crafted and quenching it brings a wonderful attitude to the party and I will be stocking up on this one for my summer grilling and house projects . Scott you have done it again.
1,239 characters

3.95
/5
rDev 0%
look: 4 | smell: 4 | taste: 4 | feel: 3.5 | overall: 4
Pour is a massive white head with clear goldenrod body.
Aroma of Aging Hay, slight brett aromas, a bit of saison like peppery sulfur. Clove and honey
Taste of light hay, very slight white pepper flavors mixed with barnyard in the distance. Lemon Rinds, herbs that are faint and only slightly detectable and may be entirely yeast qualities. I believe this will get a bit funkier over time and I was mildly surprised to have a mild bretty barn flavor going inside when I opened and poured.
Medium carbonation , and a light body which is standard for the style. No abv listed on the bottle, overall this is a good saison and I would drink it again.
650 characters

4.18
/5
rDev
+5.8%
look: 5 | smell: 4.5 | taste: 4 | feel: 4 | overall: 4
750ml bottle into Duvel tulip. Not sure when bottled, but it just came out this year around Summer. Internet detective work turns up a draft list proclaiming the ABV to be 6%, so that might be true.
Appearance: Upon popping the cap (yay for potential gushers having caps and not corks!), some foam steadily tries to creep up and out of the bottle. Careful pour yields a two and a half inch fluffy white head that dissipates slowly leaving thick, eternal webs of lacing. Pours a crystal clear light-orange/golden. Easy 5.0.
Smell: Brettanomyces as earthy, tangy, musty, but not dirty/"barnyard"/funky. Lemony hops, some typical saison yeast aromas, and lots of fruit.
Smells like fantasy fruit; like there's fruits in here without names or instantiations in the real world. This kind of thing is a big plus in these kinds of beer, at least for me. Great stuff.
Taste: Wow, really refreshing. Very mineral-y, with little sweetness despite some nice fruit flavors. Tart and dry in the finish. Lemony and bretty. Really clean, refreshing flavors.
Not as adventurous as the nose, but very solid.
Mouthfeel: Light side of medium bodied. Creamy in the middle, tart and dry finish. Moderate to high carbonation.
Overall: Really good saison. While it won't blow your mind the way a good bottle of Fantôme Saison will, it's delicious, refreshing, and has a truly exceptional aroma. Also could be pretty educational for those who haven't had many saisons other than Saison Dupont.
Specific comparisons aside, it's a masterfully made beer. Will definitely pick up more next Summer if they rebrew it.
1,599 characters

4.03
/5
rDev
+2%
look: 4.5 | smell: 4 | taste: 4 | feel: 4 | overall: 4
Consumed 5-22-11. Couldn't help reading the only other review and was surprised by how diff. the bottle seems to be from what I tasted.
It pours a beautiful, clear gold, topped by a billowy two fingers of pure white head. Plentiful lace. Nice.
The aroma is full of clove and pepper, some mineraly and tart yeastiness, and hints of candi sweet. a bit of grassy/herbal hop smell in there. I expected a touch of funk, considering this is Capt. Lawrence, but it is MIA.
Taste is a med. strength representation of the nose, with just a bit of a strange under-flavor I can't identify in there with the spicy and mineraly herbalness. It ends with the spicy joining the hop for a nice bitterness to it. Less sweet than I expected from its aroma, the clove is strong, and the grassiness really comes through as it warms. It is really tasty, though not as tasty as I'd hoped.
Very light in mouth, lower carb. than it looks, with a very good finish of spicy and herbal bitter
Overall this is a very good saison that I recommend. Just don't expect it to be as top-notch a representative of style as are most of Scott Vaccaro's other beers. It isn't.
1,142 characters

4.23
/5
rDev
+7.1%
look: 4.5 | smell: 4 | taste: 4.5 | feel: 4 | overall: 4
Older style plain silver cap. 750 ml bottle into a tulip glass.
A - Pours a nice golden amber body. Ever so slight haze. Massive white head forms and settles into a thick cap. Swirling just crates another massive head. Tons of sticky lacing.
S - This one is way funkier than it is earthy. Really great barnyard Brett funk with lemons, grass, and a light spice in the background. A touch of booze on the end.
T - Similar to the nose. Bright lemons and grass with some light spice and malt. The brett funk is cheesy. Its sounds so wrong, but this is the cheesiest beer I have tried but it works so well! Finish is dry and abrupt. Mouth feel is crisp and lively with ample carbonation.
O - The best American made sasion I've tried so far. Such a great brett presence right now.
780 characters

4.32
/5
rDev
+9.4%
look: 4 | smell: 4.5 | taste: 4 | feel: 5 | overall: 4.5
Was lucky enough to get a taste of this from a bottle opened at the Sour Bitch release.
Pours hazy light golden color with a nice tight short head which recedes fairly quickly. Aroma is extremely fruity with lots of tropical fruits; pineapple, maybe clementine... who knows. There is also a little bit of funk in there which is not too big, but is a nice complement to the fruit. Taste is great. Still very fruity and tropical with mild cidery and funky notes. Mouthfeel is ridiculous. Smooth, creamy with outstanding perfect carbonation which is very fine. Pretty dry and exactly what I want in a saison. Overall this is a damn good beer. Would love to get a chance to try this again.
687 characters

4
/5
rDev
+1.3%
look: 4 | smell: 4 | taste: 4 | feel: 4 | overall: 4
Poured into tulip glass.
Appearane: Golden in color, slightly hazy, pours about three inches of thick white pillowy head that fades very slowly. Lots of lacing.
Smell: Barnyard, lemon zest, estery, grassy, green apple, pear.
Taste: Slightly tart, funky, green apple, earthy, barnyard, grassy, white wine.
Mouthfeel: Light bodied, moderate carbonation, dry finish.
Overall: Very drinkable. Complex flavors/aromas. A great saison.
433 characters
3.73
/5
rDev
-5.6%
look: 4 | smell: 3.5 | taste: 3.5 | feel: 4.5 | overall: 4
A - Golden yellow, high carbonation, large head that hangs around, with just a bit of haze.
S - Fruit forward with a bit of spice, would like more of the typical Belgian yeast aroma.
T - Like the aroma with a bit more spice and a little less fruit. There is a bit of a grassy, hay like flavor (not that I eat hay...). I feel the spiciness of the yeast is coming through but lacking that Belgian funk I like in a Saison.
M - Light, refreshing, highly effervescent.
O - Good beer, if I am looking for a Saison and a real Belgian isn't around I'd get again, but DuPont is still the king.
588 characters
4.36
/5
rDev
+10.4%
look: 5 | smell: 4 | taste: 4.5 | feel: 4 | overall: 4.5
You, Brendan, are a good man. Thanks for this one bud. I enjoyed it immensely.
750 enjoyed solo with a little Lynyrd Skynyrd in the background.
What an outstanding looking brew. Pours a misty gold with the most impressive head I've ever seen. Just a huge billowing white cloud of foam that clings to the edges of my Jackie O's tulip. It live an intricate map of lacing all the way down the glass. So damn pretty.
Smell is upfront with the heavy spice and clove. Then in comes the funk. Glorious horse manure blanketing my nose. It has a slight sawdust smell to it as well. Very intriguing.
Mmmm pepper. Very nice white pepper notes covering up some nice lemon peel. Slight banana flavors and an ever so slight tartness. The tart characteristic is only present every so often. I wish it had more.
Mouthfeel is creamy and a somewhat lower carbonation that I expected when you see how many bubbles are racing around in this beer. I'd call this full bodied especially when considering the style.
Another beer that makes me love Saisons even more. I think they've taken the spot as my favorite style. When they are brewed right, you can't top them. Just so damn drinkable and easy to enjoy during any occasion. Thanks again for this New York treat, Brendan.
1,258 characters
4.53
/5
rDev
+14.7%
look: 5 | smell: 4.5 | taste: 4.5 | feel: 4.5 | overall: 4.5
Poured from a 750ml bottle in to a Captain Lawrence tulip glass.
Pours a light orange-gold color with huge head that tops the glass. Head has a whip cream foam effect that floats in the center of the glass throughout the drink. Some larger floating bubbles in the center of the foam make this attractive without collapsing the head.
Smells of white flowers and brett. Some funk and wet hay with citrus undertones coming through.
The first sip tastes of banana like warm vanilla with light funk, Brett comes through in the middle with a hard to pin down unripe Guava or other green tropical fruit. Light sour carries the fruit through to a very nice dry finish.
Refreshing and enjoyable very well balanced Saison.
719 characters

2.16
/5
rDev
-45.3%
look: 4 | smell: 3 | taste: 1.5 | feel: 3 | overall: 1.5
I don't like to bash a brew, but, unfortunately this was terrible...I'm wondering if I just got a bad bottle?
Poured from a 22 Oz bomber into a pint glass.
Looked good...dark amber color. Half inch white some nice lacing.
Smelled like lemon, wet hay and manure(barnyard)
Tasted like it smelled....reminded me of a barn full of animals.
Mouthfeel was medium, mild carbonation.
Not a beer I would have again....unless of course I just had a bad bottle. Appearance and mouthfeel were fine, smell was a bit off putting, but that hasn't stopped me before. The taste was not my cup of tea....
592 characters
3.83
/5
rDev
-3%
look: 4 | smell: 3.5 | taste: 4 | feel: 3.5 | overall: 4
Served in a Captain Lawrence Pint glass at Bridgeview Tavern, Sleepy Hollow, NY.
A: A nice copper color with a thin white head that remains. Darker than Saison Dupont. Definitely some Caramel malt in here.
S: There isn't much smell here right away, but it might be the glass. Definitely a little hoppy with yeasty esters.
T: The taste is full flavored and a little sweet for the style. The bubble gum, citrus, and slightly spicy taste is surprising to the lack of smell.
M: Carbonation is a little light for style, but this could be just from the keg. I would imagine from the bottle would be much more sto style.
O: This is a good beer. This isn't my favorite saison (not spicy or dry enough), but definitely another good offering from Scott.
751 characters
Saison from Captain Lawrence Brewing Co.
3.95
out of
5
based on
87
ratings.