Hops N' Roses
| Captain Lawrence Brewing Co.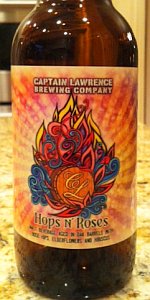 BEER INFO
Brewed by:
Captain Lawrence Brewing Co.
New York
,
United States
captainlawrencebrewing.com
Style:
American Wild Ale
Alcohol by volume (ABV):
5.50%
Availability:
Rotating
Notes / Commercial Description:
This golden ale was aged in oak barrels with Brettanomyces and a few choice flowers to give it a complex and floral aroma. Tart, tangy and full of flavor. Straight from the Captain's cellar to yours, we hope you enjoy.
Added by cosmicevan on 06-24-2012
Reviews: 65 | Ratings: 285

4.29
/5
rDev
+5.9%
look: 4 | smell: 5 | taste: 4 | feel: 4.5 | overall: 4
A huge thanks to my buddy Dan (Dslim71) for this beer. Cheers friend!
Appearance – Pours into a CL pint glass (yes I know I should have used something else but I had to match the beer  ) with a gorgeous red/deep orange hue and about a half finger of white head that dissipates quickly leaving slight lacing.
Smell – Lots of floral notes (derrr), hay, must, barnyard funk, perfume, hops, and honestly rose petals. Ton's going on here. An utterly amazing aroma.
Taste – A slight tartness up front, with a decent amount of yeast. As with the nose, you can really taste "flowers" if you will. I may be off but the flavor is reminiscent of the aroma of lilac bushes. A nice sweetness comes through midway, but not in a sweet malty way which I often disagree with. It is more of a candy sweetness that melds quite well with the heavy floral flavors. Finishes with a slight bitterness.
Mouthfeel – Medium to lighter bodied, crisp carbonation, finishes quite dry.
Overall – A very interesting beer. Very glad I was able to try it. I'd love to sit on one and see how it becomes, but wanted to drink this fresh. I am happy I did! Cheers!
1,153 characters
3.68
/5
rDev
-9.1%
look: 4.5 | smell: 4 | taste: 3.5 | feel: 3.5 | overall: 3.5
Big thanks go out to DSlim71 for hooking me up with this. 375ml capped bottle poured into a matching CL cervoise. The brew pours a clear color of ruby grapefruit initially that gets a bit hazed to clouded with subsequent pours. A lightly stained pink head sits atop the brew that initially swells to several fingers but settles to just over a finger that is maintained with rising bubbles of carbonation.
The aroma smells like this is really gonna bring it with the sourness. There is an acidic to lactic edge that brings out lemony aromatics that get coupled with more of a leathery to wet oak and earthy scent. There is an herbal inclusion also present. Initially there is a bit of citrus character somewhat even reminiscent of the ruby grapefruit that this brew looks. As this brew warms up, it loses that original lactic tang and the citrus character that went with it. It starts to pick up almost a soapy character that is somewhat medicinal.
The taste is surprisingly not sour like the aroma let on. Granted it is tart but the flavors are more earthy and herbal from the additions of hibiscus, rose hips and elderflowers. The barrel presence is quite evident here with a mild vanilla accent that leads into a flavor of wet oak, leather, cork, earth and grass. Just like the aroma led on, there is a bit of a soapy flavor that throws an interesting mix into play that is quite evident in the aftertaste.
This is a medium to lighter bodied brew with an effervescent level of carbonation. At times this seems a bit watery and thin. It is however an interesting take on the style with some nice character that differs from the norm. The sour head will probably write this brew off as an utter failure. However, I find it to be subtle and enjoyable. A bit more acidity might make this brew pop but at the same time it would take away from the additions. I am intrigued by this brew but can't say that I would return to it again with great anticipation considering the price point on this.
1,993 characters
3.86
/5
rDev
-4.7%
look: 4.5 | smell: 3.5 | taste: 4 | feel: 3.5 | overall: 4
Love, love, love this beer. Poured into a wine glass. Really red but towards pink and has a decent foam that creates a little lacing. Funky bretty nose but it is also slightly flowery and peppery. There is a slight bit of jalapeno on the nose. Very well balanced flavor. There is funk, horse blanket, for sure flowery goodness from hibiscus and such. Sour it is not, tart....sure. Really loving what the hibiscus, elder and rose hip additions are doing to this beer. Nice tart dry finish. Thin. While this is certainly not CL's best sour ale it is one of my favorites to date because of it's originality. Some times a beer just jives with you even though you know it is not technically good to style.
700 characters

4.25
/5
rDev
+4.9%
look: 4.5 | smell: 4.5 | taste: 4 | feel: 4 | overall: 4.5
375ml bottle into a snifter. Bottled in: 5/12. Extremely slow gush after opening. Thanks Os!
A - Dark orange body with a pink tint. Somewhat hazy yet it lets a lot of light through. Really lasting bone white head with excellent lacing and retention.
S - Really saison like. Grass, hay, lemons, and then the floral kick comes into play. A bit of spice and sweetness from the different flowers. I can't describe this aroma other than calling it "floral". It works really well though and its never comes off as being too floral. Some warm oak and red grape notes in the finish.
T - Definitely a liquid gold base. Hay and grass, a bit of spicy coriander, tart lemons, light brett and oak notes. This is followed by some very subtle but interesting floral flavors. Earthy, spicy and cheesy with some sweetness. Mouth feel is spritzy with a surprising alcohol presence despite the low ABV.
O - Captain Lawrence is on a real roll for me. This is a really interesting and well executed wild ale. The flowers are rather subtle and just compliment the oak aged base beer and the critters. I was thinking it would be either too much floral, or synthetic like an air freshener. I'm happy to say thats not the case.
1,206 characters

4.06
/5
rDev
+0.2%
look: 5 | smell: 4 | taste: 4 | feel: 4 | overall: 4
Thanks to Joey for the bottle. Poured into a Russian River tulip. Beautiful cloudy pink-orange body with a thick white head. The aroma is very floral. Reminds me of rose hip tea. Light funkiness with a touch of Belgian ale spice. The taste is that of a lightly spiced Belgian pale upfront, but then transitions to a slightly bitter, earthy, floral-brett flavor. Body is well carbonated, but still smooth. Nice dryness on the back end, which mixes well with the sweetness of the base beer. Overall, this was another tasty beer from the Captain. I could easily drink a bottle by myself. Might even improve as the brett becomes more dominant.
639 characters

3.68
/5
rDev
-9.1%
look: 4.5 | smell: 4 | taste: 3.5 | feel: 3.5 | overall: 3.5
Shared with a buddy of mine in two snifters.
A: Shiny ruby red with a frothy pinkish white head. Looks delicious.
S: Sour berries and funkiness. Definitely get a floral aroma.
T: Fucking weird. It's like a hopped up sour. I get the sour berry taste with a light hoppiness to it. The sweetness of the floral additions actually comes through nicely, but not strong enough in my opinion. Very small amount of funk to it.The flavors seem a little too weak.
M: Long lingering taste floral sour taste, but a little watery.
O: This DEFINITELY needs some age on it before it should be consumed. As it is right now, this is a pretty weak sour to me. In time it should gain a little bit more funkiness and lose that weird hop profile that doesn't mesh well with the sour flavors.
776 characters

4.3
/5
rDev
+6.2%
look: 4.5 | smell: 4.5 | taste: 4.25 | feel: 4 | overall: 4.25
A-Pours like pink grapefruit juice. Opaque. Mild head. Did I mention this beer is pink!? Looks awesome. Just like grapefruit juice.
S-Tartness along with a consistent light oakiness. Very vibrant in he tart fruit department. Citrusy. Perfumey. Definitely floral with sporadic spiciness.
T-Tastes phenomenal. Tartness is moderate-to-intense. Funky. Grapefruit juice. Not a very complex sour but the labor it presents is pretty delicious. Quie floral too. Honeysuckle sweetness too.
M-Relatively light but still quite expressive. Bubbly. Goes down with a peppy finish. High acidity. Remains tart well after the sip.
O/D-A pleasant sour ale. The ale version of pink grapefruit juice. Very tasty. Acidity limits he drinkability a bit but this was a Vermont Brewfest gem.
770 characters

4.05
/5
rDev 0%
look: 4 | smell: 4 | taste: 4 | feel: 4.5 | overall: 4
Pours a brownish pink color, almost blood orange. The head is airy with tons of bubbles that slowly settles into a puffy cap.
The aroma is of tart apples and white vinegar. Some musty white grapes and a light floral note. The yeast provides some spice/funk; some light clove and hay.
The taste is tart; green apples and lemon. There is a nice dry fruitiness to the flavor. Mild grape flavor to go along with the oak. Light vinegar. A small amount of clove from the yeast, perhaps a touch of pepper. There is a bright floral note, subtle but blends in well. I don't really pick up much of the hops, aside for some grassy bitterness but that can come from the flowers.
The feel is light dry and crisp. Slightly sweet but with a cleansing tart finish. Refreshing and quite drinkable.
A well done fruity tart brew. Not overly sour which is a huge plus for me.
859 characters

4.22
/5
rDev
+4.2%
look: 4 | smell: 4.5 | taste: 4 | feel: 4 | overall: 4.5
Pours very thick and cloudy, the color of dark pink grapefruit flesh, a thin beige cap aloft that retreats almost instantly to a lasting ring. A line of lace lingers.
Wonderful tart notes in the medium strength aroma, full of gentle vinegar, fruity funk, hoppy citrus, and a resinous floral perfume which is just faint enough to not overtake the other scents. Intoxicating and alluring.
I could see some not liking this, but in fact, second bottle now, I have fallen in love with it. A well-balanced combination of flavors, light candy sweet and rose water on this side of the tracks, bright sour, light grassy and fruity funk, and tropical/citrus hops on the other. Well balanced and interesting, quite delicious.
Low carb. could even use a bit more fizz, very viscous and resiny, lasting finish, a sipper for sure.
Delicious, interesting, and part of what I like best is it tastes quite different, and is fantastically crafted. Another gem from Mr. V
956 characters
3.62
/5
rDev
-10.6%
look: 4 | smell: 4.5 | taste: 3 | feel: 3 | overall: 4
Thanks Josh! Bottled 5/12.
Pinkish-red body pours thin, watery, and active. Fizzy bubbles retain a pink hue. Lace forms with an almost grainy consistency.
Oak and hibiscus aromas right off the bat. Flowery bouquet receives support from soured fruits & funky yeast. The full aroma package reminds me of an Oude Bruin with some flowers thrown in to liven things up. I quite enjoy smelling this brew, despite how British that phrase makes me sound.
First taste is floral and yeasty. Subsequent sips taste like munching on a floral arrangement. Hibiscus & rose hips are out in force as the funky, farmhouse-esque yeast charges forward alongside. Finishes with oak and bitter yeast remnants in the back of my throat. Can't say I like this; also can't say I hate it. But where are the hops?!
The minimal fruitiness came as a surprise to me; this flavor profile is much different than I expected. Has more similarities to a saison than a sour, and it helped me realize I'm not a big fan of hibiscus/rose hips/elderflowers -- particularly when they're this strong. Could use more body too (feels watery). A polarizing flavor profile, for sure.
Man, that was interesting. Can see how others would love this (some in our group did), but the abundantly floral taste doesn't suit me. I'll stick to Mother Barrel.
1,305 characters

4.25
/5
rDev
+4.9%
look: 4.5 | smell: 4.5 | taste: 4 | feel: 4 | overall: 4.5
330mL bottle poured into tulip
Pours an electric orange red color with some pinkish hues. A thick froth of white head slowly dissolves into patchy lacing and a bubbled film which coats the brew.
Floral and funky in the nose with light sourness. Hints of citrus peel and sweetness. Earthy and lightly acidic with some lingering fruit tones. Explosive floral notes with roses and plants - very unique and inviting.
Funky and tart right up front with citrus fruit notes. Orange and grapefruit with hop bitterness, mitigated by some floral hints and roses. Biscuit and bread in the malt backbone. Herbal and floral in the finish with citrus hops and soft sweetness.
Medium body, slightly higher carbonation, dry and lingering on the tongue with a champagne-like feel. This is a unique, memorable example of a floral wild ale - I'm happy I have more.
852 characters

4.25
/5
rDev
+4.9%
look: 4.5 | smell: 4.5 | taste: 4 | feel: 4 | overall: 4.5
The beer is fairly hazy and appears a radiant light orange hue. The head is an inch and a half, appearing soft and white, bordering on pink. Lasting retention and ample lacing. An outstanding appearance.
The nose brings forth scents of flowers, fresh garden vegetables, salad greens, pickles, cucumbers, roses/rose petals, all atop a nice bed of brett funk.
The flavor is very floral. The rose character is the star of the show here. Definitely a wild ale, but not incredibly funky or sour. Hints of raspberry. Lingering oak and brettanomyces in the finish. The sourness increases as the beer is allowed to warm.
I must say, I am really enjoying this beer. Creative and well executed. Kudos to the folks at Captain Lawrence. I am happy to have more of these.
763 characters
4.06
/5
rDev
+0.2%
look: 5 | smell: 4 | taste: 4 | feel: 4 | overall: 4
375ml capped bottle into a Cantillon tulip. Shared with schen9303.
Pours a 3 finger frothy light pink head. Great retention. Color is slightly cloudy, pale orange and rose. Striking. Thick lacing with great cling. Perfect.
Nose is Brett, cobwebs, floral. Spicy. Some hay. Nice funk character and moderately aromatic. Clean too.
Opens with just a touch of tartness. Spicy. Floral, big Brett funk. Cobwebs and flour at the end. Accented finish with a bit more sourness emerging. Like the aroma, real clean and light. Real enjoyable.
Light bodied with ample carbonation. Prickly in the mouth and dry going down. Messy finish with a dry aftertaste. Real refreshing and invigorating.
A surprisingly different and impressive offering from Captain Lawrence. This one seems like it'll get a touch more sour with time which is exactly what it needs. Great beer that has a strong potential for development. Worth getting.
920 characters
4.03
/5
rDev
-0.5%
look: 4.5 | smell: 4 | taste: 4 | feel: 4 | overall: 4
Bottled May 2012.
Pours a hazy light reddish, dark orange color with a substantial white, tight, bubbly head that fades leaving some nice soapy lacing along the sides of the goblet.
Aromas begin with light acidity, some wine barrel, damp wood and some grape skin, vinous notes. As it warms you get the "additions" Hibiscus, Rose Hips, and Elder Flowers. I don't think I could pick them out individually but they come across as earthy and herbal.
The flavors start opposite the nose with the herbal rose hops and flowery flavors. Then you get the oak, white grape again, tart Bretty yeast. Brett opens up more as it warms and adds some horsey, funky, almost cheesiness. Pretty complex for such a young wild ale.
The mouthfeel is medium bodied with medium carbonation. Finish is fairly dry and tart, much more so than any sour beer I have had recently. Herbal and flowery notes linger as well.
Overall I am quite impressed with this Captain Lawrence release. I was skeptical as I am usually not a fan of beers with weird botanicals added, but this works. This would pair amazing with some skinky cheese for sure.
1,116 characters
4.68
/5
rDev
+15.6%
look: 5 | smell: 4.5 | taste: 5 | feel: 4 | overall: 4.5
Picked up a few of these at the brewery tasting room yesterday. While sampling the new Mother Barrel sour I couldn't resist popping this one as well.
From the bottle: Malt beverage aged in oak barrels with rose hips, elderflowers and hibiscus.
American Sour Ale: This golden ale has aged in oak barrels with brettanomyces and a few choice flowers to give it a complex and floral aroma. Tart, tany and full of flavor. Straight from the captains cellar to yours. We hope you enjoy.
- Scott Vaccaro
a - beer pours a deep hue of pink!!! with a generous frothy pinkish white foamy head that leaves chunky lacing all over the glass. it never seems to fully dissolve. i'm a sucker for a pink beer...just stunning!!!
s - very complex. lots of fresh flowers with some zingy spices and almost heated tart. smells extremely fresh and has an almost fresh from the oven type smell if that makes sense (probably the dankness from all them flowers?). the oak is somewhat in the background, but the brett brings a big barnyard funk but all of this sits in the backseat to the fresh cut flower smell. intense and unique. yhere is a matvellous sweetness from the brett that shows once I adjust to the heavy floral notes in the taste.
t - out of this world!!! REALLY tasty. again, a medley of thick fresh cut flowers with strong heavy sweaty barnyard funk, rounded out by the oak to mellow things out. not so much an in your face sour as an in your face bouquet of flowers. almost a strong cheese type of funk. i bet this beer would go great with some tangy cheese. extremely different and unique.
m - thick and full, but soft carbonation. not as tart as i had expected, but funky to the max. easy drinker and quite smooth. very floral.
o - overall, it is like i got slammed in the face with a bouquet of flowers. there is a sweaty thickness to the beer that is tamed back by the oak and the brett gives a big barnyard funkiness to the beer. really a wonderful surprise and treat! extremely glad i picked this up...tempted to road trip for more. what a pleasant surprise!!!
2,061 characters
Hops N' Roses from Captain Lawrence Brewing Co.
4.05
out of
5
based on
285
ratings.