Frost Monster Imperial Stout
| Captain Lawrence Brewing Co.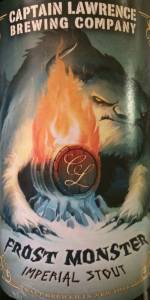 BEER INFO
Brewed by:
Captain Lawrence Brewing Co.
New York
,
United States
captainlawrencebrewing.com
Style:
American Double / Imperial Stout
Alcohol by volume (ABV):
12.00%
Availability:
Rotating
Notes / Commercial Description:
Imperial Stout aged in Apple Brandy Barrels
Added by BeerAdvocate on 01-11-2013
Reviews: 64 | Ratings: 405

4.08
/5
rDev
+2.8%
look: 4 | smell: 4 | taste: 4 | feel: 4.25 | overall: 4.25
This is a welcome winter blues blast for me.
A lovely dark cola with a brown head a nice amount of lacing. Aromatics include heavy coffee and chocolate with a significant char. Flavor follows suit with sweet roasted malt and lots of coffee and chocolate. Finish is clean and dry with a fuggles/golding signature. Weight is lightly heavy with an oily character. Sweet and malty in the front with a delicious overall drinkability. A plate of
cheeses of various character and time to enjoy this superb beer
please.
512 characters
3.41
/5
rDev
-14.1%
look: 4 | smell: 3 | taste: 3.5 | feel: 4 | overall: 3.25
Sampling a cellar temp bottle poured into a snifter. Pours a dark cola black with tan frothy head of 3 cm that fades to a sturdy edge layer and streaks of wispy islands on the surface.
Aroma is fairly mild with some roasted malt and a bit of dark chocolate maybe a little earthy malt but the nose is mild.
First sip reveals a average body with fine yet robust carbonation that boosts the mouthfeel of the beer.
Flavor is roasted malt, brown sugar, dark choclate and molasses, I also get some booze and a bit of an earthy hop presence. Also a little anice or black licorice makes its presence known as I ip the beer. Slightly warm as it goes down the gullet.
The beer is an okay imperial stout, but the aroma is certainly more mild than I anticipated when I opened the bottle.
Not a bad or flawed beer, it drinks pretty easy, but I admit to being a little disappointed as I finish it off.
887 characters
3.32
/5
rDev
-16.4%
look: 4 | smell: 3.25 | taste: 3.5 | feel: 3 | overall: 3
This one pours a fairly dark black color, with a small head, and no lacing.
This smells like burnt coffee grounds, ashy malt, and heavy duty booze.
My mistake might be having this fresh and not aging it for a few years. However, a beer should be ready when it's actually bottled. If it's for sale, it should be ready to go. As it is now, this is way too boozy and unbalanced. It's got astringent booze, with a burnt malt and burnt coffee that's slightly unpleasant. Not really a fan of this at all. I think some barrel-aging would really improve this one. I'm not one to typically just say everything is better in barrels, but I really think this one would be.
This is medium bodied, with a low level of carbonation, and a low level of drinkability.
Not all that great. Captain Lawrence has done better.
807 characters
3.83
/5
rDev
-3.5%
look: 4.5 | smell: 4 | taste: 3.75 | feel: 3.5 | overall: 3.75
12oz bottle into a Cigar City snifter.
Pours a rich, 2 finger dark mocha head with decent retention. Beer is pitch black. Lacing is stringy and layered with great stick. An excellent looking beer.
Nose is liquorice, chocolate, smoke, roast, cocoa and fudge. A light booziness sweetens the background a bit. Real solid.
Opens chocolate, cocoa, liquorice and smoke. Roast and espresso in the middle mixed with more chocolate, booze and coarse smoked malt. End is sweet with some hints of dark plum and other fruit. Coarse and slightly hot finish with a sticky chocolate, liquorice, and roast aftertaste. Pretty good.
Medium to full bodied with moderate carbonation. Smooth but a bit boozy in the mouth and goes down rich and warm. Finishes thick and silky with a messy, lingering aftertaste. Solid.
This beer is a pleasant surprise after a couple of misses by Captain Lawrence. Certainly worth trying and one of the better offerings of the style from a NY-based brewery.
974 characters

3.87
/5
rDev
-2.5%
look: 4.5 | smell: 3.75 | taste: 3.75 | feel: 4 | overall: 4
Straight pour from a 12oz pry-off bottle to an oversized wineglass (HF stemware); bottling date of December 6, 2013 printed in yellow ink on the shoulder of the bottle ("BOTTLED 12062013 1248 844/846"), making this just about three weeks old on the date of consumption. Mmm, fresh impy stouts . . .
Appearance (4.5): Two easy fingers of fine-grained, cappuccino-colored foam rise off of the pour, capping an effectively jet black body. It shows good retention, taking its very sweet time to die down and leaving a wide, almost unbroken collar stretching from the surface of the beer to half the head's original height. So, it's got outstanding retention for the style.
Smell (3.75): Lots of rich, sweet malt tones are evident in the smell of this beer, showing molasses and dark brown sugar, coffee liqueur, brandied fruitcake, and some cocoa powder hanging out in there, too. On the boozy side, but this is a big beer (12% ABV, apparently) and very fresh.
Taste (3.75): All in all, the palate follows the nose, but leaning toward cocoa powder and bitter chocolate (like unsweetened baking chocolate) more than fruitcake and molasses. Bitter chocolate, dark brown sugar, coffee liqueur, and a finish that's partly numbing (brandied cake) and intensely bitter (utterly unsweetened chocolate), but rich and very smooth up until that point. There are some dark pit fruit notes opening up as it warms.
Mouthfeel (4.0): It's a full-feeling beer, for sure, but the body does not have quite the heft or viscosity you might expect for such a goddamned big imperial stout. I'm not really complaining, though—it's full, smooth, and has a very fine, very tingly, very smooth carbonation that spreads all over easily, matching the slightly numbing booziness of the body. It's not necessarily textbook AI/DS, but it works in its own way.
Overall (4.0): This is, in the end, kind of a different type of American Double/Imperial Stout. It's not the chewy, liquid espresso brownie you might expect from the style, or the syrupy, imperial milk stout brewed with "natural flavors added" that you might expect from the style, but rather something that hones in on molasses, pit fruits, integrated booze, and malt tones that don't necessarily elicit coffee grounds and cacao nibs. But it's still an imperial stout, and it's still quite good.
2,363 characters
4
/5
rDev
+0.8%
look: 4 | smell: 4 | taste: 4 | feel: 4 | overall: 4
Picked this up at Good Beer in New York a few weeks back, having never given this a go before and fortunate enough to find a single bottle of this. Captain Lawrence doesn't have that wide a distribution here in Jersey and this looked relatively appropriate for the season, even though it hasn't been that cold this week. For a Double/Imperial Stout, this felt amazingly easygoing for something with 12% ABV and was just as drinkable as dark beers that were half as strong. This wasn't complex but had just enough going for it that I'd enjoy it again if I were to come across it the next time I'm shopping for beer in the Big Apple!
The pour to this was as to be expected - dark, somewhat thick, and with a good head. Not terribly full when it came to the latter but it was tan present for a bit before fading away to a thin remnant on top of the liquid. A good amount of bitter chocolate and smokiness to the nose, which were both present in the taste as well. The mouthfeel was full and there were hints of dark fruits like plum and currant as well in here. Slightly cloying, the smokiness led to a good taste to this as the bitterness was similar to that of cocoa powder. This never felt like a chocolate Stout but since the alcohol was so recessed, the flavors came out a bit more and the aftertaste was nice and chewy as well, even though there was never a "motor oil" factor here to contend with.
Like reserved Stouts? Look no further. I could feel the alcohol kick in by the time I polished this off but never could I taste it. Beers like this grow on me quickly since they warm me up nicely without having to be shoved down or endured as I have to process the booze. A nice amount of sudsy lacing and some soda-like sweetness served as a reminder that not all Stouts have to taken so seriously and this was fun to drink. Worth the price and the experience of being subtly knocked over as I restrained myself from downing this too quickly. Recommended for those nice, cold Winter nights!
1,996 characters
4.35
/5
rDev
+9.6%
look: 3.75 | smell: 4.25 | taste: 4.5 | feel: 4.5 | overall: 4.25
Appearence: smooth black, very thin , tan head.
Smell: very malty, some smokiness, sweetness, coffee, hint of chocolate.
Taste: virtually identical to smell. But with a hint of alcohol and a distinct freshness that accompanied the rich malts.
Mouthfeel: full bodied, mildly creamy, light carbonation.
Overall: very good. Not too strong/ offensive but complex, tasty, fresh and bold. An excellent winter beer. Plan to buy at least two or three more times this season.
471 characters

4.09
/5
rDev
+3%
look: 4 | smell: 4.25 | taste: 4 | feel: 4.25 | overall: 4
A-a silky inky color with about a fingers worth of tan head that leaves a bit of lace around the top
S-the smell is really nice, lots of rich malt, dark roasted coffee, and dark and milk chocolate
T-taste is similar to the smell, roasted malt and roasted coffee bitterness, chocolate sweetness., and molasses Light alcohol warming
M-medium to full body, good carbonation, dry roasted mouthfeel
Overall I was really impressed with this beer, an above average Imperial Stout, definitely worth a try if you find it
515 characters
4.06
/5
rDev
+2.3%
look: 4.25 | smell: 3.75 | taste: 4.25 | feel: 4 | overall: 4
12oz bottle poured into a snifter. Bottled on 12/06/2013.
A: Pours a dark brown appearing black in the glass. A tannish khaki head sits on top of this brew. The head sticks around for a bit.
S: Real nice malty aroma to this one. Very roasty tones reminiscent of a coffee. Just a bit of sweetness in there.
T: The focus of this one is certainly on the malts. Big roasty profile with a touch of dark fruit. Hints of licorice or anise. Bit of smokiness it doesnt overwhelm.
M: Full body with a great creamy character. Mild carbonation. Alcohol is well hidden.
Overall this is a great winter beer. Surprised at how drinkable it is when it clocks in at 12%.
662 characters

3.86
/5
rDev
-2.8%
look: 4 | smell: 3.5 | taste: 4 | feel: 3.75 | overall: 4
Served in a snifter. Fresh bottle dated 12/06/2013.
Appearance: Black like the night, thin brown tinted body with an average (tan) head at best rising to maybe eighth of an inch with a hard pour.
Smell: Deep coffee, that really smells good but it leaves very quickly.
Taste: What you smell is what it tastes like, but very amplified. Smooth bitterness. Coffee without the milk and a small dose of dark chocolate that feels mellow. Not sweet like some other imperial stouts, but just enough.
Mouth: Medium carbonation, sticky but could use some tweaking.
Overall: Not a bad pickup, I would definitely buy it again especially now that I found out it was a one time release. Grab a glass and enjoy...Salud!
711 characters
3.83
/5
rDev
-3.5%
look: 4 | smell: 4 | taste: 3.75 | feel: 3.75 | overall: 3.75
bottle picked up locally, enjoyed from a captain lawrence snifter.
a - brew poured a watery, yet rich black with a finger of creamy tan colored head that left a coating of lacing on the glass. the head never fully dissolved leaving a thick ring on the surface and a thin skin with some heady islands of foam and bubbles on the surface.
s - frost monster indeed. very roasted black malt...really reminiscent of winter or sitting inside a freezer. big coffee and some chocolate.
t - as the nose suggested, big roast. some black malt and nice coffee notes. nice imperial stout because has the body, but some soft char that gives it a winter vibe.
m - stouty, but with a char.
o - overall, not the greatest imperial stout out there, but worth a try. i'd be interested to see what the barrel does for this...and rum barrel aged, no less. has an interesting twist on the style with all that roast and some of the char making it a lighter side stout.
948 characters

4
/5
rDev
+0.8%
look: 4 | smell: 4 | taste: 4 | feel: 4 | overall: 4
A: pitch black tar with a few fat fingers of dark foam head; sheets of lace left behind
S: dark roasted malts and black coffee, some notes of cocoa and charred wood
T: rich and roasty malts, espresso and bittersweet chocolate - almost a smoky element, too
M: medium-to-full bodied, smooth and mellow; slightly sticky and slightly coating
O: nothing cutting edge here, but simply an outstanding Imperial stout, worth a try for fans of the style, the brewer, or new beers
473 characters

4.16
/5
rDev
+4.8%
look: 3.75 | smell: 4 | taste: 4.25 | feel: 4.25 | overall: 4.25
4 packs of 12 ouce bottles released today and purchased at the brewery. Bottled on 12062013
Enjoyed at near room temp. Pours black the expected black, slight mocha head, film and collar.
Nose is of dark chocolate and coffe grinds.
Dense dark malt flavors along with more coffee, more dark chocolate, more roasted malts and burnt, smokey notes. Delicious...Richly flavorful, oily and viscious in the mouth.
Fine winter sipper. Less then a week in the bottle and this one is drinking like a world class Imperial stout. I put a few botles away in the beer storage area, but not likely they will be allowed to age much, really no need.
Dark beer lovers rejoice this in a very high quality beer..
697 characters
5
/5
rDev
+25.9%
look: 5 | smell: 5 | taste: 5 | feel: 5 | overall: 5
Nice and Strong, but Smooth at the same time. The Perfect beer for real beer drinkers. Frost Monster is definitely a winter beer. I challenge you to not feel a bit like a Viking conquering a foreign land in the dead of winter while enjoying it. It reminds me of a dogfish 120, but with a better taste and cooler label!!!
320 characters
Frost Monster Imperial Stout from Captain Lawrence Brewing Co.
3.97
out of
5
based on
405
ratings.