True North Blonde Lager
| Magnotta Brewery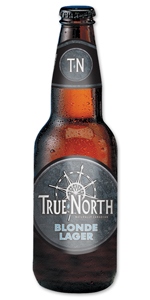 BEER INFO
Brewed by:
Magnotta Brewery
Ontario
,
Canada
magnotta.com
Style:
American Pale Lager
Alcohol by volume (ABV):
5.00%
Availability:
Year-round
Notes / Commercial Description:
An ultra-premium, all-malt authentic Lager beer at 5% alc./vol. Light gold colour with light grain aromas and a delicate floral and citrus hop nose. A balanced fresh malt flavour and moderate hop bitterness are rounded by deep cold aging. A versatile beer with many foods, but particularly well matched with chicken soups, lobster bisque, vinaigrette salads, chicken dishes, whitefish, shellfish, cream pastas, fruit pies, and light creamy cheeses.
Added by slitherySOB on 05-18-2003
Ratings: 14 | Reviews: 10
Reviews by allergictomacros:
3.13
/5
rDev
-5.7%
look: 3.5 | smell: 3 | taste: 3 | feel: 3 | overall: 3.5
A - Clear dark straw with a good rocky head.
S - Nose is fairly mild, with a hint of grass and soap.
T/M - Sharp carbonation and a tart edge up front. Lemon, chalk and astringency some through as well. Moderate bitterness and a light body.
D - OK drinkability. Fairly typical blond lager with a bit more lemon.
313 characters
More User Reviews:
2.23
/5
rDev
-32.8%
look: 3 | smell: 2.5 | taste: 2 | feel: 2.5 | overall: 2
Bright yellow colour. A basic mouthfeel. A little cheesy. Not a great lager, and maybe as good as a macro.At best average mouthfeel.pass on this one.There was a little malt, was there hops? Low taste, though clean. Bet we can see is its not metallic.
250 characters
4.32
/5
rDev
+30.1%
look: 4 | smell: 4.5 | taste: 4.5 | feel: 3 | overall: 4.5
All of the reviews of this beer are from 2009-2011. I have drank this beer the last 2 years in 2012 and 2013. Possibly they have improved upon their beer. This beer is very similar to Samuel Adams Boston Lager but a little less heavy and not as bitter. It is a session beer where you can drink many and not feel like you just pigged out at buffet. Out of all of Magnottas beers, this is the only one worth drinking. It is quite a standout product. If Samuel Adams Boston Lager is rated an 85, I would give this beer an 87 or 88. The best session beer I have had yet.
566 characters


3.1
/5
rDev
-6.6%
look: 3.5 | smell: 3.5 | taste: 3 | feel: 3.5 | overall: 2.5
Dark golden appearance matched with a fruity hop smell. Very classy first impression
The taste is malty and dry. A bit grainy and strong hops. However ther is a bit of a metalic tinge to the taste that brings it down. Bit of a dry aftertaste.
Very good mixture of flavors, would recommend a try.
301 characters
3.5
/5
rDev
+5.4%
look: 3.5 | smell: 3.5 | taste: 3.5 | feel: 3.5 | overall: 3.5
A: a gold colour, very clear, completely traslucent, with a white 2 finger head, disspiates a little bit quick, lots of carb
S: some pop corn smell, some fruitness and a tiny malt touch at the very end
T: Crispy o tongue, some malt character, reminds a buscuit because of the sweet presence, light body
On the style i would say its not a bad beer, better than many macros
374 characters

4.2
/5
rDev
+26.5%
look: 4 | smell: 4 | taste: 4.25 | feel: 4 | overall: 4.5

3.21
/5
rDev
-3.3%
look: 3.5 | smell: 2.5 | taste: 3 | feel: 3 | overall: 4.5
Decent beer, nice golden colour, good mouthfeel not too much carbonation. Smells of toasted nuts with a nice nutty, malty taste and not too bitter but not that sweet either, overall a good canadian beer, but nothing special...I probably wouldn't buy this again, their other beers are much better.
296 characters
3.5
/5
rDev
+5.4%
look: 3.5 | smell: 3.5 | taste: 3.5 | feel: 3.5 | overall: 3.5

3.52
/5
rDev
+6%
look: 3 | smell: 3.5 | taste: 3.5 | feel: 3 | overall: 4
Bottle: Puts a clear gold lager in the glass with a decent frothy cap that lasts and laces well.
Fresh grainy malts and grassy hops...no sweetness in the aroma
Good dose of bready specialty carapils and ambers in the front,...hops chyme in late but balance with their grassy-woody notes...clean swift finish biscuit after taste.
A well made straight ahead Canadian lager made the way they were before EP Taylor buggered commercial brews. When fresh this is one of the better lagers on TBS shelves.
503 characters
3.85
/5
rDev
+16%
look: 3.5 | smell: 3.5 | taste: 4 | feel: 4 | overall: 4
A fresh pick up directly from Magnotta Brewery in Vaughan. Clear, even brilliant, gold with off-white head that settled quickly leaving a ring and a bit of lacing. Large bubble carbonation. Lack of smell typical of beer style ... but at least there isn't anything metallic or offensive. Ah, this tastes quite good actually, a clean, crispness with more body than your typical mass marketed lagers. With air and a swirl, there's now a bit of fresh peach aroma to accompany the slight citrus / grapefruit flavours that are emerging and a more pronounced malty finish is in the mix as well. In the Ontario world of so-so lagers, I'm impressed and would recommend this.
665 characters

3.39
/5
rDev
+2.1%
look: 4.5 | smell: 3 | taste: 3.5 | feel: 3 | overall: 3.5
Clean and crystalline liquid gold - this is exactly the kind of clarity and complexion you want to see from a blonde lager. A steady stream of bubbles shows signs of life. The colour even shimmers in the light. It's a thing of beauty but if only those pin-point pricks of carbonation could fill out the center as well as they buff up the perimeter then I'd have a perfect looking beer in hand. Still, this would be a beer advertiser's dream to work with.
You won't get anything more out of the aroma than you would watching paint dry. This is more a reflection of the style than the beer itself. The aroma is about as clean smelling as the appearance is clean looking. I'm not sure if Magnotta uses any kind of adjuncts but if so, it couldn't be much; there's certainly no off-putting or cloying smells coming from this glass.
The taste is also much cleaner than is standard for the style. It's actually quite refreshing to find a pale lager that isn't so ridden with the stale, cloying flavour of adjuncts (read: corn), additives or preservatives. The beer is still a little boring for my tastes, which again is just reflection of a style that aims to be bland and mass-appealing. Besides, it can be quite hard to find lagers of this quality on this side of the Atlantic.
So far I've implied the beer is better for what it's not rather than what it is. That's not to say, however, it isn't without some redeeming features of its own. The maltiness is lightly sweet and bready, the bitterness just enough to make each sip seem crisp and the carbonation is set to quenching (not bloating). I usually require blistering hot heat before resorting to pale lagers but this is good enough it needs no stipulation to be enjoyed.
Magnotta considers their True North series beers to be "Naturally Canadian". Apart from the geographic location in which they're brewed and to which government goes the taxes paid on the beer, I'm not exactly sure what constitutes the use of that term; what would entail an "unnaturally Canadian" beer? I won't bother questioning it because this is one brewery that I actually don't mind making that claim! Thanks ThatWineGuy for the super fresh bottle!
2,183 characters

3.2
/5
rDev
-3.6%
look: 3 | smell: 3 | taste: 3 | feel: 3 | overall: 4
Mid-golden colour. Pale, but ot that straw yellow. Unfortunately, it has a teaser head. One of those heads that foams up quickly, leaving you hoping for a nice and frothy treat, only too disappoint you by descending into film. Still, it left a good lace on the mug. Sniff. Very malty, floral hops, very pleasant. That seems too be a constant with True North beers. They aren't orgasmically delicious, but pleasant. Oh no, citrus smell. That's been beaten too death in beer. First thing tasted was some citrus. Not letting that bias get in my way, my tongue searched for more. Their was more. Light grain taste and texture, enough hops for a kick, enough malt for some sweetness. Very drinkable lager. This is both enjoyable and thirst quenching.
745 characters
True North Blonde Lager from Magnotta Brewery
3.32
out of
5
based on
14
ratings.