Bon Vivant Wines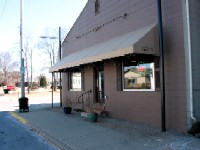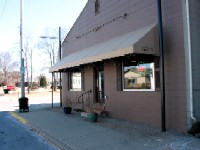 PLACE INFO
Type:
Store
123 S Main St
Columbia
,
Illinois
, 62236-2372
United States
(618) 281-3464
// CLOSED //
Notes:
No notes at this time.
Added by walshms on 01-12-2006
Ratings: 9 | Reviews: 9
Reviews by Realale:
4.85
/5
rDev
+5.9%
BA andrewtraughber is the proprietor of this fantastic store just across the river from St. Louis. It's a quick and easy 20 minute drive from downtown St. Louis, and well worth the effort.
Bon Vivant maintains an ever-growing, ever-rotating selection of fine craft beers. While there are larger selections around, this is no beer graveyard, and there are no throw-aways in the inventory.
There are special treats for Missouri folks with numerous great breweries like Captial, Three Floyds (distro is still spotty on this brand anywhere outside of Chicago), Victory, Anderson Valley and Dogfish Head that are not distributed in Missouri. There are plenty of other craft choices as well as very thoughtful import selections from the Shelton Brothers portfolio and others.
Quality is absolutely top notch, with Andrew maintaining a vigilant eye over freshness. He has also greatly expanded his mixed six shelves to include a large portion of the store's selection. Andrew is very passionate about beer, and happy to talk with the geekiest of geeks, or just give straightforward advice and recommendations.
Bon Vivant is also a great source for craft beer kegs. Andrew is very diligent in pursuing even hard to get stuff, and his pricing is very, very fair. Great selection of natural and artisinal wines too (Louis/Dressner, Chadderdon, Lynch, etc.). One of the few shops that earns my highest recommendation.
1,411 characters
More User Reviews:
5
/5
rDev
+9.2%
Maybe a little biased but I've been shopping here for 4 years now. Andrew and his service is top notch. He has a nice, varied selection of beers always has a few hard to gets on the shelves. Not to mention his wine selection and huge knowledge in both wine and beer.
There is probably 50-60 different beers in rotation and what feels like a few hundred wines. His prices are reasonable, beating out the "organic" super markets and on par with the other metro beer and wine shops.
He's open to suggestion and seeing if he can get beers brought in that you want. Overall a great little local shop thats top notch in the metro area when it comes to quality and service.
669 characters
4.65
/5
rDev
+1.5%
Finally found the time to make the trek to Bon Vivant looking for some harder-to-find Three Floyd's beers. I'm glad I did.
The building is small and wine probably occupies 2/3 of the space. But don't feel sorry for the beer. It's well taken care of. No old dusty beers here.
Service was great. Andrew was very helpful and we talked shop for a while. Looking for something special? Andrew will try to get it.
The selection was a who's who of beers is not available in Missouri. I picked up some FFF Broodoo and Black Sun Stout along with some Capital products I've never found. You'll also find Dogfish Head, Victory, Founders, and Lagunitas.
I'll be back for sure.
EDIT: Went back recently and was blown away by the new additions. Green Flash, Port, and Lost Abbey were recently added to the roster. SWEET! Keep up the good work Andrew!
842 characters
4.35
/5
rDev
-5%
Went for the first time today. There is not a very big selection of beers at this place, but the quality of what is there is outstanding. Three Floyds, Founders, Victory, Dogfish Head... among others.
Service is outstanding. Any question you have can and will be answered by Andrew, who is the owner. You can also sign up for the email distribution which will notify you of any new beers or events that might be happening.
Nice place to go for a selection of beer that you cannot find on the Missouri side. I would say that the majority of the selection cannot be found in Missouri.
585 characters

4.5
/5
rDev
-1.7%
Bon Vivant Wines is a nice treat for those harder to find craft beers. Missouri lacks distribution so we head to IL for those DFH, Victory, Lagunitas, Avery, Three Floyds, etc. I was pleased to find Victory as I have heard a lot of rave about their beers. Everything appears fresh and the selection was great. As stated, it is not the largest but it is quite impressive. I had a hard time deciding what to get. It is a nice easy drive from south St Louis. Andrew was knowledgeable and helpful. Store was clean and well kept.
524 characters
4.3
/5
rDev
-6.1%
Quality - Everything seemed very fresh and Andrew warned me about bottles that were getting aged. Good to know he keeps a somewhat running tally on how long bottles have been on the shelf.
Service - Andrew was excellent, I was the only one in the store, but he took the time to talk beer with me and helped me pick out a few beers that I never heard of (founders blushing monk)
Selection - Good. Not a whole lot of selection, but he stocks the seasonals and limited releases. There is also a mixer sixer section, price varies as it is priced per bottle.
I had a hard time finding the place, the tan siding and tan awning made the name hard to read and I passed it three times before seeing it. Very small store but very clean and has a nice decor (limited release boxes stacked everywhere as decoration, trust me it looks good).
Andrew said he didn't stock normal stuff as his turn over is limited. But I was able to snag a Seirra Nevada Ann. Ale. There is 2 cases left too at the time of this review.
Andrew was helpful and if I am looking for Dogfish Head, Founders, Left Hand, or Storm King this is where I will be going.
1,132 characters
4.7
/5
rDev
+2.6%
I discovered Bon Vivant a few months ago through BA, and ever since i've been a regular patron. I live in Stl County right across the bridge from IL, and coming here is closer than Whole Foods, Lukas, etc.
The store is fairly small, and being mostly focused on wine, there is not much room for the beer. However, Andrew makes sure to pack in as much quality brew as he can. There are plenty of great American Craft Brewers highlighted here, including Bear Republic, Three Floyds, Founder's, Avery, and Victory. There is a pretty strong emphasis on seasonals, which is always a great thing in my mind. He also has a solid lineup of some top beers from Belgium and Germany.
Besides beer, he also keeps a stock of quality cheeses and other specialty food products. I can't resist the olives and cheese every time i'm there. Overall, it's a quality store in a pretty unassuming location (i wouldn't normally associate Columbia with fine wine, beer, and food). While he doesn't have the room to carry every beer from every brewer, he keeps his shelves stocked with plenty of quality stuff to keep any beer lover happy.
1,121 characters
4.35
/5
rDev
-5%
Yepper, had an excellent afternoon speaking with Andy, the owner, about craft brews regarding his thoughts and plans on craft brews.
The standard craft brew paradox exists at Bon Vivant wines - he would luv to carry more, but the demand is not there yet,( I tried to do my part). I mentioned that his stock would do me well for my weekend session demands - it's a much better craft variety than a Schnucks/whatever local store. Mix and match sixers are an option - always a good thing. He also keeps his stock fresh and sends back old brews.
Andy has a news e-letter; I gave him my email for his distribution. AND, to make sure I make it down there for the next brew tasting!
I thought the prices were extremely fair, considering Andy is a small merchant trying to make ends meet. I noted some of them below (if this ain't cool, someone let me know).
Matt's review below listed most of his selection - a few more I noticed were (rotating offerings):
Avery (sixer of Nellie's brown for $7.50)
Samuel Smith
Unibroue
Founders (sixer of Dirty B. for $9.00)
Rouge (bomber of choc stout for $4)
Bear Republic (bomber of Racer 5 for $3.75)
Anderson Valley
3F
Victory (12oz of Old Horizontal $2.25)
Even had some Lambics - in wasteland Columbia! ;)
Finally, Andrew was very generous and tossed in a complimentary bomber of Maharaja - the beer karma was defiantly flowing!
1,372 characters
4.55
/5
rDev
-0.7%
I love this place! They have a small selection of premium beers (about 20-25), and absolutely no macros. What they lack in the quantity of beers to choose from they make up for in the quality. The selection seems to rotate often, usually following the seasonal beers. Visit this place every two weeks and you'll see what I mean. During winter, they had somewhere near 7 or 8 Winter/Christmas beers (Anderson Valley Winter Soltice, Sierra Nevada Celebration, Schell Snowstorm, Anchor and Breckenridge Christmas Ale to name a few). Some other beers they currently have right now are (subject to change): Great Lakes Eliot Ness, Founder's Red Eye, Founder's Dirty Bastard, Bell's Porter, Xingu, Shiner 96, Strongbow, Yeti Imperial Stout, and Old Rasputin Imperial Stout. Their favorite breweries seem to come mostly from Colorado and California, such as New Holland, Bell's, and Anchor. They are both knowledgeable and friendly and the prices are really good.
956 characters
Bon Vivant Wines in Columbia, IL
Place rating:
0
out of
100
with
9
ratings