Pembury Arms, The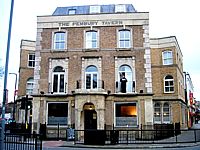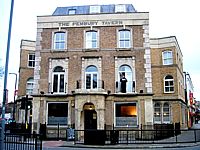 Bar
90 Amhurst Road
London
,
England
, E8 1JH
United Kingdom
+44 (0)20 8985 2205 |
map
individualpubs.co.uk
Notes:
Reviews by thepeter:
thepeter from England
4.44
/5
rDev
+5.5%
vibe: 4 | quality: 4.5 | service: 4.5 | selection: 4.5
Lot's of space and seating, not a busy evening when I dropped by but I could imagine it being a very cool place to hang out. . .not that it wasn't hanging out by myself drinking soem fantastic pints and reading a great book. tried 3 beers (OK one was a cider!) but they were all in EXCELLENT form and made me very happy. Service was great but like I said, they weren't busy so that is what I would expect, however the ladies were all nice and pleasing to the eye and let me borrow a pen so I could write this review. 16 casks!! Plus 4 Drafts (not shit either) plus a bunch of bottles. I did not get abottle count but they had Orval and that is all I need to know to give it a high score. they had a full menu and what appeared to be decent to even cheap prices (It is Hackney!) While I did not try any grub, it looked really good and I will/may next time. THERE WILL BE A NEXT TIME!!!! I really liked this pub and it has been a mistake not stopping in for a proper session sooner.
Jan 04, 2012
More User Reviews:
surfadelic23 from Florida
4.01
/5
rDev
-4.8%
vibe: 3 | quality: 4 | service: 4 | selection: 4.5
This was the second pub we hit on our London Pub crawl and it was HUGE! It looks like it was gutted and rebuilt so it appears rather new which is why I rated the atmosphere only a 3.0. We walked here from the Dove (about 20 minutes through a pretty park called London Fields I believe).
There is a REALLY long bar with a hell of a lot of hand pumps (16 I'm pretty sure)which is the first sight that greets you upon entry.
I had the best stout (on cask) I've ever tasted here and a kick ass barley wine as well. My sister had a cask cider that was soooo fresh. Pops stuck with the milds and tried a bitter as well. Both of which were nice and fresh..
There was one other table of folks here when we arrived and the place stayed pretty quiet while we were there. I hope this place takes off and I will definitely head back here the next time I am in London.
Feb 15, 2006
wl0307 from England
4.18
/5
rDev
-0.7%
vibe: 3 | quality: 4.5 | service: 4 | selection: 4.5
Newly opened in early January 06 as sister pub to the Oakdale Arms, North-East London, this pub is located at a very large Victorian building at a busy road junction in Hackney Central. Actually prior to its present identity, there "had" been a pub inside this building almost as old as the building itself. Built in 1850s, a pub had existed from the beginning and in 1990, under Banks&Taylor, even made it into the Good Beer Guide!! But because of its untimely demise in 1997-8 due to a huge fire, the historical pub vaporised and the fate of this huge building was almost consigned to history. Only after the managing team of the Oakdale Arms (which also owns Coal-Heavers Arms in Peterborough) approached the landlord, was the building finally restored and now turned into Pembury Tavern, a fantastic real ale haven injectng some stamina into this "real-ale-desert"-like part of London~~
Upon the entry, one is greeted with a long bar around 10 metres away from the door...(yes, that's how big the interior space is). The bar has all 16 handpumps arrayed on the single side, divided into four sets. Like at the Oakdale, Milton Brewery's range of brews are the regulars here, while the ever-changing guest ales are also provided via Milton. On my visit, 10 handpulls were working, serving wide selection of beers mainly from Herdfordshire, Cambridgeshire, Norfolk, Suffolk, and Essex, as Steve (one of the owners) himself was based in Cambridge and has a particular preference for regional brews. The 6 beers I tasted were all in nearly-perfect condition, and with Original Budvar (Svetly/Pale) on tap and some well-selected bottled Belgian and German beers in the fridge, it should satisfy all kinds of beer lovers.
As it's a brand new pub, targeted at real ales, and located in such a huge building, one could expect the atmosphere to be pretty much... non-existent, esp. when it's not busy. Actually the whole interior gives an impression of a huge seashell, with a gem-sized but juicy clam (bar) sitting in the middle. With hollandaise-sauce-coloured (creamy yellow) walls and ceiling, wooden-framed floor, simplistic wooden tables, old-fashioned cushioned chairs (both tables and chairs are second-hand furnitures from a College of Cambridge Univ.!!), mixed paintings and old photos showing the past history of this place all scattered around the pub, the imposed air is really not pub-like. On my visit when there were only less than half a dozen drinkers, there's almost a picture of a small local beer festival taking place in an over-sized downstairs room in a town hall/school building. So I had to create some sort of atmosphere myself by chatting with two fellow punters and Steve the owner and Tomma the barman, a Parisian converted into real ales, both great guys to talk to.
I thoroughly enjoy my visit and recommend all BAs to come and give it a go at this fantastic pub which has good potentials. With all real ale lovers' help, this could be yet another full-fledged real ale paradise in the Greater London area!
Jan 25, 2006
Pembury Arms, The in London, GB2, United Kingdom
Place rating:
4.21
out of
5
with
3
ratings