Laughing Dog Pale Ale
| Laughing Dog Brewing
BA SCORE
80
good
29
Reviews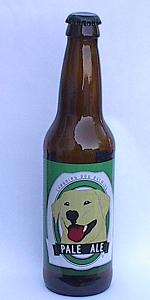 BEER INFO
Brewed by:
Laughing Dog Brewing
Idaho
,
United States
laughingdogbrewing.com
Style:
American Pale Ale (APA)
Alcohol by volume (ABV):
5.50%
Availability:
Year-round
Notes / Commercial Description:
From out of the Pacific Northwest the Micro-breweries were born and with them came an ale that was unlike any other, the American Pale Ale.
We brewed our pale ale "Big, Bold and Hoppy" using five of the finest hops from the fields in Yakima WA. To balance the intense hop flavors, five different American grown malted barleys add a malt flavor and smooth finish.
This beer is best served cool. A spicy, hoppy aroma balanced with a malt body that is crisp make this beer perfect for relaxing after a hard days work.
Added by woemad on 01-14-2006
Reviews: 29 | Ratings: 45
3.33
/5
rDev
-2.9%
look: 3.5 | smell: 3 | taste: 3.5 | feel: 3 | overall: 3.5
Rusted Buick orange with a coppery glow when backlit with the sunrise outside my front window. This may be the darkest pale ale that I've seen yet. The pale orange cap was at least four fingers after a gentle pour, but at least I didn't get another horrendously over-carbonated beer from these guys.
The brewery will only say that five malts and five hops are used; they don't say which ones. The nose is so low on power that I can't tell much beyond a whiff of toasted grain, maybe a little caramel malt and some English-style hops.
Pale Ale does, indeed, favor the caramel malt side of things; more than most beer of this style. It's also surprisingly bitter, with less hop flavor than is optimal. A background citric fruitiness can be appreciated, as can quite a bit of almost phenolic spiciness. Either Chinook is in the house or the yeast strain needs to be cleaned up (or jettisoned).
Despite the generous number of microbubbles early, they aren't very long-lived. The top half of the glass was a little too carbonated and the bottom half isn't carbonated enough. I seem to have missed the sweet spot where it was just right. The body is closer to light than to medium.
Laughing Dog Pale Ale is a different sort of APA that doesn't quite hit me right. I've awarded it with above average marks for flavor and drinkability because of my love for hops, but I don't care if I never have another bottle. Here's hoping India Pale Ale and Devil Dog get it right.
1,465 characters
3.87
/5
rDev
+12.8%
look: 3.5 | smell: 4 | taste: 4 | feel: 3 | overall: 4
Sampled from a 12 oz bottle, poured into a pint glass at 45 degrees. Picked up in a trade from JohnGalt1 - thanks!!
A - Pours clear, brownish amber color with a short-lasting head that left little lacing around the glass.
S - Pretty straightforward aroma of hops and malt; smells like an APA should.
T - Leans more on the hoppy side, on a malty backbone. A bit of a biscuity aftertaste that blends well with the added hoppiness. A little spice detected as it got warmer. All in all, stronger flavors than anticipated.
M - Thin body, but it seems to thicken up upon the bubbly finish. I think the carbonation hides the fact that it's more on the thin side.
D - Would make for an excellent session beer. I really enjoyed it, as the flavors were more pronounced than I expected them to be. This is the first Laughing Dog I've tried, and I still have 4 others in the closet, so I'm looking forward to them. Thanks JohnGalt1!
935 characters
3.88
/5
rDev
+13.1%
look: 4 | smell: 3.5 | taste: 4 | feel: 4 | overall: 4
I picked up a six pack of Laughing Dog Pale Ale at the brewery while on a three-day two-night trailer trip in North Idaho. I poured this beer in to a pint tumbler.
Pours a dark copper color and is clear. A one-finger bubbly head forms, but dissipates quickly to a thin ring around the glass. The head produces little lacing.
The smell is sweet with a bit of a citrus and evergreen aroma.
The taste is fairly sweet with a mild citrus flavor, and a sweet caramel malt presence. The flavors are well balanced.
The mouth feel is light and crisp, yet full bodied. The beer is moderately carbonated.
This is a very drinkable beer. It is a nice representation of the style, with a full flavor and a dry finish.
NOTE: The brewery has a nice tasting room, with friendly brew staff. You can stop in and get a set of tasters (seven 4 oz beers) served on a dog bone shaped tray, eat pretzels from a dog dish on the table, and take a tour of the brewery. If you are lucky you might even meet Ben, the owner's dog, and inspiration for the brewery.
1,058 characters
3.63
/5
rDev
+5.8%
look: 4 | smell: 3.5 | taste: 3.5 | feel: 3.5 | overall: 4
This replaces the review posted on 14.01.06. It is now patenly obvious that bottle was deeply effected by the questionable storage practices of Gourmet Way.
12oz bottle purchased at Huckleberry's in Spokane for $1.29
Pooured a slightly hazy copper color that takes on a reddish tinge when held to light. Big, creamy white head that took a couple of minutes to dissipate. Rings of lace left behind on the glass.
The smell was hoppy, but with a decent malt bcking as well. The label brags of it having "five of the finest hops from the fields of Yakima, Wa" and I can well believe it. While there are hoppier APAs out there, this will please the nostrils of any fan of hoppy pale ales.
This tasted different than most US pale ales. It began with a mildly sweet maltiness, but was then joined by a stronger flavor of tart hoppiness that went very well with it. It ends on a pleasingly dry note. This beer's taste occupies a point between easygoing session pales and really hoppy ones.
Medium bodied, like most pale ales. No surprises here.
This would be a decent session pale ale for people intimidated by west coast hoppy pales, yet desiring a bit more of a challenge than and English style pale, and could function as a bridge from the latter to the former.
1,277 characters
Laughing Dog Pale Ale from Laughing Dog Brewing
3.43
out of
5
based on
45
ratings.