Devil Dog Imperial IPA
| Laughing Dog Brewing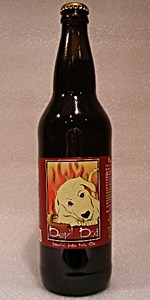 BEER INFO
Brewed by:
Laughing Dog Brewing
Idaho
,
United States
|
website
Style:
American Double / Imperial IPA
Alcohol by volume (ABV):
10.00%
Availability:
Spring
Notes / Commercial Description:
The Devil Dog will chew you up and leave you whimpering for more.
At 98 IBU's and 5.6 pounds of hops to the barrel it is an all out assault on the senses. Devil Dog Started as a labor of love but quickly took on a life of its own, leaving us drooling like Pavlov's dogs at the mere mention of its name. Triple dry hopped and at 10% ABV, more than one of these bad boys will cause you to howl at passing strangers and chew up your toys, or anything else you can get your sharp little teeth on.
98 IBU
Added by johnbonham1980 on 03-18-2007
Reviews: 125 | Ratings: 237
4.2
/5
rDev
+10.8%
look: 4 | smell: 4 | taste: 4.5 | feel: 4 | overall: 4
The Devil Dog poured a autumn color with a solid two finger foam head and some sea foam lacing.
The aroma was of grapefruit and dates.
The taste was sweet apples and malt most of the way through. The caramel malts really came to the fore front. It was high on bitterness to start and then as another drink came it softened it. It was initially sharp but then turned into a trained and well behaved dog. Overall an excellent brew but seemed to be a less in your face than a normal DIPA but I would definitely buy this one again.
★
531 characters
4.31
/5
rDev
+13.7%
look: 3.5 | smell: 5 | taste: 4 | feel: 4 | overall: 4.5
On tap @ Bailey's Taproom (Portland)
I've been wanting to try a fresher example of this brew since I was informed the bottle I previously rated was old, and I'm glad I found one.
Clear light amber or orange-copper color with minimal head that does a good job of lacing.
Smells teriffic. Very fruity and sweet smelling with light hints of caramalt and some alcohol. Red grapefruit and tropical fruits dominate, mango, pineapple, peach, hint of menthol - reminds me of strawberry mentos.
Sweet malt backbone and juicy hop flavors combine to do a pretty good job at hiding the 10%abv, but its not entirely successful. Not overly bitter for a DIPA.
Medium body with moderate carbonation. Great DIPA; glad I gave this one another try.
★
733 characters
4.2
/5
rDev
+10.8%
look: 4 | smell: 4 | taste: 4.5 | feel: 4 | overall: 4
Had on tap at the Green Dragon the other day.
The beer pours a rich amber color with good head retention and lacing. The beer has the expected citrusy bitterness on the nose, though I don't really get any pine aroma. Given the nose on this beer, I was happily surprised by the amount of flavor this beer has. The beer starts off somewhat sweet, with some cherry and apple, but then dovetails into some nice refreshing, citrusy bitterness. The beer is not at all heavy or tiring to drink, and the abv. is pretty well disguised. You can tell it's up there a bit, so one or two of these is probably all you'd want to do.
A very nice DIPA from Laughing Dog. Impressive.
★
668 characters
4.47
/5
rDev
+17.9%
look: 4.5 | smell: 5 | taste: 4.5 | feel: 4 | overall: 4
I've already done two reviews of this beer. One was clearly a bad bottle. The second, drank about nine months ago, was decent, but I still found it wanting. So, why am I doing it again? I recently got an email from the co-owner and brewer at Laughing Dog, Fred Colby, mentioning that a new batch of this beer had just been bottled. I had previously criticized this beer for having too heavy a body and being too malty, and he suggested that I'd find that fault had been fixed. So I decided to check it out:
22oz bottle purchased at Huckleberry's in Spokane for $6.69.
Poured a clear shade of copper with a good two inches of beige foam that receeded to a sticky lace.
This had the biggest nose that my big nose has ever detected emanating from an IPA!. Huge citrus scents vie with a sweet maltiness for olfactory attention. I also picked out what smelled like fresh strawberrys which, while unique in my experience with IPAs, smelled absolutely delicious. Is it like a typical beer of the style? No. Way too much maltiness, but now reduced to the point that the hops can shine. Does it smell freakin' great? Yes!
Like the nose, the taste of this beer has a huge hop presence that is balanced by a maltiness that is also huge, but is subordinate enough to the hops that it still tastes like an IPA. While the sweet maltiness very nearly matches the sharp, fruity hops at the beginning of the taste, the malts decline precipitously after that, with the hops declaring their victory with a prolongued bone-dry fadeout. What is truly unique in my experience, is a strawberry-like flavor that is most evident at first moment the taste hits the tastebuds and, while certainly unconventional, adds to the overall tastiness.
This is a medium bodied beer, which, looking at a label that boasts five varieties of hops, coming to seven (!) pounds per barrel plus three varieties of malts in what I guess is not too much smaller a quantity, is quite an achievment! DD has a fairly oily mouthfeel, though not as oily as other beers of the Double/Imperial IPA persuasion. I'm guessing that might be because of those three varieties of malts being liberally used, though my own attempts at homebrewing were so spectacularly unsuccessful, I don't really have the knowledge to say.
This is not a session beer even if you are 400 lbs., but it makes a very nice nightcap, which is what I'm using it as right now.
Definitely a more-is-better version of the style, an almost hedonistically tasty beer, with a huge nose and flavor. The price was a little high,at least to my broke-ass self, but it makes sense from the huge amounts of hops involved in it's brewing. I don't know if that heads-up from Fred led me to pick this up when it was at it's optimum fresheness or not, but it blew me away when compared to previous samplings, and now tastes like an IPA rather than a really hoppy barleywine. I'd love to see this made a regular or at least seasonal offering, and it's yet more proof that Laughing Dog is the best brewery in northern Idaho or eastern Washington. One question: is the dog on the label supposed to look diabolical or just wasted? I think it could go either way.
★
3,171 characters
4.05
/5
rDev
+6.9%
look: 4 | smell: 4 | taste: 4 | feel: 4.5 | overall: 4
Softly glowing russet with bright orange trim. Reminiscent of either a tropical sunset or a tequila sunrise. Even though the cap maxed out at one finger, it's creamy and persistent and is responsible for a thick band of soon-to-be-crusty lace just below the rim of the glass.
Devil Dog smells like a caramel malt-intensive DIPA with no shortage of citric and tropical fruity hops. These hops (Columbus, Northern Brewer, Ahtanum, Cascade and Simcoe) should be enough to get any hophead excited. A bit more wattage and the next highest score would have been in reach. With no dating on the label, it's impossible to know just how old this pooch is.
This is one of those DIPAs that favors the barleywine style more than the classic DIPA style. In other words, it's chock full of malt (that greatly favors caramel over pale) and the hop flavor is somewhat muted as a result. It's also at least as sweet as it is bitter. Perhaps even more so.
Having said that, it's a surprisingly mellow version of the style, especially considering the ABV. My suspicion is that this bottle is at least a year old. That isn't a problem because it has aged exceptionally well. Alcohol is a member of the flavor profile, but there are no rough edges to be found.
The flavor profile includes juicy chunks of pink grapefruit, orange and mango swimming in caramel, melted brown sugar and pine sap. Even though there are plenty of malt sugars, 98 IBUs isn't hard to believe. The bombastic yet balanced nature of the malt sweetness and hop bitterness is one of the reasons I'm such a DIPA freak. They still could've used less total malt and proportionally less caramel malt, however.
Only an idiot would suggest that less malt would make the beer better, and then say that malt does great things for the mouthfeel. Okay, so I'm a idiot. This big brew is incredibly plush and crushed velvety, with just enough bubbles to keep things moving.
Devil Dog is a massive beer that, again, is as much American barleywine as DIPA. Idaho BAs should feel lucky to have access to this beast of an ale. It's devilishly good.
★
2,088 characters

4.04
/5
rDev
+6.6%
look: 3 | smell: 4 | taste: 4.5 | feel: 4 | overall: 3.5
22oz bomber received as a generous extra in a trade. Received August 2007, opened and poured December 2007. No freshness date discernible on bottle or label.
This beer can hunt with the DIPA big dogs. Pours a deep and unattractively murky reddish brown, not much yellow or orange here, nearly no head. But things perk up from there, with a wonderful hop explosion in the aroma, accompanied by rich malt that marries wonderfully to the taste. It's a bruiser - there's definitely a lot of everything going here - palate busting hops and malty sweetness not for the faint of heart - but just (barely) avoids the syrupy viscosity of too many DIPAs.
There's tons of malt, and any more thickness to the texture would put this into average territory, but Devil Dog pulls it out. Alcohol is hard to detect - BA says it's 10%, but there's nothing on the bottle and little to be felt in the drinking.
Absolutely worth more than just a try. If you're a fan of big DIPAs, then you should actively seek out Devil Dog. Up there in a the higher echelon of the style, and bests many better-known California versions of the same.
★
1,116 characters
4.24
/5
rDev
+11.9%
look: 3.5 | smell: 4.5 | taste: 4.5 | feel: 3.5 | overall: 4
Served from a 22 oz. bomber in to a New Belgian Tulip.
A – Pours a reddish amber color with little to no head. I'm guessing the carbonation is past its prime with this one. I had it fresh earlier this year and the carbonation was much better IMO.
S – Very floral / dry hopped. But, still less than I remember. The alcohol however is very well hidden at first. As the beer warms the alcohol become much more present.
T – Citrus, hoppy, with a nice malt balance. Once again upfront alcohol is very well hidden until the beers warms. Still very drinkable down to the last drop.
M – Texture is smooth and silky due to lack of carbonation. A little on the tick / syrupy side.
D – Very drinkable. IMO the fresher the better. It's defiantly worth the trip. If you get the chance to drink it on tap do it. That has always been my best experience with this beer.
★
866 characters
4.24
/5
rDev
+11.9%
look: 3.5 | smell: 4.5 | taste: 4.5 | feel: 3.5 | overall: 4
22oz purchased at the Boise Coop, very much enjoyed out of my standard big red wine glass. Listening to the end of Global House Culture #3.
First of all, I will state I love the taste and aroma of this brew .... that being said, a solid 1/5 of the many I've tried were very low carbonated if not dead flat .... this one has nice carbonation, so I decided to review it.
Good pour with 1 inch eggshell head that sticks to the side of the glass ... with a big piney nose as soon as the beer hits the glass .... I am gonna like this one. Deep amber/reddish orange... maybe not the right color for a DIPA, but no complaints here... still a very nice color.
Smell is awesome ... no let down at all. Big malts and much bigger American hops. Grapefruit, misc. citrus, and pine coupled perfectly with stick to your nose-hair sweetness.
Taste is a lingering mash-up of balance. Thick without overpowering flavors. Striking bitterness gives way to viscous malts with a loooong lingering hop flavor. toasted malts are in there... mmmm! Big and balanced.
I love this beer. Some of the bottles are a let-down, but I've had too many to count ... and even the flat ones are great. If you get a chance to try it on tap, give it your full attention; the drinkablity is out of this world, and that may leave you in the dirt.
★
1,311 characters
3.78
/5
rDev
-0.3%
look: 4 | smell: 3.5 | taste: 4 | feel: 4 | overall: 3.5
Pours out a lively caramel color with a finger of tan head that dies quick to a ring. Spotty lacing. Smells of sweet malt, caramel and iced tea. Taste is big malty and tea like. Hops are missing for me. Finish is bittering but not hoppy. Full in the mouth. Takes some sipping. Falls very short for a DIPA. If I drink something with IPA in the name, I want some damn hops. I suspect this isnt even close to fresh.
★
412 characters
3.97
/5
rDev
+4.7%
look: 3.5 | smell: 4 | taste: 4 | feel: 4 | overall: 4
Got this one from younger35 in a great trade.
22 oz. bottle poured into a nonic.
Season premiere of The Office, I wanted something different that would fit the mood of this crazy ass show. Drinking it with the Devil Dog Ivy herself, my 4 month old German Shorthaired Pointer.
With a very aggressive pour, it still manages to create a half finger light khaki colored head that quickly dies down to a thin layer. Color is a foggy dark amber hue. Stickiness is some what thin, not as much as expected. Smell is a dirty, earthy hop aroma with a biscuity (dare I say dog biscuity) like scent. This is 10% abv.?...wow, no alcohol in the nose. Taste is a spicey pine hop with some dirt like flavors. I still can't detect the alcohol. Very earthy tones all over inside the mouth as well as a healthy amount of caramel malt. A bit of a bitter tingle in the aftertaste. Mouthfeel is full bodied with a medium amount of carbonation. For 10%, this one can be put down pretty easy but it is very rich and chewy. I like how this one tastes as it warms. Glad Dan sent this one, definitely an enjoyable brew.
★
1,095 characters
4.2
/5
rDev
+10.8%
look: 4 | smell: 4 | taste: 4.5 | feel: 4 | overall: 4
This one came in a trade from younger35. It was his first trade and he had Alaskan smoked that I was after. He wanted a Westy 12 and some others so I told him to even out the deal with some of his local brews and this was one he sent.
A: Really cool looking beer. Pours the reddest of red, just like a true devil dog should. This is amber DIPA by the looks of it. There is very little head. As the contents go into the glass there is a swirl at the top of tiny bubbles. These band together to form a small lily pad type head that dies down to a small island in the middle of the glass.
S: Big malty sweet caramel aroma. This is going to be a sweet beer no doubt about. I have smelled less sweetness in a candy store. There is some pine and citrus in the background, but sweetness reigns supreme.
T: Very nice brew. Starts off not surprisingly with a rush of sweetness. Rock candy baby. Just as the sweetness settles in it is overtaken by mass amounts of hops, bottle says 98 IBU's. Ahhhh Yesss, the bitter has arrived. Notes of pine and orange rind are present. The bitter overload fades and leaves a nice small tingle at the back of your tongue from what's left of the hops along with a slight burn of booze..
M: This is a full bodied brew. Very thick. I drank it warm and it was still very maple syrup like. I couldn't imagine the thickness at 39 degrees.
D: Uber drinkable. I love my DIPA's and am honored to try this one. It has less than 10 reviews on the site which is a shame. It's a well made DIPA that should be shared with the masses. Younger35, I'm leaving it up to you. Spread the wealth before you move to Chicago.
The bottle says it will leave you drooling for more like Pavlov's dog…. I have to agree. A puddle is forming. Man younger I should have had you send another in that last package. Oh well there's always next time.
★
1,850 characters
3.65
/5
rDev
-3.7%
look: 3.5 | smell: 3.5 | taste: 3.5 | feel: 4 | overall: 4
thanks to skyhand for sending this bomber east.
Pours a dark amber almost reddish color with a one finger cream colored head. Bubbly and frothy head has good retention and fades after a couple of minutes. Deep reddish color almost takes on a blood like look. Bready malt notes reminds me of a bakery. Caramel malt notes breaks with a nice sweetness attached to it. Malt profile is quite hefty. Spicy hop notes attack the nose--not very pleasurable.
Malt profile falls off from the aroma to the flavor as the hops take over and dominate everything. Chewy with big caramel flavors and a touch of pine needles. Thick and juicy on the palate coats the mouth and leaves sweetness in the finish. Bitterness is also present in the finish with a touch of fruit and pine. A tad cloying into the aftertaste. A spicy dipa that could moonlight as a barleywine--quite on the edge if you ask me. Not bad, but I don't think I could drink more then one glass of this. glad i got the chance though.
★
987 characters

3.55
/5
rDev
-6.3%
look: 3.5 | smell: 3.5 | taste: 3.5 | feel: 4 | overall: 3.5
Poured out a deep reddish amber color with a decent off-white head that quickly diminished. Some light lacing, but it was spotty at best.
The smell was a bit sweet for a DIPA, imo. Caramel malts, piney hops, some tea aromas come through, also. I wish the hops would be more assertive.
The flavor was on the sweeter side as well. Caramel, tea, pine resin, with some bitterness coming out in the finish.
Full bodied for a DIPA. I liked that part. This wasn't a bad beer, but it wasn't a really good DIPA either. Maybe if I ever make it out to their neck of the woods I can try another, possibly fresher, sample.
★
618 characters
4.22
/5
rDev
+11.3%
look: 4 | smell: 4.5 | taste: 4.5 | feel: 3 | overall: 4
poured a darkish amber red with a smallish head, big hop nose and very hoppy but not overly bitter finish, carbonation was somewhat low on this beer but as big as it is that does not seem to hurt seems more like how a barley wine would be, as the beer warms up it becomes much more mellow and takes on a carmelly complex flavor. all in all i would say a very good 10% IIPA
★
372 characters
4.12
/5
rDev
+8.7%
look: 4 | smell: 4.5 | taste: 4.5 | feel: 4 | overall: 3
Drank this at The Front Door in Boise, ID. The guys over there are always hospitable. Great northwestern brew house and pizza place.
Probably the best IIPA I've had. This is a triple hopped Imperial India Pale Ale rated 98 IBU, with 5.2 lbs of hops/barrel. While its website states that it "is an all out assault on the senses", leading one to think that this brewery has drunk the Stone Brewing Kool Aid, it's really quite balanced and pleasant.
Poured from half nitro/half CO2 tap into snifter style glass, very dark amber, with a 2 finger white (if I remember correctly) head...
As the beer warms, hop character changes from piney, herbal, and floral to a pleasant mellow hop character, strongly reminiscient of marijuana. The malt has enough backbone to stand up to the hops, very biscuity and soothing.
Drinkability is great for a 10% beer, but this is one that's meant to be savored. Had this on St. Patty's Day with some corned beef and cabbage. The salty and sweet character of this dish went really well with the spicy, palate cleansing nature of this beer.
If you can find it in your area, try it. It's awesome.
★
1,136 characters
Devil Dog Imperial IPA from Laughing Dog Brewing
3.79
out of
5
based on
237
ratings.