Anubis Imperial Coffee Porter
| Laughing Dog Brewing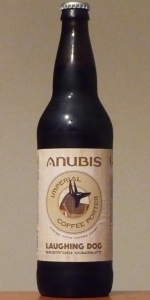 BEER INFO
Brewed by:
Laughing Dog Brewing
Idaho
,
United States
|
website
Style:
American Porter
Alcohol by volume (ABV):
9.20%
Availability:
Rotating
Notes / Commercial Description:
No notes at this time.
Added by Jimmys on 10-12-2011
Reviews: 65 | Ratings: 264
4.17
/5
rDev
+10%
look: 3.5 | smell: 4 | taste: 4.5 | feel: 4 | overall: 4
Served on draft from a nitro-tap into a half-pint glass.
Appearance: very dark brown, black-coffee appearance with a creamy tan head. Adequate lacing and head retention throughout. The nitrogen pour really helps the head on this.
Smell: Fantastic smell, very inviting. Coffee, malt, chocolate. Lots of roasty aromas. Not terribly complex, though. Smelling it, you would expect a big, sweet beer with mocha flavors. Fortunately, what you get is even better than the aroma. The smell invites you to take the first sip.
Taste: Well balanced. This does not taste like a 9.2% beer. The alcohol sweetness is very well contained by the big doses of chocolate malt. Very easy to drink, with big amounts of roasted grain, malt, coffee, and cocoa flavors.
Mouthfeel: Smooth, slightly silky mouthfeel with a fine carbonation. The slight roasted malt bitterness and cocoa flavors coat the palate. Good body, and again well-balanced.
Overall: A really solid imperial-style porter. A touch more complexity in the nose and flavor, and this would be an unstoppable beer.
★
1,059 characters
4.38
/5
rDev
+15.6%
look: 4.5 | smell: 4 | taste: 4.5 | feel: 4.5 | overall: 4.5
Pours black with tan head in snifter. Very oily appearance.
Smell is dark roasted malt, chocolate and caramel. Lots of coffee prescence as well.
Taste follows smell with lots of coffee and dark chocolates. Toffee, caramel and molasses there too. Very complex.
Mouthfeel is thick and oily. Very nice carbonation.
Overall this was excellent. Will be on the lookout for more.
★
376 characters

3.77
/5
rDev
-0.5%
look: 3.5 | smell: 4 | taste: 4 | feel: 3 | overall: 3.5
Poured into a snifter from a 22oz bottle.
Pours pitch black with just the tiniest fizzy head that quickly fades leaving a small ring around the edge of the glass.
Aroma is espresso and some cocoa. Also a tinge of roasted malt.
Plenty of chocolate and coffee in the flavor as well. Really reminds me of Terrapin wake and bake. A little roasted malt and dark fruit makes an appearance. The finish is a little on the thin side but also with a nice coffee-like bitterness. Alcohol is very well hidden and this is surprisingly drinkable.
Overall, a really good beer from Laughing Dog. While it is very much like other beers in this style, it is one that is worth picking up.
★
673 characters
3.72
/5
rDev
-1.8%
look: 3 | smell: 3.5 | taste: 4 | feel: 4 | overall: 3.5
A: Pours nearly opaque black with a bit of brown around the edges. A minimal beige head forms, and recedes to nothing in a second. A dense and viscous liquid.
S: Big roasted malt up front. Acidic and acrid coffee. Bread and biscuit, light chocolate.
T: Roasted malts are up front with a nice balance with the coffee and chocolate flavors. Bread and biscuit. Pretty standard, but enjoyable.
M/D: A full body with good carbonation. Crisp, but smooth at the same time. Easy enough to drink. The alcohol is not noticeable, and a nice sipper.
The best I have had from Laughing Dog so far. I do enjoy it, but nothing that really sets it apart from others in the style. Locally at that. Still something that I would say is worth a try.
★
730 characters

4.03
/5
rDev
+6.3%
look: 4.5 | smell: 4 | taste: 4 | feel: 4 | overall: 4
Beer pours an opaque black with a little tan head that dissipates, but leaves enough lacing to make a pretty little pattern on the glass...
Nose is primarily coffee grounds... like an old sweater that keeps getting warmer with age. There's a little caramel malt and dry cocoa.
The taste is mostly the same, primarily drip coffee and cocoa.
It's kind of like drinking a cold cup of black coffee, but a little sweeter and more... beer-lier. That doesn't sound that appetizing, but it is delicious. Get it.
★
506 characters
3.86
/5
rDev
+1.8%
look: 4.5 | smell: 3.5 | taste: 4 | feel: 3.5 | overall: 4
Date of 5/24/12
Pours ebony with 3 fingers of mocha head. Stellar lacing & good head retention
S: Coffee & cocoa
T: Coffee & dryness up front, a touch of roastyness, minty hops & dark chococlate up front. Roastyness & a touch chicory as this warms, a touch of boozey warmth. Finishes roasty, with woody dryness, plus some nice chocolate notes
MF: Medium bodied, slight carbonation, becomes somewhat creamy as it warms
A super solid coffee porter, glad I got to try this
★
476 characters
3.88
/5
rDev
+2.4%
look: 4 | smell: 3.5 | taste: 4 | feel: 4 | overall: 4
A- pours a dark black with a light tan finger of head. Good retention.
S- semi-sweet chocolate and dark caramel blend with rich aromatic coffee bean. This a balanced mocha smelling mothah!
T- great balance between malt sweetness and coffee like roast. Semi-sweet chocolate and stick burnt caramel again blend with rich smooth coffee with cream and malt roast. Like drinking a mocha latte. Sugary finish with a lingering chocolate in the aftertaste.
MF- smooth creamy mouthfeel with a medium dense body. Soft well placed carbonation
D- great drinkability
Overall a very well made coffee porter!
★
598 characters
3.95
/5
rDev
+4.2%
look: 4 | smell: 4 | taste: 4 | feel: 3.5 | overall: 4
Pours black some red around edges when held to the light. Nice fluffy darker tan head
Aroma is lots of chocolate with good coffee notes some roast underneath it all, nice smelling.
Taste is just like the nose nice sweet malts roasted, big chocolate with coffee lingering into the finish. Sweet almost more of a chocolate porter but does not push into cloying is pretty balanced. 9% really plays no factor as its well hidden.
Mouthfeel seems a little light for a big porter but carbonation is on light side and makes it smooth.
Overall an enjoyable brew tasty sweet chocolate followed by bitter coffee whats not to like.
★
624 characters
3.92
/5
rDev
+3.4%
look: 3.5 | smell: 4 | taste: 4 | feel: 3.5 | overall: 4
A: Pours extremely dark amber with a small tan head that dissipates quickly. The beer exhibits very little head retention and almost no lacing.
S: Aromas of dark chocolate and coffee dominate.
T: Flavors of chocolate malts with a bitter coffee finish. The flavors of the coffee are more subtle than one might expect but that makes it more pleasant.
M: Medium bodied with moderate carbonation and very smooth.
O: Could easily be substituted for the normal espresso that is often served with dessert and would pair very nicely with rich and chocolaty desserts. Very drinkable and hides the alcohol very well.
★
610 characters
3.87
/5
rDev
+2.1%
look: 3.5 | smell: 4 | taste: 4 | feel: 4 | overall: 3.5
A: The beer is jet black in color and poured with a thin mocha-colored head that quickly dissipated, leaving a thin film of bubbles covering the surface and a thin ring of bubbles around the edge of the glass.
S: The nose has moderately strong aromas of dark chocolate and becomes stronger as the beer warms up.
T: The taste has a rich mixture of chocolate and coffee flavors along with balanced hints of bitterness and sweetness.
M: It feels medium-bodied and smooth on the palate with a moderate amount of carbonation.
O: The beer is well balanced because the underlying hops help to keep this beer from becoming overly sweet or malty. Considering its strength, the alcohol is well hidden from the taste of this beer. It starts to resemble a stout when the beer warms up.
★
774 characters
4.05
/5
rDev
+6.9%
look: 4 | smell: 4 | taste: 4 | feel: 4.5 | overall: 4
A: Came to the bar a very dark brown with a solid one finger of head that stuck around and fell half way through.
S: Lots of fresh baked whole wheat bread. Coffee and a sharp dark chocolate note push through briefly.
T: Very malty smooth brew. Coffee pushes through and then falls giving way to a very oaty, chocolatey note. This swells and falls to a nutty and toasty bread sensation. The finish is mild.
M: Damn its good. Thicker than medium and extremely creamy with just the right amount of fizz. Its a velvety creamy smooth sensation. Amazing.
O: Very interesting and solid brew. The coffee and oat flavors push through a modest malt backbone. Highly drinkable and enjoyable.
★
684 characters

4.05
/5
rDev
+6.9%
look: 4 | smell: 4 | taste: 4 | feel: 4.5 | overall: 4
On-tap at Prime 16 into a DFH goblet.
A: Black body with ruby highlights; on top is an inch of creamy tan head that recedes at an average pace and leaves nice lace.
S: Coffee dominates, with a bit of chocolate filling in behind. Pretty simple, very enjoyable.
T: Coffee again shows up right away, with some chocolate and lovely graham cracker sweetness following close behind. I love it, but unfortunately it dies out in a rather weak finish. I would expect more intensity and continuity from a 9% beer, but weakness ≠ badness.
M: Rich, luscious full body with equally decadent carbonation. Velvety and delectable.
O: Great beer. I wish its finish weren't quite so light, but otherwise it's terrific.
Cheers!
★
718 characters

4.15
/5
rDev
+9.5%
look: 4.5 | smell: 4.5 | taste: 4 | feel: 4 | overall: 4
Growler obtained from Whole Foods; Poured in a pint glass.
A - Nice one inch creamy mocha colored head with good retention; Essentially pitch black in color; Pretty good web of lacing around the glass
S - Aroma of roasted coffee beans, some cocoa nibs, and just a hint of vanilla beans with milky-like sweetness; Rich chocolate comes forward more as the beer warms
T - Good showing of roasted coffee beans, but that's not all I detect in the taste for sure; Presence of chocolate, nutty, and toasty characteristics with a faint hint of vanilla as well; Noticeable hops of sweet and floral flavors blend well into the overall mix; Some sweetness up front that turns a little bitter into the finish
M - Moderate carbonation; A notch above medium bodied; Semi-dry finish; Nice and smooth mouthfeel after the intial zest of carbonation
O - As my first brew from Laughing Dog, I thought this was very pleasant and quite smooth. The nose had a good amount of coffee aroma, but the taste had more of a balance between the coffee, chocolate, toasty, and roasty flavors. I thought the hops worked well in the flavor formula too. I'm glad I was able to enjoy a few glasses of this beer, which couldn't have come at a better time with the weather turning very dreary and bitter cold.
★
1,277 characters

3.68
/5
rDev
-2.9%
look: 4 | smell: 3.5 | taste: 4 | feel: 3 | overall: 3.5
Served on-tap in a 10 oz mini-imperial clear glass tumbler at Beer Run (Charlottesville, VA).
A: Opaque black with dark brown edges and short cap of beige tightly bubbled head with icicled lacing.
S: Light coffee aroma with caramel and dark malt with a short touch of sweetness
T: I like that the flavor is not overwhelmed by the coffee flavor but rather accentuated by it. The maltiness is barely sweet, which is on-target for this style. There is little to no roast character which is also good for a porter. The porter component could use a touch more malty personality, but all in all, this is a nice brew with well-hidden alcohol.
M: Too thin but not watery for the style.
O: A pretty nice brew, but the body needs more work to give the malt flavors a little more of a boost.
★
786 characters
3.8
/5
rDev
+0.3%
look: 3.5 | smell: 3.5 | taste: 4 | feel: 3.5 | overall: 4
an offering from Laughing Dog at the 2011 Capitol City Oktoberfest in Shirlington, VA.
A: very dark brown. darker than most porters. a dense head that looks inviting and chestnut in color. great lacing.
S: vanilla. coffee. roasted and chocolate malts.
T: a very sweet sugar comes across the palate initially. the coffee flavor is well intertwined with roasted malts that it is not terribly discernible. more of it into the finish, but like i said earlier not crazy coffee flavor as i expected.
M: very silken mouthfeel. medium bodied.
D: a good porter. however a lot of the flavor and mouthfeel drinks like a stout. a milky sweetness backed with a silky mouthfeel. like i said, i was expecting more of a coffee blast, but otherwise a tasty brew.
★
763 characters
Anubis Imperial Coffee Porter from Laughing Dog Brewing
85
out of
100
based on
65
ratings.