Sweaty Betty Blonde
| Boulder Beer / Wilderness Pub
BA SCORE
79
okay
311
Reviews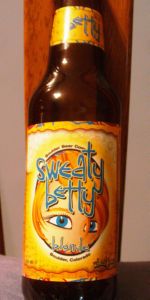 BEER INFO
Brewed by:
Boulder Beer / Wilderness Pub
Colorado
,
United States
boulderbeer.com
Style:
American Pale Wheat Ale
Alcohol by volume (ABV):
5.20%
Availability:
Summer
Notes / Commercial Description:
No notes at this time.
Added by Quaffer on 06-06-2004
Reviews: 311 | Ratings: 766
2.5
/5
rDev
-28.2%
look: 2 | smell: 2 | taste: 2.5 | feel: 3 | overall: 3
This beer pours a very clear golden color with a light quickly dissipating head. The smell is decent, weak with a smell citrus and pears. The taste is very light with mild carbonation, it kind of tastes like beer mixed with the juice of a fruit cup actually. Mouthfeel is light and thin, if you want a light beer with a peach and pear taste, this beer is for you.
I will not buy this beer again, there are many other better versions of the style. On the plus side you could probably down many of these no problem, you know, if you had a rough day at work or something.
570 characters
2.48
/5
rDev
-28.7%
look: 2.5 | smell: 2 | taste: 2.5 | feel: 2.5 | overall: 3
Light pale with fizzy carbonation and almost no head. Alcohol and cheesy scent. Light bodied but drinkable. A bit acidic sour, and a metallic aftertaste. I even thought it a tad skunky, but apparently this is normal for this beer.Terrible name. I think worst of the brewery's line.
281 characters
2.48
/5
rDev
-28.7%
look: 3 | smell: 2.5 | taste: 2 | feel: 3 | overall: 3
Had this beer at the drafting room in Exton PA. Great name for a beer and certainly got me to try it! As for the taste, it was a wheat beer, but it tasted water downed compared to most...I guess it was the sweat from Betty in the beer. Would not even bother trying.
265 characters
2.47
/5
rDev
-29%
look: 4 | smell: 2 | taste: 2 | feel: 3.5 | overall: 3
Pours a finger of nearly white one finger head over a cloudy yellow liquid. Smells sulfur, yeast, clove, and minimal earthy hop.
Tastes moderate malt sweet that carries medium-strong clovey phenol. Also quite yeasty. Mild hop bitter and little hop flavor. Very german in character, is this beer mis-classified here on BA as an American Pale Wheat? Judged to category listed here on BA. Wet on the tongue, but dries out in the finish accompanied by a gentle peppery sting. Some creaminess in mouthfeel and modest carbonation. Epic fail for the style, but a decent german wheat.
577 characters
2.4
/5
rDev
-31%
look: 3.5 | smell: 3.5 | taste: 2 | feel: 3.5 | overall: 1
Consumed 3/6
A: This beer pours hazy yellow color with a one finger of sudsy white head. Head recedes quickly leaving thin wispy minimal lacing.
S: Nose is of wheat, banana, yeast and hint of clove in the background.
T: Taste is definitely heavy on the wheat and clove flavoring. Yeast comes through with hints of lemon that aren't detectable in the nose. Some banana also mingles in with a bit of oddly placed sourness in the finish.
M: Light body, moderate carbonation, somewhat crisp but far too thin.
D: The funkified finish in this beer absolutely killed it for me. Initially an ok representation of the style, but it went downhill and fast. I won't be getting this one again.
686 characters
2.38
/5
rDev
-31.6%
look: 3.5 | smell: 3 | taste: 2 | feel: 2.5 | overall: 2
When I saw the label on this one, I was excited, but it turns out the age old adage is correct, you cannot judge a book by its' cover. Up front this poured a straw yellow, hazy and opaque color, and it had no head, and no lacing. It smelled a little citrusy, kind of minty, and like unbaked bread - kind of sweet, but also a little doughy.
On first sip I knew this one had missed its mark, not by much, but definately not an award winner. It is not balanced between the yeast, the hops, the concept, at all. Sweaty Betty turned out to be a very appropriate moniker, as this beer really did taste kind of sweaty. I want to try the beer this would have been without the 10k it just ran behind it. It has promise underneath it's hesitant, and unfulfilled idea, but for now I will not be purchasing it again.
807 characters
2.36
/5
rDev
-32.2%
look: 4 | smell: 3 | taste: 2 | feel: 2 | overall: 2
12 oz bottle. Pours a hazy golden yellow with a thin fizzy white head that diminishes to a thin film and leaves a little lacing.
The aroma is musty, stinky earthy yeast with some banana and clove and a little citrus.
The flavor is wheaty malts with some yeast and a little spice and some sweet fruits. The flavor is pretty subdued and a little watery. The mouthfeel is medium bodied with a watery texture and a touch of harsh carbonation.
Overall, a pretty bland mix of a hefeweizen and a wit.
496 characters
2.35
/5
rDev
-32.5%
look: 2.5 | smell: 2.5 | taste: 2.5 | feel: 2 | overall: 2
Slightly hazy light gold witha small, but vigorous head. Aromas of banana esters dominate. Slight yeasty tones present. Bananas and tropical flavors present with a strong metallic bite in the finish. Mouthfeel is light, with a strange, slightly harsh acidic or overcarbonbation grip up front. I am not impressed with this beer. Too many conflicting flavors and tastes with little direction or focus. No need to look for this one.
429 characters
2.03
/5
rDev
-41.7%
look: 2.5 | smell: 2 | taste: 2 | feel: 2 | overall: 2
When I first tried this beer a couple years ago (before I started reviewing) I remember thinking, "Damn, whatever Betty's got in her diet, makes her sweat nasty". So, when it showed up again at a local I gave her a clean slate and a fresh chance.
Served in a straight pint glass. poured a cloudy, pale, yellow with an inch of fluffy white head that had medium retention and low lacing.
The aroma was semi-bitter and had a low wheat presence. It didn't have a malt or hop presence either. The flavors were very similar, a little bitter, not much charater otherwise.
The body was thin and dull. Drinkability is on the level of sour water, you drink a lot of it, but why? Overall, this is a fairly unpleasant beer. Not really mean or terrible, just not welcoming or enjoyable.
Betty hasn't improved her diet, her sweat is still funky, and not in the good way.
860 characters

2.02
/5
rDev
-42%
look: 1.5 | smell: 2 | taste: 2 | feel: 2.5 | overall: 2
Sweaty Betty is definitely a dishwater blonde...she's sorta weak altogether. Now look, if you do not like the traditional skunk of a heffe...then you may actually enjoy this. The appearance when poured was cloudy and not in a good way. The nose was a metallic skunk reminding me of fennel. The head was short-lived at best but it kicked up high initially like a wheat should. I expect a fruity experience from an American wheat....totally disappointed as were my Beer Geeks.
474 characters
1.17
/5
rDev
-66.4%
look: 3 | smell: 1 | taste: 1 | feel: 1.5 | overall: 1
I tried a bottle of this based upon a recommendation of a friend. As soon as I opened it up, the beer smelled like a yest-filled armpit which really turned me off.
I figured I would taste it anyway, but the taste was just as bad. The smell was so strong, it made my tongue go numb and I almost yakked in the beer itself.
Even when I gulped down the first sip, all I could taste was that yest-filled armpit smell in my mouth. It was bad. I usually like wheat ales, but this one was a loser.
492 characters
Sweaty Betty Blonde from Boulder Beer / Wilderness Pub
3.48
out of
5
based on
766
ratings.