Sweaty Betty Blonde
| Boulder Beer / Wilderness Pub
BA SCORE
79
okay
311
Reviews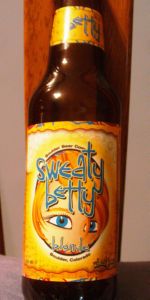 BEER INFO
Brewed by:
Boulder Beer / Wilderness Pub
Colorado
,
United States
boulderbeer.com
Style:
American Pale Wheat Ale
Alcohol by volume (ABV):
5.20%
Availability:
Summer
Notes / Commercial Description:
No notes at this time.
Added by Quaffer on 06-06-2004
Reviews: 311 | Ratings: 766
3.99
/5
rDev
+14.7%
look: 3 | smell: 4 | taste: 4 | feel: 3.5 | overall: 4.5
Poured from a 12 oz. bottle into a Nonic Pint
Look: The beer appeared a very cloudy golden and cleared up as it warmed. Even after a very hard pour there was very little head to speak of and minimal lacing throughout.
Smell: The aroma was quite simple but very welcoming. Up front I got the essence of wheat which was followed up with sharp whiffs of lemon and peppery spice.
Taste: Much like the aroma the wheat came right to the front of this flavor. It is a big wheat taste that works very well with the other flavors. Then the citrus and peppery spice creep up on you leaving the finish very dry and refreshing.
Mouthfeel: Very dry with a heavier body than I was expecting given the style and color.
Drinkability: Very drinkable! I just wish I had this on a warm summer afternoon by the grill instead of holed up in my house watching snow fall outside. I will certanly revisit this one once the spring hits.
918 characters
4.15
/5
rDev
+19.3%
look: 4 | smell: 4 | taste: 4.5 | feel: 3.5 | overall: 4
I liked this beer a LOT. It was very clean and had a banana note along with a nice mouthfeel and a crisp finish. I had a couple of six packs of this over the summer and they went down easy and although it's not easy to find here, I will be hunting for it in the future. It makes a nice replacement for the Abita strawberry lager that I REALLY love but can't get very often.
373 characters
4.35
/5
rDev
+25%
look: 4 | smell: 4 | taste: 4.5 | feel: 4.5 | overall: 4.5
This beer recently took 1st place in the American Wheat category at a Brew fest in Rhode Island. Widmer Bros hefe came in second. Widmer Bros. hefe is my everyday favorite brew. So I had to give Sweaty Betty a try.... Not available in Utah I brought some home from a recent trip to AZ. This is a nice American Wheat. It has a hint of banana and clove, but not like a Bavarian style-hefe. It is more in the American wheat camp....smooth and not too spicy. It' s well worth a try if you like American wheats like Widmer, Pyramid, etc... If you're looking for a Bavarian style like Keller Weiss or any of the German wheats then it may not be spicy enough. If you're looking for a smooth American wheat with a just a hint of spice that goes down nice, then Sweaty Betty is a good choice. If it were available locally, I'd drink it regularly.
It also has a higher ABV at nearly 6 percent, but without the heavier spirit taste. You'd never know it from the taste. It goes down like a 4.8, so beware...it's smooth and w/. The higher alcohol content could pack a punch....
1,064 characters
3.75
/5
rDev
+7.8%
look: 3.5 | smell: 3.5 | taste: 4 | feel: 4 | overall: 3.5
I open the bottle and pour, eyes focused on the game on this gloomy spring day. The first sip intrigues me. It is wheat, it is blonde. It is the fermented drops of Betty's Sweat. And it tastes wonderful. Golden like blonde locks, wheaty but not overly fruity or citrusy. Refreshing and I am away from the game, dancing with the mysterious Betty in fields of dandelion. The 6 pack is gone, my team wins.
402 characters
2.6
/5
rDev
-25.3%
look: 2.5 | smell: 2.5 | taste: 2.5 | feel: 2.5 | overall: 3
not a fan at all...clear bright yellow hue reminiscent of your standard "macro muck" not much in the way of pronounced smells, slight citrus and subtle grassy notes, but otherwise pretty flat...
taste is pure citrus...big, slick artificially lemony, hint of orange, medium hoppiness, tart tart tart...too tart, very light mouthfeel and overly prickly, fortunately, i just want to get this stuff down
not a big fan of this beer...i know you shouldnt expect the same delicious flavors from the phenols and esters you get from the German version but there's not much too exciting about this beer.
that said, it rates higher on drinkability, but most American Pale wheats do...it would make a pretty damn good summer sessioner...medium hops, citrusy character, light body...a great beer to bring to the beach or have at a bbq though there are much better options (try left hands haystack if you want to stay in style)
923 characters
4.3
/5
rDev
+23.6%
look: 4 | smell: 4 | taste: 4.5 | feel: 4 | overall: 4.5
I really enjoyed this beer. It's probably my favorite wheat beer not from a bar tap. I bought it at the same time as some Samuel Adams Summer Ale, and while that was good, this was just slightly better. It had a little more of a citrusy taste, which I enjoyed.
260 characters
2.38
/5
rDev
-31.6%
look: 3.5 | smell: 3 | taste: 2 | feel: 2.5 | overall: 2
When I saw the label on this one, I was excited, but it turns out the age old adage is correct, you cannot judge a book by its' cover. Up front this poured a straw yellow, hazy and opaque color, and it had no head, and no lacing. It smelled a little citrusy, kind of minty, and like unbaked bread - kind of sweet, but also a little doughy.
On first sip I knew this one had missed its mark, not by much, but definately not an award winner. It is not balanced between the yeast, the hops, the concept, at all. Sweaty Betty turned out to be a very appropriate moniker, as this beer really did taste kind of sweaty. I want to try the beer this would have been without the 10k it just ran behind it. It has promise underneath it's hesitant, and unfulfilled idea, but for now I will not be purchasing it again.
807 characters
4.77
/5
rDev
+37.1%
look: 4.5 | smell: 5 | taste: 5 | feel: 4 | overall: 4.5
Pours golden "blonde" into a pint glass with a frothy head that stays almost completely still as I drink it.
Smell is extremely pleasant. Banana first comes to mind with a slight hint of citrus. One of the best smelling wheat's I've come across.
Taste is very similar to smell. A hint of banana up front with hoppy and lemon notes. Little bit of a clove aftertaste for me. I love this stuff.
Mouthfeel is light but still passes my test. Great for drinking several of them at a time, you'll just keep going back for more.
Overall I can say this is definitely one of my favorite beers to date. I am a huge fan of wheat beers, though. For someone looking for an incredible amount of flavor you might want something else, but for an easy drinking and delicious beer you can't beat one of these. I'd love to try it on tap at some point.
835 characters
3.84
/5
rDev
+10.3%
look: 3 | smell: 4 | taste: 3.5 | feel: 4 | overall: 4.5
This beer is what I would consider a staple. Sweaty Betty offers a light, easy to drink banana undertone, with a thin, wispy head of average retention. When you are going with an alternative brew, this is a decent candidate! Don't let the negative reviews keep you from trying it at the very least.
298 characters
4.35
/5
rDev
+25%
look: 4 | smell: 4 | taste: 4.5 | feel: 4.5 | overall: 4.5
Crisp, Clean and refreshing. I will buy over Harpoon and SA. Certainly will suit the non-traditional Hefe taster as it may seem "light" to those more experienced palates. Also, checks in at 5.9% but doesn't taste like it. I loved the finish and after taste.
257 characters
4.68
/5
rDev
+34.5%
look: 5 | smell: 4.5 | taste: 5 | feel: 4 | overall: 4.5
Best Beer I have ever had, and it comes with a healthy kick too! I want MORE!! It is a spring beer that only comes around once a year, but I anticipate having this beer and beg my supplier to have it in stock for me. From the great, clean taste to the appearance and feel of this beer, it gets consistent high marks from me.
324 characters
Sweaty Betty Blonde from Boulder Beer / Wilderness Pub
3.48
out of
5
based on
766
ratings.