Cold Hop British-Style Ale
| Boulder Beer / Wilderness Pub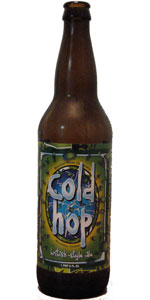 BEER INFO
Brewed by:
Boulder Beer / Wilderness Pub
Colorado
,
United States
boulderbeer.com
Style:
English India Pale Ale (IPA)
Alcohol by volume (ABV):
6.80%
Availability:
Rotating
Notes / Commercial Description:
No notes at this time.
Added by Todd on 04-22-2007
Reviews: 304 | Ratings: 473
4.35
/5
rDev
+14.2%
look: 4 | smell: 4 | taste: 4.5 | feel: 4.5 | overall: 4.5
I bought this at John's Marketplace from the cooler. I definately dig trying new stuff from Boulder Beer, even if it can be hit-or-miss. This one is a hit!
Pours a deep copper with continual small effervescent bubbles and a creamy white head that leaves some slowly receding lacing down a .5L Paulaner stein.
Very nice floral hop bouquet with slight ashy, crisp dark carmelized toffee deep in the back.
Normally I'm not a big fan of English IPAs, but this has a fantastic blend of mineral hop bitterness, slightly ashy carmel, rounded, slightly husky breadiness and some grassy hop flavors. Very earthy and pleasant. A nice balance of flavors, and well balanced against the aroma.
Very neutral mouthfeel. The creaminess never gets too heavy because of the fine conditioning, but is very full, even at cooler-than-celar temperature serving.
Overall, a fantastic beer for any occasion. Its crisp enough to slake a thirst, but substantial enough for a cooler day, outside or in. Well done! Cheers!
1,012 characters
4.36
/5
rDev
+14.4%
look: 4.5 | smell: 3.5 | taste: 4.5 | feel: 4.5 | overall: 5
Wow, my experience was almost the opposite as the last review. But that's one of the things I love about this place.
22 oz bomber.
I shared a bomber of this that I really enjoyed, so I bought 3 of my own to try this weekend. In my anxiousness to taste this beer I poured my initial bottle way too cold - straight out of an ice-cold fridge, the beer could only be called harsh. The nose was a mix of weird indescribable malt aroma, alcohol, and floral and bittering hops that seemed artificial and solvent-like. Harsh was the first word I thought of, and the same went for the flavor, and indeed for the mouthfeel - the initial carbonation, bitterness, and alcohol...blech. Then I had it again...
I have rarely had a beer that I enjoyed so much more at a warmer temperature. Pulled from a 54 degree beer fridge the pour was a light copper with excellent clarity. Head was big, frothy, off-white and after quickly subsiding to a cap left a pleasing spotty lace.
Once warmer the complexities of the aroma come out and subdue the harsh beast I noted earlier. None of the sweet fruitiness I am noticing was evident earlier. The alcohol has especially become muted (or rather the other aromas are less muted), but still makes itself known. Toasted malts are very evident. I'm not sure I'll ever love this aroma, but it is growing on me rapidly.
Caramel, and lots of it - interesting that this was nearly hidden when cold...or maybe I was too busy scrunching up my nose from the unpleasant experience to note the flavor - whatever. Floral nature hides behind the ample sweetness, which is a complete switch from my previous experience. Nice complexity. I'd call this fruity, though I'm not sure I could identify anything in particular. Finish is a short-lived and refreshing bitter with some piney hops also present. Basically "blech" has become "mmm, sweet and kinda spicy!"
Mouthfeel after a couple minutes of settling is a light bodied smooth crispness, the nicely bitter finish just adding to the drinkable nature. I find this beer incredibly refreshing and at $2.99 per 22 oz, I just bought a case. Not nearly as lethal as Mojo Risin, and (IMO) similarly tasty. I enjoyed a bottle tonite while making pasta...a less than ideal food pairing, you say? And is it really an English IPA? Who cares - I like this beer. I hope you do too.
I'm not sure how this one will do over time. I wouldn't quite call it balanced, but there is a lot of malt that makes itself known in this brew. If the hops should fade over time, I may find the sweet fruitiness not as unpleasant, and could grow to dislike the malty aroma if the hops wasn't as present. But I doubt I'll have trouble finishing my bottles while fresh.
2,716 characters
2.75
/5
rDev
-27.8%
look: 4 | smell: 4 | taste: 2.5 | feel: 2.5 | overall: 1.5
This beer confused me. Started out nice, then ended in the drain.
Poured a nice golden/amber, crisp looking beer. Topped with a fluffy white head; chunked a bit then settled to about 1/4 finger.
Smell: Citrus and floral, something I don't get in English bitters. Confused a bit, but smells nice; floral, citrus, some sweet malt.
Taste: Started out great--nice balance between the floral/citrus and malt. Persimmon and orange zest are calmed down by the malt sweetness and earthiness.
Then the taste when very bad. The hops were gone, the malt was not sweet, and the aftertaste was stale and grainy. The 22oz bomber was too much, 12oz would have been fine.
659 characters
4
/5
rDev
+5%
look: 4 | smell: 4 | taste: 4 | feel: 4 | overall: 4
This beer was a transparent amber in color with a short tan head. The smell is hoppy and sweet. It has a really nice aroma. The taste is malty and hoppy at the same time, very nice balance. The hop flavor is slightly bitter and grassy. This is a pretty good beer! This is now my favorite Boulder Beer brew.
306 characters
Cold Hop British-Style Ale from Boulder Beer / Wilderness Pub
3.81
out of
5
based on
473
ratings.