Pale Ale
| Boulder Beer / Wilderness Pub
BA SCORE
80
good
13
Reviews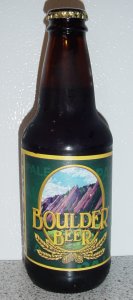 BEER INFO
Brewed by:
Boulder Beer / Wilderness Pub
Colorado
,
United States
|
website
Style:
American Pale Ale (APA)
Alcohol by volume (ABV):
not listed
Availability:
Year-round
Notes / Commercial Description:
No notes at this time.
Added by Quaffer on 06-26-2002
This beer is retired; no longer brewed.
Reviews: 13 | Ratings: 14
Reviews by tavernjef:

4.25
/5
rDev
+27.2%
look: 4 | smell: 4 | taste: 4 | feel: 4.5 | overall: 5
Not sure why some of the other reviews give such low numbers on this brew other then it doesn't seem to fit the style listed, so barring that....Dark yellow with a amber-brownish tone in its color, finger high head of off-white creamy froth, faded fast, leaves some stringy lace. Smell is mostly sweet caramel malts with a small hint of floral hops and honey sweetness. Taste is a near perfect reflection of the smell with lots of sweet lightly sugary caramel malts with a touch of soft floral hops and honey. Damn good and scrumptious, but where's the hops if this is a pale? This is a nearly all malt pleasure. Feel is medium body, buttery smooth, very small twinge located near the finish. Super drinkable, I already crave another, but as a pale/bitter, if that is indeed its intent, it needs more hops and bitterness, but man, its still very yummy. Session material for sure.
★
879 characters
More User Reviews:
3.03
/5
rDev
-9.3%
look: 3.5 | smell: 3 | taste: 3 | feel: 3 | overall: 3
Another round of clearing out the bottle collection before an epic desert shootout (where the bottles always lose).
Says this was an impressive darker yellow pale. Aroma was nonexistant.
Taste, decent enough, but lacked any hopping to distinguish it in any way. A very easy drinker, balanced, bitterness too much in check. For those who prefer a maltier pale ale.
★
366 characters

3.03
/5
rDev
-9.3%
look: 3.5 | smell: 3 | taste: 3 | feel: 3 | overall: 3
Boulder Beer Pale Ale pours a rusted copper with an off-white head, fair retention and lace. The nose is a creamy, caramel, with hints of toasted malts and butterscotch. The flavors on the palate seem a little out of whack, no real balance as the malt dominates. The sweetness of the beer does not work by itself. No hops in the flavor, the mouthfeel is rich and creamy. It is like a dessert in a bottle.
This is an odd beer, one without a true style classification. I might try it again...
★
498 characters
3.4
/5
rDev
+1.8%
look: 3.5 | smell: 3.5 | taste: 3.5 | feel: 3.5 | overall: 3
Pours a pale golden color with a decent white head that fades too quickly. Decent smell of toasty malt and some very light bitterness. Good toasty malt starts this brew off on the right foot but the flavor doesn't really seem to go anywhere from there. There is a very weak hop profile to this brew with a decently creamy mouthfeel. The brew finishes a little too dry for my tastes and that drops down the drinkablity as does the very average and bland flavor. By no means is this a bad beer it is just very boring and bland.
★
530 characters
3.5
/5
rDev
+4.8%
look: 3.5 | smell: 3.5 | taste: 3.5 | feel: 3.5 | overall: 3.5
Cloudy amber-brown color with a modest off-white head, mild carbonation, and excellent glass-ringing lace. Aroma of home baked bread, sweet caramel and rather bitter herbal hops. Taste begins with a surge of stinging carbonation, lots of sweet caramel and fruity notes (I'm vaguely reminded of a caramel apple). Slight notes of spicy hops appear near the dry finish. The mouth feel is quite smooth and creamy. An interesting beer, although it seems to be a bit off-trail for the pale ale style.
★
494 characters

3.38
/5
rDev
+1.2%
look: 4 | smell: 3.5 | taste: 3 | feel: 4 | overall: 3.5
This isn't the same beer as the Extra Pale Ale. Light Orange in hue & crystal clear, probably from the filtration and/or finings. The dense & persistent white head leaves an attractive lace. Butterscotch, light caramel malt aroma w/ a mild floral and almost minty hop nose. Biscuit malt & light crystal malt sweetness are adequately balanced by a clean yet generic hop bitterness. Body is moderate for a pale, while carbonation is a tad low. The mild hop flavor is a comination of earthy and citrusy notes and could be more assertive. Diacetyl butterscotch eeks its way in and provides some complexity. Finishes lightly sweet, w/ cracker -like notes. Boulder Pale Ale is lacking in overall hop profile-- it could pass for a good amber, however.
★
753 characters

3.5
/5
rDev
+4.8%
look: 3.5 | smell: 3.5 | taste: 3.5 | feel: 3.5 | overall: 3.5
The mid amber body and off-white head team for the appearance marks here as lacing fails to make itself known. Plenty of malt in the nose with only passing efforts at showing a hops strength. The flavor is sweetly malted and only adds a bit of balance late in the glass. The feel is medium and quite smooth with good finishing dryness. Good drinkability from the decent feel and flavor.
★
386 characters
3.61
/5
rDev
+8.1%
look: 4 | smell: 3 | taste: 4 | feel: 3.5 | overall: 3.5
My last beer in Denver, this was given the private label "Lefty's pale ale" at the Denver airport.
Pours a hazy dark amber, topped with a one finger off-white head, leaves thin webs of lacing.
Pine, floral, and toast aroma, nice for whats there but it's not strong enough.
Nice hoppy taste, citrus with some crystal malt and caramel.
Medium bodied, could pass for a session beer if it's the best thing on the menu.
★
418 characters

3.39
/5
rDev
+1.5%
look: 3 | smell: 4 | taste: 3 | feel: 3.5 | overall: 3.5
Appearance: This beer had an amber-orange glow when held up to the light. An off-white, two-finger head made a brief appearance, quickly settling down into a thin cap of foam. By the end of the drink, all that was left was a thin ring around the edge of the glass. There was no lacing at all.
Smell: The aroma had a warm, toasty quality to it that consisted of bread, crackers, and roasted malts. There were also hints of hops and maraschino cherries.
Mouthfeel: Medium-bodied, but it thinned as if moved back into the mouth. It had a buttery quality upfront, but picked up a bite on the back of the tongue and the cheeks.
Taste: The flavor upfront was a combination of sweet malt and a metallic twang. The sweetness was a little too much for me. The middle and finish were comprised of buttery caramel, leading into an aftertaste that finally provided a light hops bitterness.
This was an average pale that could have used a few more IBUs.
★
952 characters

3.95
/5
rDev
+18.3%
look: 3.5 | smell: 3.5 | taste: 4 | feel: 4 | overall: 4.5
Boulder Beer "Pale Ale" pours a not so "Pale Ale" ruddy amber from a 12oz stubby brown twist off cap bottle. Head is a light tan that fades to a well defined ring. This "Pale Ale" could pass for a good red Beer on just looks alone. Make no mistake, this "Pale Ale" is a red Ale.
Nose is of hops and malt. Palate is huge malt, sweet malt, not the thick and syrupy kind but the yummy liquid candy bar kind.
Major malt in Boulder Beer "Pale Ale", if your into malt... yummy malt, you will surely will find it here.
★
527 characters
3.34
/5
rDev 0%
look: 3 | smell: 4 | taste: 3 | feel: 3 | overall: 3.5
Pours a very clear golden color with a modest white head that disappears quickly. The smell of fresh sweet bread aromas are quite nice. The taste starts out just like the smell, yet it fades to a disappointing bland taste. Not hopped nearly enough for this style. It is light bodied and fairly drinkable. Nothing offensive here...maybe a good "bridge" beer to bring someone over away from the dark side. Just an okay beer IMO. Cheers!
★
441 characters
3.27
/5
rDev
-2.1%
look: 3.5 | smell: 4 | taste: 3 | feel: 3 | overall: 3
Pours a clear deep amber color with a foamy white head that dissipates into a sticky and bubbly lace. Nose is malty with notes of sweet fresh baked bread. The taste, however, doesn't live up to the aroma. Sweet malts are present up front, but then the taste just fades away. Very little hop bitterness is present, and the taste is basically just bland. Not a bad beer, just not enough flavor.
★
393 characters

2.83
/5
rDev
-15.3%
look: 3 | smell: 2.5 | taste: 3 | feel: 2.5 | overall: 3
Color is clear amber, with a nice, thick off-white head. Aroma is fresh, but gives off no particular sensations, not a one, nothing. Such is the case with "bitters", but that's why I rarely enjoy them. A little floral, and dry, but that's stretching. Very low-lying hops, straight-forward palate, light body, extremely easy to drink. That also means, it offers little pleasure beyond swift, trouble-free consumption. Some soft hop bite jumps in from time to time, and leaves with the too-short finish. A very ordinary, very, very pale ale.
★
539 characters
Pale Ale from Boulder Beer / Wilderness Pub
80
out of
100
based on
13
ratings.