Damien
| Surly Brewing Company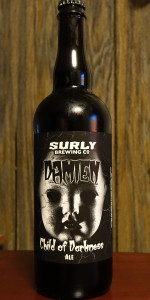 BEER INFO
Brewed by:
Surly Brewing Company
Minnesota
,
United States
surlybrewing.com
Style:
American Black Ale
Alcohol by volume (ABV):
8.00%
Availability:
Rotating
Notes / Commercial Description:
No notes at this time.
Added by Ungertaker on 10-22-2011
Reviews: 57 | Ratings: 355

3.95
/5
rDev
+0.5%
look: 4 | smell: 4 | taste: 4 | feel: 3.5 | overall: 4
This was served from a keg, waiting in line at Darkness Day. It was poured into a plastic Surly cup. This review is from my notes.
Appearance- The body is black with a finger of dark brown foamy head. I don't notice any lace on the cup at all.
Smell- That is a pretty good nose. There are definite citrus notes that make the caramel malt seem really tangy. There is also a distinct pine note in there. I like it well enough, but it certainly isn't my favorite type of beer.
Taste- The roasted malt is extremely tangy mixing with the orange and tangerine hop flavor. The finish presents more of the pine hops and dark malt notes. There's even a bit of chocolate in there.
Mouth feel- The mouth feel is a little light for the malt present here. It's just on the cusp of medium bodied. I wish it was a little smoother, but with the hop notes it finishes a little dry.
Overall- This beer was all right. It may just be the fact that black ales aren't my favorite style, because in Surly's defense, the beer is really balanced. If you ever see it, by all means try it.
1,067 characters

4.2
/5
rDev
+6.9%
look: 4 | smell: 4 | taste: 4.5 | feel: 4 | overall: 4
I wasn't sure what to expect, but I wasn't disturbed or disappointed by anything made from Darkness remnants.
Subtle rye flavor and nice big hop profile for a black ale. It was a bit thicker than other brands in this style.
This would make a great session beer. Not to sweet, but still a nice looking beer. See through dark with a small dark head.
My friend David from France said this was the best beer there. Not too overpowering yet still nice and clean.
Is there really a bad beer made by this company? Subjective I know, but I have yet to try one.
So put on your makeup and take one for the team.
Croissants!
623 characters

3.95
/5
rDev
+0.5%
look: 4 | smell: 4 | taste: 4 | feel: 3.5 | overall: 4
Poured at Darkness Day 2011, into a plastic cup.
The beer is black with translucent crimson red highlights, capped with and inch of sisal foam.
I was surprised by the big hops in the nose. Citric orange pith and pine with faint chocolate and malt.
Taste is bitter enough to keep the beer from being sweet despite the chocolate and roasted caramelly brown sugary malts, nice chocolate framed against the citric and piney hop. It certainly seemed more bitter than its 35 IBUs.
Creamy medium-light body and moderate carbonation. I thought it was quite tasty, and seems right in classification.
595 characters

2.85
/5
rDev
-27.5%
look: 3.5 | smell: 3.5 | taste: 2.5 | feel: 3 | overall: 2.5
Enjoyed on-tap w/ BrewMaster Todd @ the Surly Brewing Company's Darkness Day 2011 in Brooklyn Center, MN for $5. Tapped from the black and plain handle into a 12oz Surly Cup.
Aroma- Tons of hop in the aroma and grain as well. Nothing huge in this aroma but it was nice to see such a big hop presence.
Appearance- Received with almost no head at all... I didn't care for this... Has the deepest brown aroma that could be available in a glass. Leaves no suds or any type of lacing at all.
Flavor- Has a ton of malt and roastiness but very watery and light... No hops found in here and goes down like nothing that should be classified as an English Brown Ale (btw, this one shouldn't say American Black Ale on top- talked and hung with Todd of Surly).
Mouthfeel- Very light bodied (which is okay), no carbonation, and a huge hop presence. Watery and very light on the palate at the finish and didn't mind.
Overall Impression- I'm sorry to do this but this beer went no where and did nothing for me. The left over grains from Darkness were used in this and I feel like this was all they used except for added hop. Sorry Surly but not a fan...
1,147 characters
4
/5
rDev
+1.8%
look: 4 | smell: 4 | taste: 4 | feel: 4 | overall: 4
Second runnings of Darkness grains? A "green" beer then perhaps.
On-tap at Darkness Day 2011.
A darker brown color with some clarity. A frothy cap of sandy foam with some nice lacing.
The herbal, earthy and floral dry hopping comes through immediately. In the background is a lighter dusty cocoa and coffee taste from the grains. A very tasty lighter beer.
Lighter feel and quite smooth and dry.
I was surprised at how hoppy this beer was. A nice beer, but I wouldn't consider it an American Black Ale. It lacks the body and roasty notes associated with the style. Probably fits in better as a mild/brown ale hybrid, but whatever. The beer is good, drink it.
663 characters

4.33
/5
rDev
+10.2%
look: 5 | smell: 4.5 | taste: 4 | feel: 4.5 | overall: 4.5
A: dark brown, clarity around the edges, creamy tan head, heavy lacing, great retention
S: earthy hops, chocolate, coffee, herbal notes pair nicely with roast
T: starts off with herbal and hoppy assault, roast is tame but present, well balanced
Mf: smooth, low carb, nice
O: great use of the darkness second runnings, quite drinkable.
342 characters

4.33
/5
rDev
+10.2%
look: 4.5 | smell: 4 | taste: 4.5 | feel: 4 | overall: 4.5
On-tap at Darkness Day 2011, poured into a plastic Surly cup.
A- black with crimson light penetration. A fluffy, cream-colored head adorns the top.
S- Big time hops, citrus, some chocolate, very faint malt
T- Piney hops with citrus appearing at the tail end. There are some notes of chocolate that arise in the middle.
M- medium to light body with a creamy feel from the carbonation.
O- for what has been thrown out in the past, this is an awesome beer. I would buy this in a heartbeat if it were bottled.
PS- my classification of this beer came from the description of the beer on Surly's website:
http://www.surlybrewing.com/nation/darkness-day.html
Damien: A dry-hopped black ale, spawned from the usually discarded remnants of Darkness. Flavors of roasted malt and dark brown sugar suffocated by aromas of tangerine and pine. 35 IBUs, 5% ABV.
858 characters
Damien from Surly Brewing Company
3.93
out of
5
based on
355
ratings.