Alamo Drafthouse Cinema - Lake Creek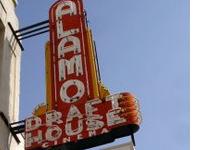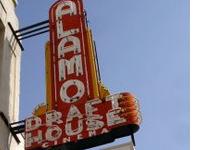 Bar, Eatery, Beer-to-go
13729 Research Blvd #1500
Austin
,
Texas
, 78750
United States
// CLOSED //
Notes:
Recent ratings and reviews.
Ratings by obrike:

Reviewed by obrike from Texas
4.2
/5
rDev
+2.7%
vibe: 4 | quality: 4.25 | service: 4 | selection: 4.5 | food: 4
This place always has a very nice beer selection...a lot of the local breweries are often well represented on tap...512, Jester King, Buckethead, Live Oak...among others.

Very nice bottle selection of other craft beers as well.

You can't go wrong with any of their pizzas; the chips and queso are pretty tasty too.

This is the prime spot to take my wife out when we can get away from the kids on occassion...she gets her movie and dinner, as do I...but I also get a couple of tasty craft beers to boot.
Mar 06, 2011
More User Ratings:
Reviewed by bisonkron from Alaska
3.88
/5
rDev
-5.1%
vibe: 4 | quality: 4.5 | service: 3 | selection: 3.5 | food: 5
I frequent this theater. Their beer selection is good. As others have noted, the timing is really tricky, if you have an experienced waiter, its not as big of a problem. But you do have to order early because it does take time to get your food/beer.(remember that your movie is not the only one showing, and the kitchen is cooking for all theaters there) I often order my next course as soon as the current one arrives. Once you learn how to work the system it is much better.

They have some of the best wedge fries i have ever had. Their burgers are all top top class, and their pizzas are very good too. I also enjoy their fish and chips. This place has plenty of my money, and will continue to as long as i have it.
Jan 11, 2011
Reviewed by ckeegan04 from Texas
4.05
/5
rDev
-1%
vibe: 3.5 | quality: 4.5 | service: 4 | selection: 4 | food: 3.5
Just moved to way north Austin and my wife and I dropped in on a weekday afternoon for a movie and a beer or two. The place was empty and we had very prompt service when we took our seats. Excellent selection of local taps as well as other Texas beers and a small grouping of US crafts and imports. Better peruse the list quick because as soon as they turn the lights down the menu gets real tough to read. Beers were served promptly in pint glasses.

Food was decent but not spectacular. Certainly not a bad meal if you want to eat at the theatre and the prices were not obscene.

There is a bar in the lobby with all the taps displayed but I did not order out there.

I have always liekd the movide/dinner/drinks concept and Alamo Drafthouse is the first one I have been to with a good selection of crafts. I enjoyed a 512 Pecan Porter and LO Hefe and they had other selections from 512, LO, Real Ale, St Arnolds, Stone, Sierra Nevada, Chimay (bottle) and others.
Sep 10, 2010

Reviewed by Fenris244 from Texas
4.63
/5
rDev
+13.2%
vibe: 4.5 | quality: 4.5 | service: 5 | selection: 4.5 | food: 4.5
I love the alamo draft house, the food + movie concept is great all on it's own but when you add a full bar and a great selection of craft beers both local and otherwise it's pretty amazing.

The bar area itself is nice, it's full of small tables that are perfect to sit and enjoy and enjoy a beer, the waiters are always attentive but not annoyingly so and the selection is really nice (20ish on tap and another 20ish in bottles) also you can get some great food and watch a movie while you're at it.

One of my favorite spots in Austin and I highly recommend it to everyone.
Sep 09, 2010
Reviewed by JonathanL7890 from Texas
4.1
/5
rDev
+0.2%
vibe: 5 | quality: 4 | service: 4 | selection: 4 | food: 4
There are several Alamo Drafthouses in the area. The one on Lake Creek is the closest to me so I've been there several times. One thing I have to say -- if you go to Alamo Drafthouse (any of them) , you will never want to go back to another non-Alamo movie theater again.
In the theater, There are small tables, about 12 inches wide, in front of each chair and in front of the table there is a walkway that the waiter uses to serve your beer.
Lake creek has a very nice beer selection -- it's a franchise from the original but I think the management takes the beer the most seriously and has a very solid lineup of locals + craft beers.
Service is very good, the waiter seems to keep my pint glass full during the movie.
Food is very solid also. A fairly extensive menu consisting of burgers, pizza, salads, appetizers.
They have lots of special events. Sometimes there is a Feast which is a multicourse meal that is theme paired with a movie. The food for these things is incredible. They have a world-class chef that puts together a creative menu. They also show UT football games, TV shows, election returns, etc on the screen usually for free.

I'm just tickled that I can order a nice beer and don't have to worry about eating before or after the movie -- it's all taken care of. Alamo Drafthouse -- two big thumbs up.
Dec 03, 2008
Reviewed by JJJ22 from Texas
3.65
/5
rDev
-10.8%
vibe: 4 | quality: 4.5 | service: 2 | selection: 4 | food: 4
Saw "There Will be Blood" there on Valentine's this year with the Mrs. Not the first time I've been there and won't be the last, either. Love the concept. It's like they took Travolta's line from Pulp Fiction about getting a glass of beer at the movie theater.

They have a great selection of beers. I didn't count but am sure they have 25-30+ beers on tap. That night, I had a couple of pints of Dogfish 60 minute IPA. The food is very good. Mainly salads, pizzas, and sandwiches, but still very good. I'd say a step above bar-food.

The only complaint I have about this visit was the service. We seated ourselves and the waitress came in 5-10 minutes. We were about 30 minutes before the movie and it wasn't crowded yet, so it shouldn't have taken that long. I asked her about the rotating Live Oak draft selection. That night it was Liberation. I'd never had it, so asked her what it was like. Turns out she was underage, so didn't know. She promised to bring me a sample, though.

She did, but it took about 20 minutes and disappeared before I could try it and place a real drink order. Finally caught her eye and ordered the 60-minute. Well, that's about how long it took to get it. My wife had finished her drink by the time my first one arrived.

We'd ordered food (including appetizers) when I asked for the sample. The food arrived right after the movie started, but the appetizers didn't show until later. I think if we hadn't said something, I'd still be waiting for them.

My wife ordered a spinach salad, which she seemed to enjoy. I ordered the Poultrygeist pizza, which is chicken, pesto, olives, tomatoes, and cheese. Quite tasty with a nice, freshly made crust.

I'd learned my lesson about timing, so ordered another IPA when I was half-finished with the first. Probably should've asked for it when the first one ARRIVED as my glass was long dry before the next arrived.

The other times I've been there, the service was good. Too bad the most recent wasn't the best.
Feb 18, 2008
Alamo Drafthouse Cinema - Lake Creek in Austin, TX
Place rating:
4.09
out of
5
with
7
ratings