Stormwatcher's Winterfest
| Pelican Pub & Brewery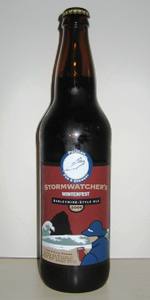 BEER INFO
Brewed by:
Pelican Pub & Brewery
Oregon
,
United States
|
website
Style:
English Barleywine
Alcohol by volume (ABV):
13.00%
Availability:
Winter
Notes / Commercial Description:
32.1 degrees Plato
Alcohol: 13.0% by volume
Bitterness: 31 IBU
Color: 54 SRM
Added by Shaw on 10-12-2003
Reviews: 84 | Ratings: 176
4.67
/5
rDev
+12.8%
look: 4.5 | smell: 5 | taste: 4.5 | feel: 5 | overall: 4.5
WOW!, caught me a little offguard there on my first sip thinking it was just another winter type ale that turned into a barleywine ale. This 2006 bottle pours a cloudy dark brown that you can tell has some viscosity to it that carries a thin head. Smell is rich in malt, honey liqueur, dark fruits and alchohol. Taste is what is expected from a barleywine big and bold with a good alchohol bite, with a thick and rich mouthfeel. Now that my palate is in tune to what I am really tasting and letting it warm a bit, I can get the true style of this beer and really appreciate it's warming effect.
★
594 characters
4.47
/5
rDev
+8%
look: 4.5 | smell: 5 | taste: 4.5 | feel: 4 | overall: 4
Pours a cloudy (stormy?) dark brown with an amber/ruby hue, lots of bubbles swirling up to the light tan head that retains incredibly well, considering the high ABV.
The aroma, or, should I say THE AROMA, is exactly what I want in a barleywine. Big bold maltiness, hyper-graham cracker, ultra-juicy plum, lots of caramel/toffee, big vanilla, and curiously, a kind of peaty edge that I'd expect in a hi-test Scotch Ale.
Flavor offers as much depth as the aroma, with a chocolatey sweetness peeking through. Dark fruit notes are smacked around by a soothing alcohol warmth, tons of toffee and vanilla extract. The alcohol is felt but doesn't overstay its welcome...an achievement at 13+ %. If I have only one criticism, it's a tiny one: flavor tilts slightly toward some badass Scotch Ale as much as it does a barleywine. Maybe that's because this isn't an overhopped/ultra-hopped barleywine. Big as it is, the hops are kept in the background. Very interesting.
The mouth is big, thick and chewy...slightly sticky too. This was already a sipper, but the bigness and thickness of the body make it even more so. Never thought I'd say it, but this could've probably been an even better beer if the mouth were a little less like pure melted chocolate.
On par with most of the Pelican beers I've tried (most of them on tap at the brewpub), and that means it's a superb bit of craftsmanship. It's survived a year in the bottle quite well. Could use even more aging, no doubt. So I'm sipping this on a brisk, sunny, beautiful autumn afternoon, with nothing but fall's colors around...and I'm wishing I were standing on the beach in a mighty wind watching a storm off the pacific coast in Pacific City. It happens. Wish I could find this beer without travelling cross-country to get it.
★
1,782 characters
4.2
/5
rDev
+1.4%
look: 4 | smell: 4 | taste: 4.5 | feel: 4 | overall: 4
Vintage 2006, poured from the bomber into two pint glasses. Dark, ruby red in color with muted carbonation and lace. The aroma is a pleasant blend of caramel, malt, molasses, cherry, and hops. The taste…. is huge. This stuff could probably sit another six months, or a year, or more. Flavors follow the aroma perfectly, except for a substantial, but reasonable, alcohol bite on the end. Very, very tasty. Mouthfeel is fairly full, and would likely soften and get even fuller with time. One of the best American barley wines I've had.
★
535 characters
4.45
/5
rDev
+7.5%
look: 4 | smell: 4 | taste: 4.5 | feel: 4.5 | overall: 5
22oz. bottle purchased for $12.99 on 7-15-7 at Tanasbourne Haggen.
(2006)
I thought about saving this one for awhile but decided to try it and see how many I might want now that I know there's plenty on the shelf.
Pours a very dark burgundy/mahogany color with an adequate roasted marshmallow head that recedes steadily while leaving zero lacing. And yes, this glass is beer clean. The yulesmith I just drank out of one of it's kin left a nice thick layer. Anyway, the aroma is malty. Kinda bready and nutty at the same time. The taste reveals more depth. I get hints of caramel, alcohol, butterscotch, various nuts, fig and other flavors I'm unable to identify. Upon warming, the alcohol really comes out. First sip was at proper serving temp, but the alcohol was almost non-existent. I wondered if this was really as big as advertised. But now I know. It definitely is. I initially criticized the mouthfeel for a lack of carbonation, but soon became aware of the thick syrupy body that I love so much with these huge barley wines. This is well-crafted and all the components seem to be enjoying a nice harmony. I can't knock it. It got better with each sip until I realized I now need to go purchase a few more before the shelf is empty. Considering its strength, this brew is off the charts as far as drinkability is concerned. This beer should be spectacular for years.
★
1,376 characters

4.5
/5
rDev
+8.7%
look: 4.5 | smell: 4.5 | taste: 4.5 | feel: 4.5 | overall: 4.5
22 oz bottle, 2006. Poured into a snifter, Stormwatcher's Winterfest is a beautiful, seriously dark garnet with slight chill haze. There is a tight khaki collar with light surface skim. While it leaves barely any lace, a gentle swirl coats the sides of the snifter with foam, sliding down the sides with cognac-like viscosity.
The smell is rich but not overwhelming caramel malt, lots of dark fruit, cognac, semi-sweet and a little nutty. Maybe more plum brandy then cognac actually, but I haven't had that as recently...
The taste is rich yet restrained. Not as sweet as the nose, but not an uber-bitter barleywine that takes years to calm down either. Complex without smacking you over the head, the taste follows the nose, and also has a touch of smoke, leather. The finish is boozy but surprisingly clean. This is one masterfully made barleywine, so well balanced. You know it's big, but +13% ABV? I've tasted 8 percenters with more heat!
This mouthfeel is very thick and syrupy, yet equally luscious and creamy.
Well this was one excellent Barleywine, so it's very drinkable, relatively to being a big rich +13% beer. The smoothest big beer I've every head. After the first half of the bottle, I had smell and taste as 4s, but bumped them both up a 1/2 a point as it warmed. I'm sure they'll both be 5's after some quality cellar time. I really like the fact that I just saw this at my local beer spot and it's the 2006 vintage - I'm assuming Pelican aged this for a while themselves before releasing it, probably 8+ months old. Makes the $12.99 price tag a little easier to swallow!
A fine choice for my 200th review, I'm really glad I have another one of these in the stash, I bet it'll keep maturing for years. We'll see just how patient I can actually be!
★
1,784 characters
4.66
/5
rDev
+12.6%
look: 3.5 | smell: 5 | taste: 4.5 | feel: 4.5 | overall: 5
2006 Vintage, nice silk-screened 22oz bottle.
Lots of molasses malt aroma and floral hops. A little bit of spicy hop aroma and lots of fruity esters and a hint of bread yeast. Toffee notes and some chocolate. Very complex and pleasing.
Deep red colored but with very little head. A little bit on first pour but that's gone almost immediately leaving just the smallest rim around the rim of the glass. Nice clarity for something this dark.
First sip is big and powerful. Lots of butterscotch/toffee flavor (but not diacetyl, more of a treacle malt effect.) Some fruity wine esters. Initial hop bitterness is pretty high but it balances out with big doses of malt in the finish and aftertaste. I get honey characters and prunes and raisins in the ester profile. Again very complex and big. There is a little bit of alcohol flavor that is kind of overbearing which is the only thing keeping me from a 5.
Big bodied with smooth but on the light end of carbonation level. But the carb level is perfectly appropriate for the style. A little more alcohol warming than I would like but it is a barley wine so some alcohol is expected.
Really nice complex and huge barley wine. Drinkable but in the long savoring way that a great barley wine should be. Very highly recommended, need to get more!
★
1,301 characters

4.43
/5
rDev
+7%
look: 4.5 | smell: 4 | taste: 4.5 | feel: 5 | overall: 4.5
What a huge, bad-ass, winter beer!
On-tap with a smallish tan head that fell quickly. Perfect, dark-brown, crystal clear pour with nice lacing.
Aroma of malt, sugar, burnt caramel.
Powerful, complex taste: lots of malt, toffee, raisins, sherry, burnt sugar. Nice hop balance. Flavors linger on the palate to a blend of cream sherry and chocolate.
Rich mouthfeel, very thick body but just right for this strong winter beer.
Very drinkable; in sips on a cold winter day.
What a pleasant surprize to try this on a winter day in Alaska!
★
548 characters
3.35
/5
rDev
-19.1%
look: 3.5 | smell: 3.5 | taste: 3.5 | feel: 3 | overall: 3
Sampled at the 2003 Holiday Ale Festival, Portland, OR. A dark reddish cider color, hardly-there head. Lots of malts but hops are there from the beginning. Supposedly this beer employed 2 kinds of unusual hopping techniques: mash hopping and first wort hopping. This creates a subtle yet indelible hop flavor that is there from the very beginning. Some smokiness, and a smooth non-carbonated mouthfeel. This beer is pretty good but in the end it's a bit flat and cloying.
★
471 characters

4.23
/5
rDev
+2.2%
look: 4.5 | smell: 4 | taste: 4.5 | feel: 4 | overall: 4
Sampled at the Pelican Pub & Brewery in Pacific City, Oregon.
Stormwatcher's is an unfiltered deep, deep ruby colored strong ale with an off-white head and a big malty aroma.
Its taste explodes with a huge bananna and nut flavor with a big alcohol bite. This is a great example of a strong ale -- American style.
★
318 characters
Stormwatcher's Winterfest from Pelican Pub & Brewery
92
out of
100
based on
84
ratings.