Nestucca ESB
| Pelican Pub & Brewery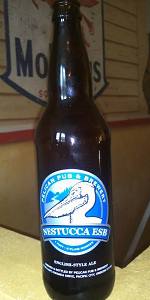 BEER INFO
Brewed by:
Pelican Pub & Brewery
Oregon
,
United States
pelicanbrewery.com
Style:
Extra Special / Strong Bitter (ESB)
Alcohol by volume (ABV):
5.40%
Availability:
Spring
Notes / Commercial Description:
No notes at this time.
Added by Thrasher on 05-21-2004
Reviews: 13 | Ratings: 23
3.45
/5
rDev
-10.6%
look: 3 | smell: 3 | taste: 3.5 | feel: 3.5 | overall: 4
Poured into straight pint glass. Poured a slightly hazy light-medium amber color with about a half-inch of off-white head that had moderate retention and no lacing.
The aroma had nicely solid, yet mellow, grainy malts, some smooth and gentle hops, and had a slight floral note. The flavors were a repeat, good grains, smooth, even-handed hops and just a tickle of a tangier hop on the finish.
The body was very good, smooth and easy, with a nice malt finish that wasn't sticky or too sweet. Overall, a very nice beer that is more true to style than a lot of American brewers' takes on this British classic. A must try if you see it.
634 characters

3.5
/5
rDev
-9.3%
look: 3.5 | smell: 3.5 | taste: 3.5 | feel: 3.5 | overall: 3.5
22 oz bomber from Roth's Sunnyside Market, Salem $4.49 Copper coloured ale with a nice sized thick and frothy white head.Good retention Toasty ,nutty,floral hop aromas. Flavour is VERY balanced..almost too balanced really as nothing takes my taste buds..its a nice malty,light on the hops beer. The palate on this is very smooth and makes this just roll over the tongue and down the throat A nice drinkable..but non-descript ale
Surprising for the alc. %
456 characters
3.54
/5
rDev
-8.3%
look: 3.5 | smell: 3.75 | taste: 3.5 | feel: 3.25 | overall: 3.5
Appearance- Pours up what would seem a first to be gushing head but actually gives only a finger's worth. Okay retention. The head is an off-white/beige while the body is a medium to dark amber which appears as a pale to medium amber when held up to the light. Lacing is mostly sheeting that extends from the surface of the beer at the moment.
Nose- Nice, fruity esters. Pretty good presence. Pretty surprising from a year old beer. Citrus, lemon and orange. Even a little peach. Notes of biscuit and grain. A little bit of grassiness. Some touches of caramel and honey as well. Swirling shows a slight mustiness, grapefruit.
Taste- Caramel hits you at first with light touches as it moves into base mixed with citrus, orange and lemon, and biscuit and grain. Slight woody notes flit around the edges with hints of pine and resin. A little mineral or chalky on the finish. Some grassiness on the finish as well. Lacks presence to some extent but still maintains a good amount of complexity. Slight hints of black tea. Definitely shows the age but is still an above average beer. I'm going to have to grab a fresher bottle next spring and append this review. Hops are minimal but they are still kicking around.
Mouthfeel- Between light and medium bodied with a tiny bit of syrup to the texture. Too carbonated which undermines the style quite a bit.
Drinkability- Fairly easygoing and shows many of the characteristics of the ESB style. 4.50 isn't bad for a bomber but I will need to try this once more to determine if it's worth it.
Overall- Above average beer which I almost didn't review but I figured I can always add more later. No flaws and a pretty easy drinking beer. Even despite the age, I would still suggest trying it.
1,739 characters
3.61
/5
rDev
-6.5%
look: 4 | smell: 3 | taste: 4 | feel: 3.5 | overall: 3.5
Poured from a bomber to a pint glass.
Poured with a white head that dissipated fairly quickly. Mostly transparent copper color.
Aroma is faint, subtle spice but a bit like straight alcohol.
Flavor is bitter up front, but mellows to an almost creamy maltyness. Slight spice aftertaste with a littl bit of a cardboard flavor.
Mouthfeel is a bit shard up front. Coats the tounge a bit.
Overall it's good compared to most bitters I've had. If it didn't sit as long on the tongue I would like it more.
501 characters
3.66
/5
rDev
-5.2%
look: 4 | smell: 3 | taste: 3.5 | feel: 4 | overall: 4.5
I enjoyed this brew at the Portland, OR Spring Beer and Wine Festival on March 21, 2008.
A: it poured a clear gold body with a modest half-finger head that was off-white and dissipated quickly to a ring around the collar.
S: It had light malt and floral hop aromas with whiffs of citrus and white yeast.
T: I expected a much more bitter brew but this ESB is most defined by its sweet lightly toasted malts andsweet citrus fruits (mandarin orange). There were hints of bitterness (grapefruit) that did not linger. Nice malt to hop balance.
M: It was a light to medium bodied brew, that was smooth, sweet and tasty. Nicely carbonated and finishes clean.
D: It was refreshing and clean. I would gladly drink a few at a sitting. It is complex and interesting.
760 characters
3.85
/5
rDev
-0.3%
look: 3.75 | smell: 3.75 | taste: 4 | feel: 3.75 | overall: 3.75
From BeerAdvocate Magazine #73 (Feb 2013):
American gown Fuggles and Goldings hops are more than noticeable. Very much brewed to style and this years version has been lowered to 5.4% abv from 6.0%+ for a more sessionable feel. A lot of depth to this beer. Brings back memories, that is how authentic this ale is.
STYLE: ESB
ABV: 5.4%
AVAILABILITY: Spring Seasonal
LOOK: Deep copper hue. epic towering head
SMELL: Herbal, peppery, earthy, salty, kumquats, green tea, dried grass, faint caramel
TASTE: Smooth, mildly crisp pop, quite malty, slightly biscuity, hint of caramel, ample hop character, toasty, balanced bitterness, mineral, herbal, orange peel, spicy, mild esters, melon, semi-dry hoppy finish
709 characters

3.88
/5
rDev
+0.5%
look: 4 | smell: 3.5 | taste: 4 | feel: 4 | overall: 4
Poured from 22oz bomber into a dimpled mug. Beer foamed up rather annoyingly when the bottle was first opened.
Appearance: murky orange hue with a thick finger of frothy ivory foam atop. Quite attractive for the style.
Smell: aroma is sweet and caramelly with a light fruitiness and a little bit of earthy hop character coming through. Not too bad.
Taste: a little less sweet and caramelly than the aroma, although with a little bit of yeastiness and a little bit of breadiness. Hop character is low and bitterness is low to moderate. I was thinking that this gusher might have been infected based on its carbonation, but it appears to be as clean as can be. I actually kind of like it.
Mouthfeel: medium body with a big carbonation and concomitant creaminess. Not quite as explosive as the initial burst would suggest, though.
Overall: a tasty ESB with a nice texture. Open carefully, but enjoy thoroughly.
912 characters

4
/5
rDev
+3.6%
look: 4 | smell: 4 | taste: 4 | feel: 4 | overall: 4
It appears light orange with a small off-white head.
It smells of toasted malts, nutty malts and citrusy hops. I also get a bit of a sweet malt flavor and a bit of a grassy hop flavor.
It tastes of sweet nutty malt. There is a sweet citrusy hoppy flavor. I also get some grassy notes. There is a mild bread like malt flavor as well. This beer is lighter and a bit more hop forward then many ESBs. It is very good though.
There is a crisp and smooth mouthfeel to this beer.
Overall a great refreshing ESB.
510 characters
4.15
/5
rDev
+7.5%
look: 4 | smell: 4 | taste: 4 | feel: 4.5 | overall: 4.5
Poured from a bomber in a pint glass.
Nice color of an orange/amber hue with a good head.
The nose is subdued (my fridge is pretty cold) but I was able to pick up some bready malt and caramel along with some mild hops.
The taste followed suit with more malt and a nice hop bitter finish. I liked the balance in the mouth, not too much carbonation plus some nice creaminess. Overall this was a way above average ESB.
415 characters
4.3
/5
rDev
+11.4%
look: 4 | smell: 4 | taste: 4.5 | feel: 4 | overall: 4.5
A triumph from Pelican. They don't bottle this beer, to my knowledge -- although they should. I got mine from a guest keg at the Horse Brass. After recently being blown to smithereens by their ridiculously hoppy IPA, I was gladdened to taste this and see that they are capable of brewing a hoppy beer without being too over-the-top for session drinking. In my estimation, this is an ideal session ale.
It's dark gold, bordering on copper, with a pretty small head and immaculate lace. The aroma is a perfect balance of malts and hops, and the flavor is no different. Quite sweet initially, with light toffee, caramel, and bread flavors. Once the hops assert themselves, they veer the flavor towards grapefruit, ending in a lightly tangy aftertaste. Is that cinnamon or am I hallucinating? Yeah I think I am. The beer is perfectly balanced. The mouthfeel is basically thin, but wonderfully smooth, and the ale is very drinkable. I think I like this best out of all the Pelicans I've tried, although I must confess I am partial to the ESB style.
1,046 characters
4.3
/5
rDev
+11.4%
look: 4 | smell: 4 | taste: 4.5 | feel: 4 | overall: 4.5
Pouts a transparent copper color with a tall white head. Head recedes faster than expected but leaves some nice lacing. Smell is a clean, crisp, fresh smell. It's sweet, maybe like white grape, with a definite nutty presence and some citrus. Taste starts with smooth light sweet malt, then a sweet citric hop. Mouthfeel is average, carbonation is expected for the just above average thickness body. Overall, this is a fantastic beer, I can't exactly put my finger on what makes it great, but it's just well put together. Props to the brewers at Pelican.
553 characters

4.33
/5
rDev
+12.2%
look: 4.5 | smell: 4 | taste: 4.5 | feel: 4 | overall: 4.5
For context: my favorite go-to session beer was Deschutes ESB, discontinued about 11 months ago.
This ESB becomes, in my opinion, the best Oregon brewed offering of the traditional English style.
22 oz bomber, enjoyed over a one hour 'session'.
Pours a great orange copper color with a rich head, though not long lasting.
A bit too cold at first, but 15 minutes later it reaches a peak of mild hop / bread-like malt balance that is just plain rewarding for the drinker. Near perfection in its subtle, drinkable, crisp refreshing goodness. I love this beer. Wish it were somehow widely available in economically priced 6-packs (Pelican doesn't do 6-pack to my knowledge). Still a bargain though in a bomber.
717 characters
4.39
/5
rDev
+13.7%
look: 4 | smell: 5 | taste: 4 | feel: 4.5 | overall: 4.5
This was my first beer at the Pelican Pub and Brewery in Pacific City. Nestucca ESB is a summer seasonal and it arrived in an imperial pint served at the edge of the sea. I could go on about the utterly blissful beachside setting – the rolling surf, the imminent sunset, and those tantalizing bikinis. Suffice it to say that a lot of what we perceive as taste is influenced by our complete sensory capacity – and mine was stoked.
Nestucca ESB is named for the two rivers that feed into Nestucca Bay at Pacific City. The brew itself is pure gold with a feathery soft head fed by a carbonation that appears forcibly thrown upwards. It is so clear you can look through it and see the detail of trees on Cape Kiwanda. A ghostly lace threads the glass as the beer is consumed. And the aroma is compellingly fresh – like an active fermentation vat. You can smell the grains, the yeast, the earth itself.
The taste of Nestucca ESB artfully represents the style whereby the simple functional elegance of an English session ale is skillfully reproduced in this satisfying bitter.
1,083 characters
Nestucca ESB from Pelican Pub & Brewery
3.86
out of
5
based on
23
ratings.