Le Pelican Brun
| Pelican Pub & Brewery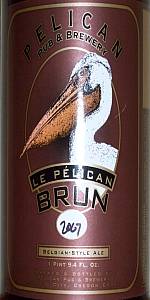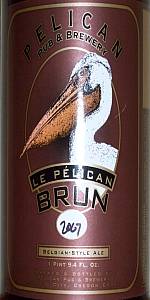 BEER INFO
Brewed by:
Pelican Pub & Brewery
Oregon
,
United States
pelicanbrewery.com
Style:
Flanders Oud Bruin
Alcohol by volume (ABV):
7.50%
Availability:
Summer
Notes / Commercial Description:
16.9 degrees Plato
Alcohol: 7.8% by volume
Bitterness: 20 IBU
Added by RedDiamond on 09-24-2007
This beer is retired; no longer brewed.
HISTOGRAM
Ratings: 35 | Reviews: 16
4.1
/5
rDev
+7.6%
look: 4.5 | smell: 4.5 | taste: 4 | feel: 3.5 | overall: 4
Pours an opaque chocolate brown with a thin off-white head that leaves some good lacing. Rich, somewhat barleywine-like aroma has malty, nutty and sweet tones along with a hint of caramel. Flavor is malty and rather sweet, with caramel, nutty and honey undertones. Texture is lively and fizzy, overall very pleasing.
316 characters

4
/5
rDev
+5%
look: 4 | smell: 4 | taste: 4 | feel: 4 | overall: 4
From 06/04/11 notes. Big thanks to nimbleprop for sharing this bottle. 2008 vintage served into a tulip. Was told this was more of a flanders than a dubbel but we'll see.
a - Pours a murky mahogany brown color with one inch of light tan head and light carbonation evident.
s - Smells of sour fruit, dark fruits, plums, caramel, light spice or gingerbread, and very light alcohol. Nice and some definite sourness, but nothing too overwhelming.
t - Tastes of dark fruits, bready malts, caramel malts, sour dark fruits.
m Medium body and moderate carbonation. Pretty easy to drink.
o - Overall I liked this one quite a bit. Not the sourest beer but I enjoyed the little bit it had. I can kind of see how this could be a dubbel or a flander, as I saw a bit of each in it. Would love to try again sometime.
806 characters
3.1
/5
rDev
-18.6%
look: 3.5 | smell: 3.5 | taste: 3 | feel: 2.5 | overall: 3
surprised how hot it was for 7.5 though it had been aged for 3 years so i guess that might have an effect, eh.
was a bit simple and boring. light earthy coffee tone.
the guy talked it up pretty well too, so i think he disappointed quite a few with this one.
257 characters

3.92
/5
rDev
+2.9%
look: 3.5 | smell: 4 | taste: 4 | feel: 4.5 | overall: 3.5
2008 vintage, thanks to fthomasl for sharing. 750 mL pours a murky brown color with a limpid tan foam. Fades at an average clip and leaves a few spots of lace.
Nose is very fruity and funkadelic. Toffee malts, burnt brown sugar and brown bread. Interesting and powerful.
Like liquid fruitcake! Nice balance of honey-drizzled malts, bread doughy yeast and fleshy mango & strawberry puree fruitiness. Mouthfeel is fantastically creamy, so smooth. ABV is well hidden. Spot on with many of the 'Brune'-style beers I have had. Fruity dubbel is not too far off either. Tasty stuff, does Pelican brew any bad beer?
609 characters
3.65
/5
rDev
-4.2%
look: 4 | smell: 4 | taste: 3.5 | feel: 3.5 | overall: 3.5
2008 bottling; tasted in 2010
Appearance: Pours a dark mahogany with a modest cap that leaves a lot of squiggles behind
Smell: Just about the plummiest thing I have ever smelled; a lot of spice cake, too
Taste: Opens with a plum and spice cake character that persists throughout; if anything, the brown sugar sweetness builds after the swallow and into the finish
Mouthfeel: Medium to full body with moderate carbonation
Drinkability: A bit too one dimensional for my tastebuds; it has a nice, sweet character that really works for a dubbel but lacks a yeasty complexity
575 characters
4.47
/5
rDev
+17.3%
look: 4 | smell: 4.5 | taste: 4.5 | feel: 4.5 | overall: 4.5
2008 Vintage.
Pours a dark burgundy color with a short lived fizzy tan head.
Scent of strong yeast and a heavy sweet plum start with cocoa, earth, spice, candi sugar, and caramel coming in as well. The pungent sweet plum aroma is very nice and complimented greatly by the yeasty and earthy characters. This is an excellent scent and stands up to any Abbey brewed Dubbel.
Taste of plums and other sweet dark fruit starts with cocoa, earth and some roasted coffee appearing shortly after. Finishes with a hint of dark fruit, some earth and yeast. This beer has a fantastic transition with the finishing flavors being quite different from the start, and the subtle flavors holding a great balance in between there.
Mouthfeel is medium bodied and a bit slick with a nice bite of carbonation; a bit oily, but still very nice.
824 characters
4.42
/5
rDev
+16%
look: 4 | smell: 4.5 | taste: 4.5 | feel: 4 | overall: 4.5
An absolute surprise to find this on the taplist at Bailey's today; 12 oz. snifters for just $4. An easy choice.
A: Deep, dark chocolate brown with a murky look pierced only by the many streams of tiny bubbles crawling up the glass. Thin whitish cream, dense and barely a half-finger, clings at the edges and leaves long, amorphous trails of lace.
S: Ahh, wonderful aroma: clove-spiced dried fruit (raisins, dates, figs) with enough cocoa and carob at first, cranked to near 'sensory overload' as it warms. With my love for the clove/spice (almost transcends 'Dubbel' for 'Belgian Dark Ale') I find this simply and completely alluring.
T: Full cocoa and plump fruit: ripe berries, sweet apples, more raisins. Very nutty, especially as it warms: the earthy/peaty grains smacking of spicy wheat bread. Yeah, it's the yeast, too - cloves, tangy-sweetness. Finishes with a little dryness to go with a developing tang. A beauty - complex and curious, evolving as it warms.
M: Medium body. Small, effervescing carbonation gives a nice creaminess. Very slightly chewy, a hint of grainy grit. A little warmth indicates the alcohol content, but it's not fault-worthy.
D: Whew, VERY nice dubbel. I've tried other Belgian-styled ales crafted by Pelican and have been impressed; this, however, is probably my favorite yet. Rare to the point I've never seen this beer before on tap and have only heard of bottles offered at the brewery in Pacific City. If you like Belgians and have a chance to try it, Le Pelican Brun is a 'must'.
1,523 characters

4.47
/5
rDev
+17.3%
look: 4 | smell: 4.5 | taste: 4.5 | feel: 4.5 | overall: 4.5
Foiled, corked and caged 750 ml bottle, 2007 vintage, that I picked up from the brew-pub on New Years day and have cellared since.
From the back label:
"Full of intriguing malt flavor, Le Pelican Brun was conceived by the fertile imaginations of the team of Pelican brewers and inspired by the many brewing traditions of Belgium. With a deep reddish-brown color that suggest an Abbey-style dubbel, but a rich yeast driven aroma reminiscent of a saison, Le Pelican Brun serves up coffee like, cocoa and caramel flavors with a hint of earthy spiciness. Medium bodied and highly drinkable, Le Pelican Brun is also rich, complex and satisfying. Bottle conditioned for substantial depth of flavor and excellent keeping qualities."
I agree with everything but the Saison aroma, which is probably a bit of romanticism on the part of marketing...my favorite style, so I guess I can understand!
After easily popping the highly pressurized natural cork, out seeps an appealing vapor, but no overflow before a I quickly poured it into my large Gulden Draak tulip, gently but still ending up with over 1/2 a glass of head. Dark ruby with a tight, if somewhat large-bubbled light tan head that quickly settles down to an average sized head leaving sticky chucks of foam.
Smell is sweet, candi sugar and strawberries. Very alluring by my book, but much more BSDA then dubbel...but too tasty for me to hold that against it!
Taste is more in-line with the style, not quite as sweet and fruity as the nose, nicely balanced with the slight spiciness and mild phenols. I'm normally not a huge fan dubbels, as far as Belgians at least (which are my absolute favorites), but this one is really hitting the spot, though the fruitiness certainly helps. Perfect choice for watching the NCAA championship game, world class teams and a world class beer.
Mouthfeel is sticky, smooth and light bodied. After drinking a ton of big heavy American beers all winter, I'm really appreciating the high digestibility of this Belgian.
Drinkability is high, really loving this right now. Those who prefer a more peppery, grainy style dubbel won't care for this (e.g. polar opposite of the Bornem dubbel), but if you like em on the sweet side, seek this out...I for one know I need to get my ass back to Pacific City pronto and grab a few more of these!
2,328 characters

3.88
/5
rDev
+1.8%
look: 4 | smell: 3.5 | taste: 4 | feel: 4 | overall: 4
pint at the Brewpub, outside in the late summer sun , beautiful. Dark brown, slighty hazed,small tan head, that stays. Aroma is definatlly yeasty, but with hints of burnt brown sugar and coriander. Spicy,complex yeasty, malt driven flavours,also a noticable sourness, which is very pleasing, its almost to the point of a Belgian Sour, but not quite. Very intrgueing. Very nice palate, thick and silky smooth, nicelingering flavours. Overall a very nice beer and a nice surprise.
478 characters
4.06
/5
rDev
+6.6%
look: 3 | smell: 4.5 | taste: 4 | feel: 4 | overall: 4
This late summer seasonal is brewed to an Abbey dubbel style. It features dark garnet color, a placid mouthfeel, and a breezy haybale fragrance with moderate spice that's right where it should be. Red malt flavor emerges from the first with a slight measure of spiced cola nut complexity and minimal (20 IBU) bittering. It is clean with a lingering spiced finish.
The abbey dubbel style is not commonly duplicated by northwest brewers. But it's not surprising that Pelican would deliver a worthy effort. A paucity of suds was the Brun's only notable shortcoming.
570 characters
Le Pelican Brun from Pelican Pub & Brewery
Beer rating:
3.81
out of
5
with
35
ratings