Ambrosetti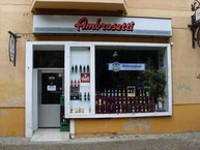 PLACE INFO
Type:
Store
Schillerstraße 103
Berlin
, 10625
Germany
+49 30 3124726 |
map
ambrosetti.de
Notes:
No notes at this time.
Added by twilight on 01-24-2006
Ratings: 11 | Reviews: 8
Reviews by sfprint:
4.34
/5
rDev
+2.4%
vibe: 4.5 | quality: 4 | service: 4 | selection: 5
Perhaps the best beer store in Berlin. Huge German selection, and they keep rotating what they get. Very good international section as well. Some Sam Smith, Fullers, Sierra Nevada, St. Bernardus, Chimay, Rodenbach Grand Cru, Weihenstephaner Vitus and Korbinian, Avenitus Eisbock. Some African and Asian beers as well. Prices are so so so reasonable. So cheap even. 1.80 for a Chimay Blue in Germany? Outside of the normal supermarkets and Getrankemarkte, you wont find cheaper prices. Go here first. They also have many German beers I haven't seen anywhere else in Berlin.
572 characters
More User Reviews:
4.17
/5
rDev
-1.7%
vibe: 3.5 | quality: 4.5 | service: 4 | selection: 4.25

3.75
/5
rDev
-11.6%
vibe: 3.75 | quality: 3.75 | service: 3.75 | selection: 3.75
My favourite Berlin beer shop, if only because they *DO* - repeat, *DO* - take credit cards. It's nice not to have to pull teeth to get a European to accept plastic.
All bottles of course come with the .08 pfand attached, so don't be surprised.
Schonram, CREW Republic, Weissenohe...they're all here, plus the usual suspects (if you're buying Franziskaner or even Rothaus, why are you here paying a premium and not just at the hypermarket?). Sadly, Ettaler was sold out when I visited.
The staff tends to be eccentric; the lad who was in when I visited talked and sang to himself regularly. English will get you by just grand, but do make an effort with German if you can.
No refrigeration here; the bottles sit out. But the turnover seems high enough that it shouldn't matter.
The gems of my haul were some 750ml Schneider Weisse bottles (for around 5 euros each, methinks) - including one which was retired/2014 vintage. I also nabbed a Rhubarb Berliner Weisse from Dusseldorf, which was lovely.
Pricing is more than fair by German standards, and this store offers some Bavarian gems you might have trouble finding elsewhere. I'd like to see more oddities from across the country...Freigeist, for example, or even just more Schlenkerla.
It's medium-sized, but I browsed for a good 25 minutes, just looking over every bottle. Don't miss the Belgian offerings on your left just as you enter, or the limited beer display in the middle of the shop (which is where the Schneider Weisse beers tend to be).
Every beer I bought (~30 or so) drank just fine and was before its best by date.
Kegwise, all they have are the miniature 5 litre ones of the usual German suspects (Warsteiner, maybe Rothaus).
I'll be back in, I'm sure, but there is room for the selection to improve.
1,779 characters

4.07
/5
rDev
-4%
vibe: 4 | quality: 4 | service: 4 | selection: 4.25
A good spacious bottle shop with a range of beers from small microbrews in Berlin and selected others from elsewhere in Germany. I noticed they have a good selection of bottles from the UK. Hours on Saturday we're only 10am - 2pm. Closest train stop is the line U2 to Deutscher Oper.
283 characters


4.11
/5
rDev
-3.1%
vibe: 3 | quality: 4.5 | service: 3.75 | selection: 4.5
This is easily the best beer store in Berlin. Great variety of German beers and a few international beers too. Plus great prices. Its also very close to U -Bahn so getting here is very easy. This is a must visit if you like German beers. One slight problem is it closes by 18.00 so get there early in the day.
309 characters

4.15
/5
rDev
-2.1%
Visited on 27/09/2010
Nearest U Bahn station is Deutscher Oper and an easy 10 min walk to Schillerstrasse.
Toward the west end of the street, keep walking as its very near the end, i thought i was lost!
Original reviewer is correct- Door numbers going up one side of the street and down the other side.
Small clean single room shop, well lit and easy to browse.
Extensive selection of German and Belgian beers organised in accordance with style. Cant say i saw anything super rare. I was after Bock to take home.Easy to browse and locate what you are after. Also a nice display of glasses for sale in cabinets in the middle of the shopfloor.
Guy behind the counter was curteous but didnt offer any help, not that i was looking for any to be honest. He did however chat away when paying about how much i like Bock as thats pretty much all i bought - 8 bottles.
Prices compared to the UK are scarily cheap - 8 bottles for approx 7 euro was obscene. I felt like i was robbing the shop so needless to say i was more than happy.
Would definitely return if ever in Berlin to pick up some local delights.
1,104 characters
4.35
/5
rDev
+2.6%
So it appears there are two great beer shops in Berlin -- one on the east side and one on the west. They are both about the same amount of space -- maybe 20x20 storefronts. Both shops arranged by style and the international brews by country.
The East Berlin spot is a bit more crowded/cluttered with merchandise (in a good way), slightly more expensive, but the collection includes some hidden gems and has a very friendly owner who is able to recommend new beers for you if you can tell him comparables. The service and knowledge is worth the price difference. This is Bier-Spezialitäten-Laden. Karl-Marx-Allee 56, 10243 Berlin. Easy to get to as it is immediately outside of the Strausberger Platz UBahn stop exit, south side of street. (This is not the kind of place to have a web site, but you can drink beers on the stoop outside the shop.)
That said, Ambrosetti is also an excellent shop. It appears Ambrosetti might be a major distributor in town for restaurants and perhaps bars. The retail shop is about the same size as BSL with a more corporate feel. Less friendly. If the prices on the shelves are correct -- the prices are a bit better. We saw most of the beers we bought at BSL here, but not all. There is a beerlist on their website -- but there were a couple beers not on the list in the store too. Not the kind of place you'd drink on a stoop -- and a little farther from pub trans -- Schillerstrasse 103 is near Liebniz Strasse. Closest UBahn is Deutsches Opera, but not a bad walk from Charlottenburg or Savigny Platz S Bahn.
http://www.bierauswahl.de/index.php?menu=home
If you are in Berlin, a stop to both would be useful to the beer hunter.
1,667 characters
4.3
/5
rDev
+1.4%
If there is a better or bigger selection of German beers anywhere else in the world, I haven't seen or heard about it. This small shop stocks a fantastic amount of bottles from small un-heard-of breweries to most of the larger names you may well know. If you think German breweries only produce Pils, Kolsch and Alt beers, this place will put you straight.
Non-German beers here as well, a few rare (to me anyway) glasses also available, again as well as more common breweries wares.
I would never have known or found this place if it wasn't for a fellow BA who sent me the details, thanks.
Update from 2009.
Still impressive selection of beers, I bought 10 different ones to bring home with me to review at leasure.
The old lady and chap still can't speak English (why should they have too?), so make sure you have some German to use. I have also dropped the value down to inexpensive, 10 bottles for under 14 Euro!
921 characters
4.5
/5
rDev
+6.1%
This is it.
This will likely be my specialty beer store when I want something special in Berlin. However, it's in Charlottenburg, which is quite a hike from where I'm staying. Schillerstraße 103 is what seems to be a relatively residential part of Charlottenburg. Or maybe Charlottenburg is all like this, without lots of neon light and shopping. It is located on the U2 between Ernst-Reuter Platz and Deutsche Oper, though the latter is closer to the store. I don't remember, but I think Schillerstraße is one of those streets with the numbers going up one way, turning around and coming back down, so make sure to check the numbers on both sides of the street.
Service was good, but no one spoke Englisch, so I just used my German to ask questions. "Sprechen Sie Englisch?" "Ganz ein bisschen." Help in German was good and straightforward.
While the selection will never rival American Beer stores, it was very impressive of them to carry two Kölschbiers and two Altbiers. In addition, they have an impressively vast selection of German beers. Huge. The store may seem tiny, but it's packed to the gills with good German beer. The entire Andechs and Rothaus lines are represented, for those of you who are curious. Belgian beers are well represented, with Chimay, Orval and Duvel seemingly highlighted. I was looking for something different and did not have much money on me, so I got a Naturtrub Hefeweizen, an Alt, and one of the lower gravity St. Bernardus beers.
Again, the typical American Beers are represented, Anheuser "Bud", Miller, Anchor Steam Liberty AND Porter. I did not ask the price on the American beers, but surely they are more expensive here than there.
Prices are higher than most Getränkemarkt, but that is because they stock the shelves instead of leaving crates in aisles. If you want a crate of something, you probably have to ask them to get it for you from the back.
Last thing, remember to bring a bag, as most places will charge you for plastic bags, and some don't have any at all. However, cloth bags are abundant in most supermarkets, and at 1,00EU per bag, you will inevitably end up with a few.
2,153 characters
Ambrosetti in Berlin, Germany
4.24
out of
5
based on
11
ratings.