Vintage Wines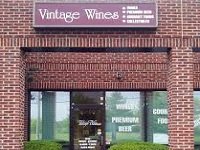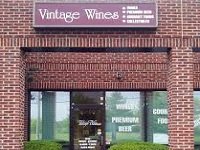 Store
498 University Blvd
Ste G
Harrisonburg
,
Virginia
, 22801-3721
United States
(540) 442-8884 |
map
myvintagewines.com
Notes:
Recent ratings and reviews.
| Log in to view more ratings + sorting options.
Ratings by Camjmorton:
More User Ratings:
Reviewed by Inspired from Maryland
2.59
/5
rDev
-26%
vibe: 3 | quality: 3 | service: 3 | selection: 1.5
I stopped in here while passing through Harrisonburg on a recent road trip from Maryland to visit friends in North Carolina. I was hoping to pick up some good local VA brews for my fellow BA buddy who I was traveling to see and this was the only place listed on BA that was open at the time that I was passing through town. Granted the name of the place is Vintage Wines, so it should come as no surprise that 98% of the store is dedicated to their namesake beverage, but with that said, I was still surprised that the craft beer section was relegated to a few small shelves in the far, right hand corner of the joint.

Even more so, I was shocked that there were barely any VA brews to be found, and nothing from 3 Brothers Brewing, which is located in this very town! Everything was either standard craft that you can find most places on the East Coast (DFH, Flying Dog) or imports (Unibroue, Lion Stout). I did manage to find a single six pack of Get Bent Mountain IPA from Parkway Brewing Company in Salem, VA, so I didn't exactly leave empty handed, but that was the extent of my "haul".

As for the service, I was one of two customers in the place and the lone employee was 100% occupied with the other guy who was browsing...you guessed it...the wines. To be fair, the guy was extremely nice upon check out, but he didn't offer the slightest bit of assistance with my beer selection.

As for prices, I have no idea what a sixer of Get Bent should normally go for, but the price I paid was about as high as I would normally pay for a six pack of pretty much anything, so I can't help but think I got jobbed. In fact, if I hadn't been in a bit of a pinch in that I didn't want to show up at my buddies place empty handed, I'd have probably left the beer sitting on the shelf.

My recommendation...look elsewhere when in Harrisonburg.
Jul 08, 2014
Reviewed by Stokes_ from Virginia
1.8
/5
rDev
-48.6%
vibe: 3.25 | quality: 1.75 | service: 1.75 | selection: 1.25
Absolutely terrible place to buy beer. 3/4 of the beers are 6+ months out of date and overpriced as hell. Owners/employees know little to nothing about beer. DFH takes up 60% of the lineup, Belgians fill out around 30%, and the remaining bulk is nothing but Asian rot-gut beers(Singha/Sapporo) and out of date Stone brews. A decent wine shop but if you want better places to buy beer, I'd recommend Downtown Wine or Midtowne market. Shenandoah Hops in Staunton easily has the best selection though, worth the 20 mile trip down the road, IMO.
Aug 13, 2013

Reviewed by SirWalkAbout from Texas
3.94
/5
rDev
+12.6%
vibe: 3.5 | quality: 4 | service: 4.5 | selection: 3.5
I lived in Elkton for 6 months and stopped in once in a while to see what they had. This place is mostly geared towards wine, but there are some nice quality beer finds to be had. They had Stone's Russian Imperial Stout, Dogfish Head World Wide Stout, Dave's Pale Ale, and some beers from BrewDog which stood out.

The shop is a privately owned place, managed by what appears to be a married couple. The guy is the one to talk to about beer. I'm not being sexist, the woman told me this. He indeed had some great recommendations and was very knowledgeable regarding what is on the shelves (as he should be considering he buys it).

As mentioned, the place is primary a wine shop, so the selection is a bit small, but they make up for it in quality. I did find there beers to be a bit more pricey than you might expect to pay elsewhere, but for a small place and good service, it's worth stopping in once in a while.
Jan 12, 2012
Reviewed by lackenhauser from Maryland
4.15
/5
rDev
+18.6%
Nice store tucked into a small strip mall. Very good selection-just not enough of it for me. Beer is towards the rear of the store. Small store but with a little organizing of the beer shelves the selection could expand some. Still, I did find a few Terrapin beers, Sierra 30th, 3 year old Samis and a few others. Full line of DFH 750s in season. Help was good-I could have stayed and talked longer but had to get my wife. Owner did say he had a few new beers coming in 2 to 3 weeks. Worth checking out, you never know.
Apr 15, 2010

Reviewed by qchic from Maryland
3.5
/5
rDev 0%
I've visited this place a couple of times with mixed results. While more craft beer in Harrisonburg is always a good thing, I find a better selection and prices (they were noticably higher across the board by about ~15%) elsewhere in town. I was delighted by the enthusiasm of the owner on one visit, and another time I went to the register to purchase something and the guy hardly said a word, even after I made a comment about something I was purchasing. Unfortunately, I discovered that what I bought was outdated, so do check for freshness. Not a lot of room for beer, but they do make good use of space with offerings from Dogfish Head, Oskar Blues, Blue Mountain, and several other solid craft breweries. A small cooler holds some singles.
Apr 14, 2010
Reviewed by advill88 from Virginia
4.3
/5
rDev
+22.9%
I first stumbled across this store with my roommate earlier in the year. It mostly focuses on wine, but unlike many other similar stores, I was pleased to discover that the owner really knows his beer very well. Before I first came here I thought I knew my beer fairly well, but this guy just floored me. He was also willing to spend a good amount of time talking about what he had and making recommendations. It's a bit on the pricey side, but worth it once in a while for the better than average selection and the customer service.
Nov 28, 2009
Reviewed by kurrjur from Virginia
4.15
/5
rDev
+18.6%
Over the past year I have visited this location nearly twenty times. Every time I visit they have new items in stock that follow the seasons. They have a well maintained selection of micro and imports. They always have my favorite rauchbier: Aecht Schlenkerla Rauchbier Marzen, which is difficult to come by in this area. The employees are very knowledgeable and helpful, and one man in particular is great at making recommendations based on personal preferences. They prices are average for this demographic. They aren't inexpensive, however they are not outrageous by any means, and I don't mind paying for beer of quality. Overall I would recommend this store to people in the area.
Sep 17, 2009
Reviewed by lostdesperato from New Jersey
4.65
/5
rDev
+32.9%
This store is a beer oasis. Amongst the wretched stench of wal-mart priced naddy and Sheetz beast is a shining example of what a modest beer store should be. They only stock good beer and always sell it with a smile. The owner is extremely knowledgeable and great to have a chat with. He certainly knows his beer and wine. Even though the beer is not the main event and is a little pricey it is worth it. No other store in the area offers the specialized selection or superb service. If your in the area or go to JMU like myself, visit vintage wines you won't be disappointed.
Mar 19, 2008
Reviewed by tattooedtolley from Virginia
4.15
/5
rDev
+18.6%
A friend of mine work's with the owner's roomate so we figured we would stop by and check them out. The store is obviously focused mainly on wine but they did have a decent selection of beer. The staff is knowledgable enough to have a good conversation about beers, which is awesome since I feel like an exception in my small area.

One thing I wasn't super happy about was the fact that all beers are sold as singles. I realize the store is small and in order to keep overhead down and the stock fresh and small they cannot afford to have a large stock. However if you are in the mood to try a few different beers or grab that bomber of Gumball Head (thats what I got) its a good stop.

The prices on the mix packs are slightly high, of course that is expected when buying singles but the prices of the bombers are decent.

Overall it is a good stop if you are in need of a knowledgable staff to point you in the direction of something new to try, of course you have BA, so....
Feb 22, 2006
Vintage Wines in Harrisonburg, VA
Place rating:
3.5
out of
5
with
13
ratings