King St Brewhouse & Restaurant
BEER AVG
-
none
Awaiting 10 Ratings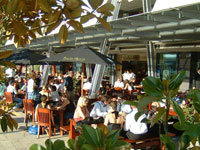 PLACE INFO
Type:
Brewery, Bar, Eatery
22 The Promenade
Sydney
, NSW 2000
Australia
+61 2 8270 7901 |
map
kingstbrewhouse.com.au
Notes:
Formerly a James Squire Brewhouse and Restaurant location.
Added by dwarbi on 01-28-2006
Ratings: 13 | Reviews: 12
Reviews by SmashPants:

3.6
/5
rDev
+1.4%
vibe: 4 | quality: 3.5 | service: 3 | selection: 4 | food: 4
I absolutely loved this place when it was the James Squire Brewhouse, it was my local when I lived at Darling Harbour. Over time (and I think a change of ownership) the staff became rude and indifferent, the prices went up and the quality went down.
I was sad to see James Squire Brewhouse shut down and be renamed the King St Brewhouse, but at least the new owners have new and interesting beers and good staff. They have returned it back to its former glory - a great spot by the water with good (if a bit dear) grub and great beer.
Well worth the trip.
559 characters
More User Reviews:
4.23
/5
rDev
+19.2%
vibe: 3.75 | quality: 3.75 | service: 4.25 | selection: 5
The King St. Is good...comparable to the rock bottoms, RAMS and Granite City in USA. On main tourist walk...doesn't need to try hard to be successful. Beer is ok. The service is fine. ...young ladies...good to ogle...tough to talk beer.
238 characters

2.88
/5
rDev
-18.9%
vibe: 2 | quality: 3 | service: 3 | selection: 3
Formerly the James Squire Brewhouse. No James Squire beers remain since the owners changed the branding of this place. The brewery is not currently operational. House beers (Fat Jack's Stout, Wirrimah Wheat and Wirrimah Gold) are brewed elsewhere, the barman didn't know where exactly.
A massive joint. Tonnes of outdoor and indoor dining tables, all wooden. Plenty of bar area, pool table, pinball machines, projection TV's with sport showing, plus the odd LCD TV or two, and it is sort of a gigantic sports bar, less the paraphernalia on the walls. Needs a huge crowd to get an atmosphere, a similar crowd size for you to miss out on a seat. A bit of a mixed look, sports bar meets wannabe new, old school beer barn.
Service is run of the mill Aussie pub, get the drink, avoid conversation unless you have to. Do it efficiently and politely. Generally not slow in serving.
Plenty of draught lagers to choose from (Miller Genuine, Bluetongue, Bluetongue Ginger, Thunder Road Full Steam, Grolsch, Bruers Bright, Peroni Nastro Azzurro). Add in the ales like Little Creatures Pale, 4 Pines Kolsch, Illawarra Longboard Pale, Illawarra Draught Ale, Illawarra Porter, White Rabbit White & White Rabbit Dark, the house beers and there are plenty of tap options to pick from. Other than Little Creatures it doesn't really wow you with quality.
Prices are just a touch on the high side but in a popular area with water views, that shouldn't be unexpected.
In a tourist area at King Street Wharf, it serves that market well with beers that generally aren't available widely elsewhere. Huge, relatively unexciting selection wouldn't make it a must visit by any means, but if you are nearby it might be worth considering a small detour if you are a ticker.
1,751 characters
2.63
/5
rDev
-25.9%
vibe: 3 | quality: 3 | service: 2 | selection: 2.5 | food: 3
A--- echo what others have said...The place is flipping huge. So much room in the place it is scary. Reminds me more of a US sports bar called Fox and hound with the dark wood and feel to it. When it is not busy it is empty and lacks character.
Q--- Beer is OK and the menu is rather bland I think. The better beers to get are the ones only offered at the pub. Craic and highwayman are workable but nothing really special. Good views of Darling Harbor.
S--- It is a pub and it is Australia so service is basically out the door. Last time I went in I asked about the Malt Shovel 10 Twenty and the bartender had no clue and said he had never heard of that beer. Of course there was a bottle in the front case. Oh well.
S--- Just Squire products and a few others, nothing really that grabs you too much. More of a watered down version of Sam Adams.
F--- Not a great menu and nothing that is really attractive.
V--- Value is in the location. Darling Harbor. Beer is OK and workable. Hours are a bit on the short side so if you are in the area on a m-th night get there before 1030 PM. Then again you can find so much Squire products (Golden Ale or Amber) in the CBD what is the point in going in. If you want the fresh hop or IPA, yes it is worth the trip.
1,259 characters
4.4
/5
rDev
+23.9%
vibe: 4 | quality: 5 | service: 4 | selection: 4 | food: 5
Took me ages to get there, tried to get there a few and when I did, it was well worth it.
All the normal Squires Range, their Limited Release are there too, Hop Thief, Sundown Lager and so on. They also have some beer that you can only get there, Craic, Highwayman, King Street Wharf Pale Ale.
I love the Hop Thief, but I would pass it up in a second for a Highwayman, it is amazing.
The food is amazing, burgers are fresh and make you feel like they are actually healthy for you.
The actual pub is huge, there is a section outside with waterviews of Sydney Harbour, the first inside section around the bar, feels like its outside, like a home veranda with a bar in it. The final section is a sports bar/pool bar, good for a quiet drink, couches, dim lights, the atmosphere changes amazingly.
Only advice, don't ask for Pure Blonde, the bar staff may spit in your face.
874 characters
3.9
/5
rDev
+9.9%
vibe: 4 | quality: 3.5 | service: 4 | selection: 4 | food: 4.5
I had a great time here on a nice June afternoon. Great weather nice breeze coming off the Darling Harbour. Good selection of beers including their IPA, Amber, Golden, Porter, Pilsner and special Highway man hopped Ale. Great Atmosphere with decent beer. Amber stood out but nothing was bad. Food was outstanding the pork ribs i had made me very fat and happy. I will say though by the size of the ribs i would love to see what the pig looked like they came from. No pork ribs have i ever seen were that large. I would suggest anyone stop by this place. It was quite busy but our waiter was outstanding.
603 characters
2.95
/5
rDev
-16.9%
vibe: 3 | quality: 3 | service: 2.5 | selection: 3.5 | food: 2.5
Firstly this place is huge! Outdoor area, inside restaurant area and downstairs casual area all together must be able to hold close to 200 people. Luckily it was fairly quiet.
Only had a couple of beers, a limited Raspberry Wheat & Governor King, both so-so.
Had an interesting experience with the waitress...she came up to take my order (even though I was told to order at the bar) and she told me I couldn't order because I was in the restaurant area, she then told me there was another menu, but "because we are quiet, I suppose you can order from that menu" So I told her I want to see the other menu. A very weird attitude. But I guess when your main attraction is tourists (they had posters advertising the upcoming superbowl EVERYWHERE) & people with more money than sense, a logical & pleasent attitude isn't really required. Anyway, the food menu looked nice but my meal was pretty crap. Unless you have never had James Squires beers then I wouldn't bother.
The Melbourne version kicks the shit out of this place.
1,023 characters
4
/5
rDev
+12.7%
vibe: 4 | quality: 4 | service: 4 | selection: 4 | food: 4
This was my first stop on my visit to Australia. My family arrived before noon which I think is when they start serving lunch because the concierge told us it opened at 11 am. Graham (who may be the owner or manager) was very welcoming and even had a serving of fries (chips) sent our way until the kitchen was really ready. Penny the bartender was great when I asked for sampler of their beers. I tried 8 of the beers and they were all very good beers brewed in UK/German styles (as opposed to US or Belgian). My lunch was excellent (quail). The fries/chips my daughter had was excellent.
I was not impressed with the burger but I think that is because the burgers in Australia are made differently than the US. We came back that evening and had a caesar salad which was edible but left a lot to be desired. If/when I make it back to Sydney I stop by again!
861 characters
3.5
/5
rDev
-1.4%
vibe: 3 | quality: 3.5 | service: 3.5 | selection: 3.5 | food: 4
Posers paradise in my opinion.
Darling Harbour has a row of hip food joints and bars, this is the best by far, but everyone wants to be seen in this part of town, it is the place to be in Sydney if you have money.
Sitting outside, people watching (one of my favorite hobbies), you can see how the crowds walking past look at the tables and judge if you are worthy of them sitting next to you.
The beers I tried were fine and the food is also good, we ate there twice, so it can't be too bad. Please go and have a look if you are in Sydney, my view could be at right angles to yours.
591 characters
3.68
/5
rDev
+3.7%
vibe: 3.5 | quality: 3.5 | service: 4 | selection: 3.5 | food: 4
My problem is I've been to the sister establishment in Melbourne (Portland Hotel). I fondly remember the variety of ales brewed onsite, like the eponymous Portland Ale, the Craic, and the Highwayman. A book, a burger, open fire, half a dozen craft brews... aaah.
So whenever I head to the King St Wharf version, I always have the Melbourne benchmark in mind. Fairly or not, I seem to find myself a little disappointed. My last visit only saw the Craic on tap (of the onsite brews).... and similarly the visit before that. The visit before THAT, Willie Simpson's 13 Moons Oyster Stout was on the go... Of course I tried it out of respect for the great man, but that was prior to my joining BA, so can't comment on that offering ;-) (BTW Willie, when are you gonna get Blair to restart the One-eye ?),
I don't know if it's a physical constraint due to the brewery plumbing, but I'd love to see more than one onsite beer available at any one time.
Anyway... in spite of this...the Squire's range is of course comperehensive, and a joy to negotiate. I sat down on the comfy leather lounges with 4 mates and we made our way through. Ordered & consumed some alright ribs & wedges, and resumed the shout.
The place itself is a bit contrived. The outside is all metal and glass, which flies in the face of the faux-pub-rustic that is evident inside, but they've made a good effort with what they've got.
All up, worth the trip.. If you sign up to the online Malt Shovel club, you can get invited to the occasional beer launch here, which, with Dr Chuck in attendance, is always gonna be a good gig.
** EDIT 10 March 2007 **
Came here with my young family. Not only were they happy to seat us anywhere we found suitable, they provided crayons & paper. Kid's food was very good, and very affordable.
1,798 characters
3.4
/5
rDev
-4.2%
vibe: 4 | quality: 4 | service: 3 | selection: 3 | food: 3
Well, what can I say, it's James Squire. It's a great location with good beer. A bit overpriced, maybe, but you're not going to get a bad beer. Yes, it's Lion Nathen in disguise. Fortunately, they keep the brand rather seperate.
Anyways, nice location overlooking Darmilg Harbour, tons of seating, 3 pool tables (at $3 per game) and a jukebox ($5 for 8 songs) but again, the beer is pricier than it probably should be, and there are better places in Sydney. Go in expecting a typical James Squire experience and you won't be disappointed. But, as opposed to the great kitchen at the Portland Hotel in Melbourne, the food is just OK in Sydney.
645 characters
3.18
/5
rDev
-10.4%
vibe: 4.5 | quality: 3.5 | service: 2.5 | selection: 3 | food: 3
James Squire on King Street Wharf is a mediocre establishment that I can't keep myself away from. Part of the reason is it's exactly halfway between where I work and where I live. The place is beautiful. There's loads of seating - outdoors in the sun with views of the harbour or inside in deep leather chairs.
The beer selection is good because of the JS house brews. They also advertise that Heineken is on tap! They have a ton of crap beer and good house beers. The funny-textured beer labels indicate the beer is brewed on premeise. Other beers are made in Campbelltown and shipped in.
Two weeks before the Hop Thief was released I asked the bartender if he knew about the next seasonal hop harvest batch. He looked at me for a bit and then claimed the Governor King was it. From this experience and others, the servers know little about the beer they are peddling.
JS has an average offering when it comes to style. Don't expect anything even remotely unusual. Porter, IPA, stout, etc
Food is good but overpriced. You're better off stopping in for a beer and moving on.
I would say that the beers are overpriced. Some are tasty, others you can get almost anywhere these days. All are overpriced.
1,215 characters
King St Brewhouse & Restaurant in Sydney, Australia
3.66
out of
5
based on
5
ratings.