England's Gold
| Badger Brewery, Hall and Woodhouse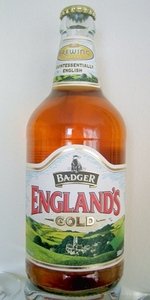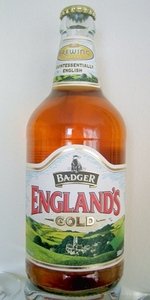 BEER INFO
Brewed by:
Badger Brewery, Hall and Woodhouse
England
,
United Kingdom
badgerbrewery.com
Style:
English Pale Mild Ale
Alcohol by volume (ABV):
4.60%
Availability:
Year-round
Notes / Commercial Description:
No notes at this time.
Added by wl0307 on 09-21-2006
HISTOGRAM
Ratings: 8 | Reviews: 7
None found.
More User Reviews:

3.54
/5
rDev
+0.9%
look: 3 | smell: 4 | taste: 3.5 | feel: 3 | overall: 3.5
A 500ml bottle with a BB of April 2012. Described on the label as a light beer with a floral aroma.
Poured into a tulip pint glass. A clear golden colour with medium carbonation. Forms a small, frothy head of white foam that disappears after a minute or so. Aroma of light caramel malt with hints of elderflowers, white grapes and citrus. A whiff of fruity yeast and stewed hops in the background.
Tastes of light malt with an aromatic character and a dry finish. Notes of elderflower, white grapes, faint citrus and earthy yeast esters. Stewed hops provide a crisp, mild bitterness upon swallowing. Mouthfeel is smooth and tingly, but a bit thin. Somewhat astringent. Aftertaste of faint elderflower and stewed hops.
Quite nice; a crisp floral taste that would go down well on a hot day. Some other Badger beers that I've tried have been disappointingly flawed. Worth sampling.
881 characters
3.35
/5
rDev
-4.6%
look: 3 | smell: 3 | taste: 3.5 | feel: 3.5 | overall: 3.5
Brown 500ml bottle of an Quintessentially English Ale (according to the neck label anyway).
Best before Nov 2008, drank on a crisp, cold English evening in Feb 2008.
Poured into a vase shaped 'Old Speckled Hen' pint glass.
Pale golden colour, almost pilsner in appearance, Dortmunder style deeper gold is maybe closer. the head like those of pilsners and Dorts was white and wispy, no retension and thin.
There is no wheat in the brew, but the aroma hinted there might be, a flowery almost sweet pea smell with hops and yeast thrown in for good measure.
A little fizzy, but a pleasant clean tasting ale, bitter but not harsh. More fruity than malty, the hops are weak in my opinion.
The mouthfeel is fine, the flavours linger longer than the head did and the 4.6% is there for you to enjoy as the mouth drys.
All in all, not a bad beer. I would like to try it on cask if it is in fact sold that way.
906 characters
3.31
/5
rDev
-5.7%
look: 4 | smell: 3 | taste: 3.5 | feel: 3.5 | overall: 3
Sampled this at Le Mondial yesterday.
Poured from a small bottle (forgot to check the size, probably 500ml.)
Appearance: Gold in color with a slight orange tinge.
Smell: Mild cereal and corn, very crisp though not expansive.
Taste: Some fruit notes and nice light graininess.
Mouthfeel: Medium to low bitterness with a nice feel.
Overall: Pleasant to drink and packs a nice flavor.
388 characters
3.85
/5
rDev
+9.7%
look: 3.5 | smell: 3.5 | taste: 4 | feel: 4 | overall: 4
Got this tasty brew as a gift from visiting Englishman Vinnie. Thanks man! Poured with a nice head that mostly faded and some lace. Clear gold color. Fresh hop character in nose and flavor. Well balanced. Light body. Nice finish. Definitely a session beer. Similar in some ways to an american pale ale.
302 characters
4.05
/5
rDev
+15.4%
look: 4 | smell: 4 | taste: 4 | feel: 3.5 | overall: 4.5
This beer is, overall, pretty similar to Badger Brewery's "Golden Glory", another fine beer, but this one has toned down on the floral undertones and brought up the hoppiness quite a bit. The white grapes as promised are also coming through, as is a bit of sweetness.
It's easy going down witha crisp, dry finish. To be honest it's nothing special, but again a nice deviation away from the norm. I do fail to see how it is award winning though.
A standard drinkable beer, but I prefer Golden Glory.
501 characters
3.68
/5
rDev
+4.8%
look: 3.5 | smell: 3 | taste: 4 | feel: 3.5 | overall: 4
500 mL bottle poured into a glass.
Pours a golden-amber with a thick 2-finger head of foam.
Aroma is mild, with floral hops predominant.
Taste echoes the aroma with a floral bent, but some fruity sweetness coming through. The bottle indicates it's supposed to have white grape flavors, and this seems accurate, but it's hard to tell how much of that is merely the power of suggestion. It's not inaccurate though.
This one goes down easy, and with the low ABV makes for a very drinkable beer. Highly enjoyed.
512 characters
3.05
/5
rDev
-13.1%
look: 3.5 | smell: 3.5 | taste: 3 | feel: 3 | overall: 2.5
Purchased at the Tesco supermarket. It comes in a 500ml clear glass bottle, bearing a label on the neck: "Tesco Brewing Awards". I don't think it's brewed FOR Tesco, but surely it's a new product from Badger. BB June 2007, served cool in a straight imperial-pint glass.
A: golden in colour, poured with a thick and foamy white head settling fast to just a thin cap on top of restrained carbonation.
S: subtly fruity hop aroma dominates the nose, limey, sharply grassy or green-leafy, and gingery with a touch of flowery scent and grapefruit zest. Overall very different from all other Badger's beers I've tasted. Rather fruity with refreshing hoppyness, but executed in an understated fashion. A slight hint of sulphur creeps up once it warms a little.
T: floral taste of hops, faintly gingery zing, semi-sweet soapy pale malts upfront, followed by mildly lemony (artificial lemonade actually...) fruits and some grass... then the flavour fades out pretty fast, leaving little to linger in the end...
M&D: the softly spritzy mouthfeel matches the quiet flavour pretty well, but lacking liveliness of an unpasteurised beer; this light-bodied Blond Ale lacks a necessary kick of hops to render a fuller body and sufficient bitterness to keep it refreshing. It's rather like a fruity Pale Mild minus hops and malts (=> no weight!!), hence my submission here as such. Not remarkable, but not horrible either.
P.S. I wonder which beers were this one's competitors in the Tesco Brewing Award competition, that this ordinary product should stand out?
1,554 characters
England's Gold from Badger Brewery, Hall and Woodhouse
Beer rating:
3.51
out of
5
with
8
ratings