Reserve Wheat Ale
| Telegraph Brewing Company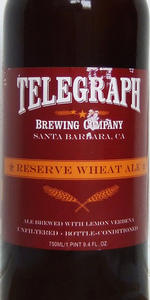 BEER INFO
Brewed by:
Telegraph Brewing Company
California
,
United States
telegraphbrewing.com
Style:
Berliner Weissbier
Alcohol by volume (ABV):
5.00%
Availability:
Rotating
Notes / Commercial Description:
No notes at this time.
Added by RidiculedDisplay on 02-22-2009
Reviews: 84 | Ratings: 179

3.72
/5
rDev
-5.6%
look: 3.5 | smell: 4 | taste: 3.5 | feel: 3.5 | overall: 4
Bottle shared by Huhzenbendah at a recent tasting. Thanks Matt. Beer is yellow and completely cloudy with a thin white head of tiny bubbles that disappears nearly immediately. No lacing apparently low carbonation.
Aroma has a mild funk, some oakiness to it, mild lactic acid, some citrus and some grain, smells good.
Beer is thin and watery with a nice wheat finish to it. Some oak in the late palate, overall a nice little wild ale. Nothing too aggressive about it just a solid simple palate, mild lactic acid, overall I'd have it again.
540 characters

3.71
/5
rDev
-5.8%
look: 2.5 | smell: 4 | taste: 4 | feel: 3 | overall: 3.5
From 01/07/12 notes. Thanks to whoever brought this one to the last RB tasting.
a - Pours a murky bright light yellow color with one inch of white head and low carbonation evident.
s - Smells of brett, citrus, spices, oranges, wheat, and light funk. Very nice nose, like it a lot.
t - Tastes of funk/brett, lightly sour fruits, wheat, bready malts, light citrus, earthy notes. Very nice again.
m - Light body and moderate carbonation, though the body is a bit watery.
o - Overall the body is a bit thin and watery, and it doesn't look great, but the nose and taste are very good. Would certainly have it again.
615 characters
3.7
/5
rDev
-6.1%
look: 3.5 | smell: 3.5 | taste: 4 | feel: 4.5 | overall: 3
750ml poured to Jackie-O's tulip.
Pours a very clear straw yellow with a beautiful head that lights atop. The head is absolutely pure white and very inviting. Not much lacing is left behind despite the everlasting 1/2" foam cap.
Smell is a wheat and fresh squeezed lemons. Not much too it, but nicely done.
Taste is just like the smell. Extremely simple and exactly what you'd expect when buying this bottle. Light tartness from both the Brett and lemon zest that coats the big wheat characteristic.
Mouthfeel is phenomenal. Light and crisp, perfect for a summer day. This is the perfect pairing for post season baseball.
Very nice offering, but I would like a little more flavor profile on this one.
705 characters
3.68
/5
rDev
-6.6%
look: 4 | smell: 3.5 | taste: 3.5 | feel: 4 | overall: 4
Telegraph Reserve Wheat
A: The hue is bright straw yellow with radioactive glow. The entire glass emits this impressive radiance. As a side note, the entire goblet has a nice lacing.
S: There is some lemon Zest with a great Brett funkiness. However, this is different in character, it is very mild with a sort of expansive crayon funkiness.
T: There is a very mild tartness that is crisp and dries immediately. At its heart, it's like a "wild ale for beginners" with almost no lingering. The tart and funk is light and drying that adds a light cranberry juice dryness
M The mouthfeel is crisp and drying like a tame lambic with some nice granny smith apple peel dryness
D: very drinkable in hot weather, but perhaps my American wild Ale bias is showing here. Let's interject some blatantly sexist badinage to enter the fray: this beer seems like it would be great for girls, particularly those of the Blue Moon/Hef persuasion.
Narrative: "Well hey hey hey fellas!" Chip Merken piped out loudly while deftly handling his pitchfork. "Ah can it Chip, we can't take it on harvest day." Harvest day was hard and long, with an oppressive sun. Chip was always a crisp jolly individual who could somehow out-harvest the others, and outsow his colleagues at planting time. "Toot doot dee do da dee dee daaa" he whistled some antiquated tune to himself, smiling in between breaths. "COME ON, DAMNIT CHIP!" One co-worker threw his rake down in anger. "Here we are trying to harvest some damn wheat and instead we have you all up in our heads with your old show tunes and knock knock jokes, don't none of that make this any sooner!" Chip's smile slowly faded and he looked down at his glistening pitchfork, "don't let them get sore at you old Chip, don't let what happened before ever happen again," the darkness in his heart burned. "Well sure fellas! I will go get the reaper, I GUESS!" The reaper indeed young Chip, the reaper indeed.
1,975 characters
3.68
/5
rDev
-6.6%
look: 4 | smell: 3.5 | taste: 3.5 | feel: 3 | overall: 4.5
Easy drinker. Light, not a lot of mid or finish. Ok nose with slight funk and very slight sour. Maybe a beer to intro people to this style. But ver light and not complex. Though with 3-6 months of bottle conditioning age I could see a bit more happening. There are others in this style I'd rather pick up.
305 characters
3.66
/5
rDev
-7.1%
look: 4.5 | smell: 3.5 | taste: 3.5 | feel: 3.5 | overall: 4
750ml bottle into a standard pint glass. The brew appears a pale yellow with some fine particulate stuck in suspension. A fluffy white head sits atop with patchy fingers of lace sticking to the glass. Pretty solid head retention for the style.
The smell is lemony with some wheat and footy grain quality. An earthy brett scent is present focusing the aromatics more towards earthy and somewhat barnyard-like. More sniffs reveal a bit more fruited quality and a bit of spice.
The taste includes a solid amount of wheat along with fruity lemon. Some suggestions of pear mingle with a faint clove-like spice. As more sips are taken, more brett comes forward somewhat like cobwebs, earth and barnyard qualities.
This is a light bodied brew with a light amount of carbonation. Fairly refreshing with an interesting funk inclusion of brett. This was a good beer, it just misses the berliner style a little with its focus on funk. For an american wild, its solid for a berliner, i was happy with just one pour.
1,006 characters

3.63
/5
rDev
-7.9%
look: 3.5 | smell: 3 | taste: 4 | feel: 4 | overall: 3.5
Pours a small layer of white head. Color is a hazed bright straw yellow.
This beer starts out with some lemon acidity flavors and a bit of sourness. It is more funky than sour, however. Notes of brett and grass/hay show with the funkiness. It has wheat flavors as well.
Mouthfeel: Clean and refreshing. Lighter bodied with a medium amount of carbonation. Ends clean.
Overall, this was an easy drinking sour/wheat. Nothing crazy, but enjoyable. I would like to see more of these done as they are not overly soured.
516 characters
3.61
/5
rDev
-8.4%
Batch No. 136.
Pours a murky light orange with a foamy bone head that settles to wisps of film on top of the beer. Small dots of lace slowly drip into the remaining beer on the drink down. Smell is slightly sour with wheat, grain, lemon, and acidic aromas. Taste is much the same with slightly sour wheat, grain, and lemon flavors on the finish. There is a mild amount of acidity on the palate with each sip. This beer has a lower level of carbonation with a slightly crisp mouthfeel. Overall, this is a pretty good beer that is light and tasty, but the sourness is pretty subdued compared to the "intensely sour" claim on the label.
Serving type: bottle.
657 characters

3.53
/5
rDev
-10.4%
look: 2 | smell: 4 | taste: 3.5 | feel: 4.5 | overall: 3
Bottle into a Cantillon tulip. Thanks to Tony for sharing.
A: Clear pale amber body with a few weird worm-like chunks. One finger of frothy white foam. Mediocre retention, no lace. I'm not going to lie, it's kind of gross looking - are those sea monkeys?
S: This is going to sound a bit weird, but it smells just like a Dairy Queen. I can't say with any certainty exactly what that entails (does the tangy wheat malt remind me of cheap cones? does the fruitiness recall the artificial cherry flavor of Dilly Bar coating?), but it's a remarkably vivid scent memory for me. More objectively, I get lemon, wheat, vanilla, and just a touch of lactic tartness. It's weird, but rather enjoyable.
T: Tart, lemony, and vegetal. Strange herbal notes on top f the wheat and sourness. Cherry syrup on the finish (it WAS Dilly Bars!). Bizarre, but ok.
M: Light + lively; nicely soft. Pleasant.
O: This was anything but popular with the tasting group, and I think my weak praise for it (rooted more in nostalgia than actual admiration) is as damning as a straight-up negative review. I enjoyed experiencing this beer, but I'll not be looking for a second date.
Cheers!
1,161 characters

3.42
/5
rDev
-13.2%
look: 3.5 | smell: 4 | taste: 3.5 | feel: 2 | overall: 3.25
Purchased from Holiday Wine Cellar, Escondido Ca
Batch#136
Appearance is a hazy gold, minor head almost looks flat after a minute. This with an aggressive pour
Herbal tea-like fragrance resembles a lemon herbal tea, grainy and quite pleasant
taste is slightly lemon-sour, not overpowering at all. In fact, this is coming off as a real weak gose... but it is not labeled as gose. I catch wheat on the aftertaste and that lingers a bit. It's not bad in of itself, but the flat watery mouthfeel just kills the experience for me. Very little bubbly has made it through this "bottle conditioning" and flat + gose "ish" is a particularly odd combination.
For me it comes across more like something wrong happened with the lemonade as opposed to something is unique and enjoyable about this beer.
I hope that this is just a bad bottle and may try again someday as I am generally a fan of this flavor profile.
915 characters

3.39
/5
rDev
-14%
look: 2.5 | smell: 3.5 | taste: 3.5 | feel: 3 | overall: 3.5
750 ml brown glass bottle with hood and wire cap over a cork served into a conical pint glass in low altitude Los Angeles, California. Batch #89. Reviewed live.
No best before date.
Served refrigerator cold and allowed to warm over time. The label doesn't clarify that this is a Berliner Weisse. Berliner Weisse is one style I've never really understood (why in German culture is it verboten to put fresh fruit in beer, but it's somehow okay to put candy syrup in beer?).
A: Pours a half finger of no real head at all - not even a floater. How does a 5% beer have such wretched retention? Colour is a cloudy nontransparent (but not opaque) yellow. Lots of bubbles indicate adequate carbonation. No yeast particles are visible. Generally appealing.
Sm: Bretts hit me first, along with lemon, lemon peel, and wild yeast/bacteria. Bretts are certainly dominant. A mild to moderate strength aroma. Clean, alive, and inviting.
T: Bretts are dominant here as well, with lemon citrus esters and lemon peel on the climax, lending it a clean citrusy counterbalance. It's a very clean beer for a wildly fermented ale. No wheat comes through, surprisingly. Heavy lactic tones are present throughout. Not at all a Berliner Weissbier, this is almost certainly a wild ale. I don't know how it got miscategorized, but I'll submit an update. It's quite enjoyable and pleasant. Well balanced and built.
No alcohol or yeast comes through.
Mf: Smooth and wet. A biteen thin. Adequately carbonated. Suits the flavours by not intruding.
Dr: Very drinkable, though the ABV is low. I'd try it again on draught, but it's not unique or special. Fans of the style (wild ale, not Berliner Weisse) should try it. Lots of bretts and lactic notes make it worthwhile. Give her a spin.
B-
1,774 characters

3
/5
rDev
-23.9%
look: 3 | smell: 3 | taste: 3 | feel: 3 | overall: 3
A: Pours very light yellow with a highly carbonated head. Poured into a pint glass and about a quarter of it was head. It dissipates pretty quickly and leaves no lacing.
S: Smells pretty light with some mild floral notes. And a hint of sourness.
T: I didn't really pay to much attention to the label when I bought this. I saw "wheat ale" and was expecting more of a hef style. So it was a bit of a surprise when tasting it, but not really a bad surprise. There's definitely some sourness there, but not enough to make you pucker. I'm also tasting a little lemon/lime flavor, but not too much.
M: Feels decent in the mouth. Only slightly tart, and a lot of carbonation.
D: Easily drinkable. I usually take a little more time when drinking a beer, but I find myself taking bigger mouth-fulls of this one, so it's going down pretty easy and fast.
847 characters
2.98
/5
rDev
-24.4%
look: 4 | smell: 1 | taste: 4 | feel: 3 | overall: 3
Thanks to Blaine for sharing this unusual brew.
A - It pours a straw-yellow hue, hazy, and is capped with a good sized white frothy head.
S - The nose is quite lemon-y, but also is reminiscent of household cleaners and bug spray. Needless to say after that last descriptor, I am way south of fond of it.
T - The taste is light years better than the intolerable nose. It is, again, lemon-centric and earthy; offering notes of lemon zest, verbena and fresh-squeezed lemon. The brew has a refreshing taste. Too bad it comes with the attached aroma.
M - The feel is light and frothy, with a lot of soft effervescence. Not hugely enhancing, but it works.
O - I would not like any more of this, due entirely to the disgusting nature of the nose.
744 characters
2.35
/5
rDev
-40.4%
look: 3.5 | smell: 1 | taste: 2 | feel: 4 | overall: 3.5
This beer was falsely advertised as an "intensely sour wild ale" but the beer isn't sour at all! I mean, not one bit of tart was tasted. The pour is nice without foam and the beer is still a smooth one. If you're looking for a sour, skip this brew. But, if you're looking for a day time or summer beer then this one is a go.
324 characters
Reserve Wheat Ale from Telegraph Brewing Company
3.94
out of
5
based on
179
ratings.