Reserve Wheat Ale
| Telegraph Brewing Company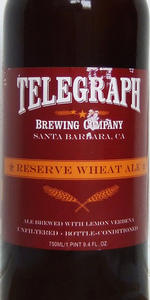 BEER INFO
Brewed by:
Telegraph Brewing Company
California
,
United States
telegraphbrewing.com
Style:
Berliner Weissbier
Alcohol by volume (ABV):
5.00%
Availability:
Rotating
Notes / Commercial Description:
No notes at this time.
Added by RidiculedDisplay on 02-22-2009
Reviews: 84 | Ratings: 179
4.22
/5
rDev
+7.1%
look: 4 | smell: 4.5 | taste: 4 | feel: 4 | overall: 4.5
What a really splendid beer. A very nice easy-drinker for a sour ale.
A nice combination of tartness and funkiness. Along with some sourness as well. Citrus tastes and the bottle says lemon of some sort was added. I believe that impacts head retention.
I prefer this beer when it was colder. It lost some of its great funkiness as it warmed.
All in all, I would especially like to have this in warmer weather with brunch. I'm thinking, and its just a hunch, that it would go well with goat cheese.
500 characters
4.22
/5
rDev
+7.1%
look: 4 | smell: 4.5 | taste: 4 | feel: 4 | overall: 4.5
January 2009. Exceedingly pale sunflower yellow with multiple uprushing bubble streams and a massive crown of eggshell colored cream. Large divots appear in the increasingly rocky foam, while a smattering of lace sticks to the glass.
The nose is wonderful and reflects the ingredients: lemon verbena (a flowering plant), Lactobacillus (a bacteria) and Brettanomyces (a yeast). The result is a tangy, lemony, barnyard-like scent that is reminscent of a summer saison. It's pure pleasure to sniff. Especially if you're a fan of the style.
Reserve Wheat Ale is good beer that doesn't quite make it all the way to great beer. It's restrained for an American wild ale, with the funk-o-meter stopping well short of the red line. Those who are ambivalent about 'bug beer' will probably still be ambivalent after tasting it.
The biggest negative is a lack of malty guts. This has to be the lightest wild ale that I've ever had, which was predictable given the ABV. On the other hand, it's refreshing and quenching and perfect for a picnic lunch. Untoasted wheat, slightly bitter grasses and lemon peel is the sum total of the flavor profile. Along with the surprisingly clean, mild funkiness of the organisms, of course.
The mouthfeel is appropriately light and is properly carbonated. All in all, it fits the rest of the beer's attributes pretty well. This is the weakest of the scores, for whatever that's worth.
Telegraph Reserve Wheat Ale probably hit the brewery's target in the middle of the bull's eye. It's good warm weather beer and is the wild ale equivalent of a simple saison or a crisp pilsner. Oh, and this particular vintage is showing no signs of age whatsoever.
1,675 characters

4.23
/5
rDev
+7.4%
look: 4.5 | smell: 4 | taste: 4.5 | feel: 4 | overall: 4
From my beer journal. Reviewed on October 9, 2011.
A: Slightly Cloudy, straw yellow beer. Nice looking carbonation. Big foamy white head. Looks great and sticks around.
S: Nice tartness and lemon. Hint of wheat.
T: Tart up front. Hint of brett, but only just a little bit. Big lemon flavor and finishes tart. Nice dry finish.
M: Light body with nice carbonation.
O: Refreshing, but not a lot to it. Tasty beer. Perfect for a summer bbq.
441 characters
4.3
/5
rDev
+9.1%
look: 4 | smell: 4 | taste: 4 | feel: 5 | overall: 5
On-tap at Bottle Room at Whittier
Pale gold, tight head. Not overly carbonated. It seemed just right to me.
Smelled like a sour: citrus and brett
I was really impressed by Telegraph with this one. It's Wheaty and Sour -- Needless to say: it's light. Very refreshing, drinkable.
280 characters
4.3
/5
rDev
+9.1%
look: 4 | smell: 4 | taste: 4.5 | feel: 4 | overall: 4.5
I love the idea of a sour wheat- I think the lactic notes of a Berliner Weiss work very well, so why not Brett notes as well. Pours a hazy golden with a good, but loose head and lots of carbonation. The Brett is certainly active in this bottle. Smells lemony, lactic, and herbal. The taste is a very nice blend of lemon, herbs, and sharp, quick lactic notes, followed by a long salty minerality and the barest bit of barnyard. Very nice. Perhaps a little overcarbonated, but lemony and refreshing in the mouth. Overall, I think this works quite well. It retains the refreshing nature of a wheat beer but adds some funky complexity.
631 characters

4.3
/5
rDev
+9.1%
look: 4 | smell: 4 | taste: 4.5 | feel: 4 | overall: 4.5
Poured from a 750 mL in to a Corsendonk tulip. Batch 78.
A: Golden straw color with a very thin head. Pretty cloudy.
S: Lemon, citrus, a mild amount of funkiness from the yeast.
T: Lemon & wheat, just like the label says. A moderate amount of sourness, very refreshing.
M: Light and slightly sticky, head is very smooth.
O: Very good summer brew. Happy I opened this before the impending fall season.
405 characters

4.3
/5
rDev
+9.1%
look: 4 | smell: 4 | taste: 4.5 | feel: 4 | overall: 4.5
A: Bright straw yellow with a dissipating head.
S: Sweet and sour wheat with some floral notes and a mild lactic bite.
T: It's a very well done Berliner Weissbier for my taste, but it's certainly on the mild end of the sour spectrum for this style. The tartness is restrained, which I really appreciate because it brings out more of the spicy wheat flavors. There are also notes of lemon and coriander.
M: Good, mild tartness. Admittedly, it probably goes downhill with age. So, drink it fresh.
D: Very drinkable, very refreshing. Compared to the German versions I've tried, this beer is more accessible. It's almost like they blended a small amount of an APA or another mild style into it. The Berliner Weissbier tang is there, but there was little actual pucker in my mouth. I hope that more American breweries take up this style if they can achieve results like this. Then again, I wonder how much my reaction is from just being able to have this beer very fresh, while the German beers suffer from the time lag of importing. In any event, I hope that people try this beer and realize that it's a style that has the potential for returning to popularity among American palates.
1,184 characters
4.35
/5
rDev
+10.4%
look: 4 | smell: 4 | taste: 4.5 | feel: 4.5 | overall: 4.5
Batch 67.
Appearance: Pours out a hay-hued body, cloudy with some fine particles, and capped by a fizzy, white head.
Smell: Light scent of modestly tangy wheat malt with notes of lemon, florals, and just a hint of teensy hint of sourish funk.
Taste: A fast flash of sweetness over a soft wheat character with faint, faint graininess. Sparsely lactic. A cheery lemon tartness, though not astringently so. A little bit puckering on the cleansing, minerally finish.
Mouthfeel: Light-bodied. Medium-high carbonation.
Overall: A joy to drink! As the daytime highs have jumped from 40's-50's one day to over 80 degrees the next, this was just the refreshing, easy-to-drink tipple I needed.
688 characters

4.38
/5
rDev
+11.2%
look: 4.5 | smell: 4 | taste: 4.5 | feel: 4.5 | overall: 4.5
A: Golden straw, hazy white grape juice.
S: Grassy lemonade.
T: A pleasant, subtly tart, crisp, American hefeweizen with a slight lemonade finish. There's a good balance between the tart funk, the slightly sweet wheat, the yeast, and the hints of lemon.
M: Crisp and thin (though not watery).
O: A very well balanced brew; definitely one worth revisiting.
359 characters
4.42
/5
rDev
+12.2%
look: 3.5 | smell: 4 | taste: 4.5 | feel: 4.5 | overall: 5
On-tap at 1300 Bar in Glendale, CA. On to the beer:
Pee yellow in color, leaving some pleasant lacing in the glass. It's mildly sour, like sour lemons and citrus peel thrown in. A sour witier? Well, that's what it tastes like, and I like it a lot. Creamy tasting oats give the beer a sweet note, plus some coriander thrown in, then it steers into sour lemon territory. It features a very easy mouthfeel, while light, doesn't pelt your palate with huge carbonation bubbles. Call it "laid back" carbonation. All this helps create a very easy drinking beer.
Despite the style its under per BA, TRW is not overly sour, but more of a witbier spiked with some sour character. It worked out great with me.
700 characters

4.44
/5
rDev
+12.7%
look: 3.5 | smell: 4.5 | taste: 4.5 | feel: 4.5 | overall: 4.5
Received this 750ML C&C'ed bottle in the MLB Playoffs 2011 BIF from landrewg. Thanks a ton, Andy! Poured into a regular pint glass.
A clear, yellow/straw color, typical of Berliners. White 1 finger head that dissipates to nothing rather quickly and leaves behind very little, to no lacing.
A nice lemony aroma with slight tartness. Some slight hefe-like wheat aromas are also present. Rather awesome nose, actually.
Flavors are similar to the aromas, with the tartness hitting the tongue almost immediately. Definate lemon zest flavors, with just a hint of bready wheat.
Somewhat light body with just the right amount of medium carbonation. Very drinkable, very refreshing... wish I had this back in the hot summer.
Ahhhh... I love this style, and I really like this beer. "Bottled on" date says "78", and have no idea how fresh/old this beer is, but I drank it over 2 months after I received it and it's still tastes fresh. Would love to try a bottle(or two) of this fresh next summer.
991 characters
4.44
/5
rDev
+12.7%
look: 4 | smell: 5 | taste: 4.5 | feel: 4 | overall: 4
I came to this from Craig at City Beer in SF. I asked for a couple of his recommendations to send home to the East coast, and this was a great choice.
I have not heard of Telegraph, but they made a great brew! Tonight for dinner, I made a grilled chicken with spinach/lemon pesto. The wheat ale made a great pair for the dinner.
Appearance - hazy in color, looks "wheaty," yet appropriate.
Smell: lemony.
Taste: a little sour, then sweet. you can really taste the brets...
Mouthfeel: not too dry, but very good.
Drinkability: love it. If I could, would buy it again.
It was bottled on Jan 12, 2009 - I don't think it would make a good aged or cellared beer.
Cheers!
673 characters

4.62
/5
rDev
+17.3%
look: 4 | smell: 4.5 | taste: 5 | feel: 4 | overall: 4.5
Poured into tulip glass.
Appearance: Hazy straw color, pours a thick white head that slowly fades, moderate amount of lacing.
Smell: Sour, Lemon, Sightly funky.
Taste: Sour, Lemon, Lime, a hint of wheat, and some grassy/earthy notes.
Mouthfeel: Light bodied, tart, good carbonation and a dry finish.
Overall: A very good beer. Extremely refreshing, sour but not overly so, very drinkable.
393 characters

4.65
/5
rDev
+18%
look: 4.5 | smell: 4.5 | taste: 4.5 | feel: 5 | overall: 5
Poured from a 750 into my Ommegang Witte tumbler.
A- light golden, almost pale, but still on the golden side. Tons of bubbles streaming up. Very airy wispy head settles there for a bit and then creates an ocean foam over the top.
S- first I notice you can actually smell the wheat, like a wit almost. Then you get that mild tartness as well. There might be the slightest hint of banana or something fruity in there.
T- surprisingly there's a bit of belgian yeast taste. Course there's a little acid giving it some tartness which is not puckering, and tastes of light lemon juice, but there's also some yeast phenols in there contributing quite a bit to the taste.
M- very light and effervescent.
D- I can drink a whole bottle of this easily and still want more. I have no idea what the ABV is on this beer but I would love to put this back all afternoon during a hot summer day.
883 characters
Reserve Wheat Ale from Telegraph Brewing Company
3.94
out of
5
based on
179
ratings.