BJ's Restaurant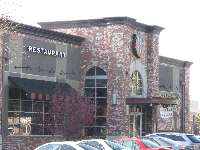 PLACE INFO
Type:
Bar, Eatery
715 E Shaw Ave
Fresno
,
California
, 93710
United States
(559) 570-1900 |
map
bjsrestaurants.com
Notes:
No notes at this time.
Added by PCaravan on 02-07-2006
Reviews: 6 | Ratings: 8

3.48
/5
rDev
-5.2%
vibe: 4 | quality: 3.5 | service: 4 | selection: 2.5 | food: 4
Stopped in here with my family tonight before the Fresno State football game. It was packed with Red Wavers. Our group fit right in.
I've been to several BJ's Restaurants in the past, and this one's no different. All around, the food is decent and the beer is mediocre. The pizzas and pizookies are certainly worth your time; the beer... not so much - they're typically malt-heavy and bland. This location didn't have any worthwhile guest beers; I saw Sam Adams Boston Lager, Guinness, Firestone DBA, Bud Light, and Widmer Brothers Hefeweizen on-tap. I didn't inquire about the Belgian bottle list.
The service was surprisingly quick for such a busy night. We got in and out in 45 minutes, and the waitress was pretty nice, though a bit awkward and certainly not craft beer savvy. Still, service was better than expected; overall good.
As with most (or all) BJ's Restaurants, this is a great place to watch sports. There are tons of TV's, and the wide open, high-ceilinged interior provides great sight lines to almost all of 'em.
Unfortunately, this is one of the best beer stops in Fresno. I suggest you check out BC's (in Clovis) or one of the Sequoia Brewing locations first, but this is probably your next best bet.
1,224 characters
3.7
/5
rDev
+0.8%
vibe: 3 | quality: 4 | service: 4 | selection: 3 | food: 4.5
This place is exactly like all the other BJ's around. It was a little bigger, surprisingly, than some of the other BJ's I have been to. There were many large TV"s on the walls. Every one was on the same channel. It was just as crowded as all the other BJ's I have been to.
After a 45 minute wait, we got our table, and that is where the wait stopped. Our waitress was friendly, and quick.
The food was exactly the same as all other BJ's. Pizza, pasta, salad, and stuffed potatoes. Yum. As usual, everything was great.
Beer selection was the same. A few bottled Belgians, and the same house brews. They are slightly booring, but in Fresno, it was a good selection.
Price was reasonable.
Overall: BJ's is good. It wont be my last time.
739 characters
3.43
/5
rDev
-6.5%
vibe: 4 | quality: 3.5 | service: 3 | selection: 3.5 | food: 3.5
I stopped in here on a recent Tues. nite and headed for the bar, but as I passed the front counter I stopped to see how long the wait was for tables, one hour WOW. The bar was full, standing room only but I had a pint in my hand in less than 2 minutes, I started with a Jeremiah Red Ale. I found a spot in the corner and was just starting to enjoy my beer when a group of 5 left the bar..
Three people that had been waiting jumped for three stools but no one seemed interested in the other two so I grabbed one. As soon as I sat down the bartender came over and said that if I wanted a food order it would take a while but he would try to rush it. So I ordered a pizza and I had just finished my first pint and ordered a Piranha Pale Ale when the pizza arrived. I had only planned on having a few slices and taking the rest with me but
I was talking with the three people next to me and they were waiting for a table and figured they
still had another thirty minute wait so I offered the rest of my pizza
which they accepted.
This BJ's is like all of the rest. The only difference is the college is close by so many of the students work here, which is sort of cool. I love Germaniac's deer in the headlights line, it is so true. At BJ's they cant screw up the beer as it is brewed off premise, so one only hopes the cook doing the pizza has been on the job for more than a week, sad but true.
1,405 characters
4
/5
rDev
+9%
vibe: 4 | quality: 4 | service: 4 | selection: 4 | food: 4
This is pretty much like most BJ's. And for Fresno, we will take what we can get! Before a big game at Fresno State University. Before a big Concert at the Safe Mart Center, this is a good place to go! The staff is sometimes very knowledgeable. The food can be better than OK, and for Fresno, we will take what we can get.
A small rack of taps of NO BMC! He** YEAAHH!!
They have the usual:
BJ'S BREWHOUSE BLONDE
HARVEST HEFEWEIZEN
PIRANHA PALE ALE
JEREMIAH RED ALE
PM PORTER
TATONKA STOUT
NUTTY BREWNETTET
They often have a Sierra Nevada special of some sort
they sometimes have the wonderful Owens IPA [good stuff]
Not a bad place to have a meal, family friendly and decent Beer as well!
721 characters
4.33
/5
rDev
+18%
vibe: 4 | quality: 4.5 | service: 4 | selection: 4.5 | food: 4.5
This is a great place to go for dinner. The beer selection is great, they have about 8 or 9 of their own beers and about 8 or 9 guest beers. So the selection is great and the serve the beers in their appropriate glasses, which is nice. The food here is really good, I have tried about 4 or 5 different things and everything is pretty good. Everything that I have had there I would order again. Especially the artichoke and spinach dip appetizer, this is great. So if you are looking for fun place to have dinner, have a few beers and the food is good, give this place a try.
574 characters
3.35
/5
rDev
-8.7%
vibe: 3 | quality: 3 | service: 3.5 | selection: 3.5 | food: 4
Oh man, I was NEVER planning on reviewing this place. But somehow, it got added to the Fresno Beerfly. Now, I can't just leave it hanging, although it's pretty much identical to the 10,000 other BJ's in this fair land.
Faux industrial, some fancy brickwork, and dark paneling in a big open area. Always crowded, though half the people in the bar area always seem to be drinking longneck Buds, and look like they just fell out of an Ambercrombie and Fitch catalog. Of course, it's not too far from Fresno State, and there's really only a few bars in the area. Uninformed college kids have to drink, too!
Full range of "house" brews available, with some decent special taps. About a month ago, it was Grand Cru. Last years SN Bigfoot Ale popped up awhile ago, too. Small selection of Belgian bottles, some shit you won't find anywhere else in the Fresno area-Tripel Karmeliet and Petrus, to name a few.
The food is always top notch, although I can only truly vouch for the Buffalo wing pizza, the nacho plate, and the French dip sandwich.
Quick, friendly service by young chicks, really can't beat that. They never seem to know much about the beer, but always know who to talk to for info. Sometimes it's fun just to ask, just to see the deer in the headlights look. If you find yourself in Fresno, on business, or maybe you took a wrong turn somewhere, this place is on the (very) short list for decent beer around these parts.
1,440 characters
BJ's Restaurant in Fresno, CA
3.67
out of
5
based on
8
ratings.