Celtic Bayou
BEER AVG
-
none
Awaiting 10 Ratings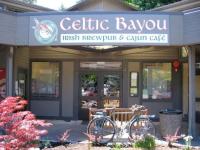 PLACE INFO
Type:
Brewery, Bar, Eatery
7281 W Lake Sammamish Pkwy NE
Redmond
,
Washington
, 98052
United States
(425) 869-5933
// CLOSED //
Notes:
No notes at this time.
Added by BeerAdvocate
Ratings: 5 | Reviews: 5
Reviews by beerceller99:
3.83
/5
rDev
-7.3%
vibe: 4 | quality: 4 | service: 3.5 | selection: 4 | food: 3.5
Located in Redmond just north of Marymoor county park and state highway 520. It's in an unassuming strip mall... a bad location for such a fine brewpub. Parking is atrocious; there are very few stalls and they're pretty narrow, plus you're reminded not to park in front of the other businesses during weekday afternoons. The inside of the place has a smallish feel to it with an elevated bar with maybe a dozen stools. The booths and the decor are top notch here. Forget about finding a booth if you're here in late afternoon- the place is usually packed. Nice variety of beers on tap here-pilseners, stouts, IPA, and red ale. The food is decent with the bangors and mash being my favorite, it's a bit pricey, though.
Except for the lousy location, a great brewpub and worth a visit if you're in the area.
808 characters
More User Reviews:
4.25
/5
rDev
+2.9%
vibe: 4 | quality: 4 | service: 4.5 | selection: 4.5 | food: 4
Let me start by saying that I have had tremendous resistance for over two years to even setting foot in the Celtic Bayou. Personally, I have regarded the Cajun-Irish syncretism concept so ridiculous that I wouldn't entertain the idea of patronizing this Redmond, WA brewpub. That was my own personal hangup and today I came to discover how much I've been missing. Recently, I came across a couple Far West Brewing Company beers and they were very good, so I decided to taste-test my pride, if not swallow it altogether.
We were able to get a table at noon, and there were a few dozen people already dining and drinking. Custom artwork of the various Far West beers adorn the walls between a lot of wooden … well everything. The floors are parquet, the walls are wainscoting, the fireplace, etc all wood. It's a warm inviting place to spend some time.
The wait staff was courteous and knowledgeable. There were five or six offerings on tap from Far West, whose brewery is on the other side of the wall, and several more beers from other breweries. We had their ESB and IPA, both of which were good; the ESB standing out as a very fine beer. We ordered burgers and fish and chips, which were high quality and arrived pretty soon after we ordered them. The burger was ½ pound and they even honored my medium-rare request with a genuinely pink patty, which is increasingly rare these days (no puns whatsoever).
The entire bar is non-smoking, kid-friendly, and a nice place to enjoy some good food and some very good beers.
1,532 characters
4.08
/5
rDev
-1.2%
vibe: 4 | quality: 4.5 | service: 3.5 | selection: 4 | food: 4.5
So we're up at the cabin, having a few beers and enjoying a beautiful day in North Bend. The sun is shining, Mt. Si is beautiful, and there's a bunch of really loud fat broads down on the river trying quite unsuccessfully to hoist thmselves into the rafts that they brought, so they mostly wade instead. Inspired by the natural beauty, my dad says "Hey, on the way back (since I'm headed up north to Lynnwood, instead of home to Bremerton) why don't we stop at Celtic Bayou for dinner?"
I suppose it's only fitting that a brewpub celebrating two lands as steeped in mystery and legend as Ireland and Louisiana should be located in a similarly mythical locale: Redmond, WA. Redmond is legendary throughout the world, as it is the home of Microsoft. It's also a land of legend throughout Washington, because most people will say, "Just where in the fuck is Redmond, anyway?"
Redmond is to Seattle as the guy that lives next door is to me. I know he's there, because I see lights come on periodically in his house. I also hear his garage door open, his mail flap slam and sometimes, just sometimes, I see his crappy red Dodge coupe back out of the garage and putter off down the street. But I rarely see the guy himself. That's Redmond.
Now, I'd love to be able to tell you, "Let ME tell you how to get to the Celtic Bayou", but I'd get you lost, you'd get pissed off and end up having to eat a corn dog from AM/PM with a bottle of Redhook Blonde as an accompaniment. So, please, use Google Maps or RoyalT instead. Not only did we not take 520 to get there (as I believe it is almost at the end of 520, just past the Microsoft campus), we took one of the many Redmond-Duvall/Fall City-Redmond/Redmond-Woodinville/Somefuckingthing-Redmond roads that litter the ass-end of King County. But got there we did, and I'll be damned if I'm not thrilled about it.
Celtic Bayou is located in a strip mall that is shaped just like my kitchen counter (an L-shape, for those of you who've not been over to Knuckles' Central - which I guess would be almost all of you. Man, I'm a suckass.). And if it were my kitchen counter, Celtic Bayou would be my sink (right in the elbow of the L, and a really annoying place for a sink). For the record, there's a bird shop in the spot where my dishwasher would be, and a 7-11 where my kitchen table is.
Atmosphere: The layout is kind of funky. You walk into a foyer type area that is lined with four tables on each side. This place screams 'Azteca' when you get in there, but in a Cajun-Celtic lilt. In front of us, past the tables is the sign that says, "Please seat yourself", beyond that is the bar, and other seating by the toilets (always important), and a door leading out to a beer garden. We are temporarily confused by the sign placement, and then grab a table.
Quality: Far West Ireland has two beers that are frequently found around Seattle, the Connaught Ranger Pale Ale and their St. Brigid's Blonde. I don't care for either of them, so I get a couple of tasters of their Red and their ESB. Both surprise me, as they are frickin' delicious. After I shout out, "Hooo boy! Dey wondermous!", I quietly order the ESB. Matt gets a Red, Dad gets a Porter, the boys and my mom get water (damn straight!). All are quite solid, but I feel the ESB is definitely the best of the bunch.
Service: Enh, I've had better, I've had worse. They had one guy working the floor of the entire restaurant, and he seemed to do a pretty good job. He got us our beers fairly quickly, was a little slow to reload our waters, and the food was a little slow coming out of the kitchen. Other than that, it was fine. Nothing really to complain about, but nothing to really laud as well.
Selection: Dude, it's a Cajun/Irish/Anglo restaurant. How much more freakin' selection do you need? It'd be kind of cool to be able to get a Dixie there, but I had alligator stew for dinner. In Redmond. Land of myth, mystery, and an assload of strip malls.
Food: Excellent. Matt's from the South, and he was just sort of hanging out with us today (he had nothing better to do, and I envy him for that). He rates all Southern restaurants by the quality of their jambalaya, and gives this two thumbs up. Not the best he's ever had, but by far the best he's ever had in a brewpub. I'm not really sure what kind of statement that is, but it's there for all of you to enjoy. Their kids menu is a bit uninspired, but I find that quite frequently. However, it beats the crap out of the Issaquah Brewhouse.
Value: Sadly, this place is a bit spendy. The pints are $4.25, and there are very few entrees under $10. To offset the pain of that, kids eat free on weekends.
If you can find this place, by all means eat and drink there. It's spectacular. However, if you need directions, ask someone else because I'm completely fucking useless in Redmond, and have every intention of keeping it that way.
4,917 characters
4.22
/5
rDev
+2.2%
vibe: 4 | quality: 4 | service: 4.5 | selection: 4 | food: 5
Atmosphere – The cheesy location (in a strip mall by the freeway) is quickly replaced by a welcoming atmosphere once inside the pub. It's actually below the freeway so you don't get any noise or smog even when the front door is opened. The eating area in the foreground has six large booth-style tables. The bar is behind that and there are a bunch of four-tops in the back.
Quality – This was started by a group of successful businessmen from Microsoft, so it is not outfitted with a bunch of cheap décor. Everything is top notch.
Service – My wife and I visited on a Sunday afternoon, so the professional wait staff was not on shift. However, the dude that waited on us was patient, helpful, and was there to serve.
Selection – If you measure selection by the number of difference ales available, this one comes up snake eyes. But, if you go to a brewpub to sample the beers they're making, this is a hit. There are a standard eight items ranging from porter and stout to hoppy NW ales to authentic German pils and hefe weizen plus seasonal and special offerings.
Food – This is where the Celtic Bayou shines. I was in New Orleans a few months ago and have been clamoring for a taste of authentic Cajun cooking ever since. I found it here in spades.
I had a Cajun chicken sandwich that knocked my socks off. EXACTLY like they serve everywhere in New Orleans. The fries were Cajun seasoned as well. This was very spicy fare indeed and not for the faint of stomach. The meat was over an inch thick and perfectly cooked, the seasoning hot and spicy, and the greasy remoulade was so good I ordered an extra side and dipped my fries in it.
My wife had the jambalaya with chicken. The Andouille sausage was excellent and the rice was (again) perfectly prepared and heavily seasoned. There had to be a full dry cup of paprika just in the stew. She had a vegetable side consisting of fresh corn, black beans, green peppers, tomatoes, and lots of juicy spices along with to-die-for corn bread that was light and fluffy.
She started things off with a couple of oyster shooters. I'm not a big fan of seafood, but she grew up in Maine and is a tough critic of all things from the ocean. She said that these were some of the best oysters she has ever had. They were huge, flavorful, and covered in a chunky tomato and onion sauce.
Update: On a return visit I had the ,"Rice & Beans," which is rice, red beans, and Andouille sausage in a creamy sea of spicy brownish Cajun sauce. Awesome!
Update: The fried chicken "appetizer" is a meal in itself. The batter is very thick and heavy and the chicken comes on a bed of fries. I also had a house salad loaded with fresh vegetables and topped with a dark, heavy balsamic vinegarette with a strong oregno accent. Another great dish.
Also, subsequent visits have shown the service to be very good even when crowded, so I'm raising the rating from 4.0 to 4.5.
2,933 characters
4.28
/5
rDev
+3.6%
vibe: 4.5 | quality: 4.5 | service: 4 | selection: 4.5 | food: 3.5
The Celtic Bayou is in a strip mall by the freeway in downtown Redmond (only yards from a 7-11). Once you walk inside, you quickly forget that fact as the decor is not your standard bar fare. The entry walkway is flanked by 6 large wooden booths that could easily sit 6 people. The food selection is all about cajun cooking and traditional Irish/English foods like jambalaya, gumbo, and bangers and mash. The beer list has 8 in house beers and a only a few select out of house brews. The waitress we had was pretty good about checking up on us and the food came quickly. The only complaint I had was that they messed up my order. It was, however, corrected quickly and was smooth sailing otherwise. If you are in the area, check this place out. The brews are good and the food is a decent change from standard american fare.
(second visit) Service was absolutely fine this time. Bumped up quality and service ratings to reflect.
941 characters
Celtic Bayou in Redmond, WA
0
out of
5
based on
0
ratings.