Gage Roads New World Wheat
| Gage Roads Brewing Company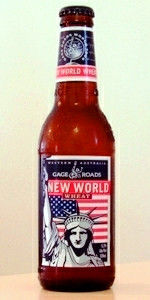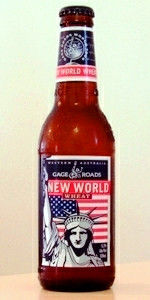 BEER INFO
Brewed by:
Gage Roads Brewing Company
Australia
gageroadsbrewing.com
Style:
American Pale Wheat Ale
Alcohol by volume (ABV):
5.20%
Availability:
Rotating
Notes / Commercial Description:
No notes at this time.
Added by LittleCreature on 04-16-2008
HISTOGRAM
Ratings: 5 | Reviews: 5
Reviews by foles:

3.16
/5
rDev
+16.2%
look: 4 | smell: 3 | taste: 3 | feel: 3 | overall: 3.5
Pours a golden hazy yellow, with a creamy full head typical of a wheat beer. Light on flavour, with the slightest hint of something there. Subtle touch of spicy hopiness on the finish.
Not bursting with character, this beer is clean and does not offend with any off flavours.
Quite drinkable on a hot day. But certainly not a great beer.
340 characters
More User Reviews:
2.39
/5
rDev
-12.1%
look: 3.5 | smell: 2 | taste: 2.5 | feel: 2 | overall: 2.5
Poured into a Krombacher Pils Glass!
Overall, weak aroma, with a touch of watery noble hops in flavour, with no bitterness...sadly after a few mouthfuls this get watery with no real taste at all...eeww!!!
A: Slightly hazy golden, with nice head, average head retention, but good lacing
S: skunky straight up, definately didn't smell like a wheat beer. Sulphury, not much else...quite poor...although did give a hint of bread & sweet biscuit as it warmed.
T: Slightly sweet, not too wheaty, thin & little too bland. Touch of noble floral hops. Little zinc on finish, with no real discernable bitterness. Taste had a little more punch than aroma...just!
M: Thin & very watery...
D: Not really!!!! This might be a good palate cleanser over a spicy meal, but for complexity & fullness I am disappointed.
One plus about this is its better than their wahoo...JUST!!
Gage Roads are a real hit & miss!
901 characters
2.98
/5
rDev
+9.6%
look: 3 | smell: 2.5 | taste: 3 | feel: 3 | overall: 3.5
Not used to American Wheat as an available style in Australia.
a) Pale golden yellow. Thin white head. No haze
s) Funky, wheaty perfumed nose
f) Fairly straightforward. Nutty. Perhaps some lolly candy note. In fact, there is even the slightest of citrus, which makes me see this as an almost precursor to those wretched radler styles that are in vogue. That being said, it's beginning to grow on me as a decent session ale.
m) Slight tingly up front, not much length. A lawnmowing throw-down....
d) Very drinkable... thirst quencher
534 characters
2.51
/5
rDev
-7.7%
look: 3 | smell: 2 | taste: 2.5 | feel: 2.5 | overall: 3
A - Fairly clear light golden colour with a couple of centimetres of fluffy white head that falls away quite quickly.
S - Some grainy malt hints on top of a over boiled vegetable aroma.
T - The slightly sweet maltiness gives the taste a bit of a kick but still it is fairly bland.
M - Pretty light bodied with a medium carbonation level.
D - Nothing horrible, just bland. Nothing to make it stick out. Can't wait for the next stop...
Brings new meaning to the saying "just because it's craft beer doesn't mean it's good
520 characters
2.58
/5
rDev
-5.1%
look: 3 | smell: 2.5 | taste: 2.5 | feel: 2 | overall: 3
Appearance - 3.0
The finger and a half of creamy white head reduced steadily over a clear orange-gold body.
Smell - 2.5
Oddly there is a slight skunked smell, not typical to wheat beers. Other aromas are of sweet wheat malt, grassy hops, stale hunk and grain.
Taste - 2.5
I can scarcely tell this is a wheat beer, tastes more like a reasonably good macro lager. Slightly sweet, grain and husk flavours, hint of citrus, low to moderate hop presence in the dry finish.
Mouthfeel - 2.0
Low carbonation, feels moderately weighted with none of the creamy lightness I like to associate with wheat beers.
Drinkability - 3.0
Like Beez Neez, this is a beer for the masses that leaves nothing for the enthusiast. I won't buy it again.
OVERALL - 2.6
Gage Roads must make the craft beers that appeal most to the masses, and as such, the most boring craft beers. Why bother with a beer world tour and purity of ingredients when what comes out is the same as out of the large breweries. Not a bad beer, but rather poor for a supposed craft beer.
1,052 characters
Gage Roads New World Wheat from Gage Roads Brewing Company
Beer rating:
2.72
out of
5
with
5
ratings