Dismiss Notice
Gage Roads Premium Lager
| Gage Roads Brewing Company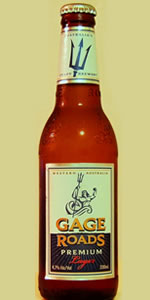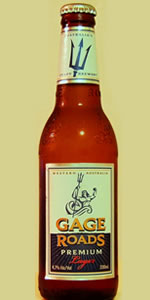 BEER INFO
Brewed by:
Gage Roads Brewing Company
Australia
gageroadsbrewing.com
Style:
Euro Pale Lager
Alcohol by volume (ABV):
4.70%
Availability:
Year-round
Notes / Commercial Description:
No notes at this time.
Added by LittleCreature on 11-11-2008
HISTOGRAM
Ratings: 14 | Reviews: 8
None found.
More User Reviews:
1.37
/5
rDev
-49.8%
look: 1 | smell: 1.5 | taste: 1.5 | feel: 1.5 | overall: 1
A: urine yellow, kinda like the wahoo. Almost no head. Poor lacing.
S: apple juice (this perception is possibly aided somewhat by the colour). A vague meatiness. Not overly pleasant.
T: apply malts, like a poor man's coopers PA (which I'm not a huge fan of). Occasionally you get a very mild bitterness coming through.
M: meh.
D: can barely be bothered finishing a third of a bottle, frankly.
396 characters
2.93
/5
rDev
+7.3%
look: 2.75 | smell: 2.75 | taste: 3 | feel: 3 | overall: 3
Grainy sweet malts little watery
32 characters
3
/5
rDev
+9.9%
look: 3 | smell: 3 | taste: 3 | feel: 3 | overall: 3
I'll start with saying I'm not big on Lagers, this was on special at Woolworths Liquor so I gave it a try as I don't mind the Gage Roads IPA.
Appearance: Pale golden, head dissipated very quickly.
Smell: My sinus are kind of blocked at the moment but I can pick up the grassy aroma.
Taste: Grainy and sweet malt biscuity, fortunately not too strong a metallic after taste like most domestic lagers.
Mouthfeel: Very lightly carbonated, kind of thin and watery but still rather smooth and soft.
Drinkability: As I said Lager's really not my thing, I'm kind of struggling on my second one which is more to personal tastes than quality of the beer. I would much rather a German Pils or a Pale Ale for a session beer. It's not a bad beer but I definitely won't be buying it again.
780 characters

3.21
/5
rDev
+17.6%
look: 2 | smell: 3.5 | taste: 3 | feel: 3.5 | overall: 3.5
When you see the words 'premium' and 'lager' on the side of a beer bottle, generally it's best to avoid that particular brew. Gage roads, however, impressed me with their Sleeping Giant IPA for being such a sessionable, reasonably tasty beer. So I have decided to try their lager- out of hope that there are actually some decent domestic lagers out there.
A- It certainly isn't all that inspiring-looking. It's just a generic fizzy, golden lager with a very poor head which adds nothing to the beer at all. Any kind of lacing on the glass disappears within milliseconds. On the positive side, it remains fairly consistent with a steady bead of bubbles. The appearance is what I would call the least important attribute of a beer, so I'm hoping this one can pick itself up from here on...
S- This beer is light, but it definitely has more on the nose than I would expect. There's a fair bit of sweet grain with some malts and a rather pleasant nut character. Also, some grassy hops add some general character to the mix. While not complex or overbearing, it's good in its own way. Compared to the many of the other domestic macro lagers, this is pretty nice smelling. Now on to the all-important taste.
T- Following on from the surprisingly distinguishable nose, frankly I expected a little more from this taste-wise. Although, there is nothing wrong or off-putting with this taste. It's pretty grainy throughout yet has a nice sweetness on the front end. There is a very small, almost undefined hop character to this which detracts a little- simply from it being so small. Mostly, this finishes clean albeit with an ever-so-slight nutty twist.
M- Well, it certainly feels good for a lager. I like the stickiness to the tongue and the good body this beer sports. The carbonation actually plays an integral role in the character of the beer, as opposed to simply being there so the general public can down it without a second thought. It's not perfect, but for a lager? Not bad at all.
O- Gage Roads Premium Lager is a rock solid, if a little trite, domestic lager. Definitely, this is better than any of those big name atrocities. It is certainly far from perfect, though. The flavours need to be brought out more and better defined. Yet, it wasn't a bad drop.
2,266 characters

2
/5
rDev
-26.7%
look: 1.5 | smell: 1.5 | taste: 2 | feel: 2.5 | overall: 2.5
Rebranded as "GAGE (!) PREMIUM LAGER", this is apparently "Batch Brewed" and "Extra Smooth". Let's see, shall we?
Pours a piss-yellow, uninspiringly light colour, with a filmy white oily-laced head and a stream of carbonation that makes it way boisterously to the surface, as though it can't stand to be confined in the beer. Some slick lacing that falls off as soon as it's created. Not a great looking beer. In fact, almost the prototypical poorly shaded brew.
Grainy nothingness on the nose. Very light and unpleasant, with very mild characters throughout. Seriously. There's a faint hint of cereal to it, and nothing else. Blech.
Taste is clinging, but relatively clear for the most part. There's a grainy, mildly unpleasant character that stays and overwhelms everything else though. It's like clear water at the beach which still rises up and dunks you. Not all that unpleasant in isolation, but situationally problematic. Corn cereal characters still dominate, which is a genuine drawback.
It's not really that offensive, in objective terms, but there's so much wrong with it. It's watery, it's weak, it has very few genuinely interesting characters... the list goes on. Interestingly, I drank this after XXXX Summer Bright Lager, and the former was a much better beer, because it provided something without pretense: a genuinely light, easy drinking lager. Maybe the "Premium" on the label just raises my hackles, but this is bland, bland, bland, and pretends it's something better than it is.
Shite.
1,513 characters

2.54
/5
rDev
-7%
look: 2 | smell: 3 | taste: 2.5 | feel: 2 | overall: 2.5
A - A clear efferevescent amber body, two seconds of small fizzy head with no lacing.
S - Light grassy hops, grain and the faintest yeast.
T - Follows the nose with grass and grain, some biscuity malt. Mild.
M - Thin and watery with medium carbonation. Summer thirstquencher material.
O - Inoffensive and superior to many pale lagers but in the end, it's fairly flavourless.
378 characters
2.36
/5
rDev
-13.6%
look: 3 | smell: 2 | taste: 2.5 | feel: 2 | overall: 2.5
I cant believe they changed this beer as i must admit i didnt mind the old malt driven lager as opposed to this style but anyways onto the beer,it poured a pale see thru straw colour with sparkling carbonation that leaves a fast vanishing head with no lacing at all i actually had to check the bottle to make sure i wasnt drinking their pilsner as i find them pretty identical looking,it has a fruity hoppy smell with a lingering off wine,yeasty smell in the background not nice smelling at all in my books,it has a thin mouthfeel and basically tastes like Gage Roads take on the macro swill thats out there with a yeasty,barley taste to it im so dissapointed with this brew as they can do way better.
701 characters

2.77
/5
rDev
+1.5%
look: 2.75 | smell: 3.25 | taste: 2.75 | feel: 2.25 | overall: 2.5
I was cleaning out the cupboards and stumbled across this one! No BB date but there is not dust on the bottle so it can't be too old.
A - golden brown, pours a very thin (almost nil) white head, clear
S - Malts with a hint of melon and floral odours. Not really strong, but more noticeable than other aussie lagers
T - sweet malty flavour, some honey with a faint bitterness at the end.
M - thin, watery, slight metallic taste, moderate texture - not too dry, typical for this style
O - Standard aussie lager fair, not as bland and metallic as some, but it im taking points off for the misuse of the word premium, which this beer certainly isn't.
652 characters

3.23
/5
rDev
+18.3%
look: 3.5 | smell: 3 | taste: 3 | feel: 4 | overall: 3.5
Note: this is the beer that has replaced Gage Roads Pure Malt Lager, after Gage Roads dediced that the old beer had too much malt flavour for the liking of most drinkers.
Appearance - 3.5
Pours a finger of white head that reduced to a thin layer over a pale gold body. Left nice lacing on one side of the glass.
Smell - 3.0
Pale malt sweetness, grain and a little grassy hops.
Taste - 3.0
What is immediately evident is that this very sweet for a pale lager. Plenty of grain flavour, hops give little flavour, but moderate bittering to balance the sugary sweetness.
Mouthfeel - 4.0
Slightly sticky, and thick for a pale lager, although the carbonation is fine and the beer goes down very smoothly.
Drinkability - 3.5
Sessionable, the sweetness is the only aspect that detracts from drinkability.
OVERALL - 3.25
I would choose this beer over the majority of the Euro Pale Lagers available in Australia. An average beer.
942 characters
Gage Roads Premium Lager from Gage Roads Brewing Company
Beer rating:
2.73
out of
5
with
14
ratings