The Convict Australian Strong Ale
| Gage Roads Brewing Company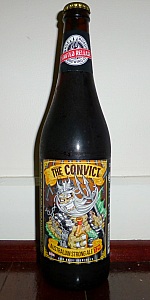 BEER INFO
Brewed by:
Gage Roads Brewing Company
Australia
gageroadsbrewing.com
Style:
American Strong Ale
Alcohol by volume (ABV):
7.20%
Availability:
Limited (brewed once)
Notes / Commercial Description:
No notes at this time.
Added by dgilks on 01-30-2013
This beer is retired; no longer brewed.
Reviews: 9 | Ratings: 19

4.02
/5
rDev
+16.5%
look: 4.25 | smell: 4 | taste: 4 | feel: 4 | overall: 4
The best beer out of these guys in some time - this is definitely inspired by Stone AB, but all Aussie ingredients - including hops! Deep copper, aggressive hops on the nose, but maybe a touch too grassy. Follows through in the flavour, cut in half by a lovely caramel malt backbone. Very dry and bitter on the finish with the hoppiness following through nicely. The rich (but dry) maltiness and aggressive hops work a treat together. If anything maybe not quite enough body for a big 7.2% abv beer. But very enjoyable.
519 characters

3.72
/5
rDev
+7.8%
look: 3.5 | smell: 4 | taste: 3.5 | feel: 3.5 | overall: 4
From Danno's. No BB. Priced at 6.95.... A steal.
Pours a deep amber cum copper. One finger head. Fades to film and lace everywhere on swirl.
Powerful aromas of hops, hint of apricot. Malts too, caramels.
Taste is an odd affair. Quite dry and bitter. Serious malt backbone. Caramels almost to the point of vanilla, but I doubt this has seen a barrel!! Dry finish, almost too dry.
Mouthfeel medium bodied, lightly carbonated. Not obviously 7.2% on the palate. Would' be easy to get hammered on this.
Overall, a surprise package from these guys. They do, in fairness make other very solid beers, just not exceptional. This seems to be above those. Good stuff, especially at price point.
688 characters
3.66
/5
rDev
+6.1%
look: 4 | smell: 3.5 | taste: 3.75 | feel: 3.25 | overall: 3.75
A: Pours a clear dark bronze, almost red, color with a good tan head that fades to ample lacing.
S: Aroma of dark fruits, roasted malt and spices.
T: Taste of dark fruits and spices with some roasted malt. Mild bitterness and a fairly dry finish.
F: Medium body, quite smooth and flavorful. Nice balance.
O: Enjoyable beer and an easy drinker. Worth a try.
364 characters
3.5
/5
rDev
+1.4%
look: 3.25 | smell: 3.25 | taste: 3.75 | feel: 3.25 | overall: 3.5
Drank from my Duvel tulip
A - Pours a nice clear mahogany colour with a small off white head that retains as a film and laces.
S - Mainly caramel malt and hop profile, a little sickly.
T - Up front some nice hops overshadowed by caramel malts. A little smokeyness with a bitter finish. The alcohol is well hidden. It tastes a little like a low ABV english barley wine.
M - Medium body with medium carbonation and quite smooth.
O - A big improvement on their other brews so far which I largely avoid. I'm not really sure what an Australian Strong Ale is, but it makes it more difficult to critque.
601 characters
3.46
/5
rDev
+0.3%
look: 3.75 | smell: 3.25 | taste: 3.5 | feel: 3.5 | overall: 3.5
Interesting sounding new Gage Roads product using 100% Australian malt and hops. An impressive 80 IBU and using a range of interesting hops.
Hazy burnished amber colour with a small off-white head. Poor head retention.
Oddly earthy aroma. Touches of tropical fruit. Light caramel malt. Okay.
Interesting flavour. Surprisingly bitter for a beer by a pseudo-craft brewery. Nice hop character which is earthy and fruity. The malt is there too. It could be more refined but it ain't bad.
Medium body with moderately-high carbonation. Okay.
A decent beer. It isn't going to win an award but it's drinkable and a worth effort.
635 characters

3.42
/5
rDev
-0.9%
look: 3 | smell: 3.5 | taste: 3.5 | feel: 3 | overall: 3.5
Gage Roads are a bit of a "hit and miss" brewer from all the beers of theirs I've tried, and now they've released a convict... oh boy, this could be so so bad. Almost every "Australian styled" beer I've tried has been a massive disappointment and I believe it is because we have mimicked other beer styles but have not brought anything new to brewing... this same theory applies to our cuisine as well. Maybe, just maybe Gage can pull a rabbit out of their hat.
Poured from a 640ml bottle into a nonic pint.
A: Clear mahogany body with a light off-white lacing - tried to hard pour it and couldn't get head... yes, that was a double entendre.
S: Aroma is nothing like anything I've ever come across in a beer, it has a mixture of: dirt, mango, jackfruit, and a certain woody fragrance I cannot seem to place (like something from a joss stick). It's a dirty aroma for what is expected to be a dirty beer, convicts are after all stereotypically dirty.
T: Rather restrained from what is expected. Its an interesting mix nonetheless of the above, expect the dirt - dirt has no place in a glass of beer. This brew starts out with a burnt, almost bitter-sweet caramel malt base, adds a touch of molasses and mixes in that tropical hop flavour and finishes with a dry above average, we're talking for an Australian beer, bitterness.
M: Medium bodied with a borderline high carbonation.
D: 6 malts and 4 hop types I don't really see. Intriguing brew but not the Australian Ale savour I've been waiting for. That being said as noted at the beginning of this review there isn't really anything out there cuisine-wise that I would consider a true "Australian style", and I believe the two biggest reasons for this is a) Everything unique has been done already, and b) Australia is a relatively young nation in comparison to the rest of the world, give it time yo. Well I'll continue tasting, but who tastes the tastemen?
Food match: A true Australian brew would work well with seafood, not 'fush and chups' as they would say in NZ but real seafood: Barramudi, Kingfish, Tiger Prawns, and Moreton Bay bugs, with the usual accompaniments.
2,132 characters

3.33
/5
rDev
-3.5%
look: 3.5 | smell: 3 | taste: 3.5 | feel: 3.5 | overall: 3.25
Bottle: solid brown 640mL longneck with a fun and funky craft label.
Appearance: mid-dark amber in colour with light fizzy carbonation. A fluffy head pops up and dissipates to a thin white head. Nothing extra special, to be honest.
Aroma: a very odd aroma - tonnes of earth (I would almost say dirt, really) with a fair dose of bitterness and some light caramel malts. Not sure if it is either really interesting, or really unpleasant - no matter how many times I smell it throughout the session.
Taste: all of the good qualities of the aroma come through without the unusual off-dirt. It is quite bitter, with a backing of indistinguishable malts and some biting hops.
Aftertaste: lingers fairly nicely, and not with the biting bitterness I was expecting. The entire flavour group comes through for some time.
Mouth feel: light to medium in body with a reasonably light but bubbling carbonation.
Overall: an interesting attempt at a strong ale, but I think it basically missed. A good ol' whack of earthen malts and bittering hops, but not that much in the way of discernible flavour. Add a cost of AU$65 a case of 12 x 500mL, and I think I'll skip it.
1,159 characters

3.09
/5
rDev
-10.4%
look: 2.5 | smell: 3.5 | taste: 3 | feel: 3 | overall: 3
A - Poured a fairly dark amberish colour with very little head that disappears quickly. looked very carbonated like a soft drink.
S - Get some strong sweet malts almost candy like along with some caramel and a hint of toffee.
T - Indifferent taste, very bitter with some hops together with subtle caramel malts.
M - Medium body with fairly high carbonation
O - Fairly nicely balanced with the sweet malts and big hoppiness but the bitterness throughout is a little too much for my liking.
492 characters
3.01
/5
rDev
-12.8%
look: 2 | smell: 3.5 | taste: 2.75 | feel: 3 | overall: 3.25
Pours dark brown with a small fading off-white head.
Nose shows some darker malt with toast notes and caramel, along with some soft tropical fruit and grassy hops.
Some more soft toasty malt as a flavour along with booze, some plainn cardboard malt notes, solvent-like booze and a little tropical hops.
Could use a richer body.
327 characters
The Convict Australian Strong Ale from Gage Roads Brewing Company
3.45
out of
5
based on
19
ratings.