Weltenburger Kloster Oktober-Festbier
| Klosterbrauerei Weltenburg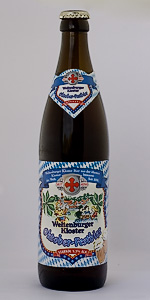 BEER INFO
Brewed by:
Klosterbrauerei Weltenburg
Germany
weltenburger.de
Style:
Märzen / Oktoberfest
Alcohol by volume (ABV):
5.30%
Availability:
Fall
Notes / Commercial Description:
No notes at this time.
Added by bark on 09-19-2006
Ratings: 8 | Reviews: 6

3.71
/5
rDev
+6.6%
look: 4.25 | smell: 3.75 | taste: 3.5 | feel: 4 | overall: 3.75
3
/5
rDev
-13.8%
look: 3 | smell: 3 | taste: 3 | feel: 3 | overall: 3
A clear dark golden beer with a white head that leaves little lacing.
The smell is sweet, sugar and orange, some dry grass.
The taste is also mostly sweet, lemon and pears acidity, some peel bitterness.
Medium carbonation, a sweet sugary feeling, a slightly dry finish.
Nothing extraordinary to me in this beer.
315 characters

3.58
/5
rDev
+2.9%
look: 4 | smell: 3.5 | taste: 3.5 | feel: 4 | overall: 3.5
Setting: Poured into Tuborg cutglass stein, reviewed under medium low artificial light.
Filled up half of the stein: It poured a beautiful golden orange pristine brew with no apparent effervescence.
The head is enormous and "foamy" (pardon the redundancy) and fills the other half of the stein taking awhile to settle down at which time i swirl around trying to pick some aromatics. I get overwhelmed by a strong honey aroma which probably comes from the German hops used, the Vienna malts or both. Caramel starts to come through and then a pungent hop aroma reminescent of burnt grass (Think of Target hops). Biscuity/toasty aroma from the vienna malts on the back.
I take a few sips and i immediately feel a dry puckering astringency on the mouth. The bitterness is assertive which is the norm with Marzens. Medium carbonation which is suiting. The taste is of honey, caramel, biscuits, resin and grass as spoiled by the aroma. A slight sulfuriness and diacetyl from the lager yeast is also noticeable.
As it warms up the hop flavor develops a bit more adding depth to the beer and creating a much more interesting taste profile.
Kinda one dimensional, but enjoyable and true to style. Would pair well with goat cheese or many italian dishes. Should be flexible enough to pair with alot of different dishes.
1,314 characters

3.6
/5
rDev
+3.4%
look: 4 | smell: 4 | taste: 3.5 | feel: 3 | overall: 3.5
At first: If you are reviewing the label on the bottle - this beer should have the highest grade!!!
A: It pours golden with a large beautiful "fluffy" white head that stays really long leaving great lacings.
S: Dry malt - very bready. Nice and clean with some bitter hops.
T: A rather small sweetness to the malt, but the more dryness. Very bready, bitterhops are present togheter with some citric notes. Light roasted.
M: In the aftertaste, there is some sweetness, but the more bitterness and dryness. The body is a bit thin and the carbonation is moderate.
D: A nice Märzen. Goes down smoothly. If I'm offered this one again I won't be sad.
650 characters
3.36
/5
rDev
-3.4%
look: 3.5 | smell: 2.5 | taste: 3.5 | feel: 3.5 | overall: 4
Pours a light copper color with a large white foam. Nice.
Smell is a bit weird. Lots of butterscotch-like aromas in there, which I find a bit weird and surprising. It actually smells quite much for a lager, but I'm not sure if I like it that much...
The taste is pretty clean, malty, sweet with a little bitterness and a slight note of citrus. Mostly this is a malty beer. No trace of butterscotch here. Weird, but that's positive I think.
Mouthfeel is okay. Not that much carbonation. Good. Maybe a bit watery though.
Drinkability is good. I finished my beer too fast... now my glass is almost empty.
606 characters
3.71
/5
rDev
+6.6%
look: 4.5 | smell: 3.5 | taste: 3.5 | feel: 4 | overall: 4
Ah, another one of these nice german oktober-festbiers. I had quite high expectations on this one, and it sort of lived up to them.
Looks nice in the glass, light amber color with a large white head. Lots of lacing on the glass. Both the bottle and the beer in the glass are pretty beautiful
Doesn't smell too much, just som malts and some burnt notes.
Tastes better! Malts and a decent bitterness. Some butterscotch notes with a slight citrusness, really nice! Really good palate too.
I really enjoyed this one!
516 characters
3.43
/5
rDev
-1.4%
look: 4 | smell: 3.5 | taste: 3 | feel: 3.5 | overall: 4
The colour is deep yellow; the large head is off-white and airy. There is lots of lacing.
The smell is fresh with lots of dry malt, hints of yeast, diacetyl and some clean bitter notes.
The taste is malty with some sweet/buttery notes. It is a rather uncomplicated brew with a weak body. The aftertaste got some fruity bitterness and a hint of margarine.
The carbonation is milder than the average lager: Small bubbles.
On one side, this one is quite light and simple. On the other hand, it is extremely gulpable. Prost!
536 characters
Weltenburger Kloster Oktober-Festbier from Klosterbrauerei Weltenburg
3.48
out of
5
based on
8
ratings.