Devil's Alley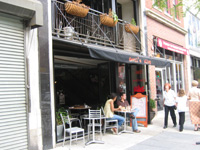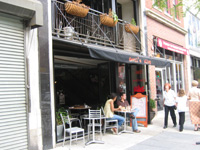 Bar, Eatery
1907 Chestnut St
Philadelphia
,
Pennsylvania
, 19103-3500
United States
(215) 751-0707 |
map
devilsalleybarandgrill.com
Notes:
Reviews by JohneHoodlum:
More User Reviews:


jmdrpi from Pennsylvania
3.79
/5
rDev
-1.3%
vibe: 4 | quality: 3.75 | service: 3.5 | selection: 3.75 | food: 4.5
had drinks and dinner here on a Friday night.
this is a restaurant primarily- the first floor is all dining tables, the moderately sized bar is on the second floor, with some additional dining tables along the edge of atrium (the center area of the first floor has some potted trees growing up to the skylights above. the atmosphere is hip, fairly dark, with a modern industrial rustic feel if that makes sense. red highlight lighting fills out the devil theme.
not a huge tap list, but it's all quality craft beer, and mostly local. good variety of beer styles. I had drafts of Yards, Sly Fox, and Long Trail. they have a small bottle list as well.
food theme is southern comfort food, and very tasty. everyone was very happy with their food. prices were on the high side, as expected in center city Philly. Food service was a little slow, but the wait staff was friendly.
Feb 02, 2014

rfgetz from New Jersey
3.7
/5
rDev
-3.6%
vibe: 3.5 | quality: 4 | service: 3.5 | selection: 3.5 | food: 4
Two floors with the bar situated at the front of the second level overlooking Chestnut Street and the room below, only about 12 seats at the bar, 3-4 high tops and 3 bigger tables up that way. Bottom floor is all seating for meals as well as the back of th eupper portion. A bit dark even with the fully windowed front, exposed beams and brick and some oddly placed plants.
About 8 taps, 4-6 are usually local craft and they always seem to try and get something in that isnt offered by other bars in the area. Nothing exceptional, but decent none the less.
Food is decent, higher end bar food. What it lacks in creativity, it makes up for in preperation. Service is decent, hit or miss with your mix of friendly and grumpy bartenders and servers.
Decent specials, but standard prices on some of the selections should be about a $1 cheaper... $6 for a local draft that rates a B on BA is slighty higher than it should be. They do have occasional beer events which adds to thier reputation.
Overall, not a bad spot to meet up with friends for a few drinks and some food, but not the kinda place a craft beer head will be spending countless days and night.
Feb 02, 2011

woodychandler from Pennsylvania
2.05
/5
rDev
-46.6%
vibe: 2 | quality: 3 | service: 1 | selection: 2
Two floors with the ground floor not even admitting me. Off to a bad start already. Oakle doakle! How about up in Heaven on the 2nd floor? Yep. A short, laminated blonde wood bar overlooked Chestnut Street. Slatted back bar. Exposed beams and ducting. Green plants down center with short aluminum chairs and black bakelite tables on either side.
Up here, it was Yuppie heaven. A conversation regarding wedding plans on my left among a group of airheads, "Like OmiGod, seriously" and a conversation regarding buying a bowl on my right. Who submitted this b.s.? I'm reaching for a gun... garbage.
Beer: Eight (8) drafts, 15 Bottles. No standouts.
Dec 03, 2009

philbe311 from Pennsylvania
4
/5
rDev
+4.2%
vibe: 4.5 | quality: 4 | service: 4 | selection: 4 | food: 3.5
A - I loved this place form the second I walked in... Great theme, simple and trendy, but not overdone in any way... The upstairts bar / dining area that overlooks the first floor is a very nice touch... A little on the cramped side, but that adds to the intimacy and charm...
Q - Overall a good spot... Decent food, nice tap selection, great decor, and respectable service...
S - Service was good... Went during a busy lunch hour... Had no complaints...
S - Nice tap list that focus primarily on local breweries... Carried some local brews that I wasn't especially familiar with... Since a lot of brews were local, it helped to keep the price for a pint quite reasonable by city standards...
F - Food was good, not great... Had a burger that I enjoyed, but far from best in class... The presentation which included french fries standing in the middle of a stack of onion rings was a nice touch...
V - Decent value for center city... About what I expected...
Dec 23, 2008
BabiakNo9 from Pennsylvania
4.15
/5
rDev
+8.1%
vibe: 5 | quality: 4 | service: 4 | selection: 4 | food: 4.5
A - Great atmosphere which heavily goes along with the name of the place. Great goulish artwork and a beautiful view from the upstairs; I love sitting up their in the early fall when the windows are still off.
Q - Above average for the area around ritten house. When they have private parties, all walk ins receive an appology menu and a free drink the next time they visit which is a nice touch.
S - Also above average. Once I went and my date knocked over her nearly full drink and the waiter brought her a new one at no extra cost. Can be a little hard getting food during the night time though.
BEER - Above average selection with some of Philly's favorites (Basically all of them). For me, it's great because if I take a girl there she'll love the atmosphere, food, and girly drinks, and I can still sip something respectable.
F - Try the salmon BLT or the beef brisket sandwich. Funky menu with many great things to offer. The Pizza app is also surprisingly good.
Great place to go if you're in for a funky place and you want to keep the bill below $100 and still drink and eat your fill.
Jul 24, 2008

far333 from Connecticut
4.33
/5
rDev
+12.8%
vibe: 4 | quality: 4.5 | service: 4.5 | selection: 4 | food: 4.5
Thanks to the BA directory for giving me the tip to head to this place during a recent trip to Philly. It was a weekday lunch hour, so the place was paaaacked, but we got a seat upstairs pretty quickly. Big place, two levels with tables on both levels and a moderate sized bar upstairs. Friendly, quick, attentive service. The wait staff apparently thought that we waited too long for our service (we did not think we did) and offered us a free round of beers for our troubles. The food was innovative, fresh, and delicious.
If I were local to the area I might not have been so impressed with the selection of beers. About 8 tap handles of local stuff. About 30 bottles, but lots of macro and run-of-the-mill bottled selections. But since I was not from the area, the tap list gave me a few selections to try that I don't see up north like Troeg's, Sly Fox, Lancaster, and Legacy. Any BA should be able to come here and enoy the atmosphere and the beer selections, but you may not see it as a beer destination where you find lots of new and exciting brands.
Oct 11, 2007
NeroFiddled from Pennsylvania
3.58
/5
rDev
-6.8%
vibe: 4 | quality: 4 | service: 3 | selection: 3.5 | food: 3.5
While I'm not fond of the area that Devil's Alley is in (no parking, college kids partying, etc.), I do still like the place. It's a pretty interesting looking place, and it's certainly not what I'd expect. It has a kind of a cafeteria or "lunch place" kind of feel, and the cut out upper floor is at the very least architecturally interesting. There are also the Juliette balconies that are nice. I like to sit there in the summer and just relax while life moves a little faster on the street below.
The food is pretty good, and while I think it may be a little over-priced, it is Rittenhouse. I love the grilled vegetable sandwich but it's $10. And the hot dog platter is weird, I don't care what they're stuffed with, for $11 you're still buying hot dogs. The ribeye is only $19 - I'd rather go for that except that I'm vegetarian, but you know what I mean. That said, I hear that the ribs are excellent, but I can't attest to it.
The beers, however, are not overpriced, which is a great relief. Pints are pretty much a standard $5, and bottles hover around there as well. Happy hour is 5 to 7 during the week, and they select a local draft and sell it for just $2! You kind of can't beat that. There are 8 taps: one is Yuengling, but almost all of the others are local (Stoudt's, Legacy, Victory, Dogfish Head, Lancaster), and I could be wrong, but it seems like Omegang Hennepin is always on.
So, in conclusion, it's not great but it's pretty good, and they've got the best beer selection (and reasonable wine list) within that little cluster of bars at 19th & Chestnut. Worth trying.
Jul 06, 2007
rmag6236 from New Jersey
4.53
/5
rDev
+18%
vibe: 4 | quality: 5 | service: 4.5 | selection: 4 | food: 5
Easter Sunday was my third visit to Devil's Alley (lured in by the offer of "Easter Pizza" - ham, sweet potatoes, veggies, just like Mom used to make!), this time in just as pleasant as the first. The downstairs dining room is urban-chic, with doors that open onto Chestnut Street when the weather's nice and an open kitchen. Upstairs is a bar and second dining area, with windows overlooking the street and a similar vibe.
On the eight-tap selection were all craft and local micros; Hennepin Farmhouse Saison, DFH Aprihop, Lancaster Milk Stout, Yuengling Lager, Legacy Brown Aled Girl and Midnight Wit, Stout's Golden Lager and Victory Prima Pils. Varied bottle selection highlighted by Arrogant Bastard Ale and Chimay (both $12). The Hennepin seemed perfect with the Pizza and the awesome St. Louis-style Dry Rub Ribs. Fair pricing on the drafts for all pours ($5 - $6). Well thought-out wine list also available. Our Our BT was knowledgeable and attentive, not too overbearing given the not-too-busy Sunday. Our last visit was on a Saturday so the service downstairs was a bit rushed, but the food was great that night too. If you're in the Rittenhouse Square area do yourself a favor and give it a try...a decent value compared to the average Square-area prices and a much better beer selection!
Apr 10, 2007

Gavage from New Jersey
4.43
/5
rDev
+15.4%
vibe: 5 | quality: 4.5 | service: 4.5 | selection: 4 | food: 4.5
Stopped in for a quick lunch after a business meeting in the area. Downstairs area was fairly empty and did not have a bar, so I followed the "Alley Bar' sign upstairs to sit at the bar. Its a smallish bar with about 10 stools, but I quickly noticed a nice array of PA tap handles. 8 taps total, but one was off. Selection was Yards Pale Ale, Phila Lager, Yuengling, Sly Fox Pils, Troegs Nut Brown, Lancaster Milk Stout and Legacy Euphoria. I like a place that serves local beers with a variety in styles.
Above the bar you see a small lineup of bottles, including some micros and macros. The refridgerator behind the bar looked a bit weak of stock of the beer lineup above the bar. No big deal though I was sticking with the tap beer. Beer I had was fresh and not too cold.
Food here is super. I had the dry rub St. Louis ribs with some fries and mac & cheese as the sides. Burgers looked great that were being served around me to. For a Philadelphia restaurant menu prices were in line with other reasonably priced places.
The decor is modern and wide open, as there is a big opening between the first and second floors. Big front windows give a nice view of the street.
I will definitely be hitting this place in future visits. When a place offers local beers and has good food, they will get my repeat business. If we only had some places like this in Jersey...
Nov 01, 2006
paddyos from Pennsylvania
4.08
/5
rDev
+6.3%
vibe: 4 | quality: 4.5 | service: 4 | selection: 3.5 | food: 4.5
Finally made it out to Devil's Alley. Very cool interior with exposed brick walls and long skinny room giving it a true alley feel. Tables and kitchen on the first floor that is overlooked by the 2nd floor wraparound balcony. Bar is located upsatirs in the front.
Didn't bother to check out the bottle list, but the taps were Lager, Stella, Heavyweight Lunacy, Paulaner, Lancaster Milk Stout which was kicked and something else that I can't remember right now. The Lunacy was excellent.
The food was excellent - Ribs wet with extra sauce on the side. The meat fell off the bone with the smallest touch. To die for Mac and Cheese with fried bread crumb topping, BBQ baked beans and slaw as well on the side.
Pretty low key crowd for a Saturday night, but I was just looking for a good filling meal and some beers and I was fully impressed. Will be back many times, especially being only 3 blocks away.
Feb 27, 2006
GeoffFromSJ from New Jersey
4.08
/5
rDev
+6.3%
vibe: 3.5 | quality: 4 | service: 5 | selection: 3.5 | food: 4
Summary: Nice new place that opened up last August. Food trends to bbq/burgers and is developing a nice reputation. People ask a lot of questions about the name but I have the answers.
Atmosphere reminded me of Triumph in Princeton, but not quite as conceptual. Downstairs with a big open upstairs. Open area upstairs so you can see what's going on below. The bar is upstairs if you want a seat there.
I sat at the bar and the server was exceptional (Jesse, tells me that he's there Friday's). Very attenttive. Talkative, but I like that.
Selection is pretty good and server tells me they have some plans. Some bottles aren't selling (Arrogant Bastard) and they'll replace them soon. Hop Devil and other noteables like Chimay were spotted on bottle. A lot of the macro beer was kept on bottle, and that's a good sign. Tap list was good. Yuengling, Paulaner, Stella, Yards ESA, Heavyweight Lunacy, Amstel Light, Brooklyn Brown, and Lancaster Milk Stout. So even the macros on-tap are the better macros. Server told me that 3 taps will be constant (Yuengling, Paulaner and either Amstel Light or Stella) while the rest will rotate. So given some time and support from good beer drinkers, this could turn into something nice.
Food-wise I only had one thing. Given the rumblings I've heard you may want to come for the food and stay for the beer. The bbq looks like it must be tried. I had the Devil's burger. The burger itself was good, but you can find really good burgers in a lot of places. Presentation was excellent. This one came with a cheese-based sauce on the side. I think they mixed it with a spicy red something (salsa, chili powder, something). Onion rings filled with french fries on top of the burger. Looks pretty. Next time I will go towards the bbq. There was an interesting avocado burger on the menu as well.
Ok the name. A lot of people ask this, and I have the answers. The building was owned for a long time by a group comprised of Messianic Jews, which are Jews who believe in Jesus. I know one of the previous leaders of the particular organization who owned the building. The new owner is Jewish and doesn't believe in Jesus. So she named it "Devil's Alley".
Pubcrawler notes: a short walk from Tria.
Feb 14, 2006
Devil's Alley in Philadelphia, PA
Place rating:
3.84
out of
5
with
14
ratings