Anthill Pub & Grille
BEER AVG
-
none
Awaiting 10 Ratings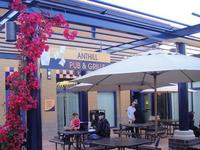 PLACE INFO
Type:
Brewery, Bar, Eatery
4200 Campus Dr
C215 Student Center
Irvine
,
California
, 92697-2050
United States
(949) 824-3050 |
map
Notes:
No notes at this time.
Added by BeerAdvocate
Reviews: 14 | Ratings: 17

4.5
/5
rDev
+11.9%
The UCI pub has a lot going for it:
- Great selection. 30 taps (some are ciders). Good variety.
- Cheap, especially for Irvine. $4.50 - $5 pints, $12-$13 pitchers. Happy hour from 4-7pm everyday
- The food is not bad, for pub fare.
- Tap takeover nights every Saturday during the quarter (check their Facebook page for the schedule).
- Open until 1am every night. If this does not sound special, then you have not lived in Irvine.
There are a few downsides:
- If you don't have a UCI parking pass, you'll need to park across the street from campus.
- It gets pretty loud and crowded inside, and you can't take your beer outside.
- No bar games inside. There is a pool hall next to it, but you can't take your beer there and it is not open on the weekends.
Overall, a great place for beer. Considering how few options you have in the area, if you live near the UCI campus you should go here.
892 characters
4.45
/5
rDev
+10.7%
vibe: 4.5 | quality: 4.5 | service: 4.5 | selection: 4.5 | food: 4
The UCI campus has a wonderful pub called the Anthill and I don't think their happy hour can be beat anywhere considering the prices and the offerings on tap. I am young and have no money so I can't afford the expensive tastings in San Diego or the rare growler fills around town so I go to the Anthill. M-F 4-7 all the pints (ALL) are $3, and pitchers $8 (48 oz). On Wednesday nights if you buy their logo pint glass for $4, they extend the happy hour until 10. If you haven't been I highly recommend it. If you know of any other great happy hours in OC let me know!
567 characters

4.37
/5
rDev
+8.7%
vibe: 4 | quality: 4.5 | service: 4.5 | selection: 4.25
Cash only and always a solid line up on tap. Have not had the food so cannot comment on that. They have events weekly as well. Parking cost some coin if you dont have a parking pass for UCI
192 characters

4.35
/5
rDev
+8.2%
vibe: 4 | quality: 4.5 | service: 4.5 | selection: 4.5 | food: 3.5
Wow, I'm greatly impressed with this place. A pub at a university, UCI, that has a better selection than 90% of the bars in Orange County CA, and that is the gospel truth. They had a little over 25 micro/hand crafted/imports on tap. I had the Stone Double Bastard, North Coast Red Seal, Maredsous Trippel and an Alesmith Wee Heavy Scotch Ale, very refreshing. Such a nice selection. Other brews from Boont, Hoptown, Paulaner, Lagunitas, Rouge, Fullers, Lost Coast, Anchor Steam, Bear Republic were tempting me to drink the night away. The have several draughts on rotation and I just missed the Alesmith Speedway Stout. Some Unibroue Maudite seems to be coming soon. That atmosphere was pleasant with about 5 pool tables, a long bar, big screen, 20 tables and a small amount of students. Service was great from the bar, very friendly, courteous and you could taste any beer you wanted. The food was average with hotdogs, chicken tenders, pizza etc, but because it was so inexpensive, I have to give it an above average. Parking and find this place is a little tricky. It's basically across the street from the In n Out, where I parked and also happens to be the same parking lot of the Steelhead Brewery, and on the 3rd floor of the Student Center. Check out their website. If i'm not drinking at Hollingshead, The Abbey or The Goat Hill Tavern, I'll certainly be here!!! (I cant think of another Orange County local place that has a better selection than those i mentioned above - and this is a college pub)
1,508 characters
4.25
/5
rDev
+5.7%
Really great beer selection! This is not something that you would expect at an on-campus pub. Habanero Sculpin, Victory at Sea, Lucky Bastard, Double Bastard...just to name a few. Definitely a great place...even if it is cash only.
231 characters
4.18
/5
rDev
+4%
vibe: 4 | quality: 4.5 | service: 4 | selection: 4.5 | food: 3
I visited the recently remodeled, re-opened Anthill Pub for lunch in the middle of the week while school was in session. There were mostly grad students there along with a couple of professors and campus staffers. The atmosphere was laid-back and casual. I ordered the "smothered nachos" which are not smothered with anything, really--just chips with cheese and jalapenos (so this appetizer is definitely overpriced). I also tried their curly fries and "fire ants," which are their boneless hot wings with blue cheese crumble. Especially for such a small place and for the area, they have a solid list of beers. (They list them on the menu from lightest to darkest.) Several AleSmith offerings, Racer X and Red Rocket, some Stone beers, a few from Lagunitas, Allagash, Green Flash, and a few German lagers. Racer X and AleSmith Grand Cru they won't serve as full pints since they are "strong." Unfortunately for me they were out of AleSmith's Nautical Nut brown, Lagunitas' Capuccino Stout, and Black Butte Porter. So the only stout/porter they had available was Guinness. They are still just getting back in the swing of things and were just gearing up for their big Grand Re-opening party, so I'll cut them some slack and definitely go back. The list of beers is easily the best within walking distance for me.
1,312 characters
4.15
/5
rDev
+3.2%
vibe: 3.5 | quality: 4.5 | service: 4 | selection: 5 | food: 2
This place is a gem and sadly, their days appear to be numbered. The new student union remodel plans exclude The Anthill Pub. The website links to an online petition to save the pub. The website directions will be useful to any first timers before visiting as the location is surrounded by labyrinth, or so it may seem.
I was astounded to find Bear Republic Racer X double IPA on tap. I have not had this beer since the Pizza Port strong ale fest 2 years back. A new beer for me (and BA!), Craftsman Weizenbock was on tap and what a treat! The selection is very impressive here. Check the website for a draft list (scroll down to strong ales). If you're hungry, stop at In-N-Out across the way and bring grub to the pub with you. The pub grub is there, and that is about all it has going for it. We went for the beer anyhow.
825 characters
4.14
/5
rDev
+3%
vibe: 4 | quality: 4 | service: 4 | selection: 4.5
A really good beer bar on the UCI campus. They have about 30 beers on-tap. Mostly domestics, everything craft. Several selections from deschutes, stone, anderson valley, mammoth, craftsman, etc. The night I was there they had hop henge and mirror mirror as well. Prices are outstanding. $4 or $4.50 per pint and $11 or $12 per pitcher. I did not get to sample the food as the kitchen closes at 7PM, at least during the summer. Summer hours are a little wacky as they aren't open on weekends. The decor is dedicated to beer with beer signs and tap handles on the wall. A few TV's showing sports as well.
602 characters
4.08
/5
rDev
+1.5%
vibe: 3.5 | quality: 4 | service: 4 | selection: 4.5
Went to the Anthill tonight, Monday 5/3/10, for a few pints of beer with my girlfriend and roommate. This was all of our first visit to this pub.
We arrived to find out that it was a comedy night and that they had comics doing stand up throughout the evening. Both of the comics we saw were quite funny and did not disappoint. I was actually quite surprised at how funny both of them were.
We had checked the beer list before heading out, and I was a little disappointed to see a few a saw online not there. But that's alright I under stand that they have a changing tap list and cannot update the website constantly. They still had quite the selection. I would say around 25 beers on tap, all of them good. None of the beer on tap was of the BMC variety.
The prices are very good as well. All pints are $4 or $4.50 and they also have 10oz pours of stronger beers for $4. It is a dollar off very beer for happy hour and 3 dollars of pitchers. The price is one of the best things about this place. Great beer on tap for very cheap. The one down side is that the bar is cash only.
The service was very prompt. There were only two people manning the bar this evening even though the place was jam packed, we were barely able to find a table. The bartenders were very good and helpful, and never rushed us in making a choice.
I was a little sad that they do not serve food after 7pm right now. But other than that is was a great experience, with great live entertainment and good beer for a very reasonable price. I really enjoyed it and will be going back again.
1,569 characters
3.85
/5
rDev
-4.2%
vibe: 4 | quality: 3.5 | service: 4 | selection: 4 | food: 4
Went here before driving back to Redlands tonight with friends for dinner and a beer, across from a billiards spot on the Irvine campus, place was neat inside and looked real modern with brand new wooden tables, typical college atomsphere with a good amount of people in there sharing pitchers, ordered my food on the side, got a turkey burger that came with chips and a pickle, fire ants looked good as well, they were little popcorn chicken pieces dipped in buffalo sauce, mine was pretty tasty I have to admit and a good deal for four dollars, next I ordered a pint of Mammoth Double Nut Brown that was four dollars, they have a nice bottle collection along the backside of the bar including Abyss and Older Viscosity, none of these seemed to be available though, some of the beers I remember seeing on tap were Craftsman 1903 and Heavenly Hefe, Fat Tire, Moose Drowl, Guinness, Stone Old Guardian and Pale Ale, Brother David's Triple from Anderson Valley, Smithwick's, surprised not see any Alesmith here, stronger beers are served in slim glasses, quick service without even considering how busy it was, cheap food and beer, missed happy hour by a few minutes unfortunately, will definitely be going back, would go again tomorrow after the last game of the weekend, but it is not open on Sundays, enjoyable experience overall
1,330 characters
3.84
/5
rDev
-4.5%
vibe: 4 | quality: 3.5 | service: 4 | selection: 4
Life's not fair. I went to Cal Sate Fullerton for 5 years, graduated last year, but did not have a beer savvy bar within walking distance of my school. Clue: when Widmer Hefeweizen is listed as 1) "Hefeweizen", and 2) "Imports", you know someone forgot to do their homework (no pun intended). I'm still working through things, but I currently work just up Culver, so driving to UCI wasn't a problem. I parked across the street from the school to avoid paying a parking fee, walked across, found the Student Center and the pub.
Very sizeable interior, neon signs of craft breweries all over the place, old beer bottles sitting behind the bar, and a big gathering of people. Busy, but not overcrowded, and I did find a seat at the bar.
About 30 taps sit behind the bar, divided into three groups of 10. A chalkboard to the left lists everythng on-tap at the moment. Many semi-rarish beer on-tap, which is nice. Craftsman, Deschutes, Stone, AleSmith, Murphy's, Anderson Valley, Bear Republic, Moylan's, New Belgium are on the list. When you look deeper into the list and see AleSmith Speedway Stout AND Wee Heavy, you'd think you were in San Diego.
Both my samples were fresh. Glassware is simple; 16 ounce tumblers and 10 ounce stange-like glasses. If there's a complaint to be found, it's that their beer is leaning towards the ice cold category. And I suppose a small wine glass would be better for the 10 ounce pours of strong stuff.
Much has been talked about the prices, and I will say that it is all true. $4-5 per glass, but subtract $1 off for Happy Hour. I didn't think it was humanly possible to find a $3 deal for 10 oz. of Speedway Stout! The state taxes I pay must play a role subsiziding this pub. Oh, and don't bother to ask for a tab, beacuse this place is CASH ONLY.
I liked the service here as well. Only a few bartenders, but they were on top of things, and were giving some good advice/recommendations to other beer drinkers who had questions. I didn't need to wait long to be helped.
I must say that I was impressed with Anthill. the beer selection is enough to impress a beer geek, and the prices are unbeatable. I could easily make a trip here now and again, though that rush hour traffic heading north is a pain in the butt on weekdays.
2,270 characters
3.8
/5
rDev
-5.5%
vibe: 4 | quality: 4 | service: 4 | selection: 4 | food: 2
Although this is a slightly hard to find (you have to meander thru the student union) and parking isn't free, Anthill usually has a good selection of West Coast micros on draft. The atmosphere is laid back. The food is low end pub grub. Check their website for what's on tap.
275 characters
3.6
/5
rDev
-10.4%
vibe: 3 | quality: 4 | service: 3 | selection: 4
Anthill pub got their permit to sell beer and we were there within hours.
Atmosphere smacked of Irvine Corporation construction, but given time, this place might mature into a proper pub.
Pints and pitchers were shockingly cheap--not just cheap for Irvine, but cheap.
Line-up was solid. I expect the good people at Anthill will be pulling in some special treats and goodies over the next couple of months, but as of now they have a very respectable array of handles to occupy all but the most persnickety of beer geeks. Had an Alesmith Grand Cru that was beautiful. I thought the waitress gave it to me at half-price because she dug my smile; turns out that was the going rate. I was both bummed and happy. Bummed that the cute waitress wasn't doing me favors, but happy that I had found a stellar beer bar with great prices.
Word has it that Anthill Pub was a beer bar of the highest order until UCI renovations put them on a three year hiatus. One week back in business and they've already made my short (maybe even elite) list of places to have a beer.
Ample bus service to UCI campus makes me think that Anthill is a good place to session some beers.
Overall, new and welcome addition to OC beer community!
1,218 characters
1.73
/5
rDev
-57%
vibe: 1.25 | quality: 1.25 | service: 1 | selection: 3.25
A: It would have been a great atmosphere if the racist bartender hadn't kick out my african american friend because he didn't want to serve him because he is black. I know this because he also refused to serve me because, and I quote, "You are with that black kid." I was both shocked at this and appalled.
Q: Needless to say, the quality of service and atmosphere was terrible.
Ser: Following the same theme as above the service was horrendous.
Sel: The selection was decent (part of the reason we used to regularly go there), about 20-30 taps of good beer.
V: During happy hour very good deals.
600 characters
Anthill Pub & Grille in Irvine, CA
0
out of
5
based on
0
ratings.