Cragg Vale Bitter
| Little Valley Brewing Ltd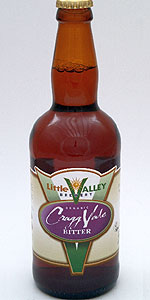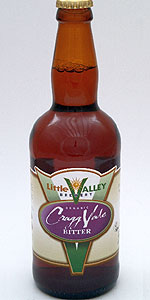 BEER INFO
Brewed by:
Little Valley Brewing Ltd
England
,
United Kingdom
littlevalleybrewery.co.uk
Style:
English Bitter
Alcohol by volume (ABV):
4.20%
Availability:
Year-round
Notes / Commercial Description:
No notes at this time.
Added by TheLongBeachBum on 05-21-2006
HISTOGRAM
Ratings: 5 | Reviews: 5
Reviews by BedetheVenerable:

3.68
/5
rDev
+15%
look: 4 | smell: 3.5 | taste: 3.5 | feel: 4 | overall: 4
Picked this up for 3 pounds at Fountains Abbey gift shop in Yorkshire. I have to say, I'm not sure what beer the other reviewers were drinking, because I had a really nice experience w/this ale.
Presentation: 500ml bottle (best before December 2011) poured into my Riggwelter imperial pint.
Appearance: Pours a nice, somewhat hazy burnt orange/copper color, with tiny-beaded carbonation and an antique ivory cap which soon fell to a thick, persitent film and thick ring.
Smell: This special bitter favors fruity esters (musty apples, among other things) over malt and hop character, although there's certainly some light, biscuity malts in the background as well.
Taste: Lean, earthy, and very dry malt backbone supported by musty apple and dark red apple notes with a FIRM, lightly fruity (but not citric) hop bitterness. This is surprisingly bitter, actually, but the bitterness isn't sharp, it's quite clean, firm, and solid.
Mouthfeel: On the light side of medium bodied; quite nice.
Conclusion: Brought this one back from England, after having grabbed it at the Fountains gift shop. Looked it up on BA once I got home and was prepared to be quite disappointed. Couldn't have been more surprised; if it was available in the US (which it's not) I'd buy this organic beer again, if only rarely; my hesitation would have nothing to do with the beer, only the price. The equivalent of $4.50 is a bit too much to pay for a 'regular' beer when your income is that of a grad student.
1,488 characters
More User Reviews:

4.02
/5
rDev
+25.6%
look: 3.75 | smell: 3.5 | taste: 4.25 | feel: 4 | overall: 4.25
Bottled and bottle conditioned
Pours a rich chestnut brown body decent enough off white head
Nice freshly baked granary bread aroma
Nutty malty flavour with deft bitter finish
Good stuff
188 characters

2.05
/5
rDev
-35.9%
look: 3.5 | smell: 3.5 | taste: 1.5 | feel: 1 | overall: 1.5
Bottle acquired at Abbott's Alehouse off-license in Cork, Ireland, and poured into a Grolsch pint glass. Reviewed from notes. This brewery often disappoints me, with a couple exceptions. I'm hoping this is an exception.
A: Pours a four finger head of nice cream, good thickness, and above average retention. Hazy copper colour. So far so good.
Sm: Buttery malt. Pleasant and light.
T: ...and we're back to Little Valley's usual shenanigans. The barley is buttery and biscuity, with cream undertones, but ends up feeling like a rather bland foundation for... nothing. It's just complicated barley in this beer, with no other significant notes to layer it deeply in order to produce a worthwhile brew. Very simply built and rather bland, especially on the climax. The beer never delivers.
Mf: Downright undercarbonated. Too smooth and wet. Nearly flat. Awful. Yeasty dregs are disgusting and difficult to filter with a proper pour.
Dr: This beer (and many from the same brewer) suffers from today's overemphasis (read: obsession) with the health/organic movement. It's madness - organic does not always equal better. This idea needs to go away.*
This is a beer best suited for football mums that overpay for flax seed at Whole Foods. True beer enthusiasts would do well to steer clear. As I review this beer, it's incorrectly labelled "retired" by beeradvocate. I wish it were retired for beer's sake.
*"Organic beer" and "Bio beer" are by no means the same thing.
1,475 characters

3.11
/5
rDev
-2.8%
look: 3.5 | smell: 2.5 | taste: 3 | feel: 5 | overall: 3
An organic beer, bottled conditioned.
A: The color of this slightly murky beer is dark amber, while the beige head is kind of tall and compact. After a while the dissipation kicks in and leaves rich lacings. At the bottom of the glass are quite a few fermentation residues.
S: Slightly sourness up front, followed by sweet, light roasted malts. Rich fruity notes; red apples and cherries together with moderate bitterness is in the back compared to the malts. Buttery notes.
T: Again, the sourness from the smell; not obviously a bad product, but in this style -sourness from cherries is off. Nevertheless, the malt is roasted and sweet, while the fruit now is stronger and the bitterhops, mild in smell, now is way stronger. The buttery notes are replaced by a healthy nuttyness.
M: A fantasticly long and bitter aftertaste feels great. The body is medium, while carbonation is moderate.
O: Strange, besides the sourness, this is a very nice Bitter, with nice hoppy noce, both bitter and floral. The malt balances the hops in a nice way and the aftertaste is awesome. But there's the problem with the sourness; considering the moderate sourness it could be intentional and from cherries (sour ones), but that's not right in this kind of beer. If the sourness is unintentional, and a sign of a ruined product; it's kind of too mild - usually it's way more obvious in that case...
1,385 characters
3.15
/5
rDev
-1.6%
look: 3.5 | smell: 3.5 | taste: 3 | feel: 3 | overall: 3
A - Slightly hazy orange colour with a small, maybe 1 centimetre white head.
S - Some nice floral notes, a bit of orange and peach as well.
T - Floral and slightly fruity notes with some honey like sweet maltiness.
M - Light bodied, fairly low carbonation.
D - An OK beer but nothing too exciting. A bit more bitterness would be good.
334 characters
Cragg Vale Bitter from Little Valley Brewing Ltd
Beer rating:
3.2
out of
5
with
5
ratings