Oyster Cloyster Stout (JLS Release #1)
| Rogue Ales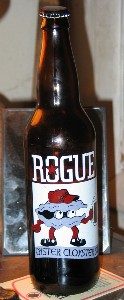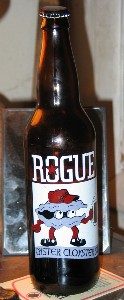 BEER INFO
Brewed by:
Rogue Ales
Oregon
,
United States
rogue.com
Style:
English Stout
Alcohol by volume (ABV):
not listed
Availability:
Rotating
Notes / Commercial Description:
No notes at this time.
Added by MrNuggets on 12-04-2004
This beer is retired; no longer brewed.
HISTOGRAM
Ratings: 13 | Reviews: 12
Reviews by MrNuggets:
4.36
/5
rDev
+6.1%
look: 5 | smell: 4 | taste: 4.5 | feel: 5 | overall: 4
This beer has amazing head retention. I get an inch of creamy tan foam with the pour, and it stays. Talk about lace! I can't even see through it. By my last sip there is still half an inch left. Colour is black, no light penetrates and this is a pilsner glass.
Coco is strong on the nose with something sweet backing it up and firm hop presence. Starts me off with a huge hop bite. My favorite thing about these Rogue stouts. Tastes of unsweetened chocolate breaking into a smooth body with a easy bitterness at the end. Hefty mouthfeel and drinkable enough for a session.
574 characters
More User Reviews:
3.97
/5
rDev
-3.4%
look: 3.5 | smell: 4 | taste: 4 | feel: 4 | overall: 4
Appearance: Poured black with no real head retention.
Smell: Roasted malts and a bit of choclate.
Taste: Some dark chocolate and plenty of roasted malts, maybe a bit of coffee in the back. It has a real earthy kind of taste to it, not sure how to explain it. Overall the taste is fairly mild, but this is a single stout, nothing over the top but still a good taste.
Mouthfeel: Medium in body, not very crisp or heavy.
Drinkability: I stopped with one. It is a really mild stout, I tend to like a stout with a more aggresive taste. Overall a well made beer, good to try but I don't see myself running out to buy it anytime soon.
643 characters

4
/5
rDev
-2.7%
look: 4 | smell: 4 | taste: 4 | feel: 4 | overall: 4
Tried this on tap. It was listed just as "Oyster Stout," so I don't know whether it was the "Cloyster" version or not.
Poured deep black with a full tan head.
Smell of chocolate and a hints of smoke.
Tastes similar to their Shakespeare Stout, but not quite as full in body and flavor.
I read elsewhere that Rogue used whole oysters in the shell to make this brew, though it was probably more for the "gimmick value" rather than for flavor. I sort of wish I knew oysters went into the production of this when I tasted it as I would have had something to look for.
Not a bad beer overall, but not one to rave about.
629 characters

4.08
/5
rDev
-0.7%
look: 4.5 | smell: 4 | taste: 4 | feel: 4.5 | overall: 4
22 oz. bottle. Pours black with a light brown head. Smells of blackened malts and mild coffee. Medium bodied with a smooth, oily mouthfeel. Nice blackened malt and dark bread flavor with a ever so slight briney, oyster flavor. This brew finishes bone dry and is unlike other Rogue stouts that I've quaffed.
306 characters

4.04
/5
rDev
-1.7%
look: 3.5 | smell: 4.5 | taste: 4 | feel: 3.5 | overall: 4
07/22/05- Had at the Rogue Ale House in San Francisco, CA
Presentation- From the tap into two sets of 4oz sampler glasses.
Appearance- Black pour with the slightest of head and thin sheets of lacing.
Smell- Huge chocolate scent! Wow, impressive smell.
Taste- Hefty tastes of dark chocolate overall. A dash of coffee here and a dash of roasted malt there. A bit salty?
Mouthfeel- Lightly carbonated with a bit of a watery mouthfeel.
Drinkability- If only this guy had some sweetness. The chocolate taste is done well, but needs a bit of backbone.
563 characters
4.55
/5
rDev
+10.7%
look: 4.5 | smell: 4.5 | taste: 4.5 | feel: 4 | overall: 5
On tap in North Carolina as part of the JLS series. Slightly sweeter malt to my tongue than Shakespeare and hoppier. Nice balance in Irish Dry Stout IMO. Blending of chocolate malts with Cascade hops is excellent. Very dark, almost black with great head and lacing... all the way down. Evidence of a great beer and a very clean glass. Too bad it's a limited edition. Try it if you get the chance. Rumors are that we have another keg waiting in the wings...
456 characters

4.28
/5
rDev
+4.1%
look: 4.5 | smell: 4 | taste: 4 | feel: 4.5 | overall: 5
This was a special on tap while I was at the public house in Portland. The deep black pint came with a hefty tan head that sat nicely for most of the pint but eventually retired to a thin ring around the glass. The body was so deep in color it wasn't apparent what the clarity was.
The aroma was of heartily roasted malt and peaty smoke. But it wasn't so odiferous to be unattractive. Just alluring.
The taste was very pleasing to the point that swell might be the best adjective. The body was fairly thin like a dry Irish stout but the variety of flavors was certainly a treat. The dry smokey malt combined with a typical stout sourness that made it extremely drinkable and worked in an almost self-propagating fashion. The addition of oyster, be it as a filter bed or simply for salty flavor wasn't obvious, though this stout was slightly different from many Irish style dry stouts.
Oh - this also went terrifically with my meal.
941 characters
4.2
/5
rDev
+2.2%
look: 4 | smell: 4 | taste: 4.5 | feel: 4 | overall: 4
The blonde barmaid at the Sawmill Taproom set down a black beer with a brown head which gradually disappeared, leaving lacy remnants on the glass.
Nose: Coffee, dark chocolate, smoke
Palate: Coffee, Campari-esque bitterness, mineral earthiness, brown sugar, peat moss, dark chocolate
Finish: long, elegant.
This is a very nice balance of body, bitterness and malty sugariness.
380 characters
4.32
/5
rDev
+5.1%
look: 4 | smell: 4.5 | taste: 4.5 | feel: 4 | overall: 4
Just tapped the keg yesterday at Capital Ale House in Innsbrook. Dark opaque brown with a foamy stout head. Smell was of toasty malts and salty oysters on the half shell, some seawater odor, very nice, even the hops were in the scent. Burnt malts up front which gives way to a full creamy stout mouthfeel. Finish was nice and long and somewhat bitter. This is a satisfying stout. The oyster presence is refreshing without being overpowering, occurring mainly in the nose. Given that oysters are on the menu at CAH, the pairing of food was obvious.
547 characters
4.21
/5
rDev
+2.4%
look: 4.5 | smell: 3.5 | taste: 4.5 | feel: 4 | overall: 4.5
Poured jet-black with a thick sandy-brown head. Delicious roasted chocolate malt and espresso flavor, with a strong coffee aftertaste and a hint of sea salt and tasty mussels. More fizz than I would have expected, but that could have been the tap. Well-balanced, smooth mouthfeel, this had to make the trip all the way to Philly. Much appreciated!
347 characters
3.88
/5
rDev
-5.6%
look: 4 | smell: 3.5 | taste: 4 | feel: 4 | overall: 4
Serving Type: On Draft at Summits in Atlanta
Jet black with a light brown head. Aroma of blackened malts and coffee. Body is smooth, oily mouthfeel. Nice blackened malt and yeasty bread flavor with a ever so slight oyster flavor. Nice finish very intersting but drinkable beer.
278 characters
4.05
/5
rDev
-1.5%
look: 4 | smell: 4 | taste: 4.5 | feel: 3.5 | overall: 3.5
Another fine Rogue Stout made with fresh Oregon oysters.
Ingredients: Northwest Harrington & Metcalf, C-120, & Chocolate Malts; Cascade Hops, Roasted Barley, Fresh Oregon Oysters, Free Range Coastal Water, & Top Fermenting Pacman Yeast.
Was brewed for Newport's Oyster Cloyster Festival. The event celebrates the diversity of oysters, creativity of chefs, and the success of OCCC's (Oregon Coast Community College) Aquarium Science program - soon to have its first graduating class.
Poured a dark brown appearance with a 1" of head in the tulip glass. Head retained for a few minutes which settled to a ring of lacing on the top of the beer. Sparse spots of lacing down the sides of the glass. Above average tiny-bubbled carbonation, partially based on sight and the sound of my loud burps. Starts off malty followed by the bitter bite that lessens by the second into a coffe like aftertaste. Hints of chocolate present. Not sure what oysters taste/smell like, so I cannot judge if the smell/aste of them is present. Not the best Rogue brew I have tried, but would try again. Cannot see this being a session beer, which is why drinkability is average.
1,161 characters
Oyster Cloyster Stout (JLS Release #1) from Rogue Ales
Beer rating:
4.11
out of
5
with
13
ratings