John John Hazelnut (Rum Barrel Aged)
| Rogue Ales
BA SCORE
79
okay
141
Reviews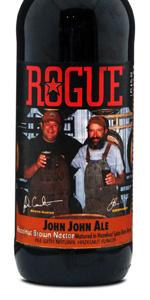 BEER INFO
Brewed by:
Rogue Ales
Oregon
,
United States
rogue.com
Style:
American Brown Ale
Alcohol by volume (ABV):
5.00%
Availability:
Limited (brewed once)
Notes / Commercial Description:
"Rogue Hazelnut Brown Nectar aged in Rogue's Hazelnut Spiced Rum barrels."
13 Ingredients:
Harrington, Klages, Brown, Carastan 13/17, Crystal 70/80, Crystal 135/165, Beeston Pale Chocolate & Rogue Micro Barley Farm Dare™ malts; Saaz and Rogue Micro Hopyard Revolution Hops; Hazelnut Extract, Free Range Coastal Water & Top Fermenting Pacman Yeast.
13º PLATO
34 IBU
77 AA
3.2º Lovibond
Added by Docer on 07-19-2009
This beer is retired; no longer brewed.
Reviews: 141 | Ratings: 233

3.63
/5
rDev
+4.9%
look: 4.5 | smell: 4 | taste: 4 | feel: 2 | overall: 3
A: poured amber brown with ruby highlights that had no head on the top and no lacing sticking to the glass.
S: the spices pop out on the first whiff and it reminded me of pumpkin spice with cinnamon. I also did get rum notes, slight malts, and faint vamilla but the spice was the most potent.
T: I finally got some hazelnut character on the palate alongside rum, vanilla, cinnamon, and pumpkin notes. There was also some underlying oakiness coming through on the backend with light wheat notes.
M: the brew was light to medium body with absolutely no carbonation but had a sweet, spice, and watery finish. It really surprising for a beer like this.
D: it drank good but was a bit dissapointing on multipl levels. The beer was super flat but a little tasty and did not accent the flavors of the OG hazelnut brown.
★
816 characters

3.3
/5
rDev
-4.6%
look: 3 | smell: 3 | taste: 3.5 | feel: 3 | overall: 3.5
full disclosure: i'm a huge fan of rogue hazelnut brown, so i'm looking very much forward to this beer...
poured fairly aggressively from the bottle a nice clear and deep mahogany brown to a dogfish head signature glass with a full finger big bubbled short lasting head that left little retention and lace.
aroma of toasted, candied pecans, but it's a very mild aroma, not rich and thick.
a bit thinner than the standard hazelnut brown, almost wish i had both sitting side by side to compare... however, the hazelnut is evident, but the sweetness is a bit muted by the oak and dark nutty pecans. as it warms a bit, the rum flavor comes further forward.
highly carbonated, thinner than expected, sweet malts, no bitter hosp detected.
drinkable enough i suppose.
thumbs up, but it's not up to challenging its standard hazelnut brown brother.
★
846 characters
3.82
/5
rDev
+10.4%
look: 3.5 | smell: 4 | taste: 4 | feel: 3.5 | overall: 3.5
I want to start off by saying I really liked this beer.
If you like hazelnut flavoring, it's a slam dunk. If you don't care for it, you might want to pass it up because the hazelnut flavor is a kick in the ass. It doesn't quite live up to my favorite hazelnut beer, the Rogue Hazelnut Brown Nectar, but it adds a welcome difference, which is the spiciness. The aging process in the rum barrels gives it a nice spiced undertone, and this is coming from someone who absolutely hates the mention of spiced rum. The hazelnut flavor also matches well with a mocha-ey character.
Don't wanna beat a dead horse here, but like BEERchitect said, I too felt like I wanted more out of the beer. Its almost like it didn't pack enough of a punch - like there wasn't enough behind the initial flavors.
Having said that, I highly recommend this beer, and will probably enjoy it more as the days get shorter.
Serving type: on-tap
★
916 characters
4.04
/5
rDev
+16.8%
look: 3.5 | smell: 4.5 | taste: 4 | feel: 3.5 | overall: 4
Very savory and sweet, Rogue's Hazelnut Brown Ale takes on a facelift with added spice, alcohol, and complexity because of the rum barrel aging.
The aroma takes on a very distinct peanut britle nose with buttery toffee, roasted pecans, deep caramels, and the very sweet and subtle scent of rum-like alcohols.
Flavors of toffee, hazelnuts, and melded chocolates lead a sweet start into an even sweeter finish. But the woody, nutty, spicy flavors seem to give a much needed variety and complexity to the one-dimensional base beer. This beer is richer, more robust, but still with the finess noted in the Hazelnut Ale.
Somehow, I always want a richer body out of the oringal Hazelnut and I do so here as well. Medium throughout, but the alcohols seem to take on a bitey and thinning feel here. Not unpleasant, but I need the beer to give me more tooth.
A delicious Brown Ale that takes on a decidedly sweet flavor and feel. With emphasis heavily on the hazelnut additions, this rum-aged version is better decorated at the peripheries.
★
1,035 characters

3.88
/5
rDev
+12.1%
look: 4 | smell: 3.5 | taste: 4 | feel: 4 | overall: 4
Pours a mild, slight burgundy color with a two-finger head into my pint glass.
Aroma has a good hint of hazelnut in it followed by a hint of brown sugar as well.
Taste has a pronounced hint of hazelnut and rum upfront. Warms the throat.
Mouthfeel is full of lingering rum spice that dominates.
This is certainly an interesting variation on the style. The incorporation of rum spice enhances an otherwise average brown ale.
★
429 characters

3.58
/5
rDev
+3.5%
look: 4.5 | smell: 4 | taste: 4 | feel: 2.5 | overall: 2.5
22oz brown glass pry-top bottle. No date.
Pours a deep mahogany reddish brown with thick creamy tan head.
Nose is spicy to say the least. Fresh, woody hazelnuts are dominant. Vanilla too.
Palate is crisp and sharp from the alcohol. Woody, dried, freshly shaved hazelnuts and toasted oak. Some milk chocolate flavors and cinnamon stick and light molasses. Finish a lot rounder than the palate and more balanced.
Notes: An interesting beer, but not something I'll return to often. I can see this settling down in the cellar after a couple years.
★
547 characters
4.89
/5
rDev
+41.3%
look: 4 | smell: 5 | taste: 5 | feel: 4.5 | overall: 5
On tap at Kickbacks Gastropub in Jax. Poured into a small snifter. Small, off-white head on a thinnish ruby to amber body. Lacing is soapy, moderately sticky. Aroma is certainly nutty, hazelnut is clear but surrounded more by other miscellaneous nut flavors as opposed to the original hazelnut offering where one nut dominates. Hard to say exactly what affects the barrel has had but the beer is most certainly different. More complex, flatter in taste and mouthfeel, smoother yet than the original, impressive considering how smooth the original is. I must say, I feel that Hazelnut Brown Nectar is the most delicious brown ever made and this one is a wonderful treatment of a masterpiece.
★
690 characters
4
/5
rDev
+15.6%
look: 4 | smell: 4 | taste: 4 | feel: 4 | overall: 4
A: Poured a hazy brownish orange color with good carbonation and a dirty white head
S: Plenty of hazlenut
T: Has a sweetness, rum feeling, sordove slippery, rum is noticable and it had a gin type feel as well. SOme hazlenut in there, maple, nuts and rum taste beginning and end.
M: Nice, malty, light booze, sordove acidic and a bit of sting
D: Good
★
353 characters

4
/5
rDev
+15.6%
look: 4 | smell: 4 | taste: 4 | feel: 4 | overall: 4
had this at the huge kickbacks dinner in Jacksonville, FL. I took some notes but mostly doing this from memory.
Appearance: brwn in color simialr to regualr one
Smell: toasty, nutty flavors
Taste: I drank the unbarrel aged next to this and I thought it drank better, rum was hidden and didnt show much
★
302 characters
3.95
/5
rDev
+14.2%
look: 4 | smell: 4 | taste: 4 | feel: 3.5 | overall: 4
Had this on tap at the Portland International Beer Fest in summer of 2009. The colour was amber-brown with about a 1/4 inch head. The aroma was redolent of pie spice, sailor jack and sweet malt with a hint of rum. On the palate the spices became more distinct with clove, cinnamon, and ginger, and of course there was the rum aspect and even some hints of cola.
★
361 characters
4.27
/5
rDev
+23.4%
look: 4 | smell: 4.5 | taste: 4 | feel: 4.5 | overall: 4.5
Snagged on tap at the PIB... wonderful ale and a must have...
- Great candied brown and copper color, rather clear but molasses rich.... light bubbly peach and amber head...
- Sweet smell, bit of nut, rum, and ester... some vanilla notes as well.. truly unique and something I think they should continue to brew and age...
- Slight spice, nut, oak, and vanilla notes.. all blend together very well and make a very drinkable and delicious ale... I wish most of Rogue's bottled stuff was this good...
- Sweet and mouth watering... the balance of flavors makes for a super high mouth feel..
- Goes down like buttery sweet toffee.. wonderful, and smooth, and light to boot... can I have a keg of my own please!
★
721 characters
John John Hazelnut (Rum Barrel Aged) from Rogue Ales
3.46
out of
5
based on
233
ratings.