No Ka 'Oi IPA
| Rogue Ales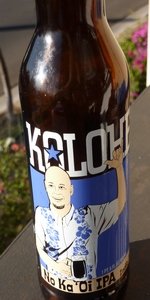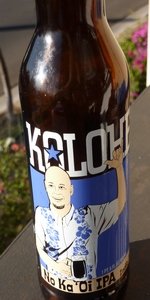 BEER INFO
Brewed by:
Rogue Ales
Oregon
,
United States
rogue.com
Style:
American IPA
Alcohol by volume (ABV):
not listed
Availability:
Year-round
Notes / Commercial Description:
No notes at this time.
Added by atigerlife on 12-11-2011
HISTOGRAM
Ratings: 7 | Reviews: 6
Reviews by Firkin-Bunghole:

4.46
/5
rDev
+19.3%
look: 5 | smell: 4 | taste: 4.5 | feel: 4 | overall: 5
Reviewed from notes
A: Found out this beer is exclusive to Whole Foods and as such is currently only at Whole Foods in Maui and Whole Koods in Kahala. Visited the Whole Foods in Kahala during a vacation in Oahu and lucky for me Troy Terorotua (the beer guy at Whole Foods & guy pictured on the bottle) was there that day. Troy is a great advocate of craft beer who was willing to answer my questions about the bottle selection at Whole Foods and local, Hawaiian-only craft beer. He also steered me to some other solid recommends that he knew I wouldn't be able to find in NY.
S: Hops, yeast, barley
T: Nice IPA at 70 IBUs not too bitter the hops are there but are balanced. This beer paired really nice with Zippy's.
M: Medium-mouthfeel, spot-on carbonation
O: Definitely glad I bought the bottle. Since it was my first time in Oahu since getting into craft beer I pretty much sampled as many different beers as possible that I knew I wouldn't be able to find in NY. Mahalo to Troy for helping me out. I'm definitely going to stop over at Whole Foods in Kahala next time I'm in Oahu.
1,085 characters
More User Reviews:
3.53
/5
rDev
-5.6%
look: 4 | smell: 3.5 | taste: 3.5 | feel: 3.5 | overall: 3.5
22oz bottle. Just got hitched, on a beach in Waialea, and, while waiting for the missus (literally, now) to get ready to hit the town for the luau, I figured I'd pop this little nugget, found at the Kahala Whole Foods, and apparently made just for them, or rather, their beer guru. I didn't meet him there, but his colleague was quite helpful in pointing out the local gems. Mahalo!
This beer pours a hazy, medium golden apricot hue, with three fingers of silky, foamy, and bulbous eggshell white head, which leaves a nice cascading creeping vine array of lace around the glass as it evenly slips away.
It smells of grapefruit rind, pine, and herbal hop notes, some mildly funky yeast, and a soft grainy malt sweetness. The taste is bitter, indistinct citrus rind, further herbal/funky grassy hops, and a level bready, somewhat sour, and tangy caramel malt.
The bubbles are a bit zingy and frothy, but to no one's detriment, the body on the leeward side of yer typical middleweight, and somewhat smooth - a high-palate heat kind of distracts throughout. It finishes still quite hoppy, but with another uptick in the herbal, green citrus variety.
A decent enough IPA, but no crisp, clean, or incisive hops to make one sit up straight, rather a more mixed and muddled blend that I won't be taking home to meet Mom (sorry Kahala), as that honour is already spoken for, beer and otherwise.
1,389 characters
3.85
/5
rDev
+2.9%
look: 4 | smell: 4 | taste: 3.5 | feel: 4.5 | overall: 4
Saw a 22 ounce of this beer featuring a "local" in a Hawaiian shirt giving the Shaka at Foodland and had to give it a try. I'm what my friends call an IPA snob so I signed up at BA specifically to give my 2 cents on this beer.
Appearance - Light, amber/orange, foamy white head, overall great coloration.
Smell - Sweet citrus notes with some light resin.
Taste - It comes off a bit sour and tart on the first few tastes, with an appreciable sweetness, some sweet, grainy malts on the back end, followed by a fairly tame alcohol/hop bitters note. The hops are adequate enough to satisfy a hophead, but not necessarily to keep him or her coming back for more. In terms of hoppiness, a number of IPAs do better than this beer (Modus Hoperandi, Lagunitas IPA, etc). What this beer does have is give a bit of that "island flavor" (citrus/tropical fruits) to the IPA.
Mouthfeel - Probably the best part, great, crisp, refreshing. At 70 IBU's, it's pretty pleasant and sessionable.
Overall- I've often complained about the lack of good IPA's available in Hawaii, so I am overjoyed that Rogue has made an attempt to fill that dearth. However, this is simply not as good as the Maui Brewing IPA (which I can get a 6 pack of for roughly the same price as a 22 of this). It's unique enough to be a valid offering, but I suppose I was hoping for something that would be a reasonable alternative to Maui's IPA, this is not the case.
1,425 characters
4.03
/5
rDev
+7.8%
look: 4.5 | smell: 4 | taste: 4 | feel: 4 | overall: 4
Can't find any information on this beer...even on Rogue's website. Seems like this beer doesn't even exist, except that I drank a bottle of it last night and am staring at the empty bottle as I type.
A portion of the proceeds go to nonprofits contibuting to the health and vibrancy of the Hawaii community [as stated on the bottle].
15 Plato, 70 IBU.
Pours a dark golden with a 2 finger fluffy white head. Good lacing and nice retention. Lots of tiny carbonation rising. While clear at the beginning, last pour was opaque.
Aroma is hops. Grapefruit. Some hay.
Taste is grapefruit, malts. A little light on the flavor profile.
Mouthfel is medium bodied and cleansing.
Overall, a very drinkable brew, enjoyable. Decent balance and goes well with BBQ.
771 characters

3.53
/5
rDev
-5.6%
look: 4 | smell: 3.5 | taste: 3.5 | feel: 3.5 | overall: 3.5
I bought a 22 oz bomber at the Whole Foods on Maui (by the way, they have a very nice selection of craft beers including some
hard to find seasonals...although no Colorado beers).
Color was a lighter amber than almost any IPA you'll find but had a bright white, finely bubbled head with medium lacing.
Decent smell from fresh hops but nothing too exciting.
Very good bitterness with a hint of fruit (perfect for Hawaii, brah!).
Not a complex brew but definitely worth checking out. Great
labeling also; a dude in an aloha shirt giving a shaka sign. (I would upload a picture if I could find an app that would resize/resample it to BA's very specific rules)
Edit: see pic
674 characters


3.5
/5
rDev
-6.4%
look: 3.5 | smell: 3.5 | taste: 3.5 | feel: 3.5 | overall: 3.5
Weird beer in that I only saw it at Whole foods in Maui ( Not in any other store on the island) and they had it on sale in a large display). As IPAs go it is pretty good with lots of hops and a grapefruity nose but the yeast is Pac-Man and so it tastes very Roguey like most of their beers. Since there is not of IPAs available in Maui it was nice to drink a bottle of this on the Lanai but frankly even in BC this would be a run of the mill IPA. I think Rogue need to stepm up their game.
489 characters
No Ka 'Oi IPA from Rogue Ales
Beer rating:
3.74
out of
5
with
7
ratings